The Coloring Connection
Tuesday, September 29, 2015
Hi Everyone,
Wow! Yesterday was an incredible experience. I feel blessed that so many of my friends were able to come celebrate the publication of my Kickstarter book, When You Lose Someone You Love,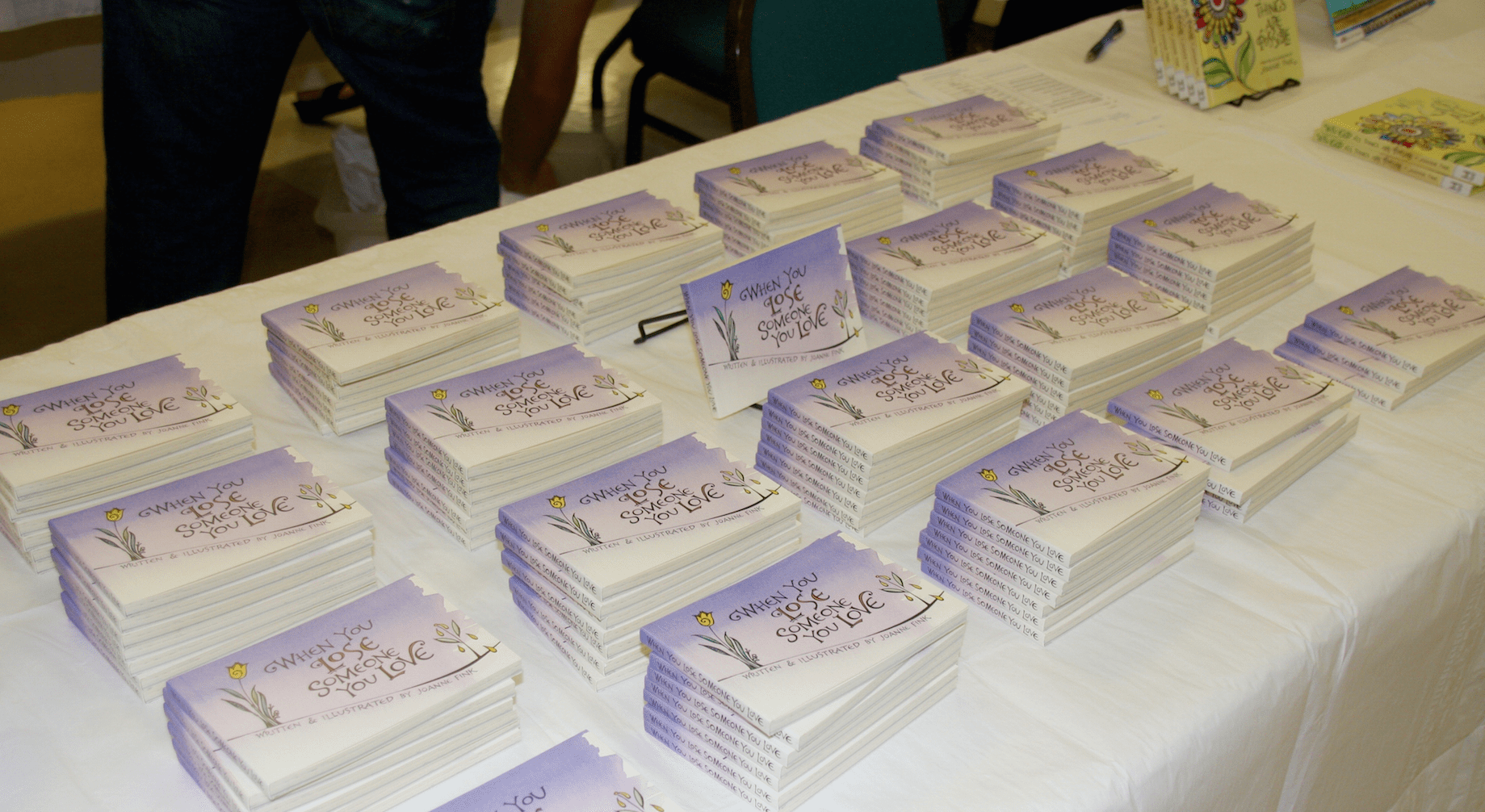 as well as the launch of my new Zenspirations® Create, Color, Pattern, Play books: Birds & Butterflies and Expressions of Faith. >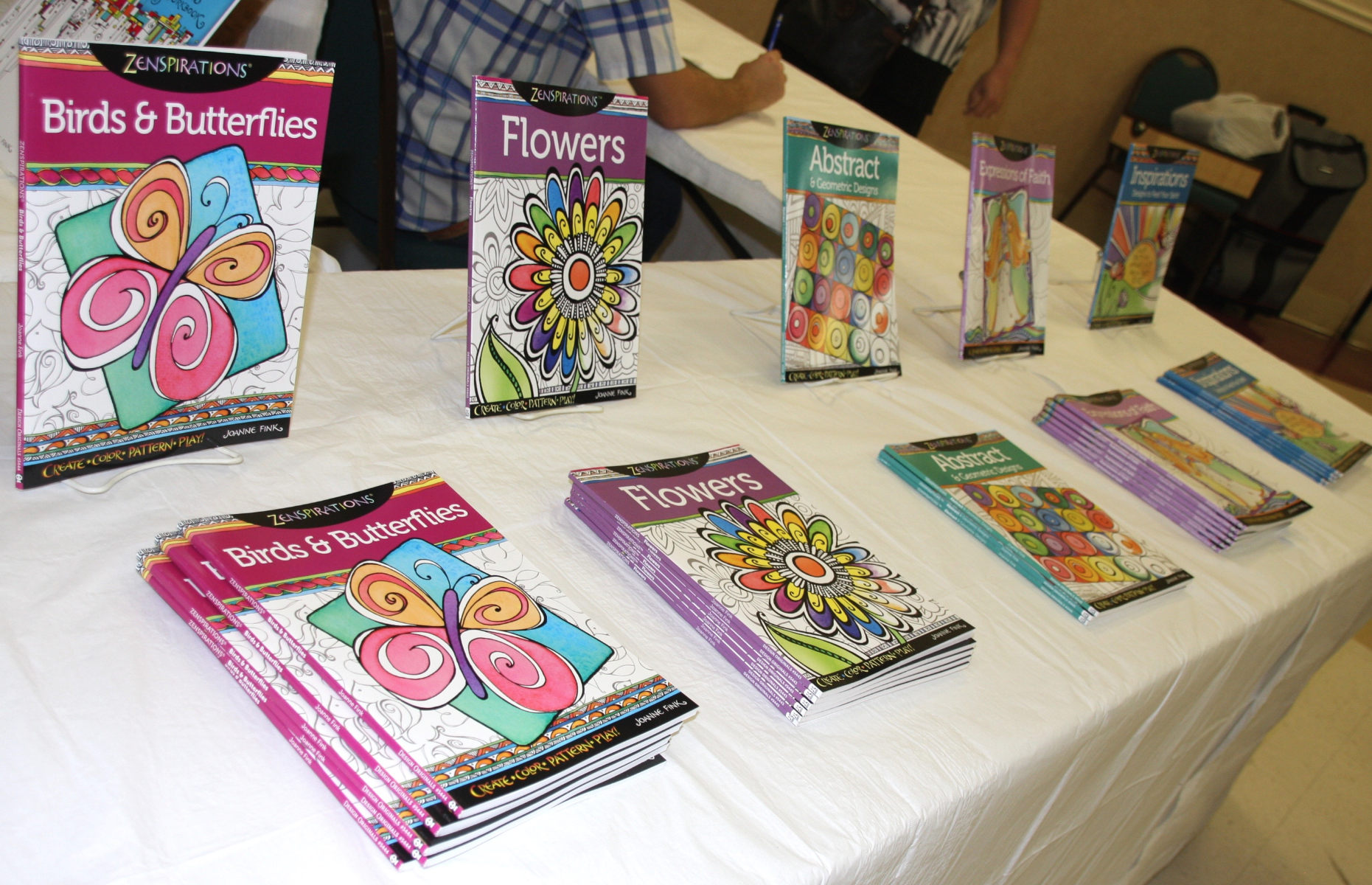 Knowing that I'd probably be busy signing books (which I was!), I asked a few friends to come help out at different stations. For those of you who weren't able to attend, let me tell you a little bit about the event.
First, here's an overview of the room: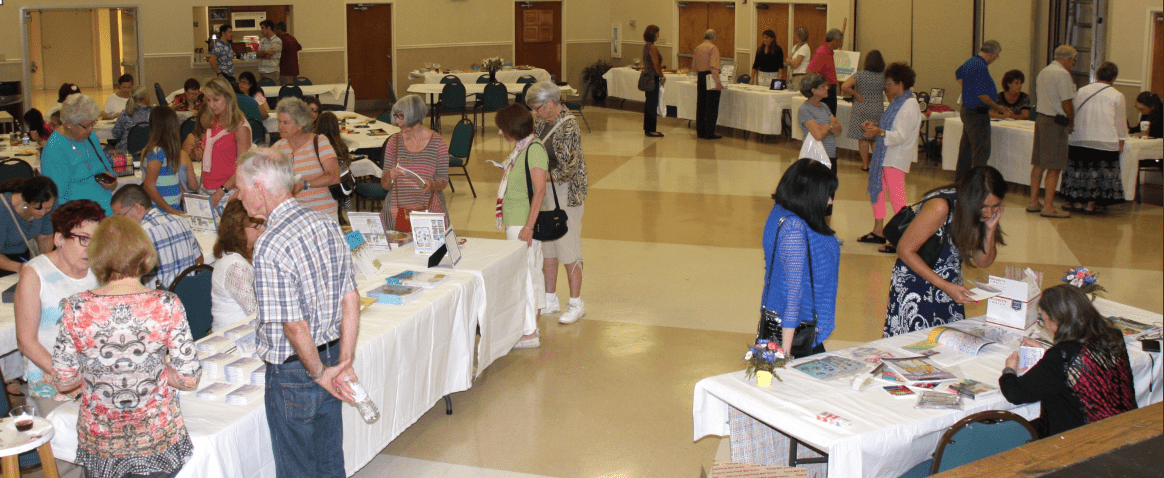 Just to the right of the entryway was a table where my friends from the Scribes of Central Florida were hand-lettering names and demonstrating calligraphy. Special thanks to my good friend Linda Ross for organizing the Scribes.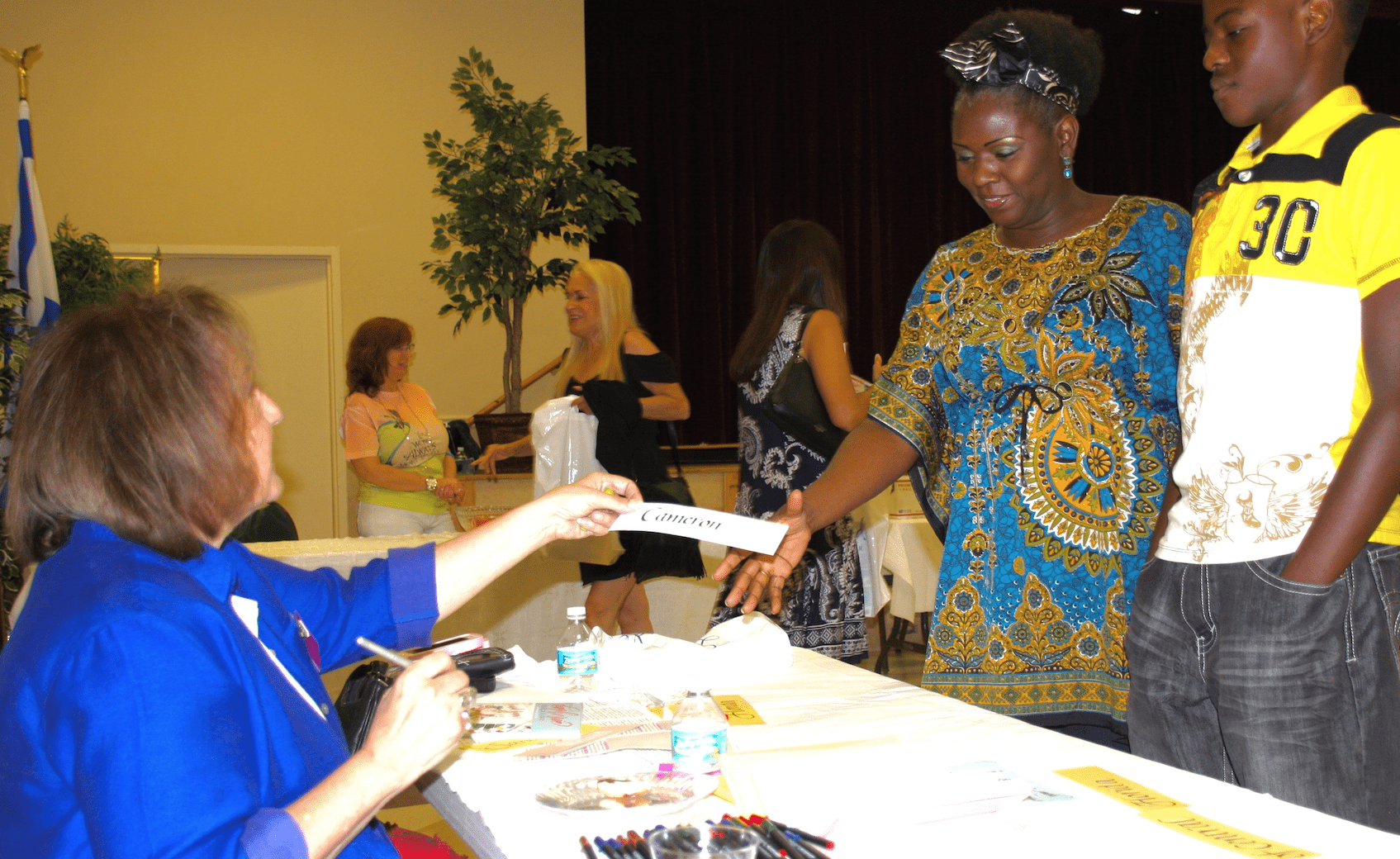 The Sharing Station was next to the Scribes, and CZT Adele Bruno, author of the popular 'Tickled to Tangle' blog took the lead by showing off the cool magnetic frame product she developed.
My inspiring friend Carolyn Moor, founder of the Modern Widows Club, was on-hand to mentor and coach those dealing with the loss of a loved one.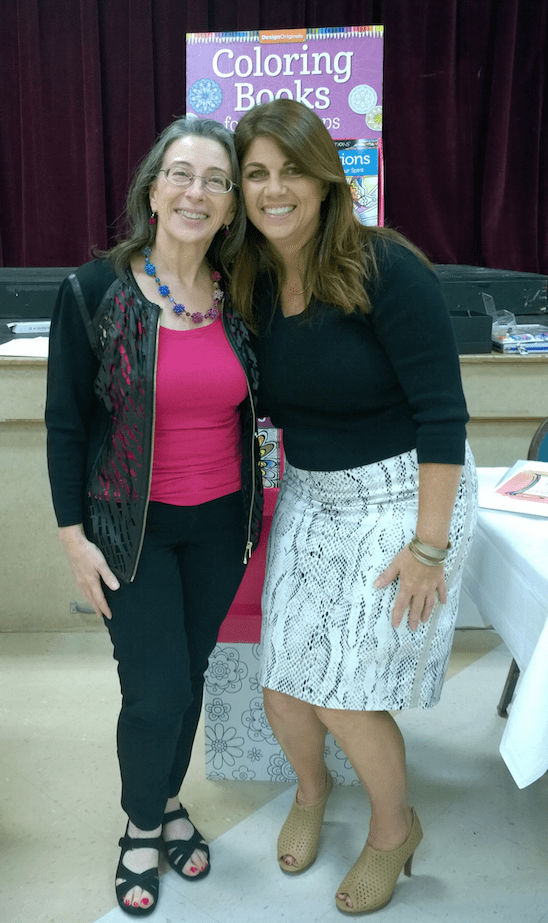 Part of what made the day so special was the camaraderie, creativity and sharing… and, of course, the coloring! My
publisher, Fox Chapel, sent a display for the books, and was kind enough to print out a 12 foot banner of my art for party attendees to color. My daughter Samantha got the coloring party underway.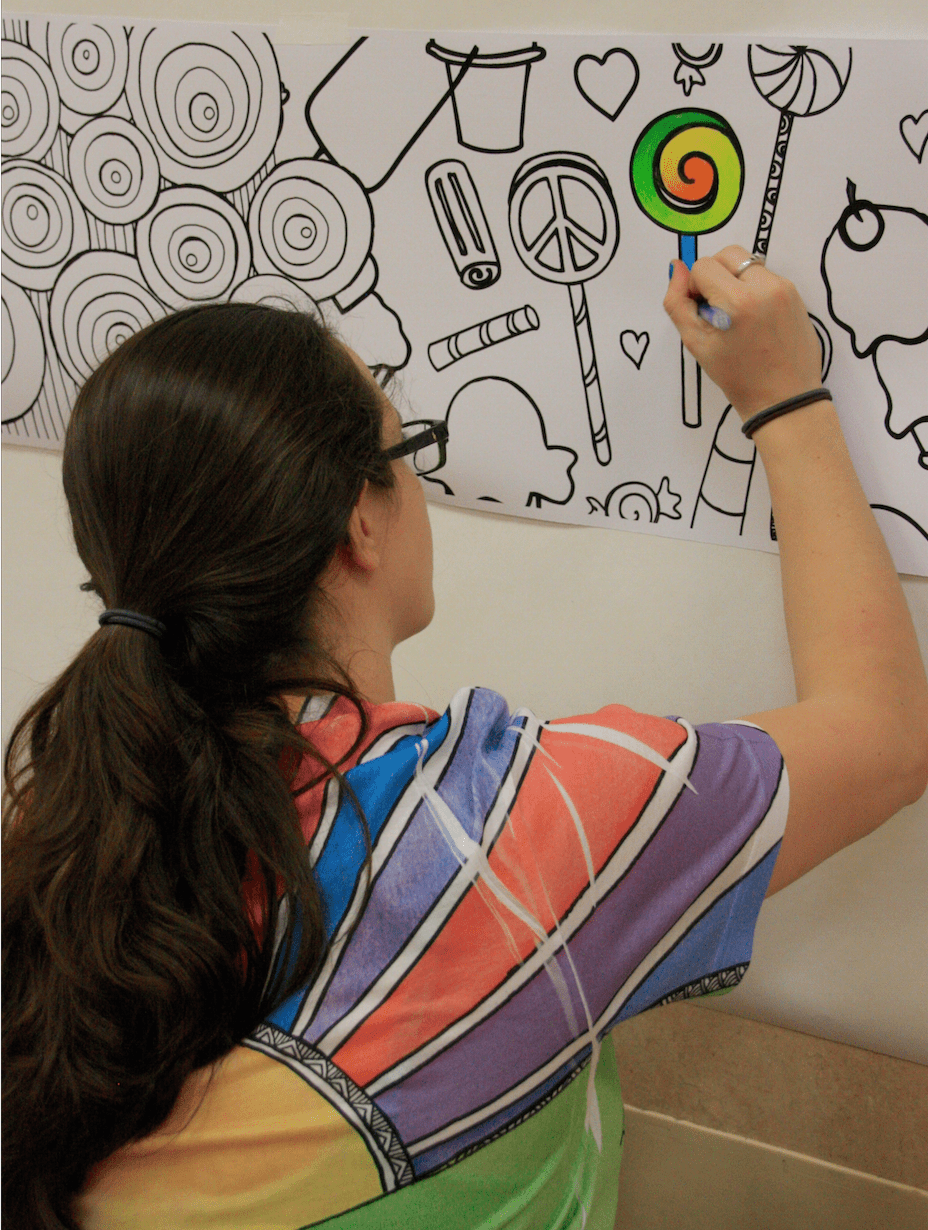 In addition to the banner, there were four different coloring stations: one for kids, one for grown-ups, one for families, and a special one for members of our awesome Zenspirations® Create, Color, Pattern, Play Facebook Group (https://www.facebook.com/groups/1471158256528576/). Tracey Lyon and Ranae Davidson, both amazingly talented artists who are not only active in the FB group but also created 'inspiration samples' for the new books, were kind enough to demonstrate coloring techniques and answer questions while I was signing books. Tracey is demonstrating patterning in the 'Heart rope' design below: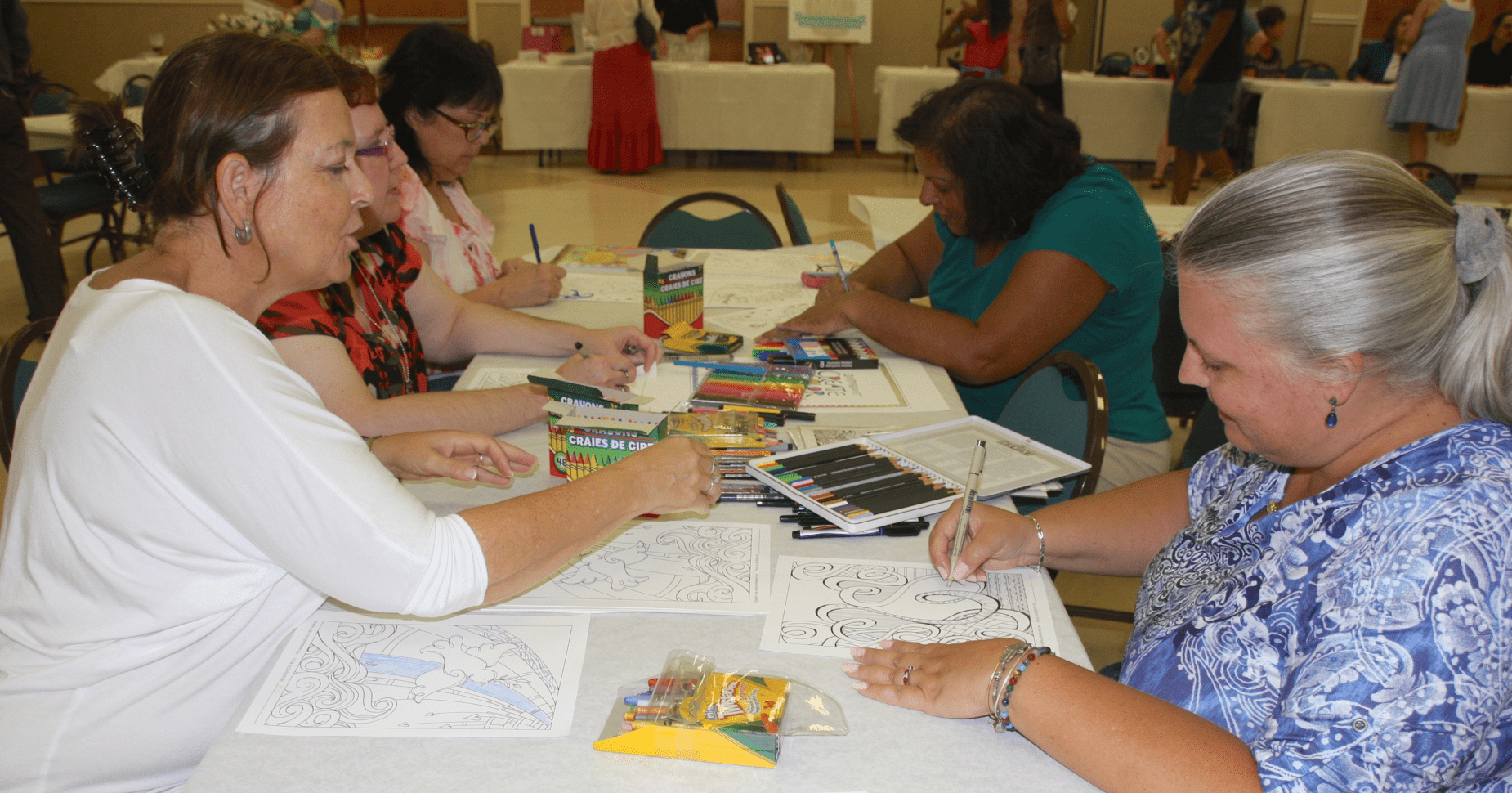 And Ranae is sharing color-blending techniques in this photo: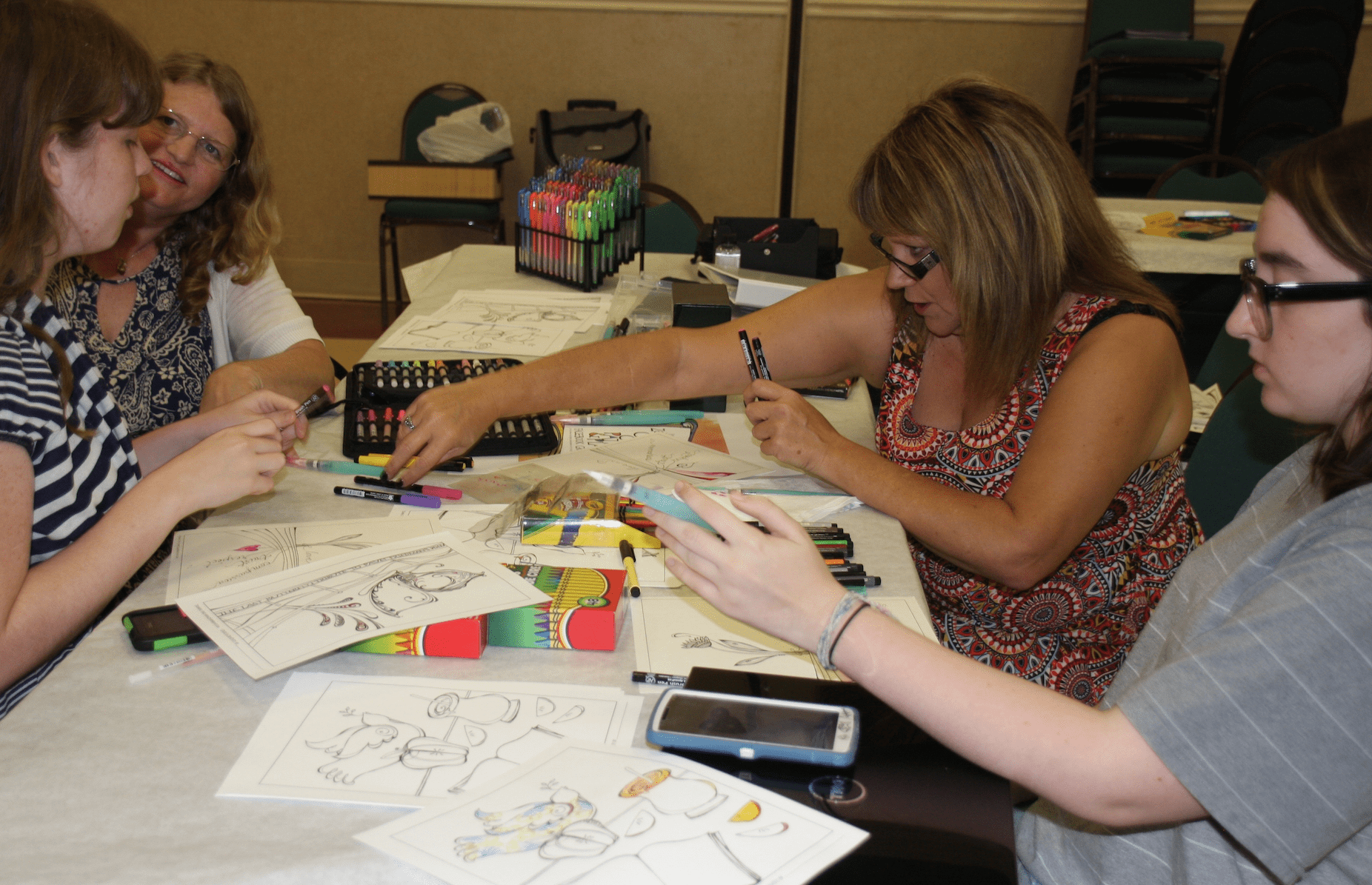 One of the coolest things about coloring is that it is an activity which can be enjoyed by any age group, which helped make the family coloring table especially popular.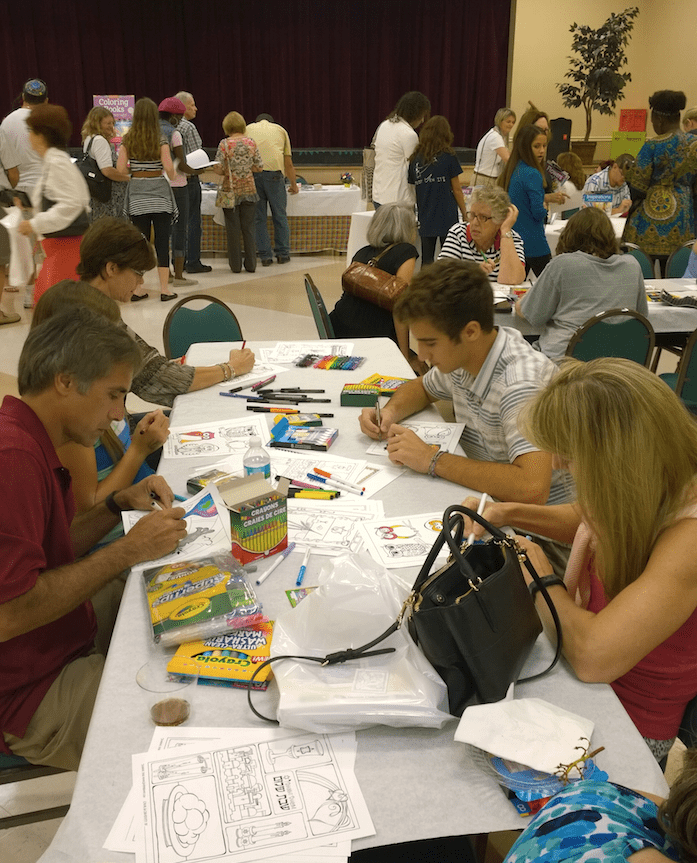 Since you can't have a Book Launch Party without selling books, my good friends Jill Goldsmith and Terri Misek came to help take orders.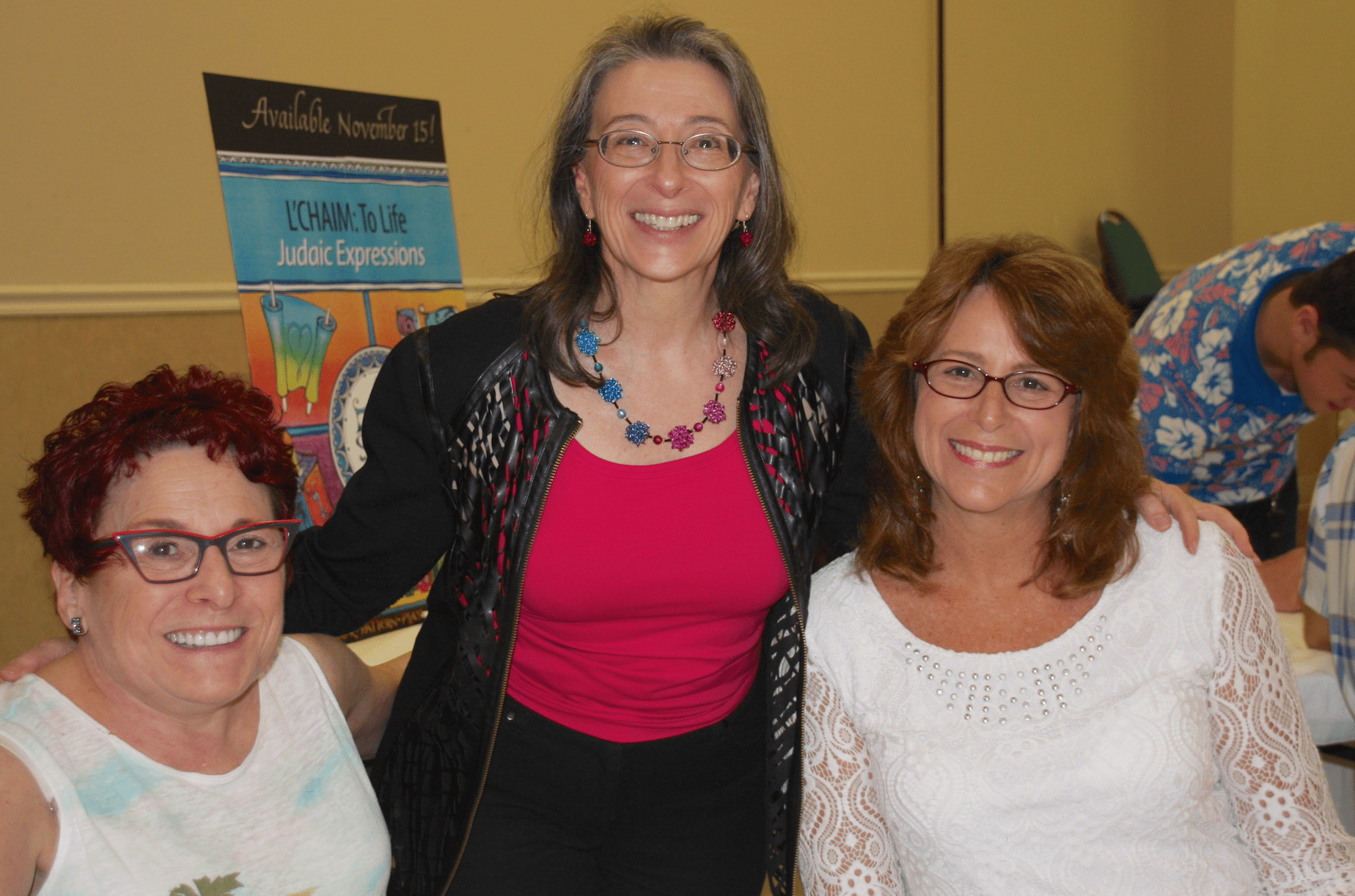 I enjoyed the afternoon tremendously, mostly because it was great to be able to see so many of my friends— and to meet some of my FB friends in person. I have always appreciated photographs of friends and family, but since my husband died four years ago, that appreciation has been heightened. Photographs are tangible reminders of special moments in your life, and I will always treasure the photos that were taken at the party. Heartfelt thanks to the incredible Dorian Eng (far right below), who drove down from Jacksonville and took most of the photographs I included in tonight's blog. Dorian has been a light in my life since we met a couple of years ago. A CZT and talented crafter, Dorian surprised me with this beautiful embroidered Dangle design when she attended the Zenspirations® workshops I gave at A Small Cleverness in Jacksonville.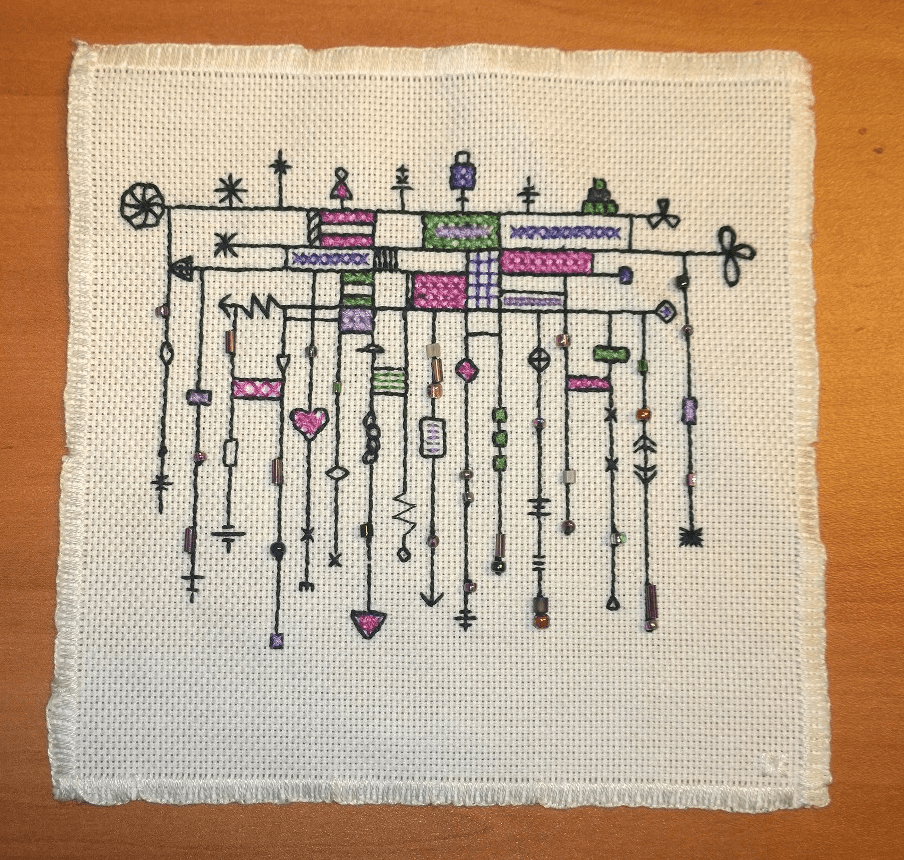 A few months after we met, I was preparing for an upcoming workshop, and needed 'Guinea Pigs' to test the material for me, and invited Dorian, who suggested I also invite some of her fellow CZTs. That's how I met (continuing from the right) Adele Bruno, Sindy Levine and Tracey Lyon. Like the calligraphic community, the CZT community is fairly close-knit, so I wasn't at all surprised to discover that Dorian, Adele, Sindy & Tracey all knew my good friend Jo-Ellen Mathews (far left).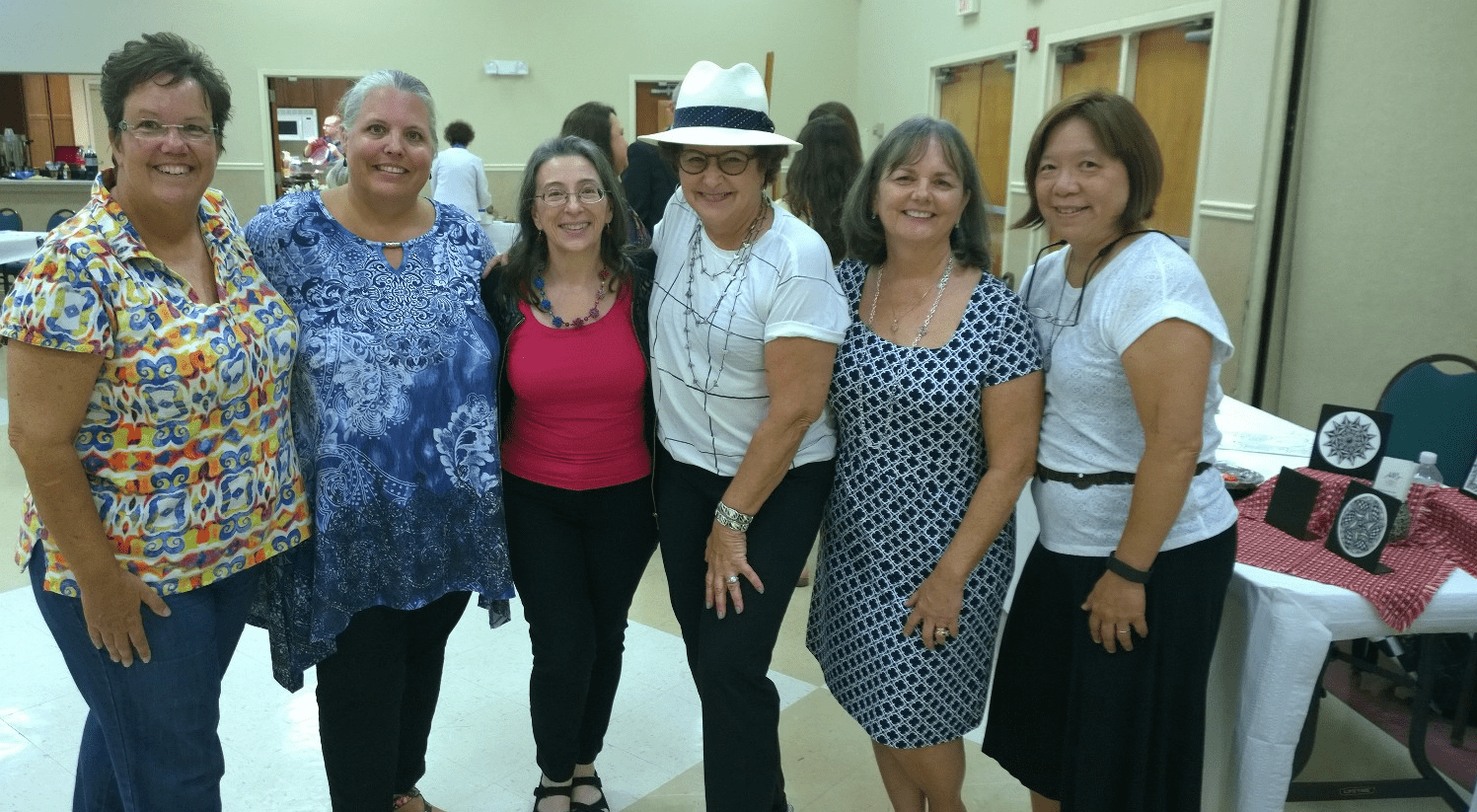 Jo-Ellen and I filmed a video together a couple of years ago called Zenspirations Color, Create, Pattern, & Play – Coloring Activity for All Ages. If you haven't seen it yet, I hope you'll take a few minutes this week to watch.
I belong to a number of different communities, and was truly touched that they all came to support me. Here is a photo of some of the more active members of the new FB group (from left to right) Ranae Davidson, me, Jill Goldsmith and
Tracey Lyon.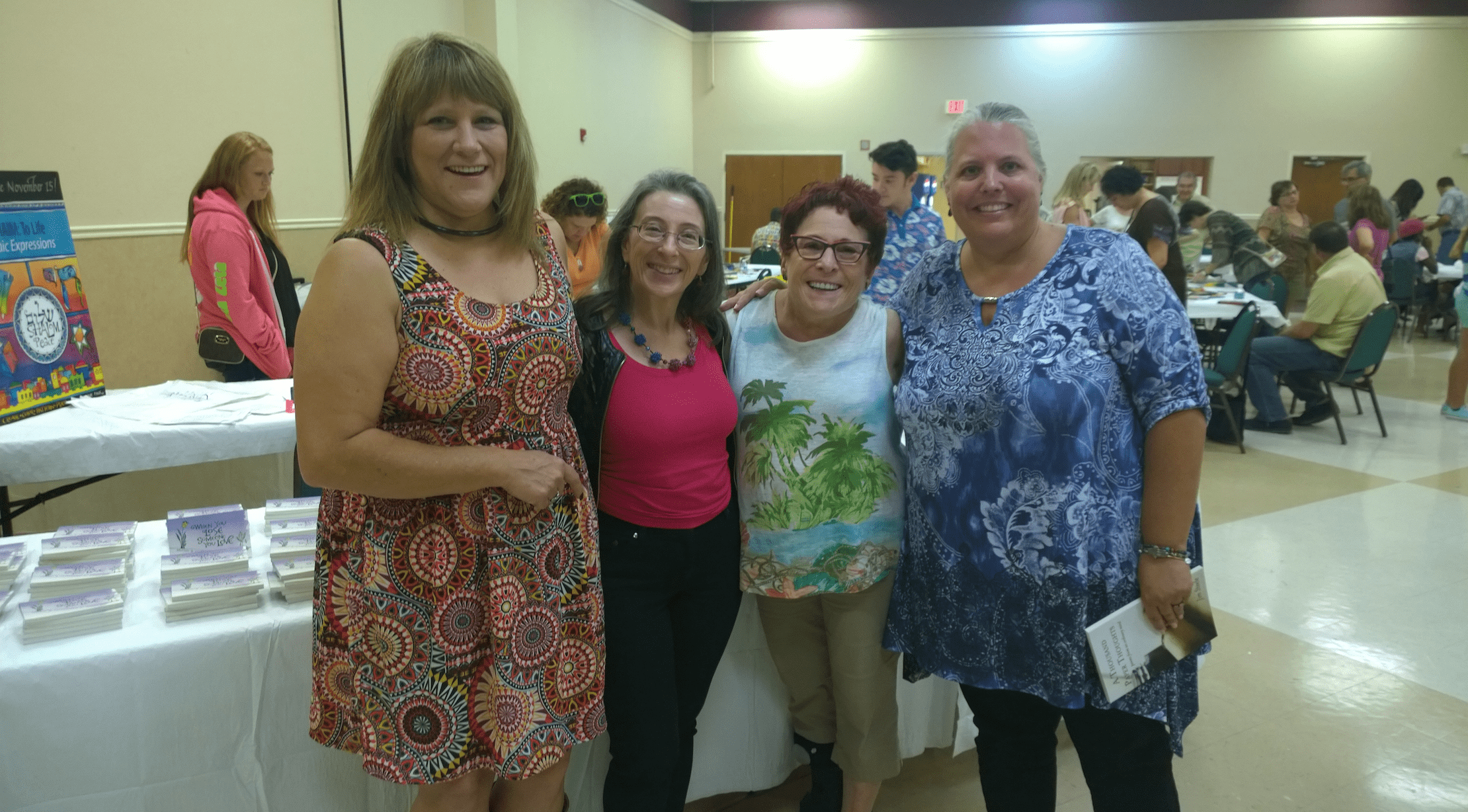 And I love this photo of me with some of my friends from the Modern Widows Club: (from left) Durga Landry, Debbie Graham-Mastrantonio, me and Vickie Garcia.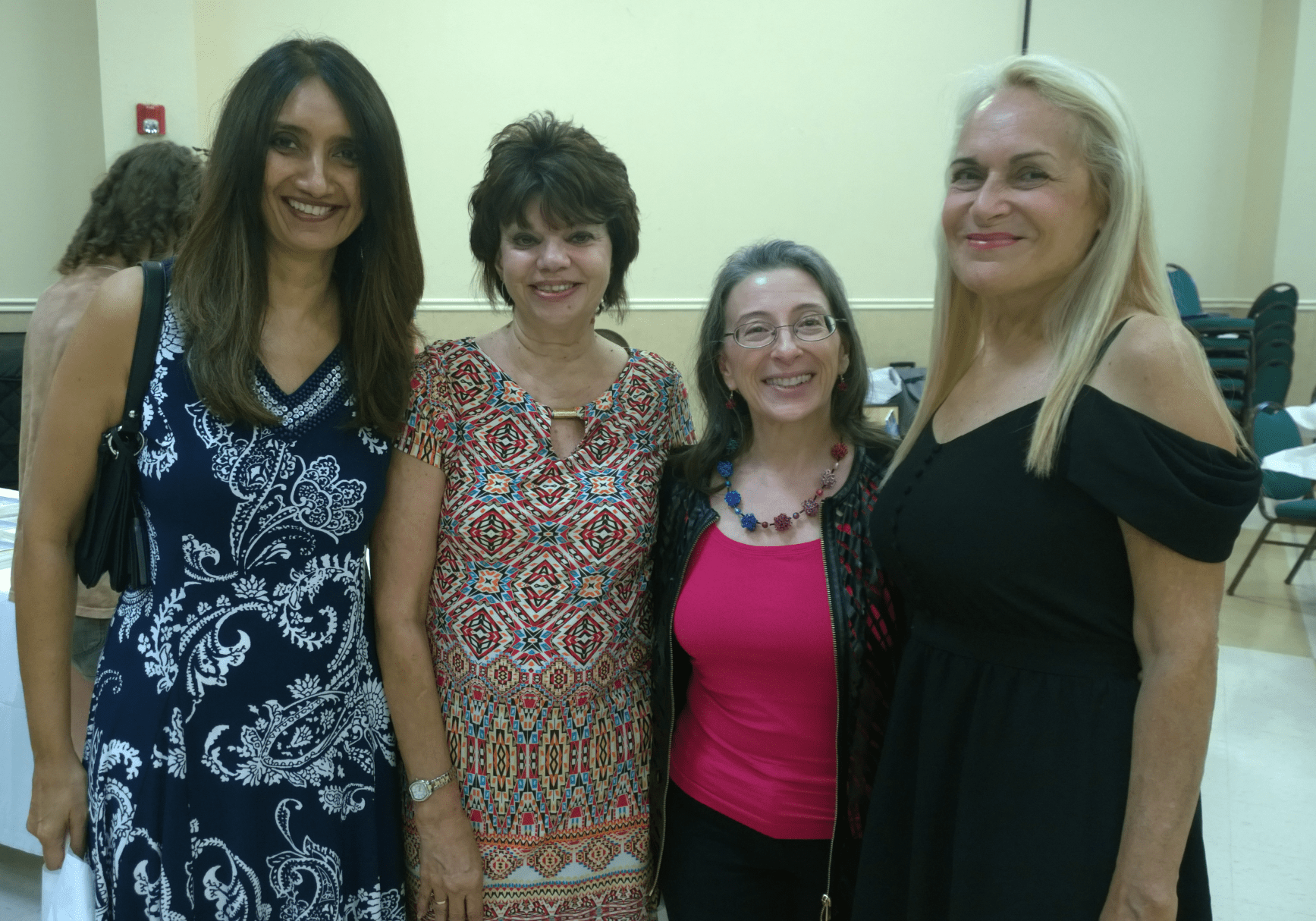 The Book Launch Party was wonderful… but wouldn't have been possible without my family & friends… my deepest thanks to each of you who helped. I'll try to post an album of "Book Launch Party" photos on FB later this week, but there is one photo I can't wait to share– it's one of me and my children in front of the display of coloring books. I'm proud of the books, but even prouder of my kids, and it meant a lot to me that they were there to share this special day.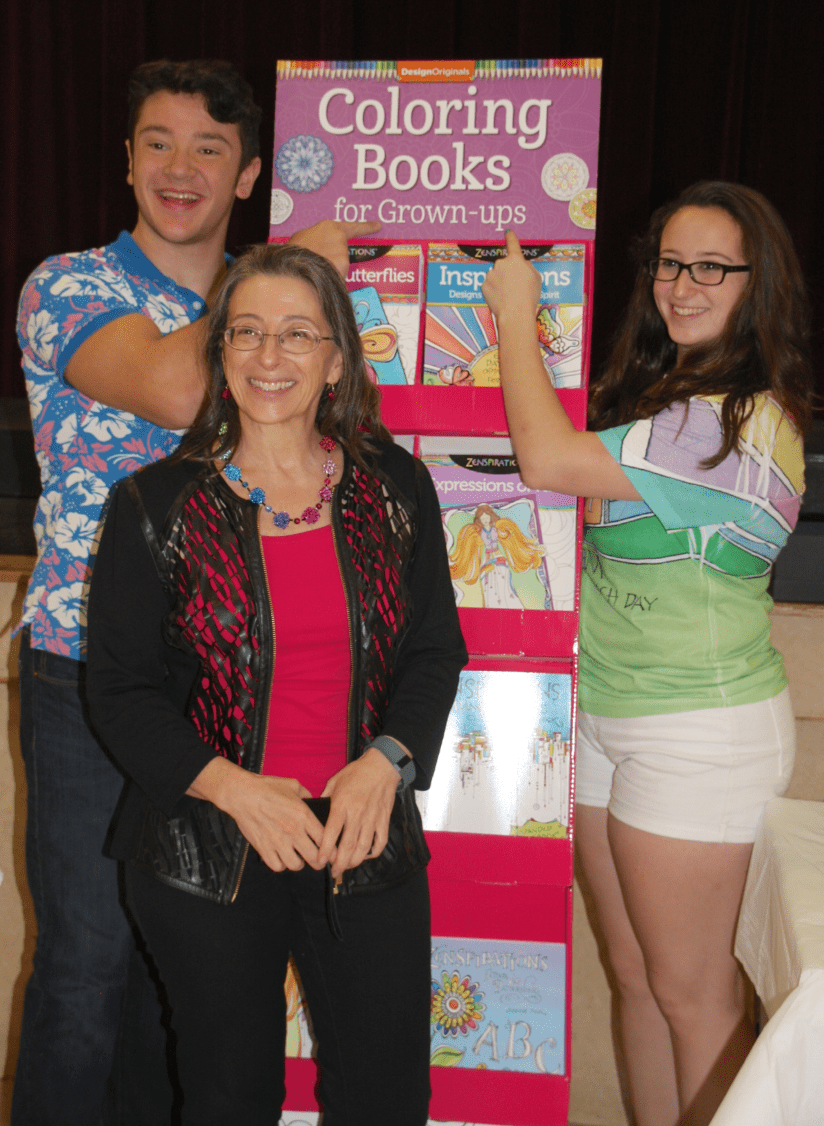 And the celebration seems to be continuing, because Color & Creativity Enthusiast Ranae Davidson is staying in Orlando for a few days, and when she came to visit tonight I asked her to pick the winners of this week's contest.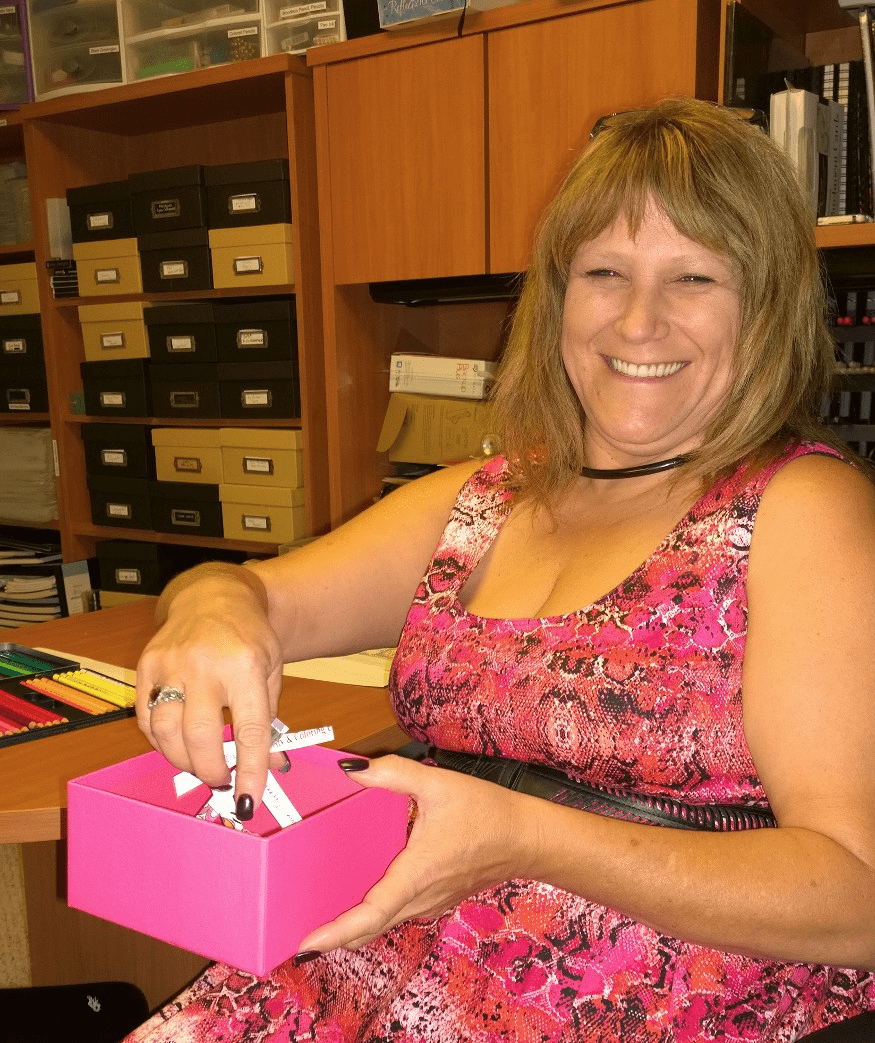 Congratulations to:
Nancy Duso, who won the new Zenspirations® Create, Color, Pattern, Play books: Birds & Butterflies, Expressions of Faith, the mini "Perfectly Portable Pages" Expressions of Faith, and the new Judaic Expressions;
Terri Brown, who won a set of the first three Zenspirations® Create, Color, Pattern, Play books: Flowers, Inspirations and Abstract; and
Puneet Sekhon, who won a signed copy of my new Kickstarter book, When You Lose Someone You Love. Ladies if you can please e-mail me your addresses I'll get the packages underway.
Special thanks to all of the Color & Creativity Enthusiasts who have done such WONDERFUL inspiration samples this week. Although the winners have been picked for the prizes, there is still an opportunity to have your work considered for inclusion in my next book, Judaic Expressions. You can download the images from last week's blog, add your creative touches, and then upload your completed designs to the appropriate album in the FB group by noon on Thursday (Orlando time). My editor and I will review them Thursday afternoon, and I'll let you know next week which pieces were selected.
Stay Zenspired,
Joanne