The Global Connection
Tuesday, May 26, 2015
Hi Everyone,
One of the things I like best about Social Media is that it facilitates connections with people the world over who share your passions. For example, I am connected on Facebook with hundreds of calligraphers from more than two dozen countries. Some I've known for years, some I know by reputation; others I had no idea existed until they sent me a friend request… yet they are all part of my calligraphic family. It doesn't matter whether or not we've ever met; whether we prefer to letter with a brush or a pen; whether we have been lettering for decades or are new to the craft: our mutual passion for lettering binds us together no matter where we happen to live or what language we happen to speak.



Joining Instagram earlier this year has made me realize that Zenspirations® is going global. People are posting Zenspirations cards they've created, dangles they've designed, and completed pages from one of my 'Color, Create, Pattern & Play' books. It's exciting to be part of a growing worldwide community of people who follow the Zenspirations® blog or practice Zenspirations® as an art form, a meditative style of journaling, a spiritual philosophy and/or way to write from the heart and inspire others to fly. That's what inspired me to create this piece… I hope you enjoy it. It's just a rough, but below are some close up photos so you can get a better idea of the concept.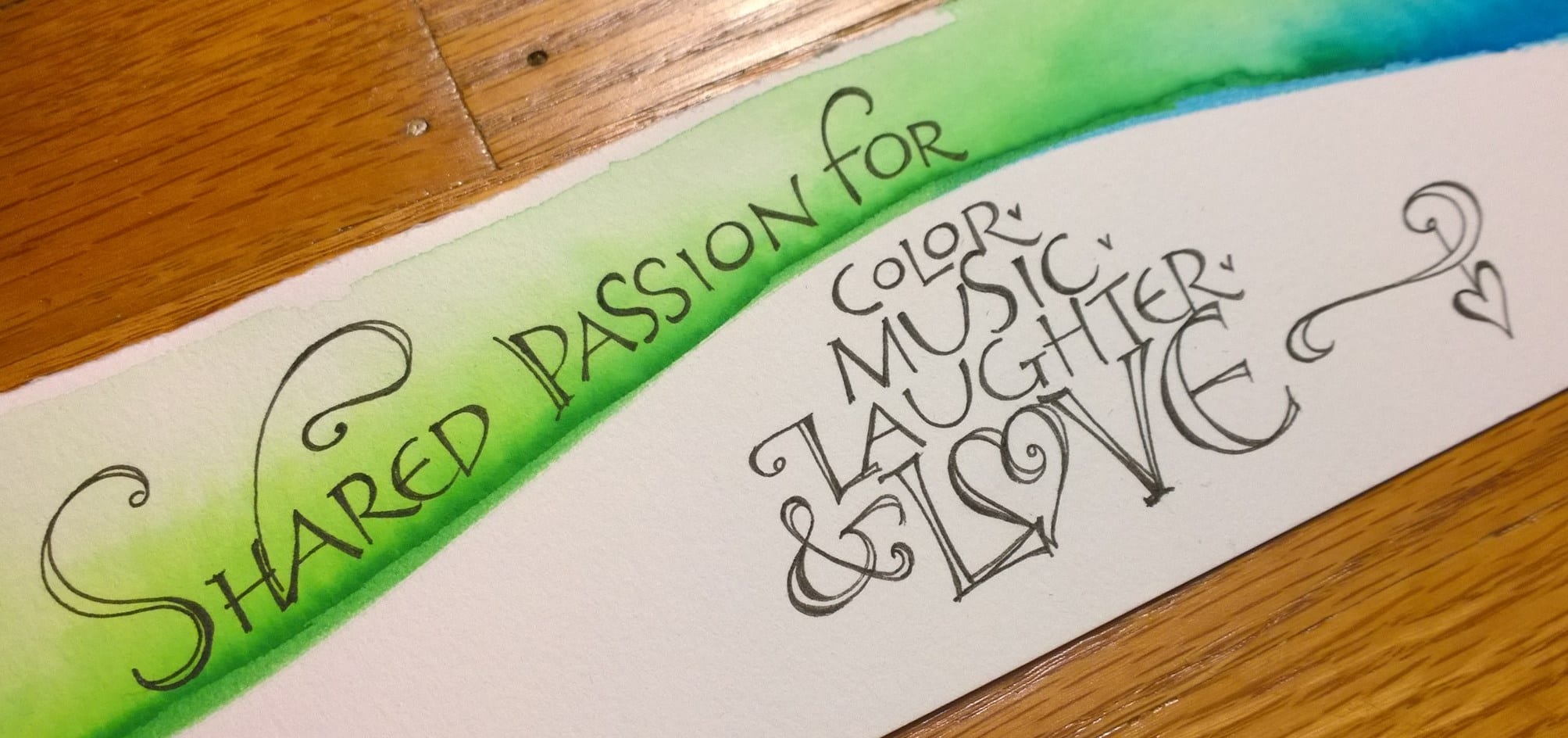 For those who are interested in trying the technique, I used Koi Coloring Brushes (and a water brush) to create the color border, and then used an 01 Pigma Micron to letter the text.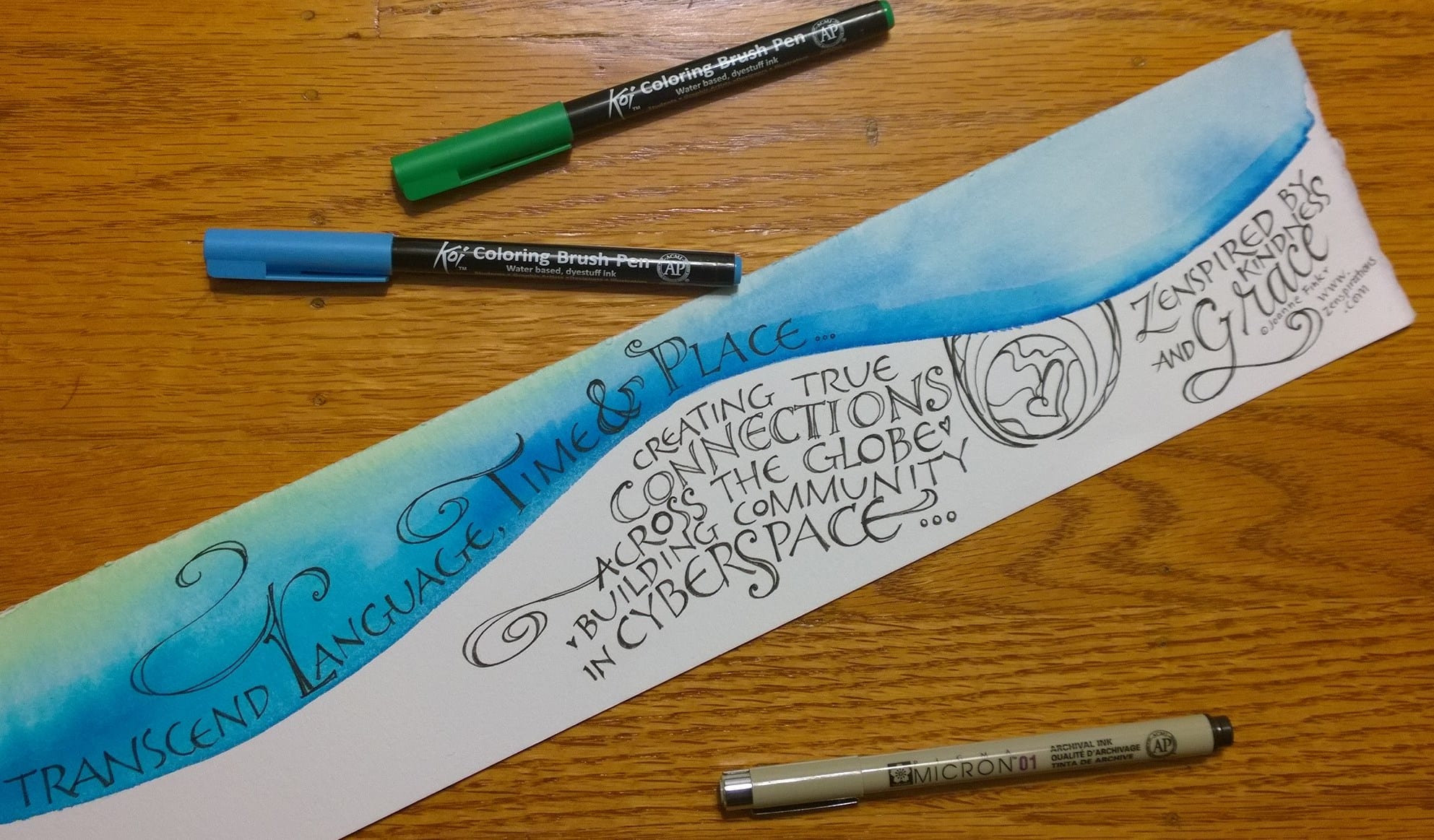 I invite you to celebrate Zenspirations by connecting with others who share your passion. I also invite you to connect with me on Instagram at https://instagram.com/zenspirations/.
Another thing which made me realize Zenspirations is going global, is that I got a copy of my first Zenspirations book, Zenspirations Letters & Patterning, which had been translated into French! Below is a photo of both versions.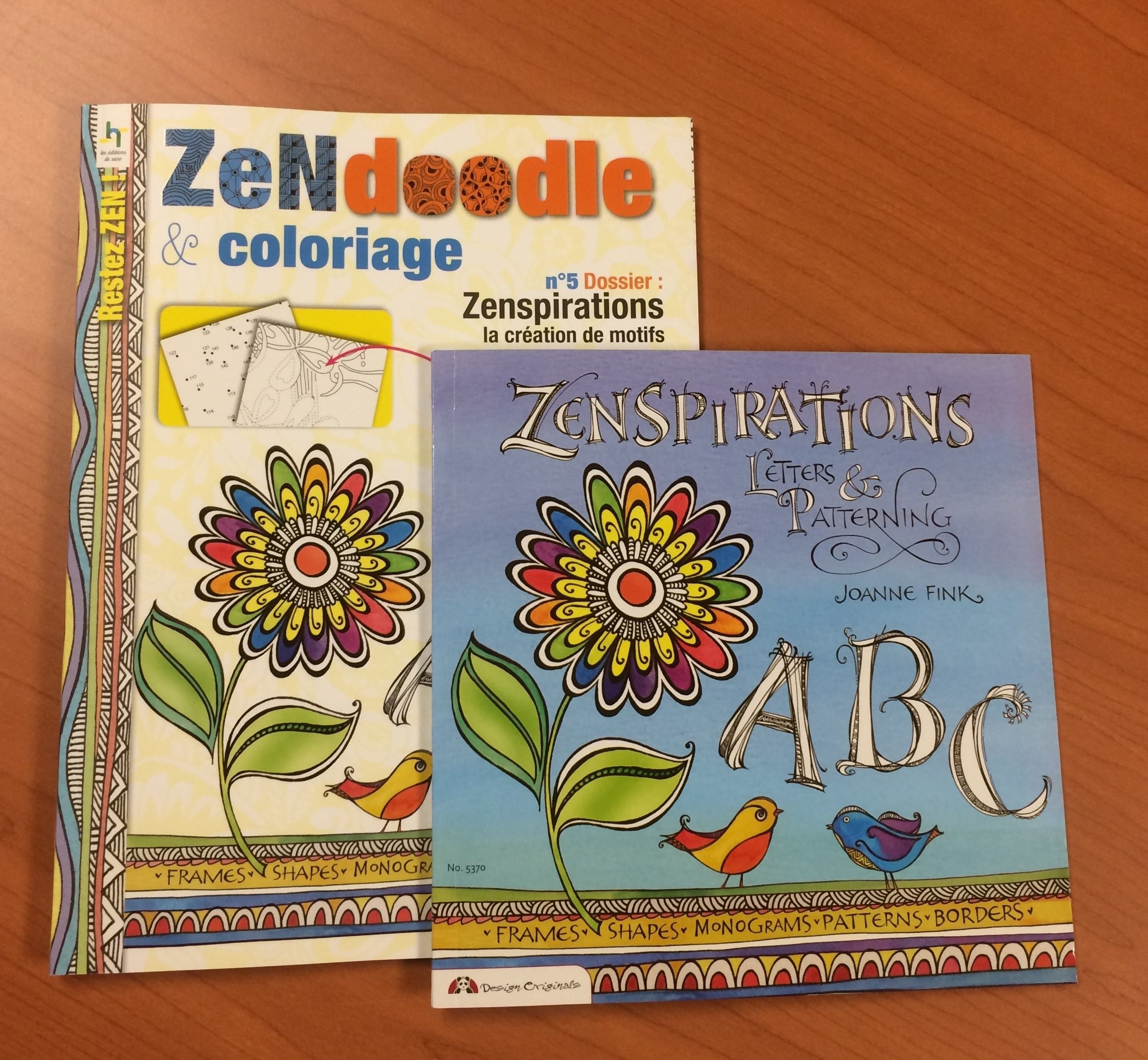 Here is a side-by-side showing how the French version is laid out.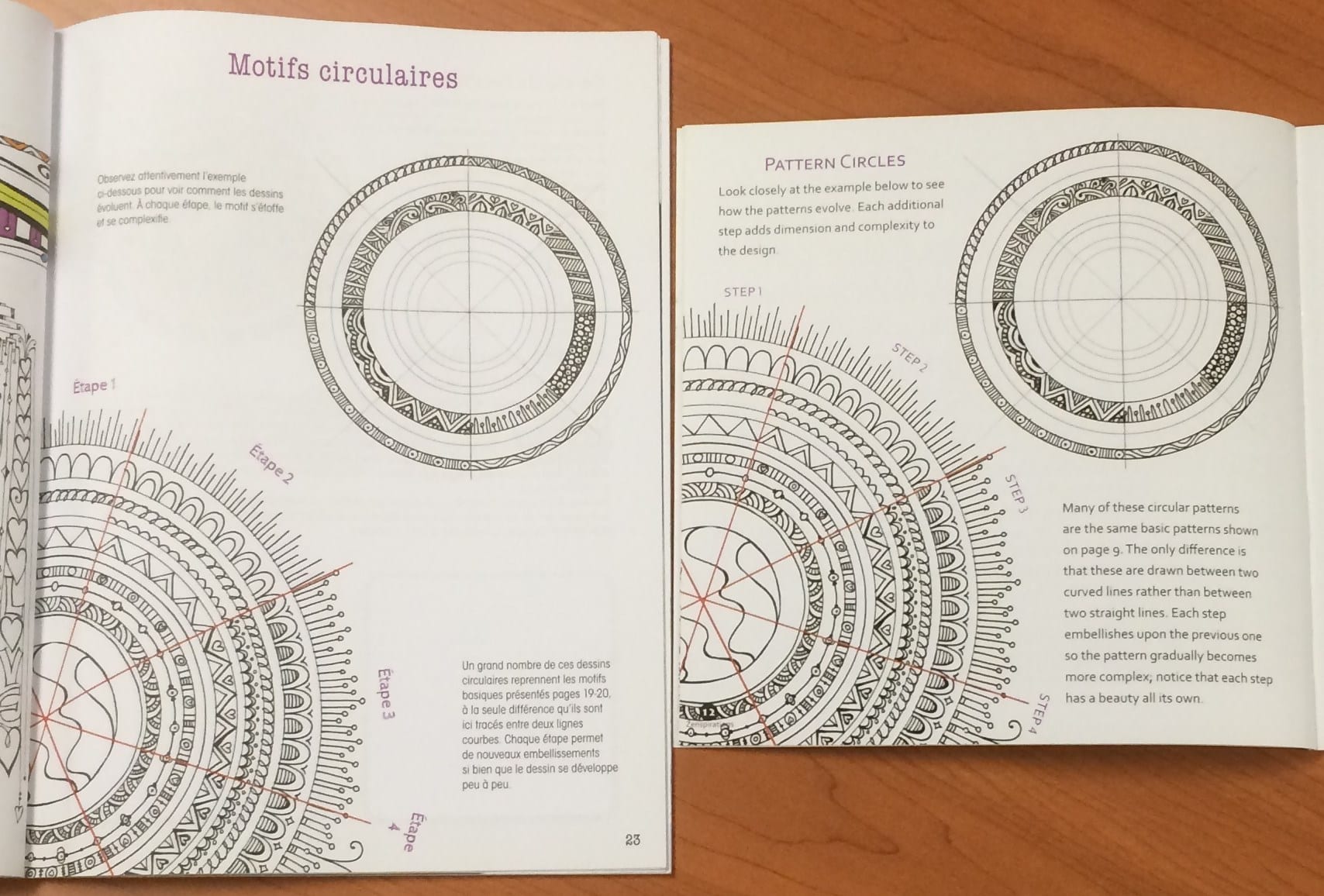 And here is another sample page: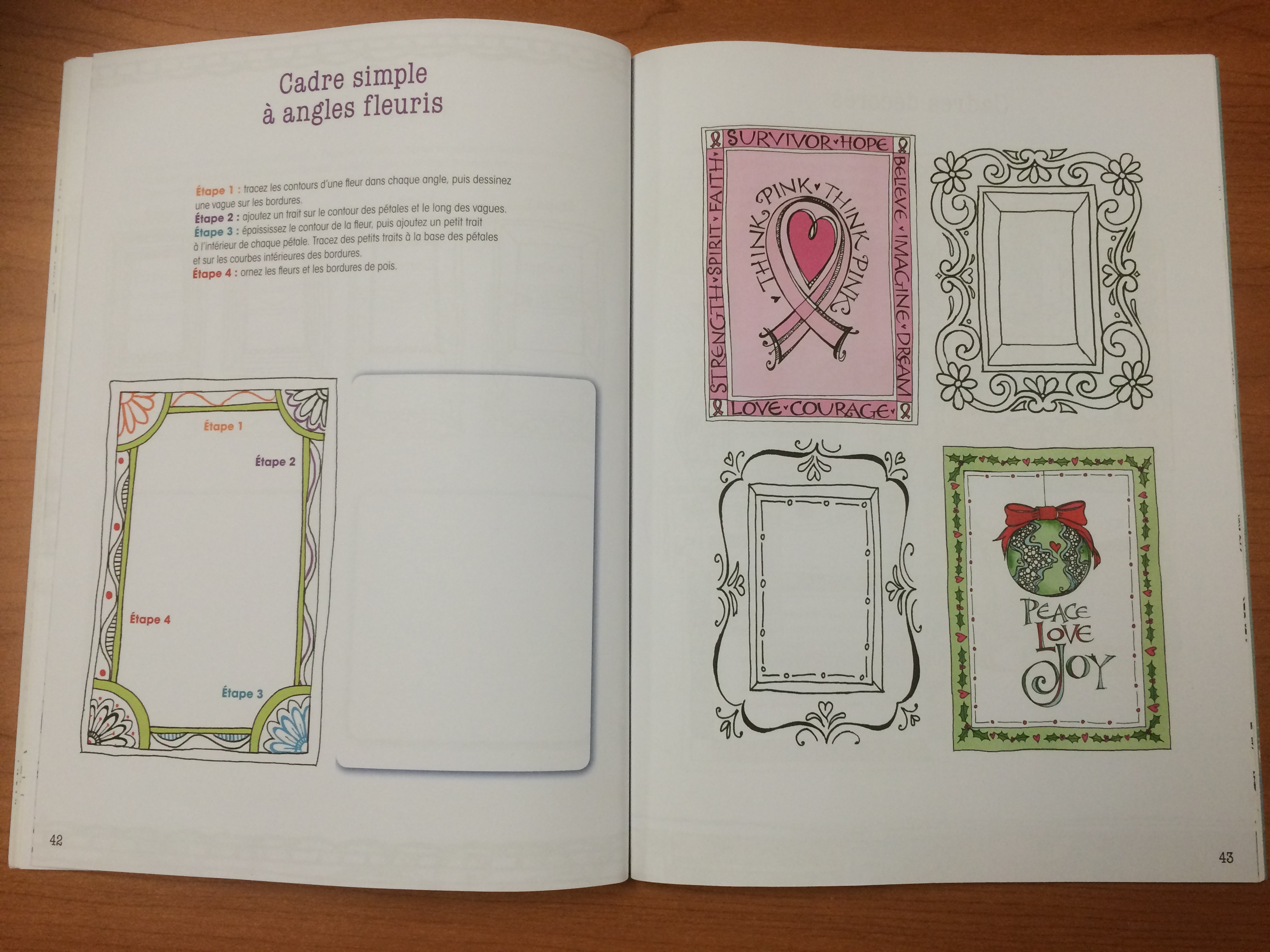 The same week I got the sample of the French version, the delightful and talented Anna Coll wrote to let me know that she's been asked to translate the book into Spanish, and to find out if I could redo the hand-lettered text in Spanish. Although I won't be able to reletter everything, I've gotten off to a pretty good start. These are the Spanish words which will replace the English messages shown on these pages: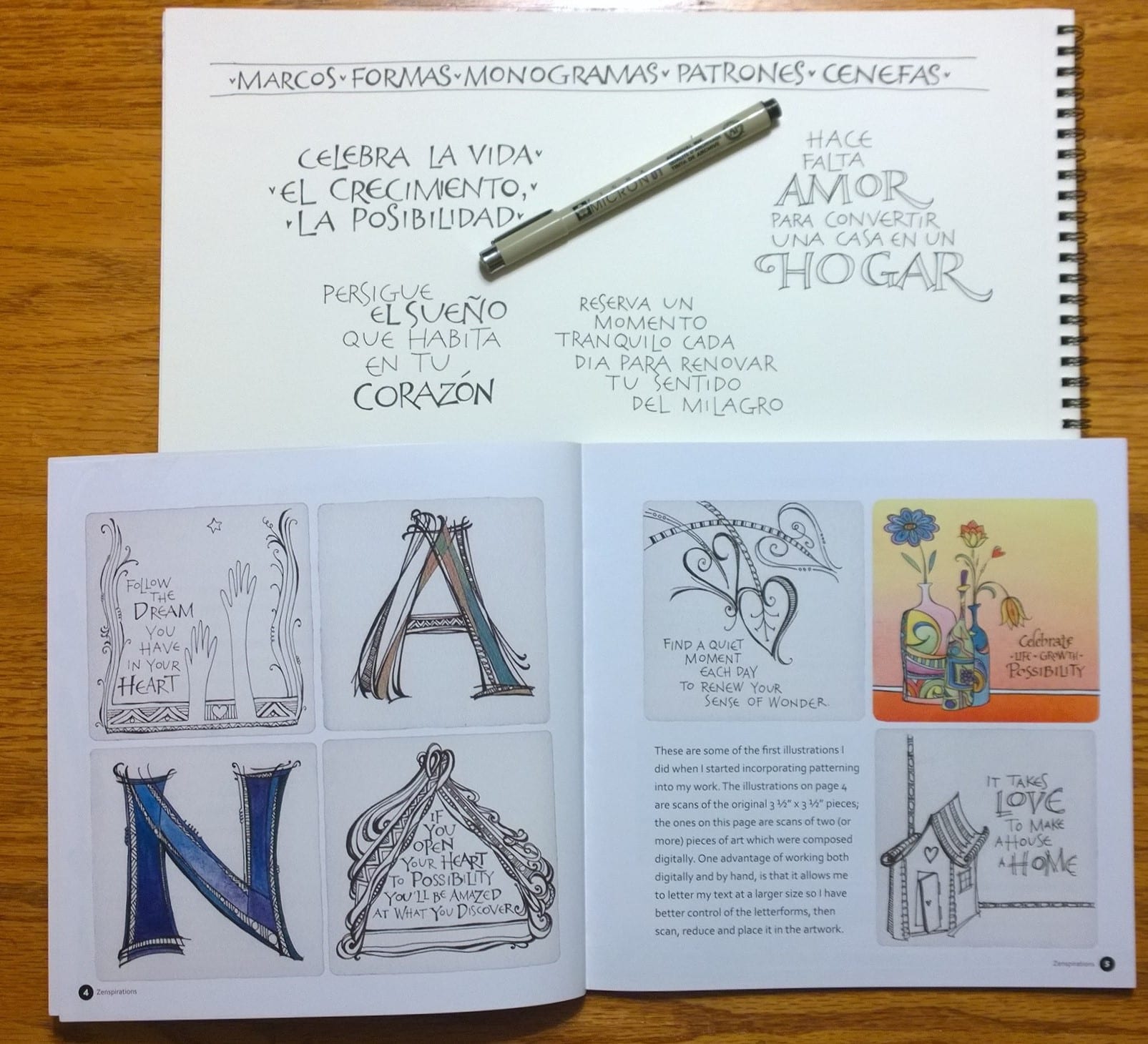 It's really exciting to know that Zenspirations is being translated into other languages… and even more exciting to be part of a growing community. I'd love to know where Zenspirations is being practiced, and how popular it is outside America– and therefore have a favor to ask. If you are based outside the US, I'd be grateful if you would leave a comment letting me know how you heard about Zenspirations, how long you've been doing it, and anything else you think I should know. I will draw a name from those who leave a comment, and that lucky person will recieve a digital download of their name (or the name of their choice), along with a Color, Create, Pattern & Play page, and fully colored Zenspirations design.
I look forward to discovering where the Zenspirations community is growing!
Stay Zenspired,
Joanne