The Roots of Inspiration
Tuesday, November 11, 2014
Hi Everyone,
I was amazed and delighted with all the wonderfully creative names you suggested when I asked for help naming the new technique I've been working on. There were so many 'Zenspired' options that it was hard to narrow down to a few favorites! But here are the 'contenders'; the ones I liked enough to hand-letter: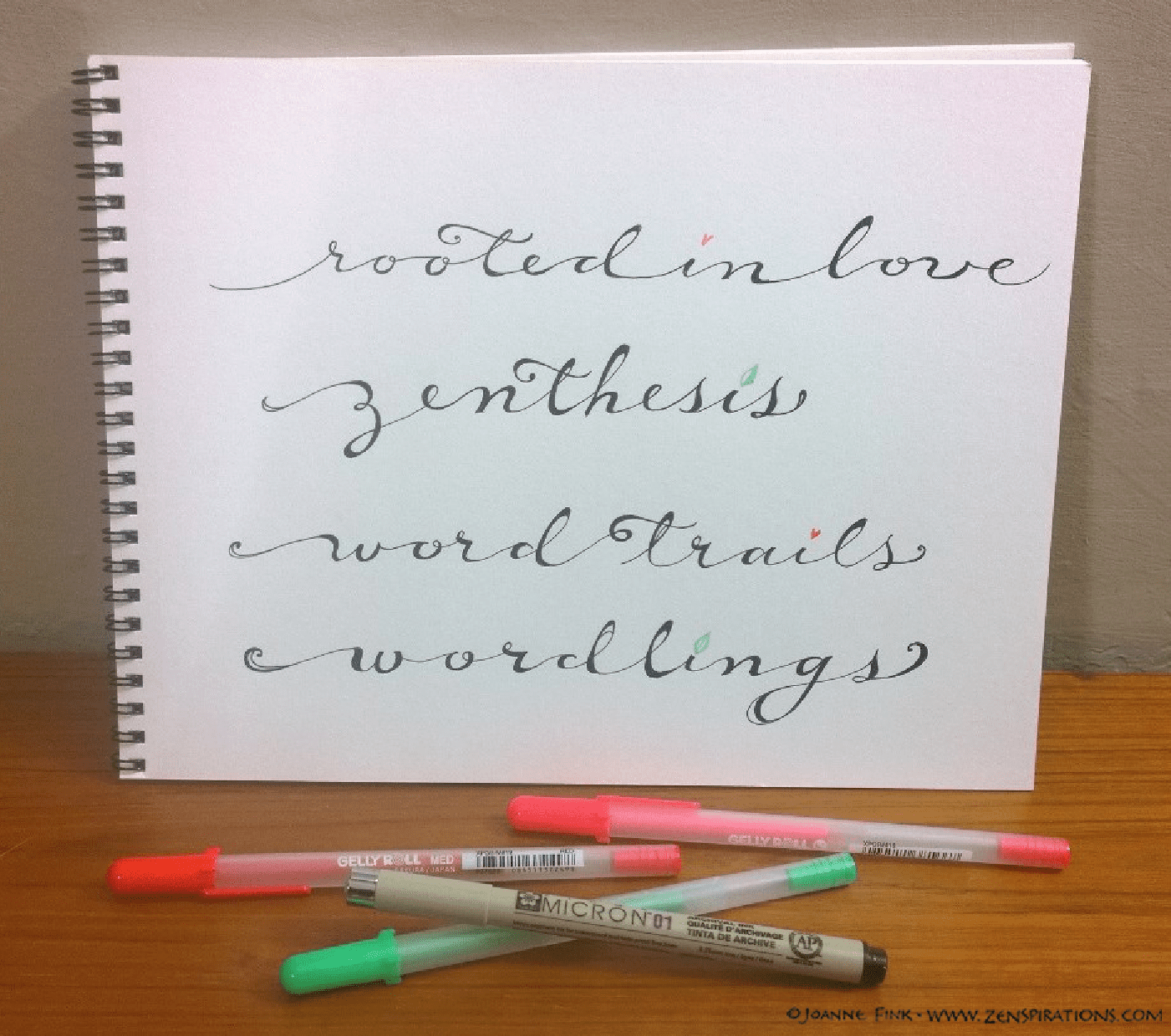 Special thanks to the people who made these suggestions: Kathy McRae, who suggested that I simply call the technique what I titled my last blog post—Rooted in Love; Jane MacKugler & Lanie, who both suggested Wordlings; Terri Young, who suggested Word Trails; and Sue O'Mullan, who made several suggestions based on the word 'synthesis', which lead me to come up with Zenthesis. I like them all, but am leaning to Zenthesis because it starts with 'Zen', and because I think of the technique as a synthesis of the words and the art, where the words become the art.
Words have been an endless source of inspiration for me. I love the way words can impact the world. As a young scribe hand-lettering another author's prose, I saw my 'job' as being an interpretive vehicle between the author and audience. Thus I needed to understand the author's message before I put pen to paper. Today, I usually hand-letter my own thoughts spontaneously– and revel in being both author and the artist. Some days the words spill out of me… other days I draw but don't write… but either way I love the interaction of putting ink on paper. There is nothing I enjoy more than beginning the day with a pen in my hand!
I strive to write something every day which will make a difference in someone's life– that's part of what Zenspirations(R) is all about and why one of the two tag-lines is Live by Inspiring Others to Fly.
I encourage each of you to share your own core wisdom by writing (and lettering, if you like!) inspiring sentiments to share with those you love.
And for those of you who are interested in trying out this new technique– whatever we wind up calling it– step one is to write the word(s) in a wide, loose, script (please see below). Step two, shown in 'zenthesis' and 'wordtrails' in the bottom photo, is to double stroke the letters where you want to make them heavier. Step three, shown above, is to fill them in.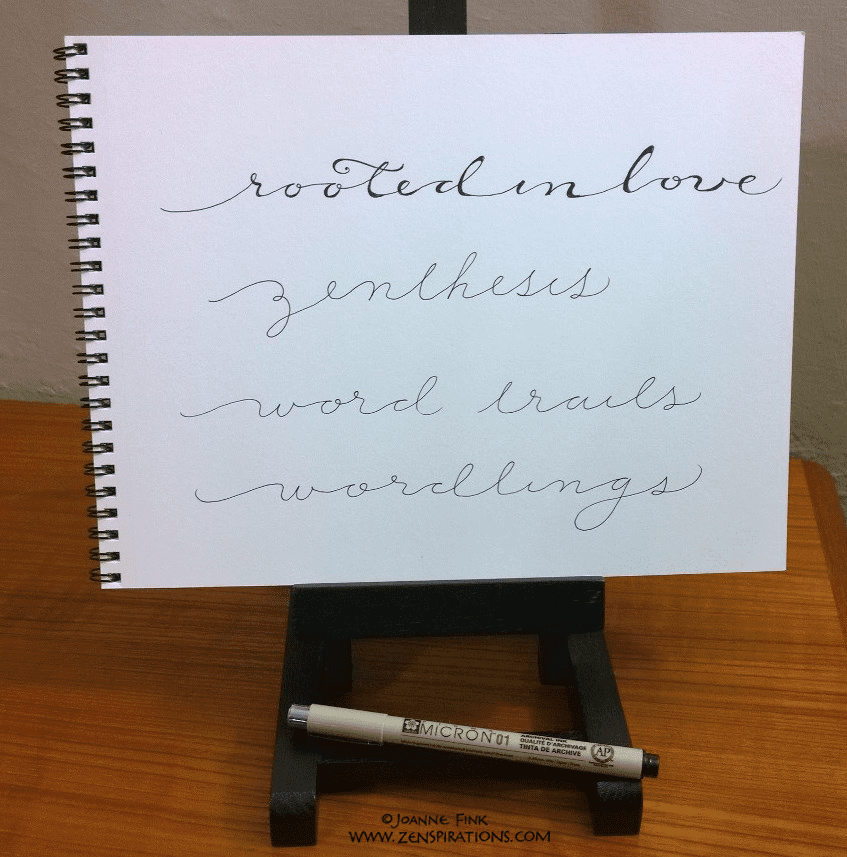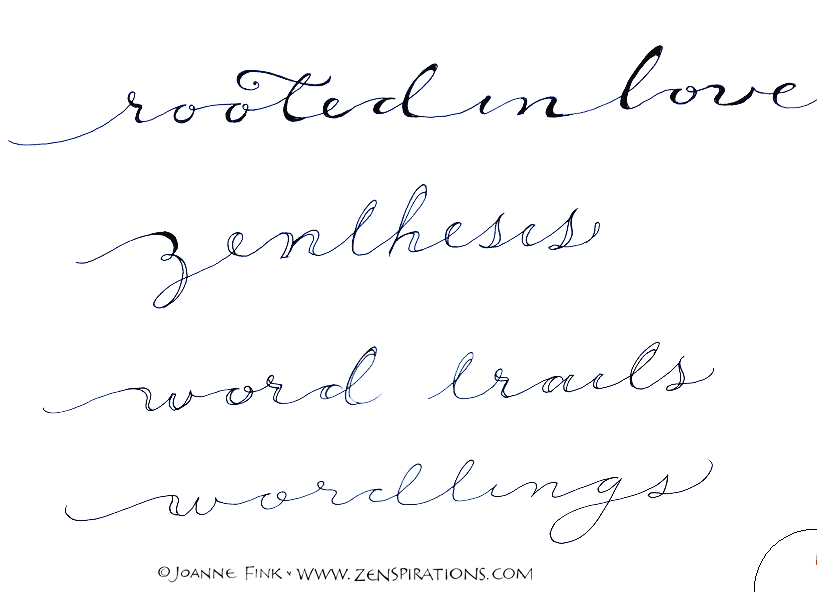 Once again I'd appreciate your input– which of the four options: Rooted in Love, Zenthesis, WordTrails or Wordlings is your favorite, and why? Please leave a comment to let me know (please don't e-mail me about this because I don't want to miss any of the votes!).
Jane, Lanie, Terri & Sue— please email me your snail-mail address because I'm going to send each of you a Zenspirations print, and I'll send a signed book to whoever suggested the name which gets the most votes by the end of the week. Until then…
Stay Zenspired,
Joanne