When You Lose Someone You Love Kickstarter
Tuesday, September 30, 2014
Hi Everyone,
I wanted to share some exciting news— I've decided to self-publish, "When You Lose Someone You Love , an illustrated book of excerpts from the grief journals I kept after my husband died unexpectedly three years ago. I want to publish this book to reach out to others going through the grieving process because I know first-hand how devastating it can be to lose someone you love. Connecting with those who were further along on their grief journey made a difference to me… and I'd like to help make a difference for others. It helps to know that you are not alone, that there will be days when you feel overwhelmed, nights when you can't sleep, and times when waves of sadness wash over you unexpectedly. When You Lose Someone You Love is a gift of comfort, offering hope without sugar-coating the challenges of losing a loved one.

I've actually had offers from several publishers, but they all wanted to change the book in some way. Since I feel those changes would weaken its ability to help people who are grieving, I've decided to self-publish instead and will be launching my first Kickstarter tomorrow!
In case you aren't familiar with crowd-funding, Kickstarter funds independent, creative projects, such as books, films, and inventions. Supporters of a project help bring it to life; in return, the supporters receive rewards if— and only if— the project is completely funded. Backers select the amount they wish to contribute (often based on which reward they wish to receive), and then are asked to provide either an Amazon account or a credit card. If the funding does not reach the amount necessary for the project, then the project will not move forward, and no funds will change hands.
Most successful Kickstarter projects have two things in common: getting support the day it launches and having friends and family share the project. Immediate support is important because when the Kickstarter website sees initial momentum, they then feature that project on their site so it gains maximum exposure. Sharing is important because the more sharing about the project that is done by friends and family, the more likely it is that the project will be funded. Please help me spread the word. Blog if you can, share via social media- and/or forward the link to those who might support the campaign. Please use the hashtag #WhenYouLoseSomeone on social media so others can find your posts.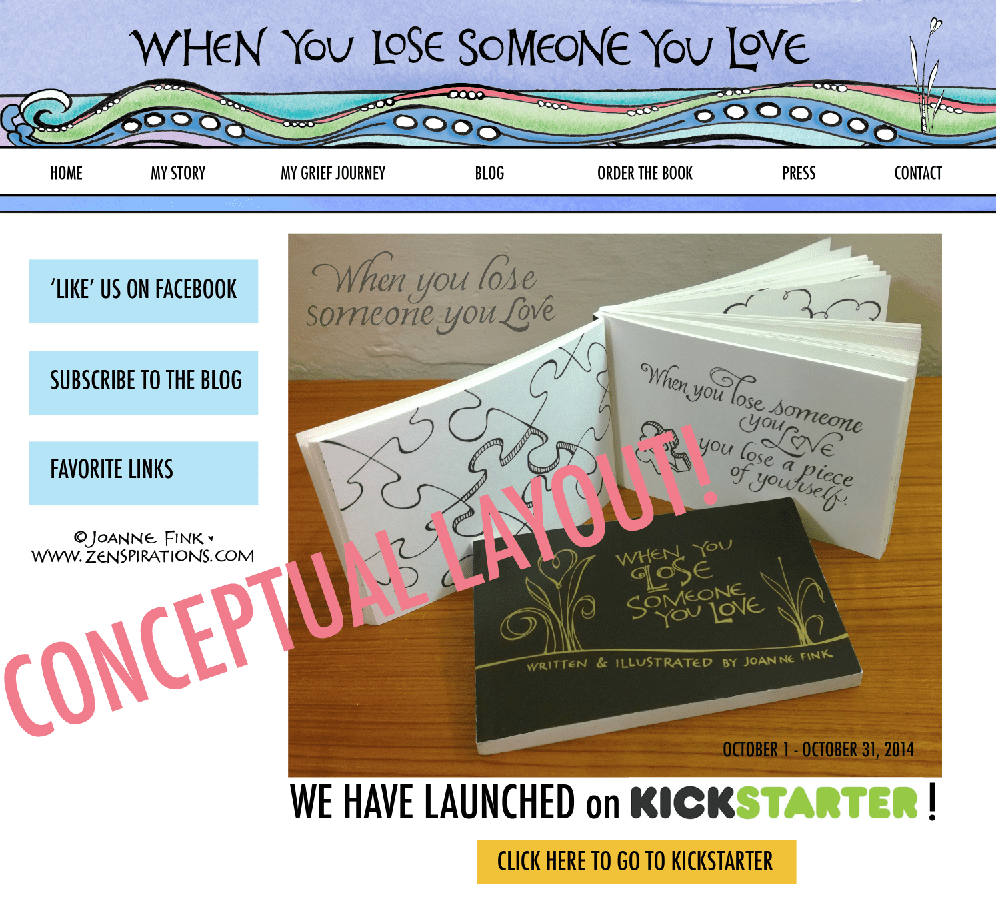 I'd be extremely grateful if you are in a position to share and/or support my Kickstarter. I'd also appreciate your 'liking' my new 'When You Lose Someone You Love' FB page: https://www.facebook.com/whenyoulosesomeone.
In addition to the FB page, I'm also in the process of developing a new website and wanted to give you a 'sneak peak' at how I'd like it to look. If all goes well I'll be able to launch the Kickstarter on Wednesday, and I will post a link once the Kickstarter goes 'live'. If you've done your own Kickstarter, or have ideas on how to market mine, please leave me a comment. I welcome your suggestions…
Stay Zenspired,
Joanne