Written in Stone
Tuesday, March 10, 2015
Hi Everyone,
There are so many things I want to share tonight! First of all, for those who are in Central Florida, I just found out that there are a few spaces left in the two workshops (Zenspiration® Dangle Designs at 11:00, and Zenspirations Creative Coloring Techniques at 3:30) I'll be giving this Friday, March 13th, at She Scrapbooks, 918 Bichara Boulevard, The Villages, Florida 32159. For more information, or to register, call 352-259-6226. I'd love to see you there!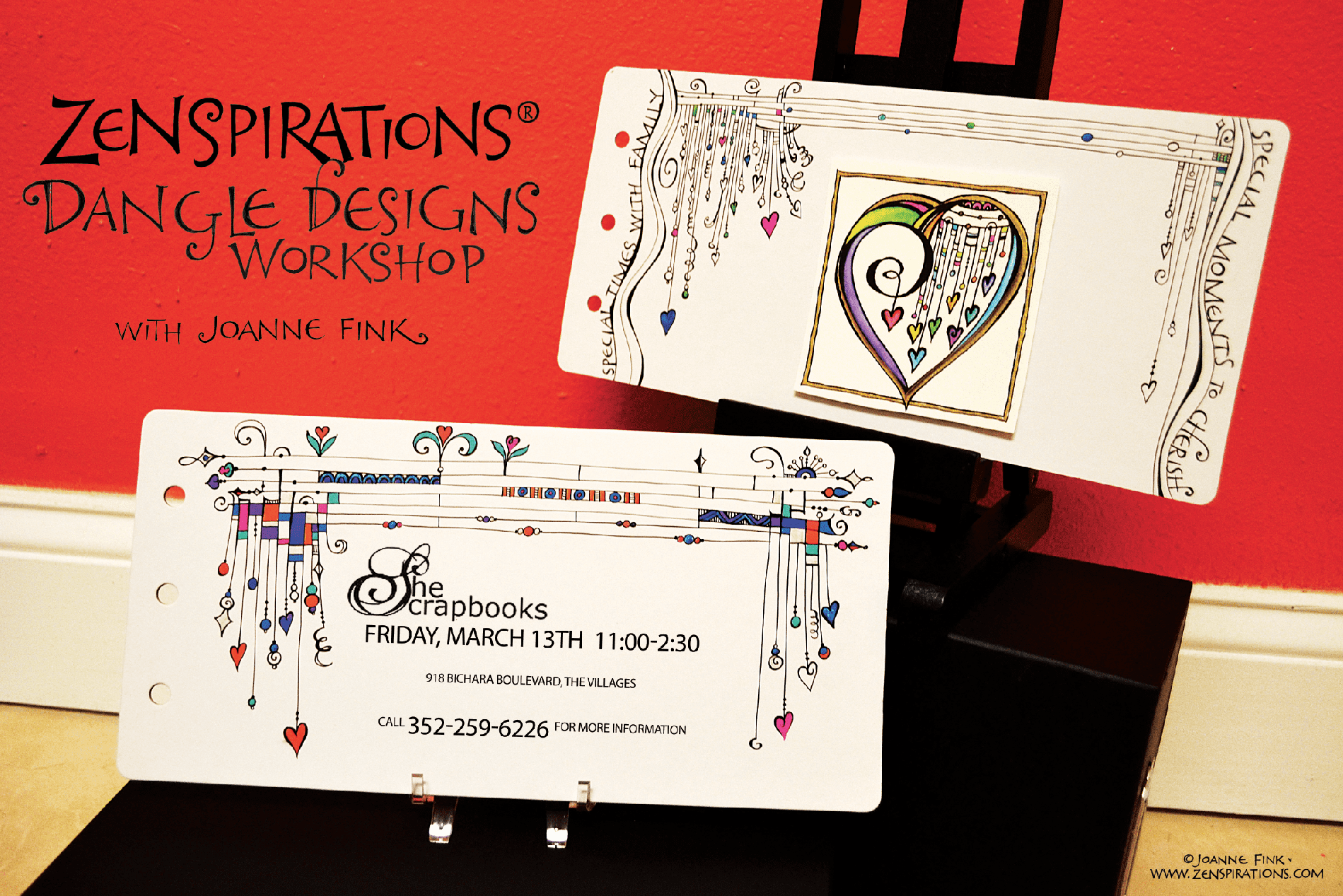 I've been asked to design several sets of notecards, each of which will have 10 related designs in a package, for a line launching this spring. I wanted to share two of the different concepts I've been working on. The first series is called 'Written in Stone', and will have either words or short phrases superimposed onto select stones.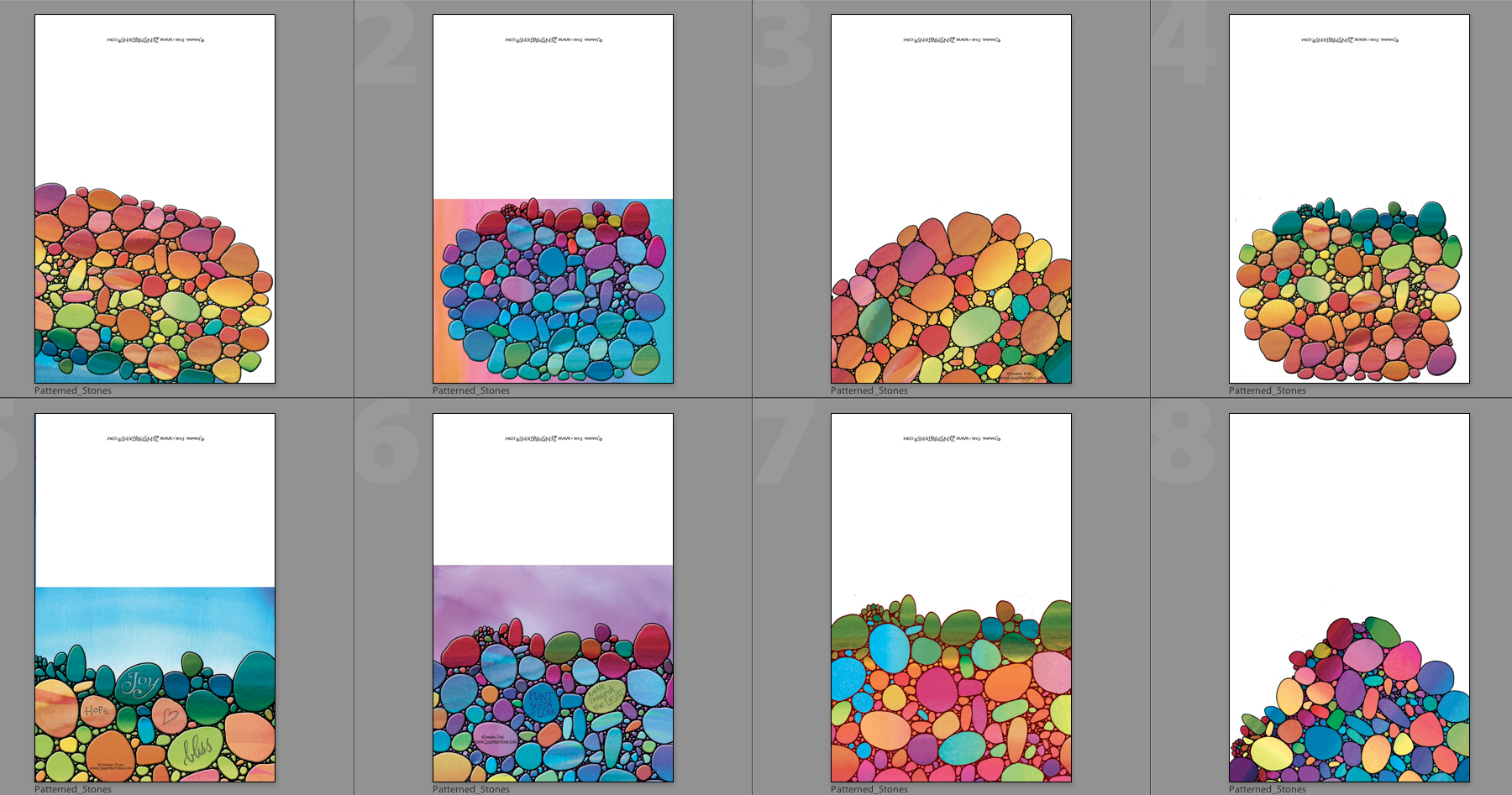 The working title for the next series is 'Love Lines', and regular Zenspirations(R) blog readers will probably recognize this as a take off on the 'Rooted in Love' look. The scrolly line which forms the word also divides the page. To add visual interest, I'm planning to use a different color/pattern treatment above and below the 'Love Line'.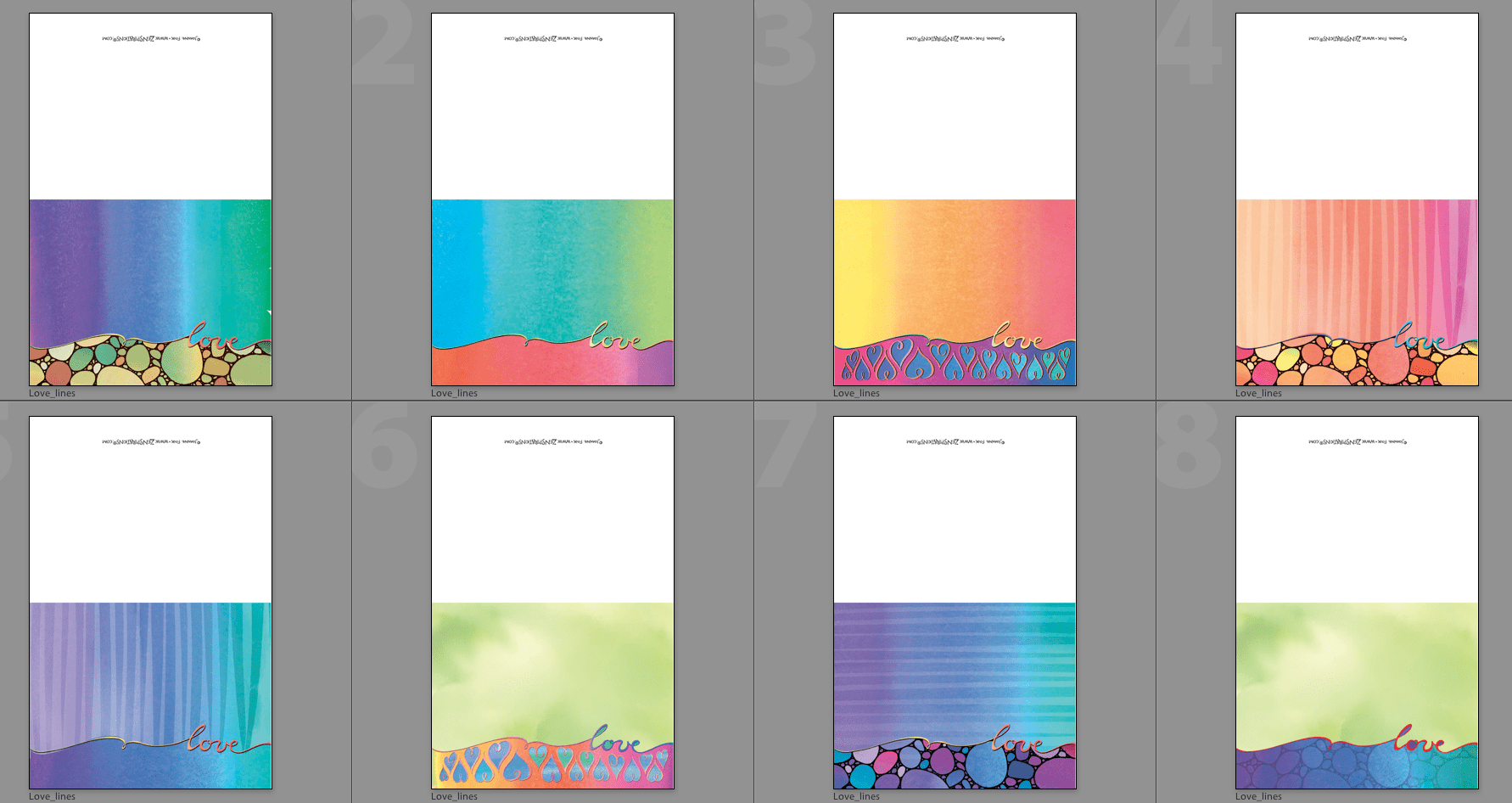 I've had a great time experimenting with different color techniques for the series. Here are a couple of close-ups from 'Written in Stone':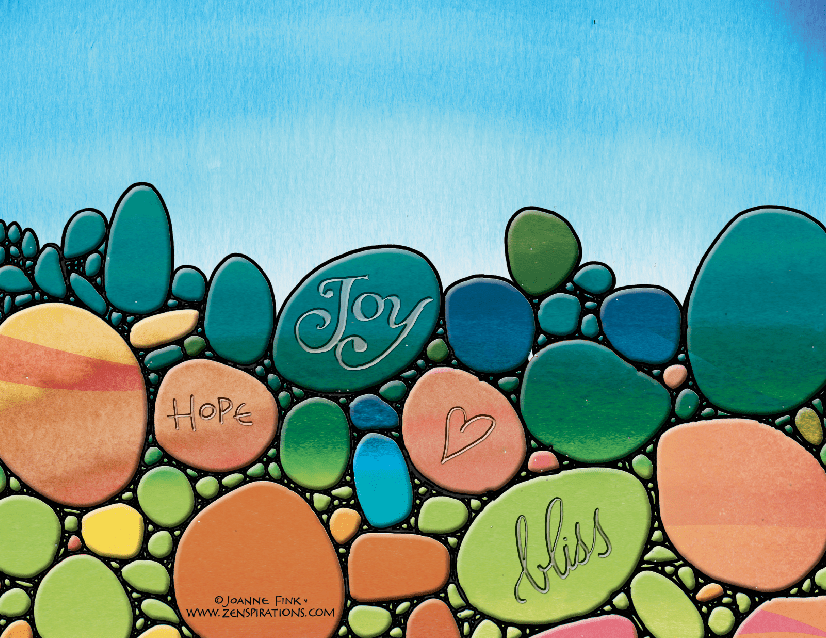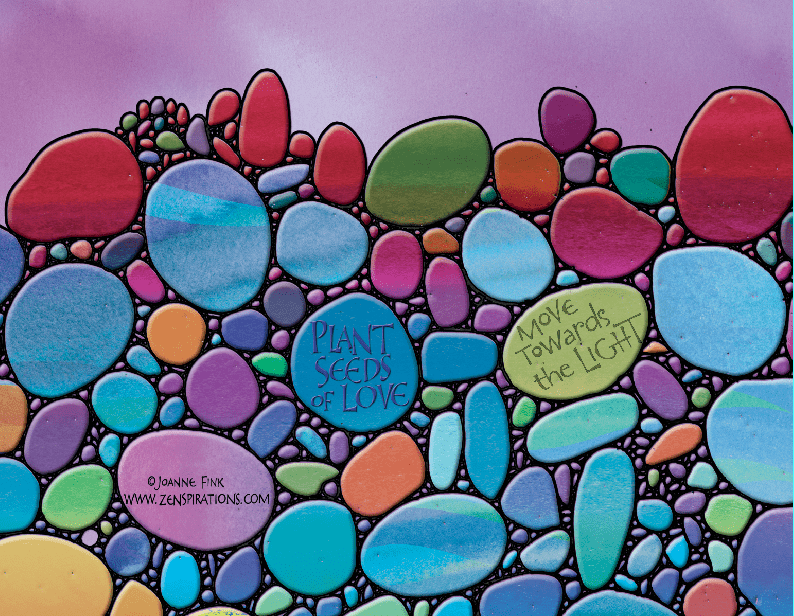 And here are a couple of close-ups from the 'Love Line' series: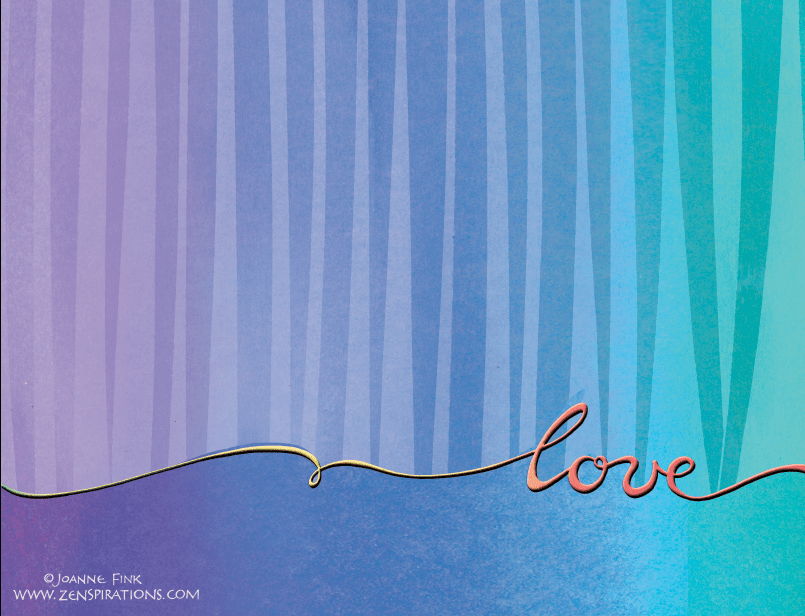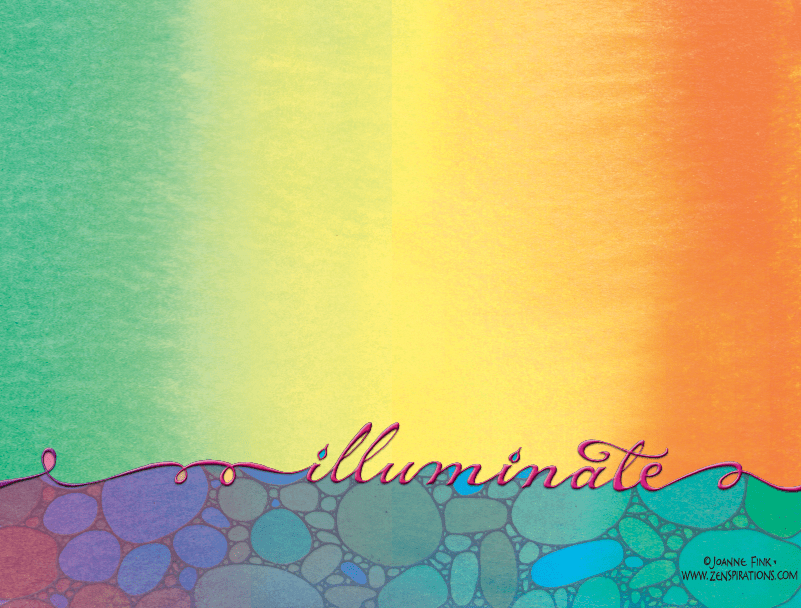 It's always helpful during this phase of a project, to get input and advice… and you have been so generous with your comments and suggestions, that I'd appreciate your help once again. As an incentive, I will put the names of everyone who answers the questions into a box, will pull someone's name at random, and send them their choice of one of the new notecard sets as soon as they are available. As a bonus, I will hand-letter a name in whatever color you choose, and send that along with the notecards! I'm hoping that will inspire you to take a few minutes to answer these questions for me:
1. If you were buying a box of notecards, would you rather have 2 each of 5 designs, or 1 each of 10 designs?
2. In the 'Written in Stone' series, would you prefer to see words or phrases (see examples above) written in the stones?
3. In the 'Love Lines' series, would you prefer
A: 10 verbs (i.e. dream, believe, imagine, inspire, sing, dance, create, transform, smile, love)
B: 10 nouns (i.e. joy, peace, gratitude, delight, harmony, cheer, serenity, prosperity, compassion, happiness)
C: 10 words on one theme (i.e. LIGHT– illuminate, kindle, spark, flame, blaze, illumine, glow, shine, enlighten, ignite)
D: 10 of the same word (i.e. Love): Please share what word you would prefer _____.
4. For the remaining series, which of the following themes would interest you (pick as many as you like):
A. Scripture
B. Inspirational words
C. Trees
D. Music
E. Yoga
F. Patterns (no text)
G. Something else (please specify!) ____
I feel very blessed to have a built-in community of people to ask about this… in addition to answering the questions, let me know if you have any ideas for this new line. Feel free to suggest specific words or phrases that you'd like to see me use… thanks for taking the time to share your thoughts!
And since sharing is a deep act of love, I'll close with three variations on the love theme.



Stay Zenspired,
Joanne
PS Heartfelt thanks to everyone who commented on the tree variations from last week's blog. There were some great suggestions, and I'm planning to try some additional variations next time I take a 'play day