Zenspirations® Anniversary Celebration Recap
Tuesday, August 7, 2018
Hi Everyone,
I have been lettering and designing for more than three decades, and considered myself a die-hard 'Paper Person' until I got an iPad Pro a couple years ago. I never thought I would enjoy designing digitally, but I love it! These days most of my work is created in a 'hybrid' combination of physical and digital elements. Here's my process: I usually draw and letter either in one of my morning journals, or on Strathmore® 400 series drawing paper using my favorite pen, Sakura's Pigma® Micron® 01. Then I scan the drawing and clean it up in PhotoShop. Next, I'll print it out on watercolor paper, and then paint it using Sakura's Koi® Coloring brushes. Then I'll scan it again, clean it up in PhotoShop again, and get it ready to send to the printer.
One of the things I like best about the iPad is that I can skip the scanning step. When I'm working on the iPad Pro I usually use the Procreate program to letter messages like the one below, which I made to celebrate having more than 5,000 members in the Zenspirations® Create, Color, Pattern, Play Facebook Group.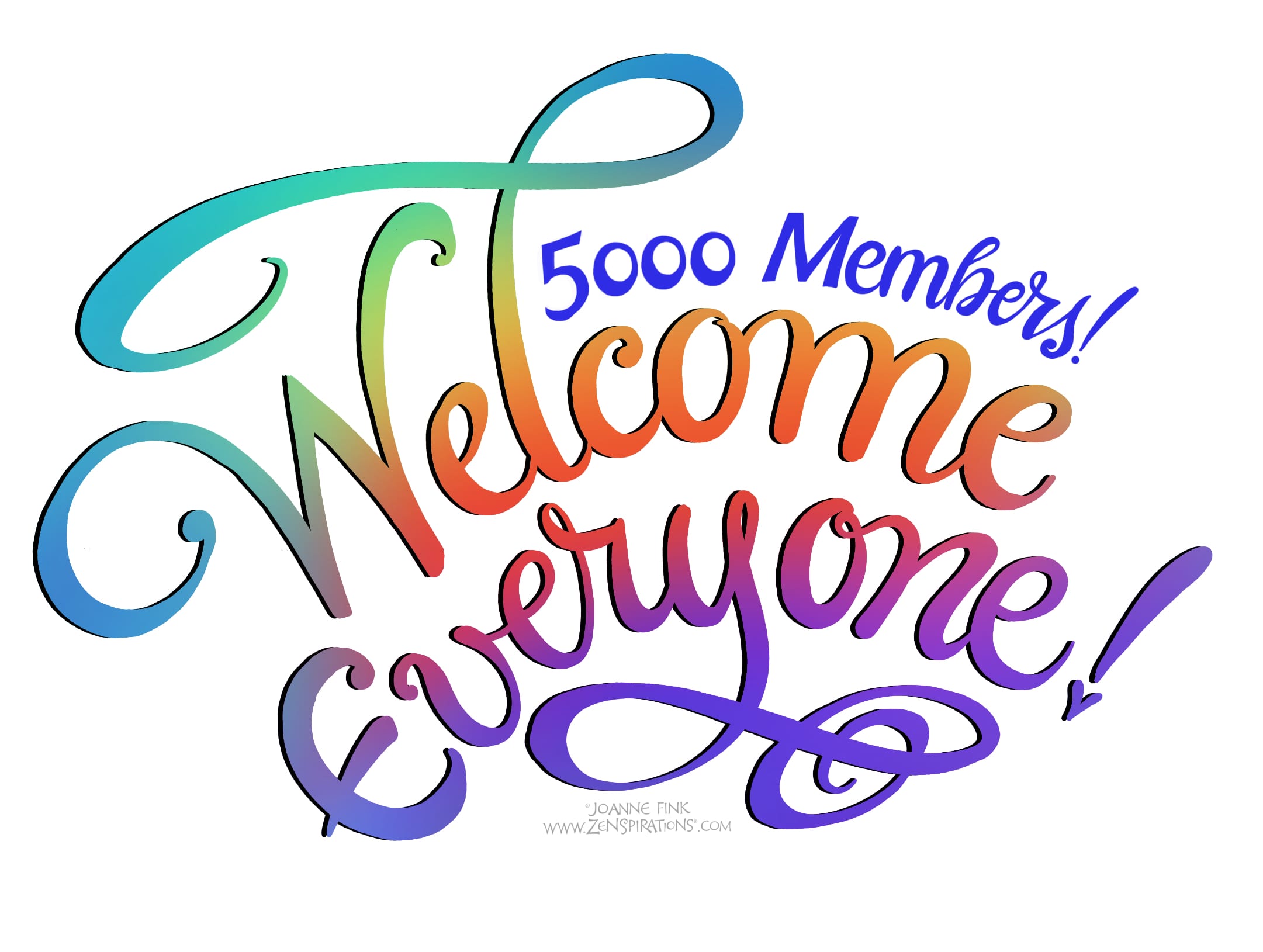 Celebrating our 3rd anniversary last month was a blast! Our group now has more than 5,000 members— from 90+ countries— which is a LOT of color & creativity enthusiasts! If you are new to the Zenspirations community this year, I look forward to seeing your work, and welcome your suggestions for blog topics, group projects, and what kind of coloring downloads you'd like me to post. I'm especially excited to connect with others who are doing digital or hybrid designing. Please leave a comment sharing which programs you enjoy using, and let me know if you are interested in videos about digital design. (Check out my video gallery if you'd like to see some of my lettering and design tutorials). Comments from long-time members are welcome, too!
This year's Anniversary challenge was to create holiday themed 'Care-Moji' stickers. There are so many wonderful Holiday Care-Moji designs in the album that it will be challenging to pick only 25 to include in our collaborative collection. I'll be sending a special downloadable coloring page as a thank you to everyone who submitted designs for the Care-Moji Holiday Collaboration. Please send a note to [email protected] with HOLIDAY CARE-MOJI CONTEST CONTRIBUTOR in the subject line, and I will email you the design.
Congratulations to the three big winners of the 3rd Anniversary contest: Jill Abernathy, who won her choice of a name in Zenspirations® Dangle Monograms, Han Na, who won a (virtual) private lesson with me, and Wanda Smith Radler, who won the grand prize of Zenspirations gifts, books, craft supplies, prints and more! Since congratulations are in order, I thought I'd share a few of the designs in the Congrats Care-Moji Sticker Collection.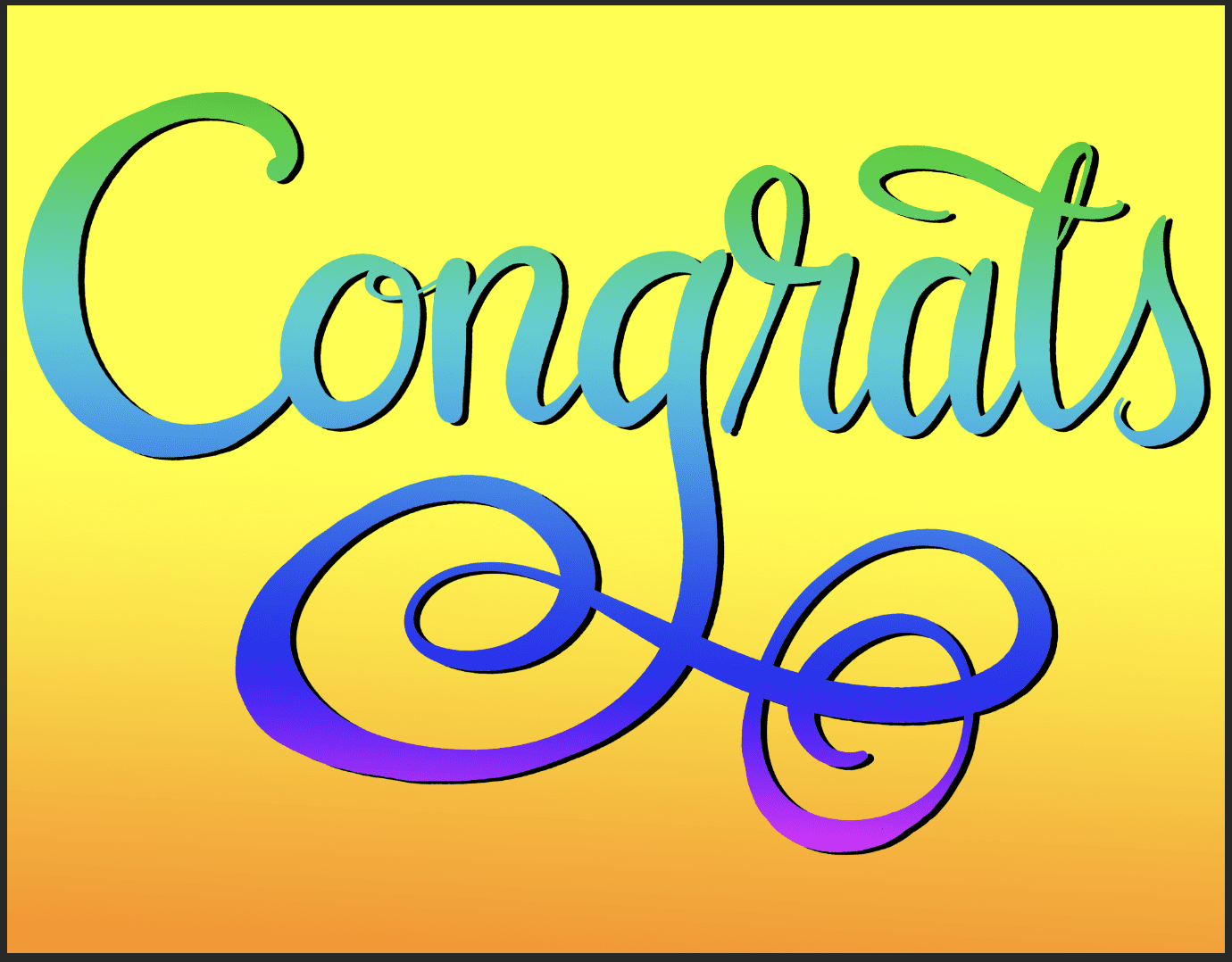 I lettered all of the sayings in the iPad: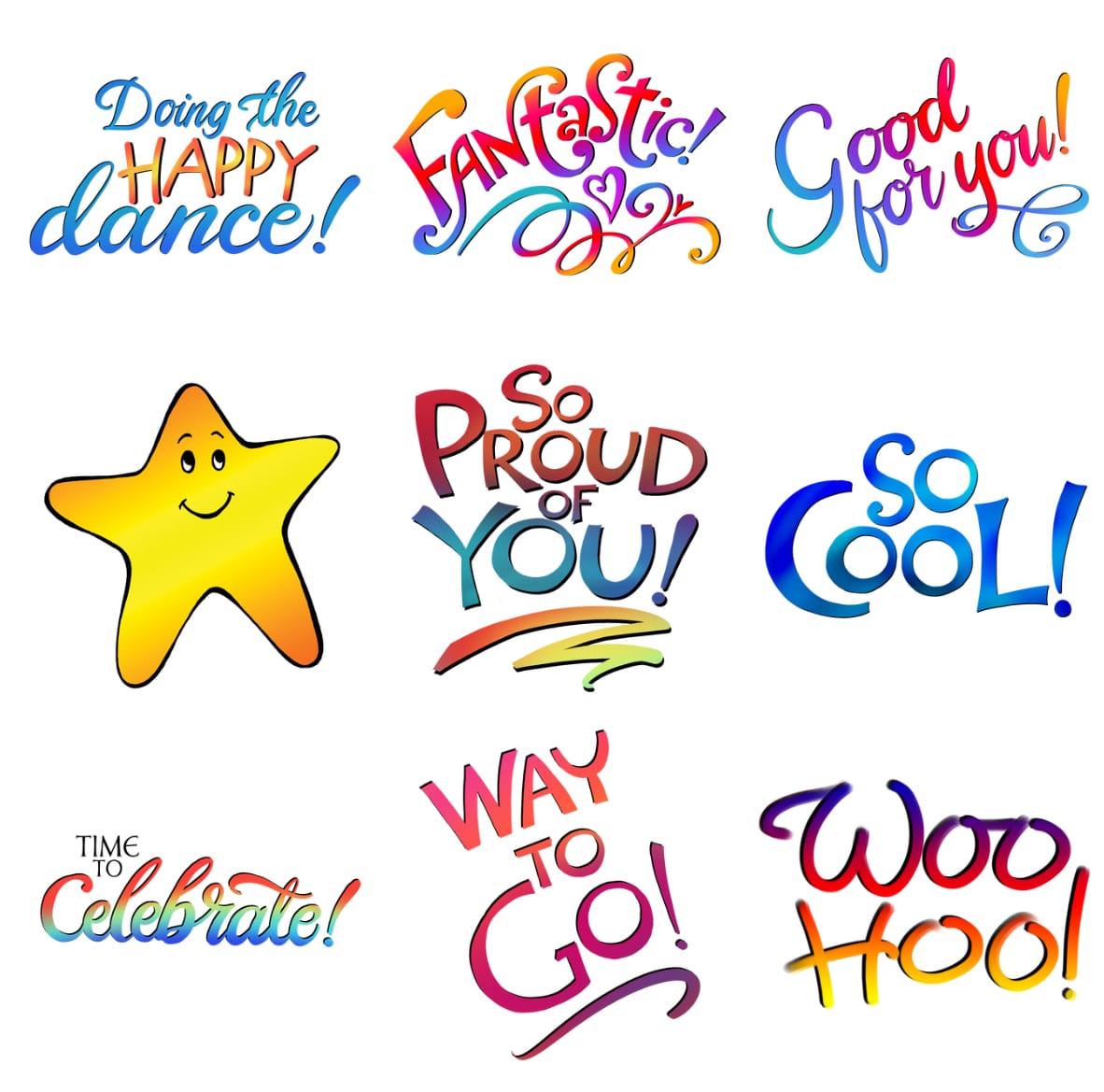 I call the collections 'Care-Mojis' because texting someone a supportive message is a great way to show you care. They are available both in the App Store and on Google Play. You can see all of the collections, and find links at care-Moji.com.
Stay Zenspired,
Joanne