Miracles, Milestones & 'Ordinary' Moments
Tuesday, March 22, 2016
Hi Everyone,
Since we celebrated the first day of Spring this weekend, I wanted to start this week's blog by wishing you all a very Happy Spring. Hope you enjoy the piece I made: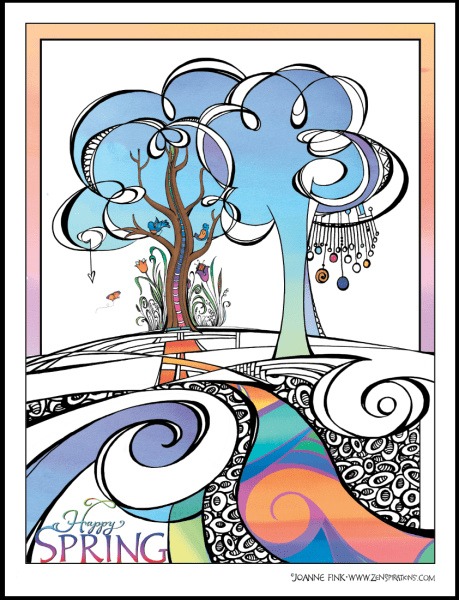 I started with one of the pages from my next book, Expressions of Nature, and had fun adding watercolor washes to bring it to life. I'm thinking about adding more color, but since spring is about rebirth and renewal, I wanted to leave some of the areas white to create a feeling of expectancy. I'd love your thoughts… how much more of the design do you think I should color?
Since Spring always makes me think of rainbows, I also wanted to share "Celebrate Life", the first piece I ever did using the column technique (watch one of my YouTube videos or read my Zenspirations® Dangle Designs Workbook if you'd like to learn how). I included some of my favorite words (Be, Believe, Create, Dream, Hope, Inspire, Love and Sing) in the columns.  Everyone celebrates milestones, but I designed this piece to encourage the celebration of everyday moments of connection and creativity, since that's what life is all about!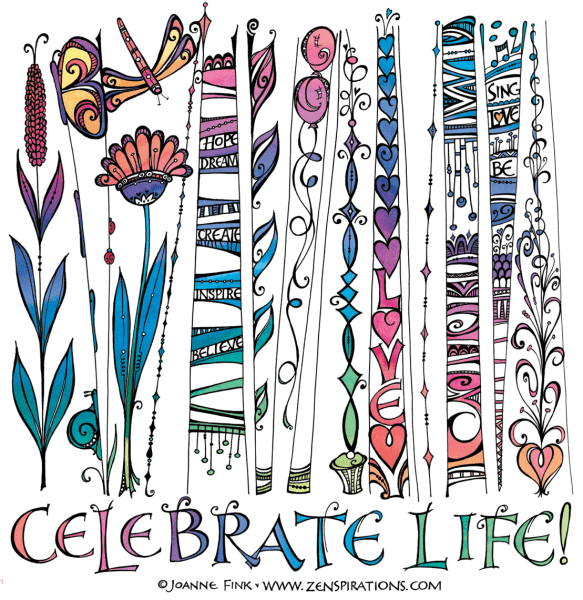 Even when we face challenges, there is always something to celebrate. That's why I have made a life-long practice of looking for the blessing in every situation, especially the most difficult ones. But I've never had to face anything as difficult as Christy Beam, the mom in the movie I saw this weekend, Miracles from Heaven. The movie is based on the true-story of Christy's 10 year old daughter Anna, who suffered from a painful, life threatening illness for which there was no known cure. Now I know why Sony wanted me to include so many butterflies in the Miracles from Heaven coloring book… butterflies play an important part in this lovely story about about faith. Its a wonderful movie, and I'd recommend bringing tissues when you go to see it.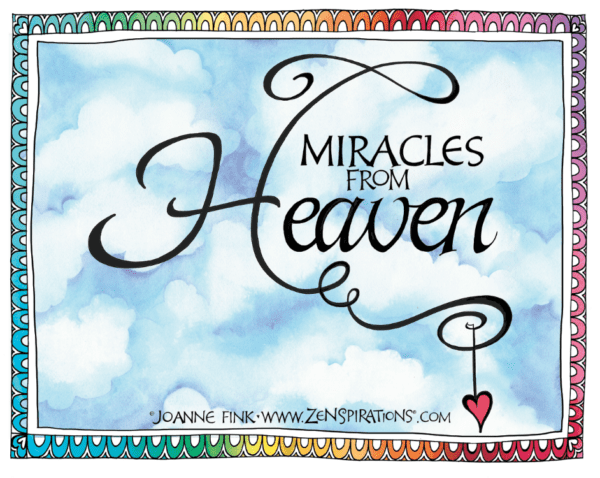 One of my friends' daughters, who is about the same age as Anna Beam, will be having some serious surgery this week, and will be facing a long recovery afterwards. I made a couple of cards to cheer her up, and thought I'd share them with you. This is a screen shot of a design that I drew with a Pigma® Micron 01 on Strathmore 400 series drawing paper. I scanned and cleaned it up in PhotoShop, then printed out on watercolor paper and painted it. Then I scanned it again, cleaned it up again, and did some final tweaking in PhotoShop.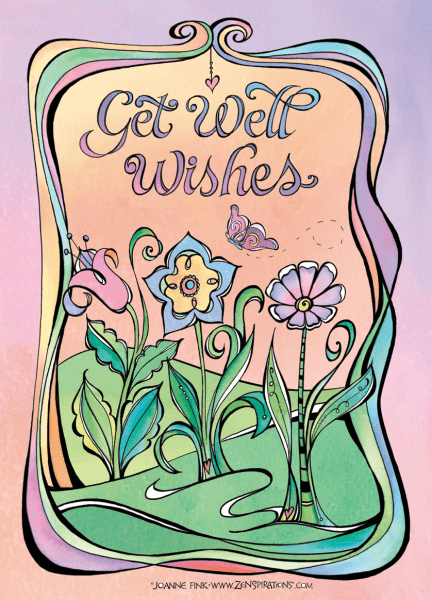 This one is simpler; I hand-lettered it tonight with a Koi® Coloring Brush and 01 Micron, and took a photo to share with you: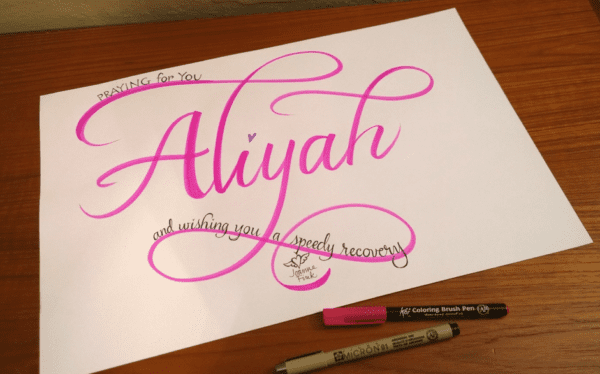 I'm going to send them to Aliyah along with a coloring book to help pass the time during her recovery. Her mom says that she'd appreciate getting cards while she's in the hospital and in rehab, so if any of you would like to send Aliyah a card, please leave a comment and I'll send you her address.
I am starting work on a Bible Journaling project, and am hoping to get advice from people who enjoy Bible Journaling, and would like to share what images, words and scriptures they'd like to see included. If you are willing to share your thoughts, please leave a comment to let me know, and I'll be in touch.
May your Spring be filled with magical moments.
Stay Zenspired,
Joanne