Heart Connections
Tuesday, May 24, 2016
Hi Everyone,
I'm back from the National Stationery Show, and wanted to share a photo of the 'Live in Color' wall that was taken a couple of hours before the show ended.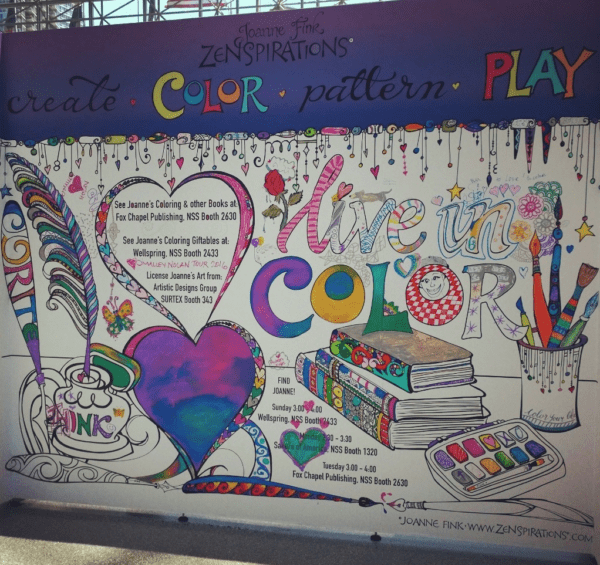 It was great to have so many people help color the wall– and I had such a good time that I'd like to find a venue such as a school, hospital, community center or park which would be interested in having a Zenspirations® coloring mural on permanent display. If you know of anyplace which would appreciate showcasing the finished collaborative art project– and/or if you would like to help create it– please leave a comment to let me know.
For those who prefer to work on a slightly smaller scale, here is the coloring spread that I designed for the National Stationery Show directory. As you can see, I incorporated some of the elements I used in the directory spread into the design for the 'Live in Color' wall.
One of the things I treasure about Zenspirations® is that is gives me an opportunity to connect with a global community of creative people who share my commitment to making the world a better place. This shared commitment often leads to what I call a 'heart-connection' with people I haven't met (yet!), but consider soul-mates. And meeting a soul-mate in person is awesome! I was blessed to get to meet several special people while I was in New York, and I colored this design to celebrate the heart connection we share.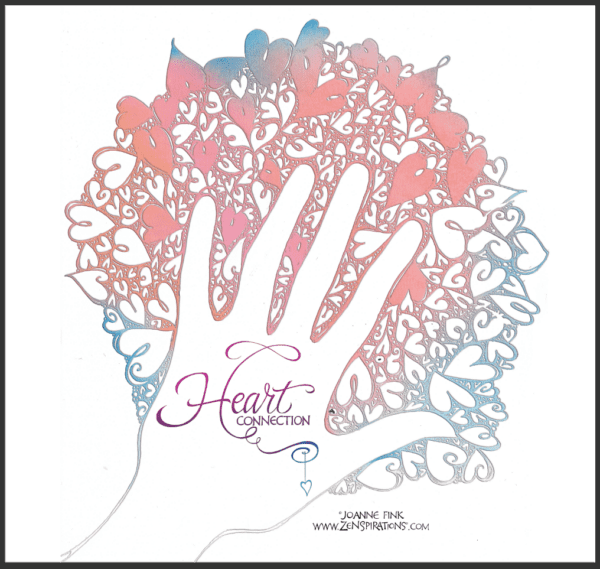 Almost as delightful as getting to meet some of my Zenspirations friends in person, was getting to see some of their work. And since I naturally wanted to share some of this wonderful work with you, I thought I'd try something new tonight– a video. If you'd like to see how Color & Creativity Enthusiast Leitha Hunt brought my new coloring journal to life, click on the video below.
Leitha, thank you for sharing your beautiful work!
Stay Zenspired,
Joanne
PS I ordered some of the coloring journals for the Zenspirations store, so if you are interested in getting a copy of the journal, I'm hoping to have them in the shop section of the website by the middle of June.