Last Call for The Lettering Club!
Tuesday, July 12, 2016
Hi Everyone,
It's been a busy week at the studio! My uber talented daughter, Samantha, has been helping out by painting some of the newest Zenspirations® designs. Below is a 'sneak peak' at our new dragonfly collection.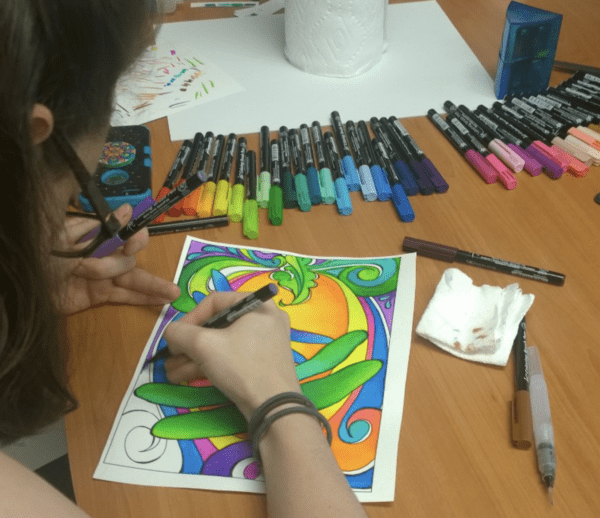 Sam got these vibrant colors with Sakura's awesome Koi® Coloring Brush Pens. In addition to being great to paint with, they are my favorite lettering tool. Check out this short (1 1/2 minute) video if you'd like to see me letter with both a Koi Coloring Brush pen, and a Pigma® Calligrapher Broad-edge marker.
Although brush lettering looks easy, it is actually more challenging to learn than lettering styles which are done with a broad-edged pen, because brush lettering is heavily based on pressure, which requires a great deal of hand control. So I've decided that I'm going to teach Italic Calligraphy for the first Lettering Club class. Check out this super speedy (7 seconds!) time-lapse video of me writing 'The Lettering Club' in italic and Roman capitals using one of Sakura's broad-edge Pigma Calligrapher pens.
Frankly, I didn't realize how much work it was going to be when I decided to create The Lettering Club several weeks ago… and figuring out the logistics of getting all the handouts and videos to the people who are interested in learning how to letter has taken far, far longer than I ever anticipated. (My sincere apologies to everyone who is eager to get started; I appreciate your patience, and look forward to having you in the class).
Before I teach a new workshop, I always invite a 'Guinea Pig Group' to come to the studio for a 'dry' run. This is a great way for me to test out all the material I plan to use when I give the workshop. Usually I invite members of my local calligraphy guild, the Scribes of Central Florida, as well as some of my 'tangling friends', and I always try to include a couple of people who would describe themselves as 'non-creative'. That way I can get feedback from people with a variety of backgrounds and artistic skill levels. I'm looking at this first on-line class in much the same way… and once the lessons get underway, I'd value your feedback on what works and what doesn't work.
One of the things I discovered this week is that although there have been more than 450 people who left comments saying that they were interested in joining the lettering club, less than 200 people have actually signed up on the form which will grant entry to the class! Once the class starts I will not be able to add anyone to it, so if you have not received a welcome letter that looks like this: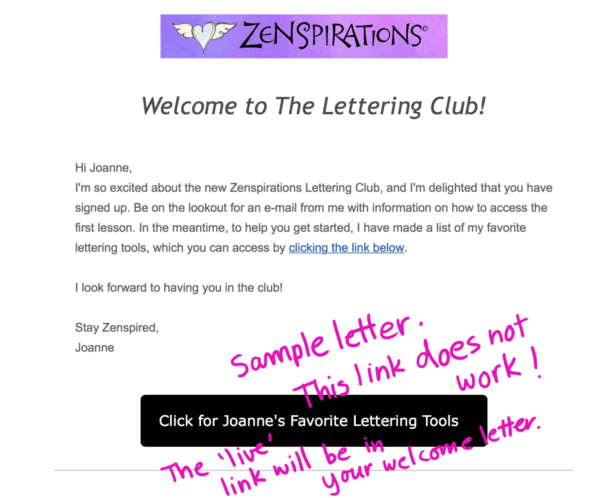 you are NOT registered! If you want to join the club and participate in the classes, PLEASE TAKE A MOMENT TO FILL IN THE FORM BELOW:
Registration for this FREE class will be open until Monday, July 18th. If you know anyone who might like to join the club, please share this with them and let them know that the deadline to register is fast approaching.
Regular blog followers know that I really enjoy creating personalized cards for special people, and this week I enjoyed making special cards for two special Color & Creativity Enthusiasts. Dee Fink celebrated her birthday today; this is the card I made her: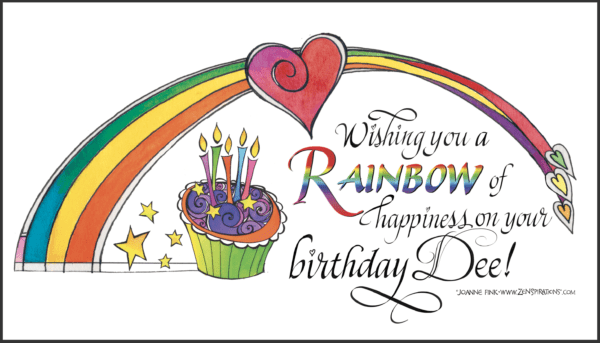 Kathryn Leonard, who's wonderful work in featured in several of my books, including Birds & Butterflies, Color Peace and Expressions of Faith, will celebrate her birthday tomorrow. Here is the card I made her: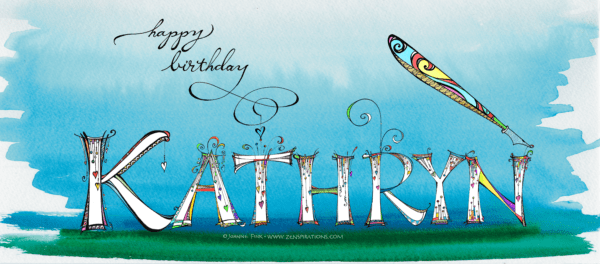 Ladies, I hope you both have Zenspired birthdays!
Speaking of birthdays, next week, on July 21st, our Zenspirations Create, Color, Pattern, Play FB Group will be one! I'm still trying to decide what to do to celebrate… and I'd love your thoughts. Would you prefer a Giveaway… free downloadable coloring pages… a contest… or something else? Please leave a comment to let me know.
Before closing tonight I wanted to let you know that there is now an Amazon button on the homepage of my website. I signed up to be an Amazon Affiliate, so if you use www.zenspirations.com as a portal (meaning go to my website and click the Amazon button to go to Amazon's website), I'll get a small percentage of anything you purchase. It doesn't cost you anything extra, and it helps me pay for art supplies and books (two of my passions!). Tuesday, July 12th is Prime Day (which is a wild sale exclusively for Prime members), so if you are planning to do some shopping on Amazon, please start with a visit to Zenspirations– and I'd be very grateful if you would ask your friends to the same.
Stay Zenspired,
Joanne