What's Your Word of the Year for 2019?
Tuesday, December 11, 2018
Hi Everyone,
Few transitions are seamless, and we encountered some technical challenges sending out the first issue of the new Zenspirations® "Live Zenspired" Newsletter. Please accept my apologies if you didn't get a copy– or if you received more than one. I'm hoping that the second issue, and this accompanying blog, will reach everyone in a timely manner. If you are a regular blog subscriber (which means you've been getting an email with a link to the blog every Tuesday morning), I'd appreciate your letting me know if you don't get this week's email on Tuesday morning. I made the piece below for to thank regular blog reader Patricia Bruneau, who was the first person to let me know that she hadn't received hers last week– which is when I realized we had a deliverability problem. Patricia kindly let me know when she received her newsletter, which gave me hope that everyone would soon get their copy.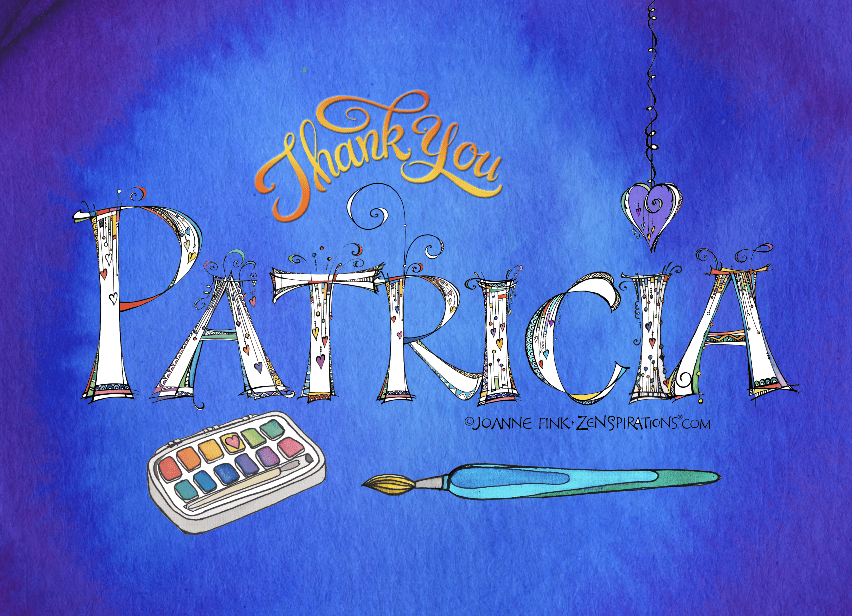 If you missed the first issue of the new newsletter, I'd be happy to send you a copy– just let me know by email or comment. CLICK HERE if you'd like to subscribe to the newsletter to take advantage of the free downloads, discounts and exclusive content.
---
WORD OF THE YEAR
2019 is almost here, which means its time to start thinking about our individual and Zenspirations communal words for the new year. This is a group project we started doing in 2016. Everyone in the Zenspirations community is welcome to share the word(s) they are considering for the year ahead, and then we vote on a guiding word (or series of words) for the group. We also encourage one another to think through what word really calls to our souls.
One year (not sure which!) I lettered all the words which were suggested by members of the Zenspirations Create, Color, Pattern, Play FB Group in one of my morning journals: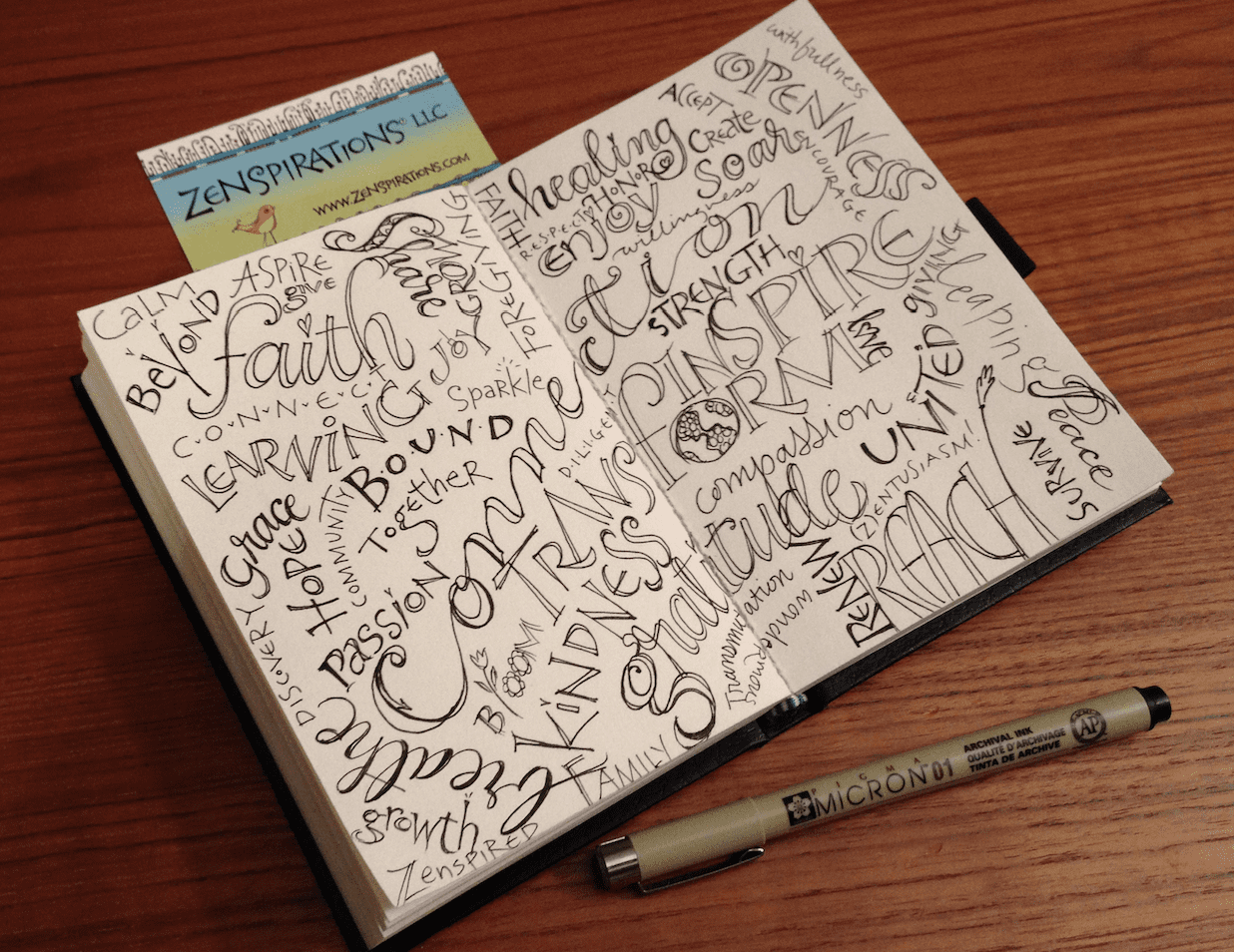 In 2016 I narrowed my personal Word of the Year options down to words which began with the letter "C": caring, community, cultivate, clarity, connectivity and compassion. I ultimately chose CLARITY as my word for 2016.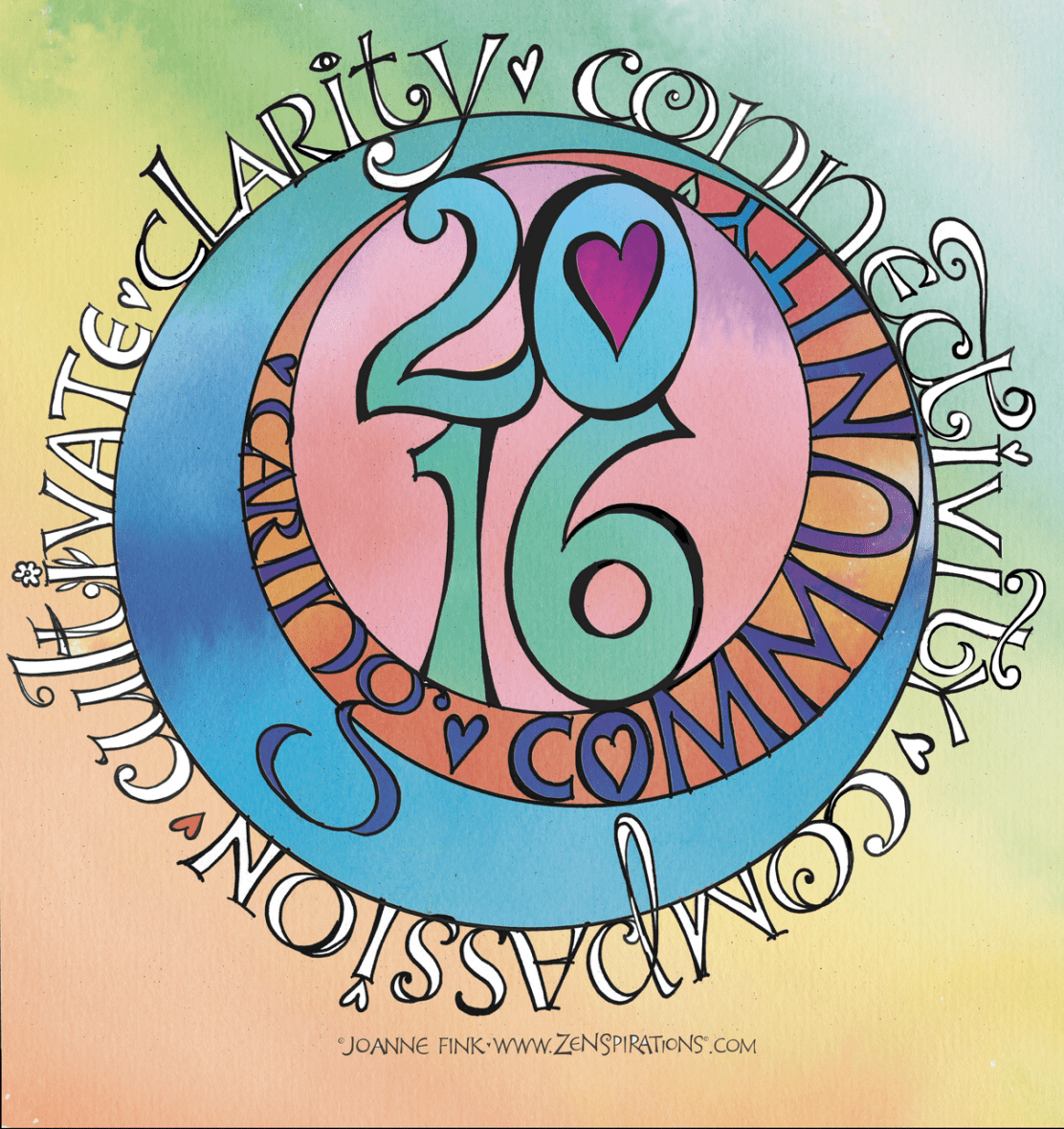 The words suggested by the Zenspirations community for 2017 which made it to the 'finals' really resonated with me: aspire, grow, reach, renew, transform, believe, heal, pray, sanctify, sparkle, connect, give, love, share, create, discover, imagine and hope– The image below was my way of sharing that HOPE got the most votes.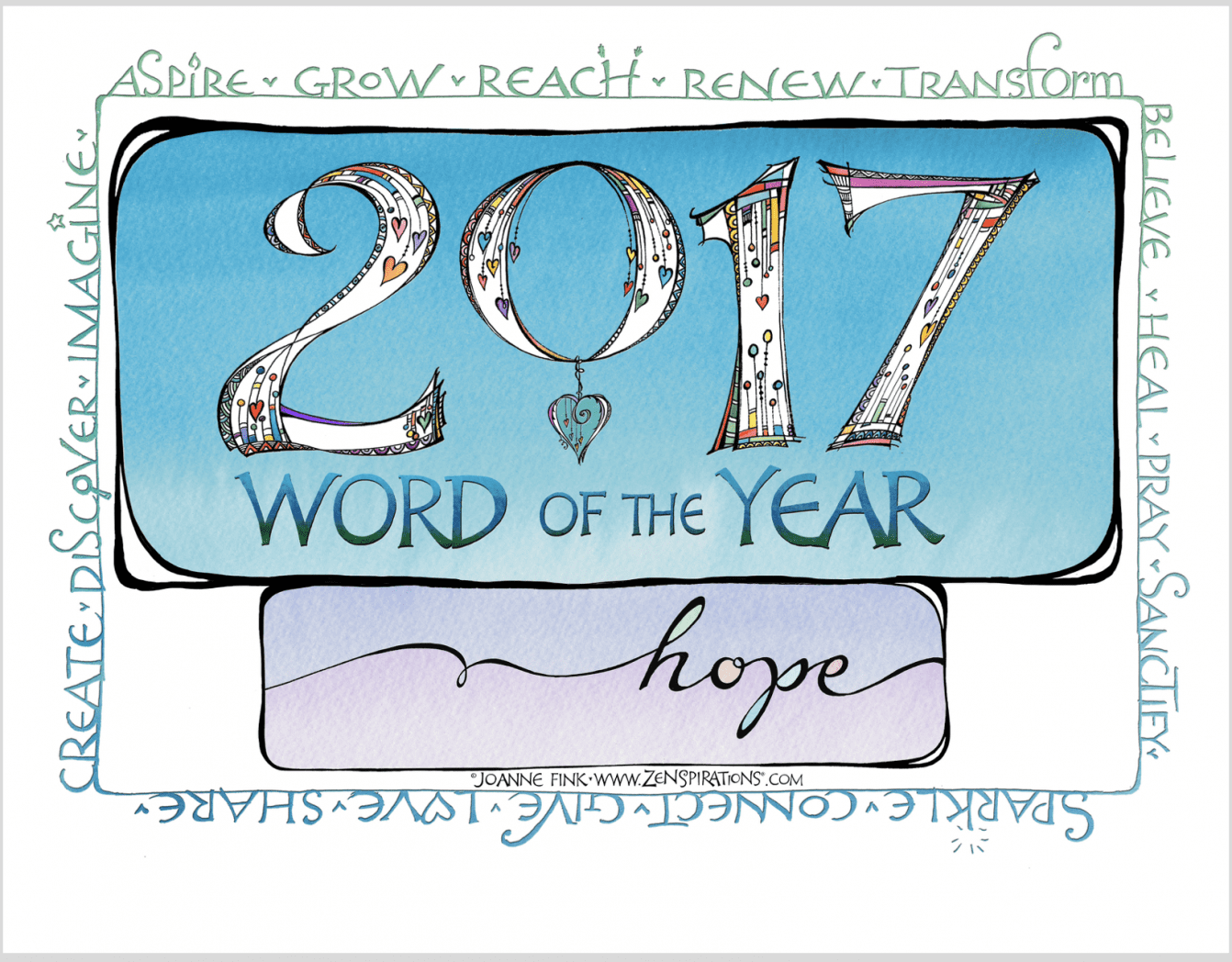 Last year I included as many Word of the Year possibilities as I could into my Prayer for the New Year:
This has been a challenging year for many of us, myself included, and some of the words I'm considering for next year come from the depths of my desire to promote hope and healing, and to personally grow in AWARENESS, ACCEPTANCE & APPRECIATION.  When I start my Word of the Year selection process, I usually do it alphabetically by writing down all the positive, uplifting words that I can think of which begin with the same letter. Here's an example: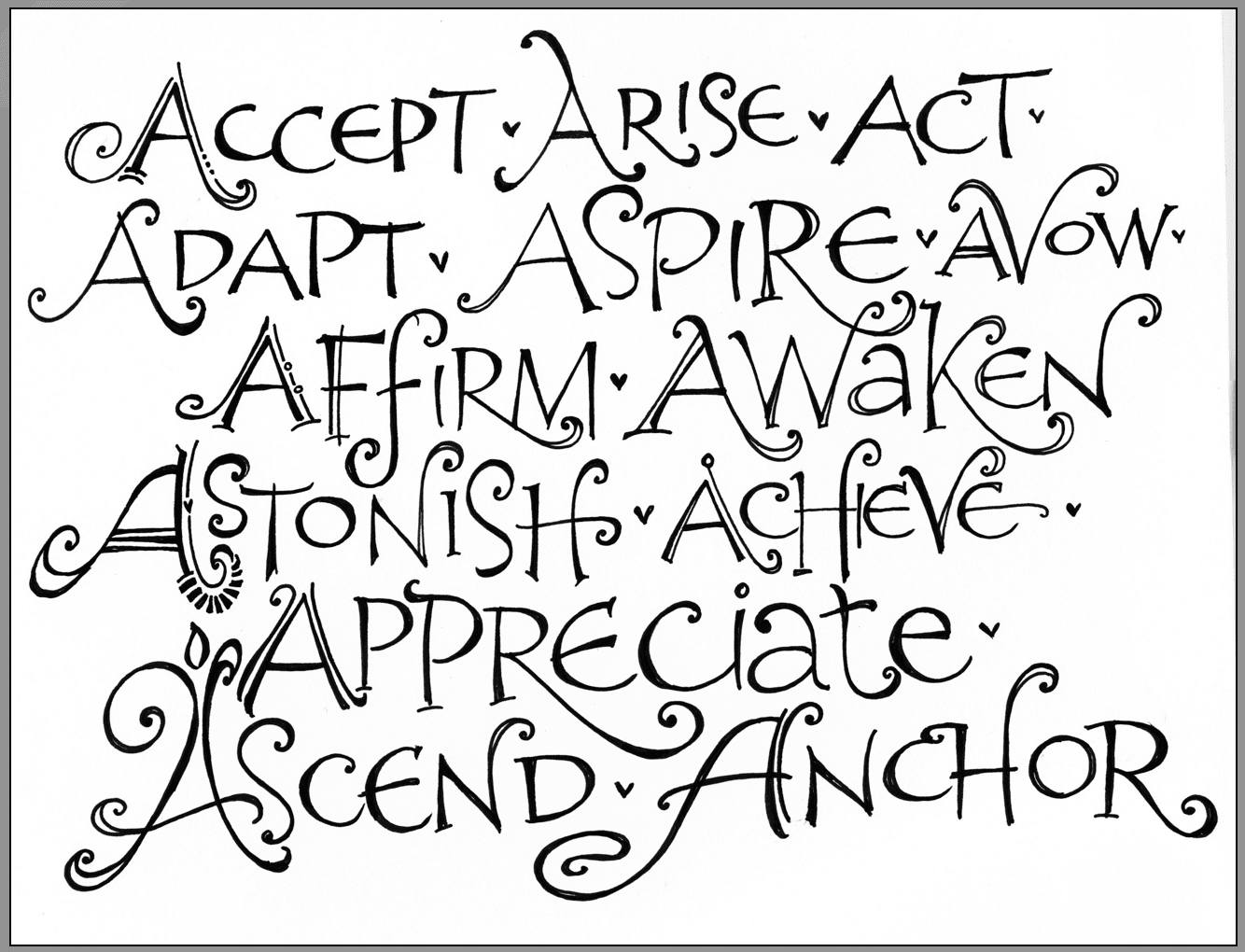 Some of the words on my 'short list' for 2019 are understanding, delight, discipline, love, persistence, pleasure, practice, stillness, sanctification, and trust. What's on your list? Leave a comment with the word(s) you are considering for 2019– I will pick three people randomly, and letter their 2019 Word of the Year in their favorite style!
I know a lot of people really like my Dangle Monograms, and if you are a Newsletter subscriber you won't want to miss the December special– 25% off the Dangle Monogram Alphabet in the ZenspirationsDesigns Etsy Shop! You'll find the discount code in the second issue of the Newsletter.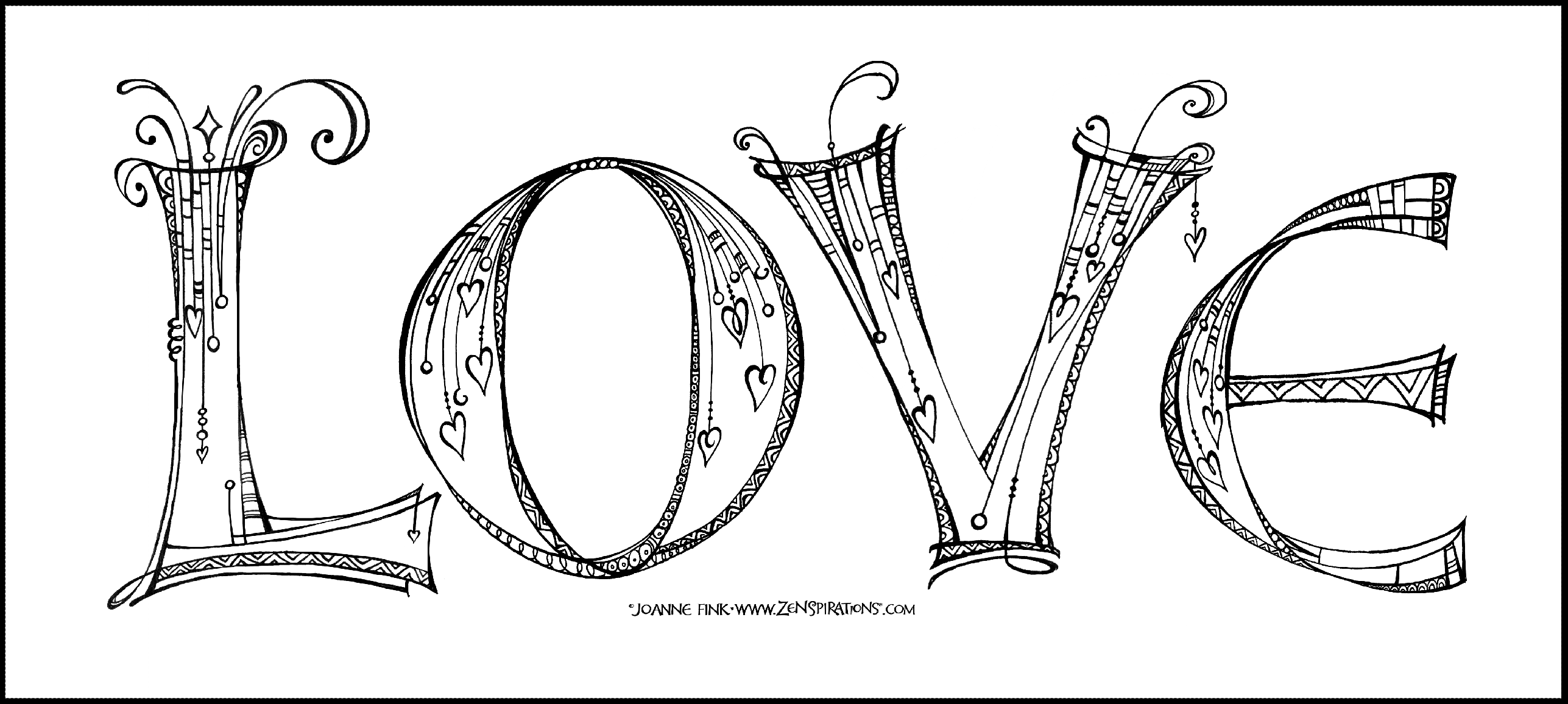 Best of all, there's a bonus– Don't miss — plus a bonus– a set of LOVE designs– one a finished print, the other for you to color.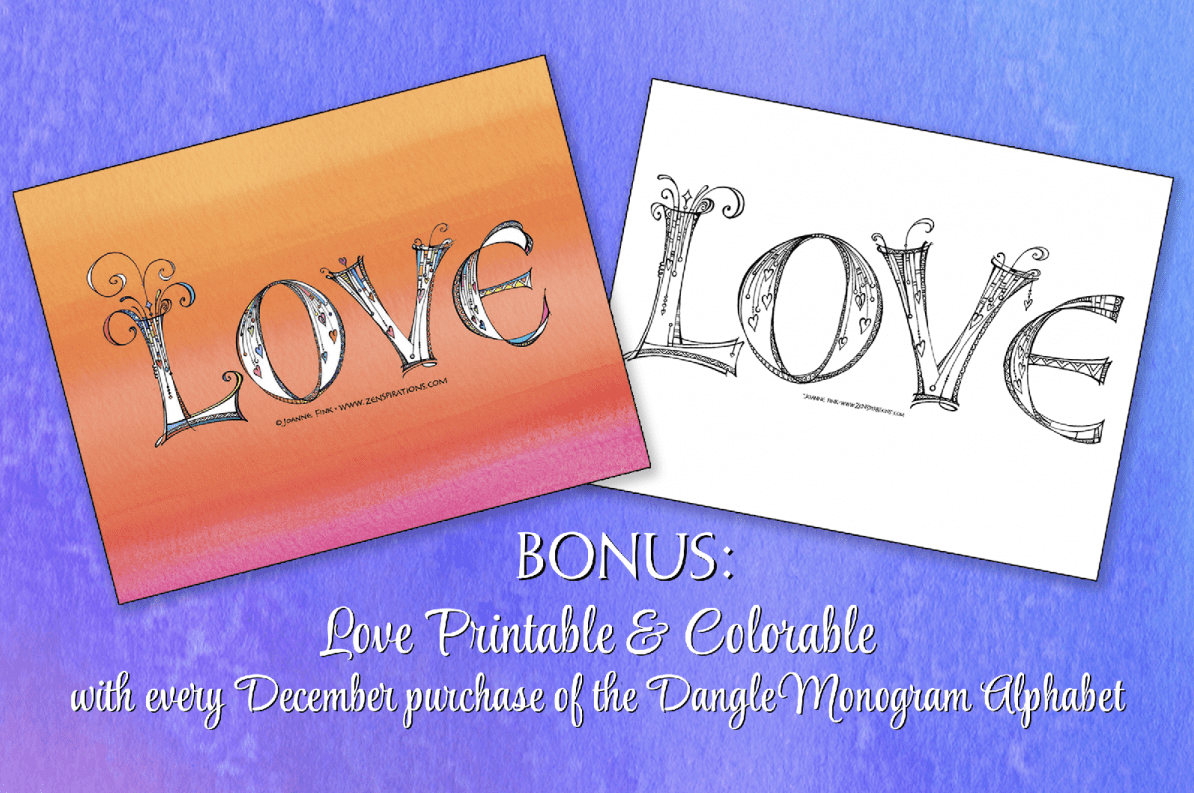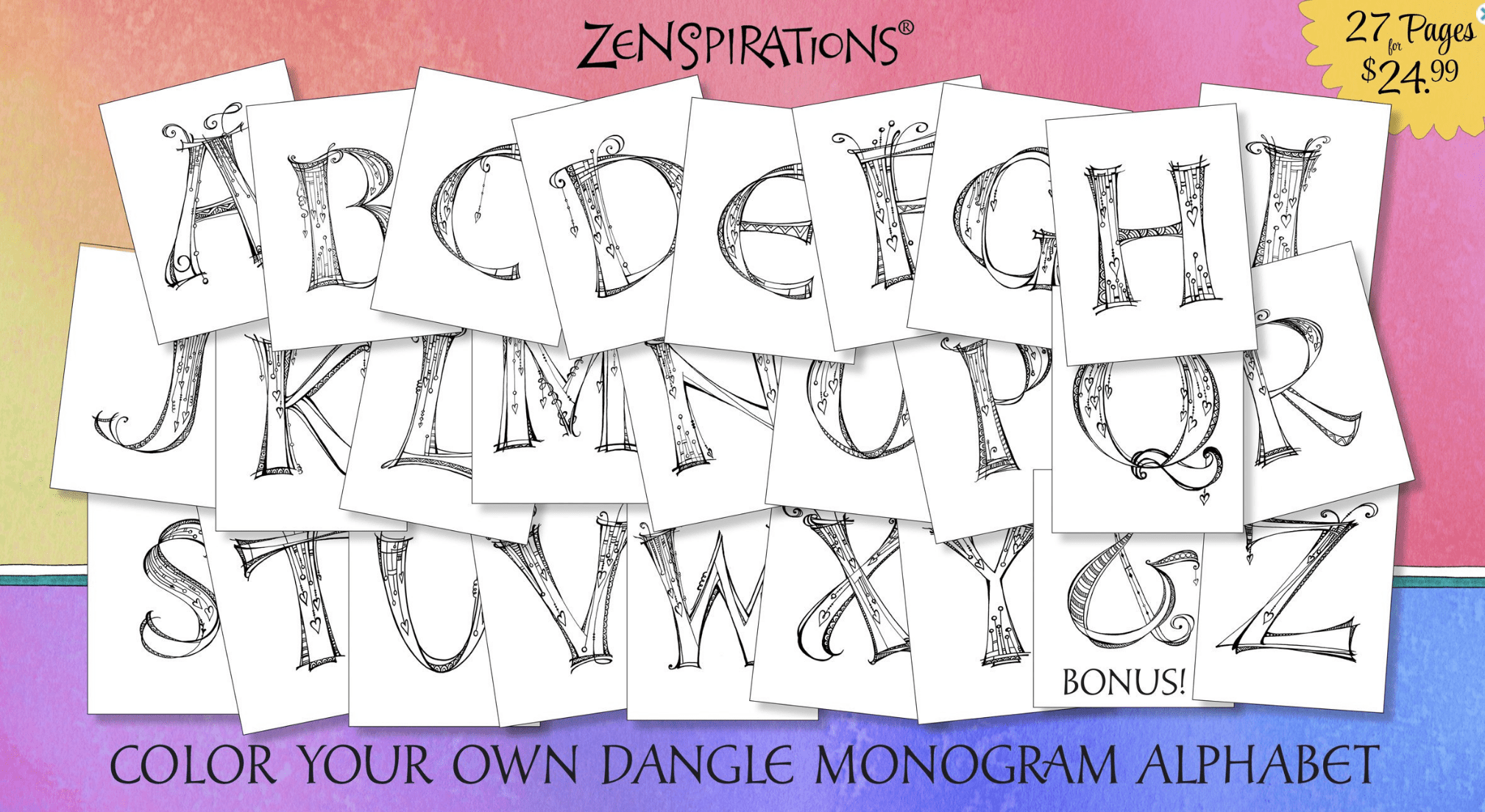 ---
One of the most exciting parts of the new newsletter format is that I get to shine a spotlight on some of the many talented 'Color & Creativity Enthusiasts' in our group. Our first Creativity Spotlight features Elizabeth Motyka and her awesome hand-crafted cards.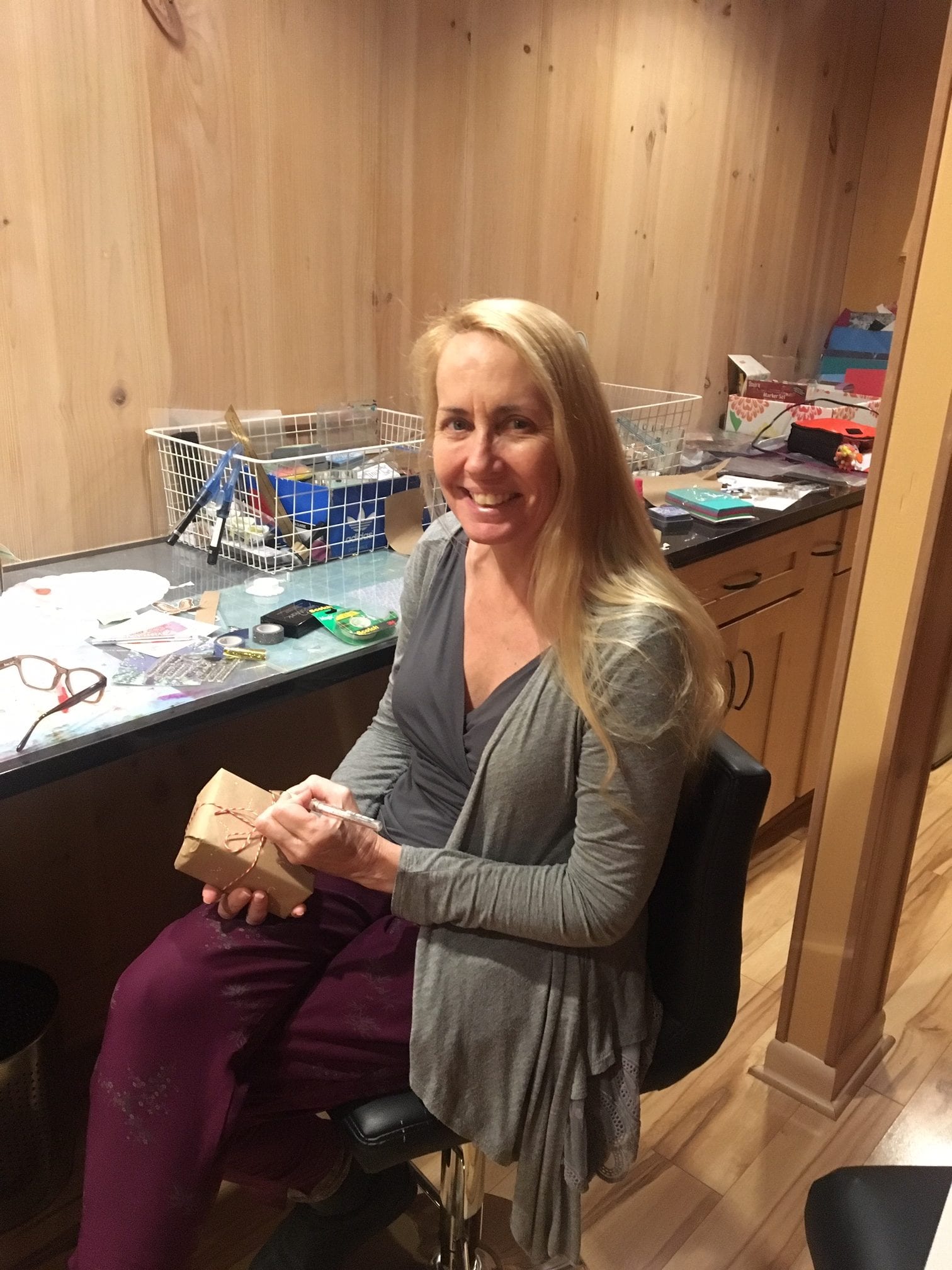 This is one of Elizabeth's many beautiful creations.
Elizabeth put together a step-by-step tutorial for making a beautiful stamped and die-cut Christmas ornament. You'll find the tutorial, and more info on Elizabeth in this week's Live Zenspired Newsletter.
Before closing tonight I want to share a 'sneak peek' at the Christmas Collaboration Mojis which should be available in the App store any day now. Thank you to the following Color & Creativity Enthusiasts for submitting designs for this collaboration: Aliyah Zeitler, Debbie Anderson, Elizabeth Motyka, Ha Nah, Jill Abernathy, Jill Hatcher, Kyle Yanezawa, Leitha Hunt, Terri Burket Brown, Toni Popkin, Wanda Smith Radler and Wendy Leech. I will let you know as soon as they launch.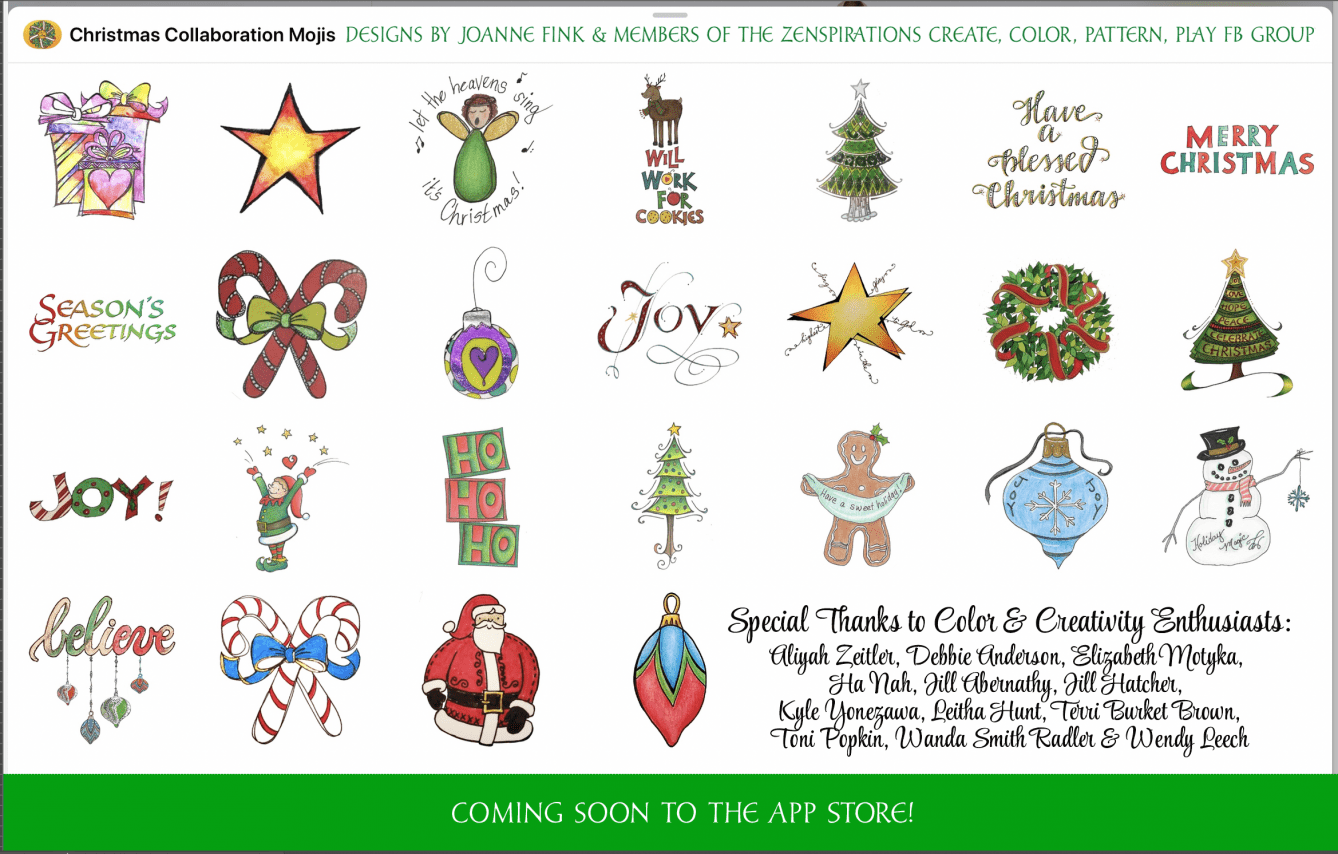 I just had a thought– how about a collaborative Word of the Year 2019 collection? I'd be willing to letter 25 words– when you leave a comment with your word, please let me know if this is something you'd be interested in.
Stay Zenspired,
Joanne