Awaiting the Storm
Sunday, September 10, 2017
Hi Everyone,
Two weeks ago, when I blogged about Houston and the devastating impact of Hurricane Harvey in The Aftermath of the Storm, I had no idea that Florida would soon be facing an even deadlier storm. In less than 24 hours Irma– the largest, most powerful hurricane on record— is expected to sweep through my state. I am writing this while awaiting Irma's wrath; she has just regained Category 4 status. At 350 miles (560km) wide, Irma's effects will be felt throughout the state. More than 1/4 of the population– some seven million people– have been evacuated; tens of thousands have taken refuge in shelters. Given that I will most likely not have power or internet access tomorrow, I decided to write my blog early this week.
On Friday I posted the 'Stay Safe' graphic and a note on my Facebook page: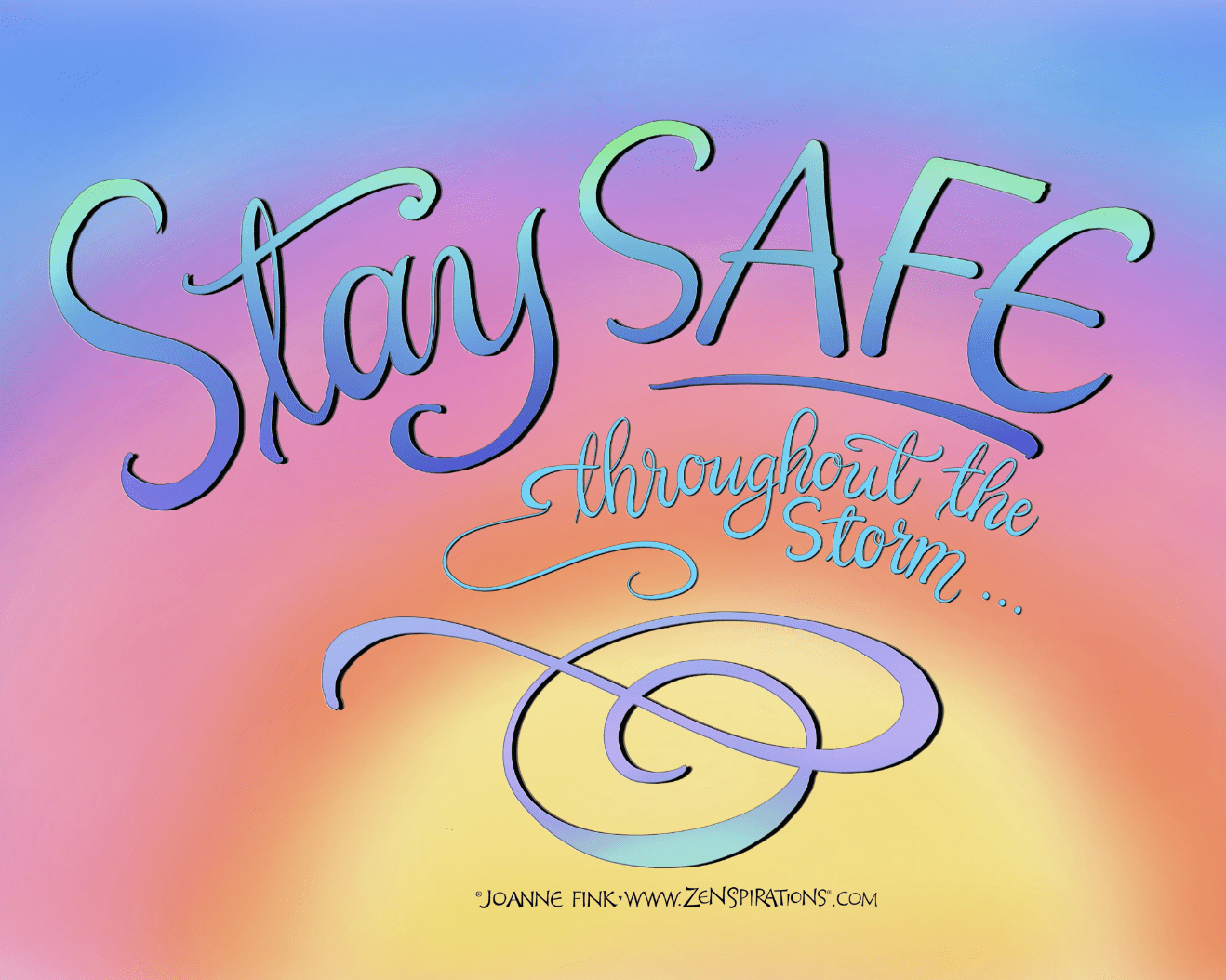 I feel blessed to have so many people who have reached out to express their concern for me and my fellow Floridians. Thank you for keeping us in your prayers! For those who are wondering why I, and most of the Central Florida community, have decided to stay put rather than evacuate, the answer is simple: the experts have asked those of us who are not in coastal or low-lying areas which could be affected by storm surge, to stay off the roads. "You run from water, not from wind" has become something of a mantra. There are only two main highways in Florida, and tens of thousands of evacuees are using them to try to escape from the storm. There are serious gas and hotel room shortages… and the danger of running out of gas on the trek north is real. People from South Florida are under mandatory evacuation orders— we are not. And so we are doing our best to prepare for the unknown.
I'm not going to pretend that the situation isn't somewhat scary— it is. When we are faced with uncertainty, especially the real danger to people we love, it's hard not to be concerned. Please join me in praying for the safety of everyone in Irma's path; for no lives to be lost; for those who are evacuating to find a place of safety; for those who are not evacuating to feel comfortable knowing that they have done their best to prepare for whatever comes. May the first responders reach those who need help and may the power crews be able to restore power quickly. May we hold hope in our hearts as we face the uncertainty of the next few days; and may we all be blessed with patience throughout the storm clean-up effort.
For my friends and family who are in Florida— STAY SAFE! When you have phone or internet back up and running, please let me know that you are okay. For my friends and family not in Florida, I am truly grateful for you! I'll try to post an update as soon as I can.
I won't be weathering the storm alone— my friend Laurie Snow Hein, one of the millions of Floridians who evacuated— is staying with me. Since I recently became an empty nester, it is a huge blessing to have Laurie here and not have to face the storm on my own. We spent most of yesterday praying and preparing.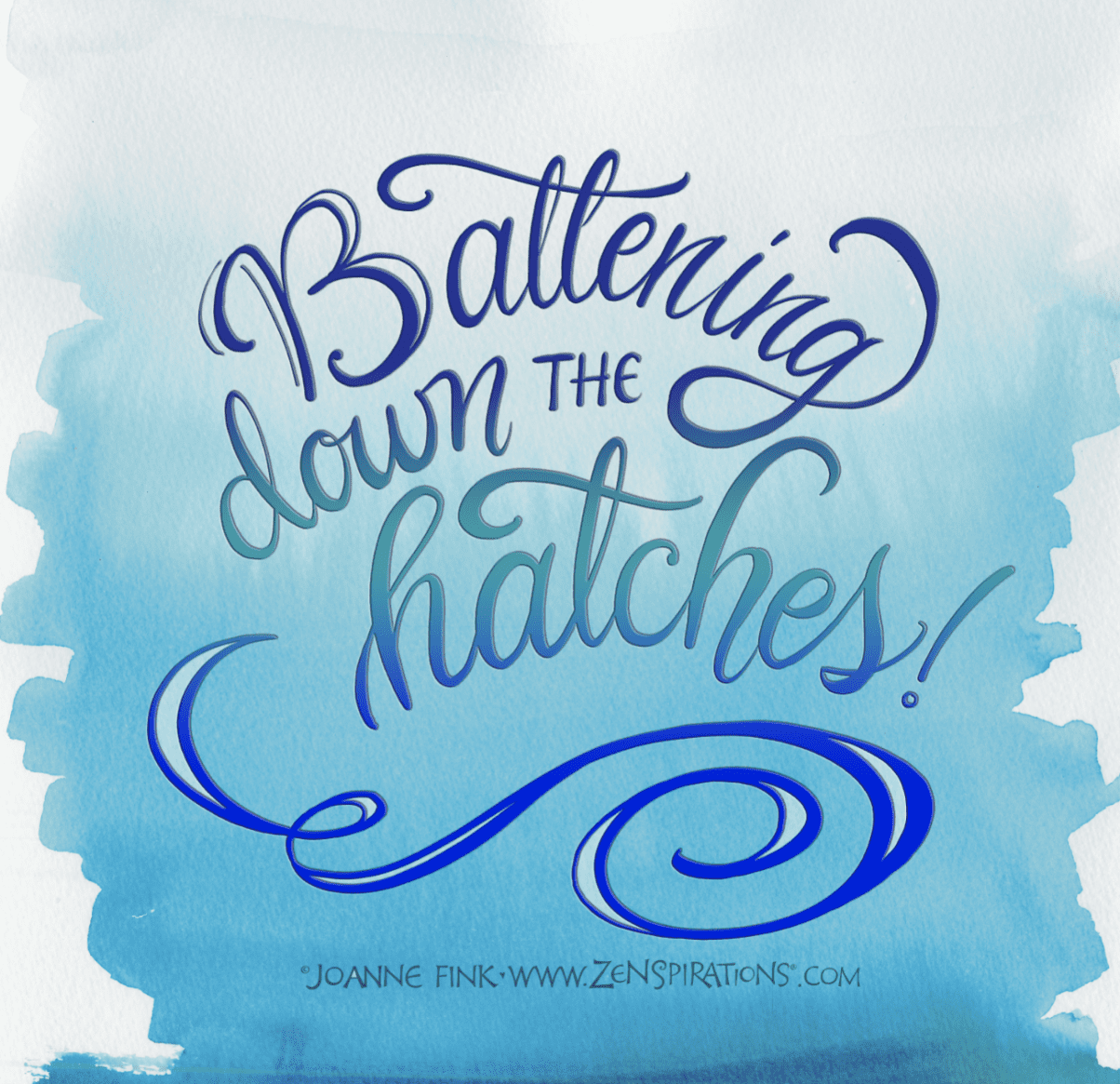 Once we finished everything on the 'to-do' list, we decided to have a 'hurricane painting party', and raided the attic for the seven 20″ x 60″ canvases I purchased a few years ago when I decided I wanted to a series on the Seven Days of Creation. We were able to fit five of the seven canvases on my conference table.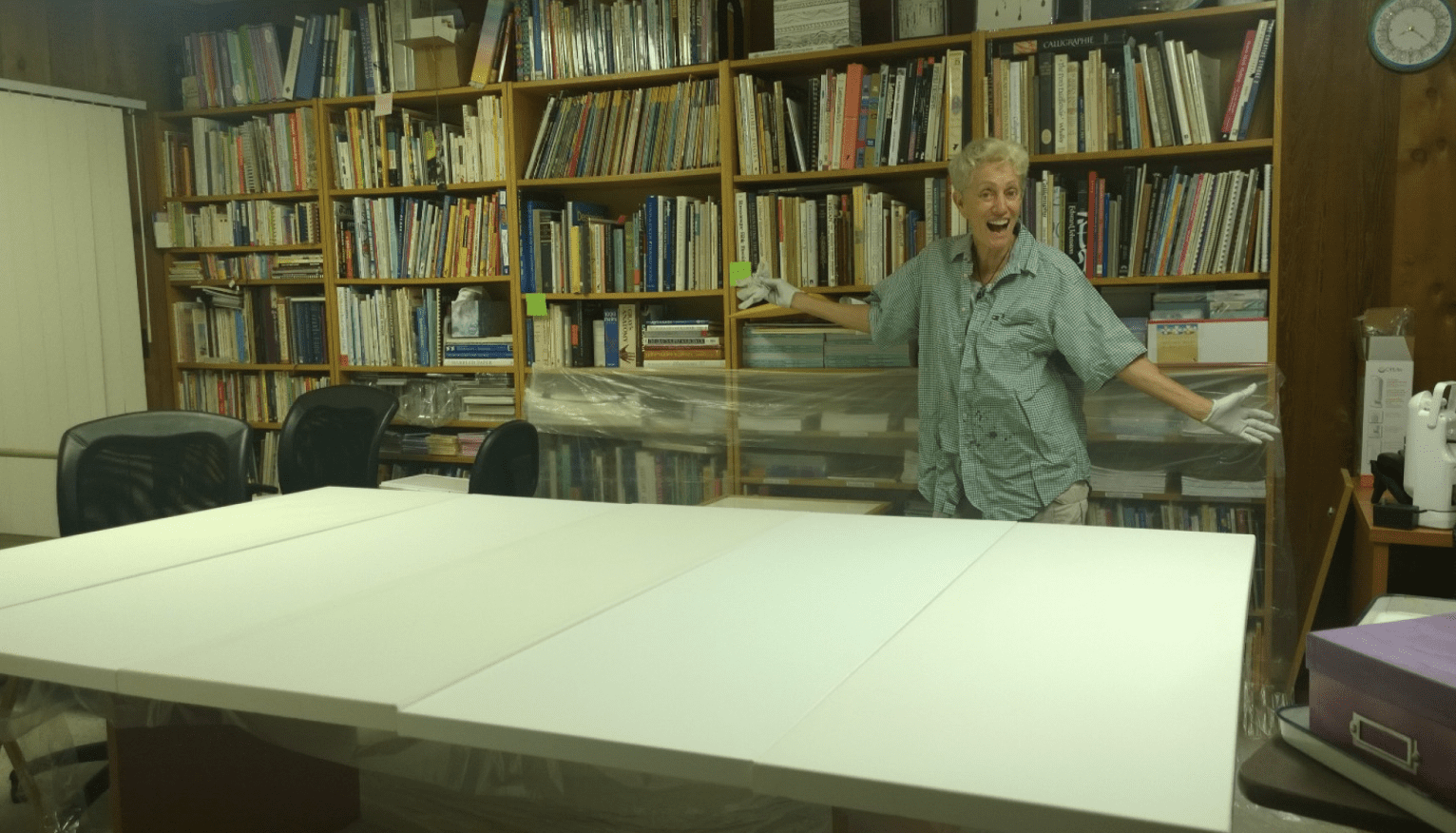 More than a decade ago (in the big studio attached to my old house) Laurie and I collaborated on a ten canvas interpretation of the Ten Commandments: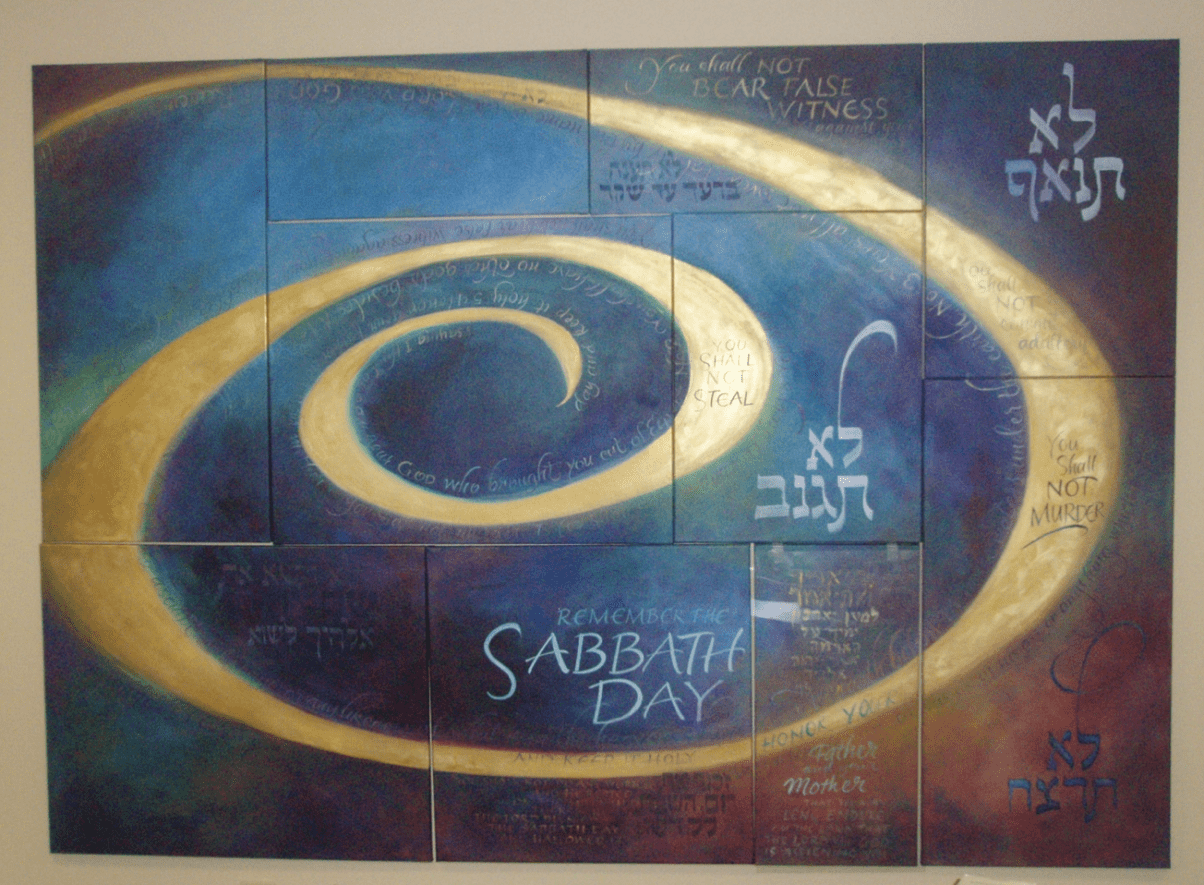 Today we started by pouring dark paints out on the canvases, and experimenting with different texture tools, including our fingers! I took photos of Laurie in action: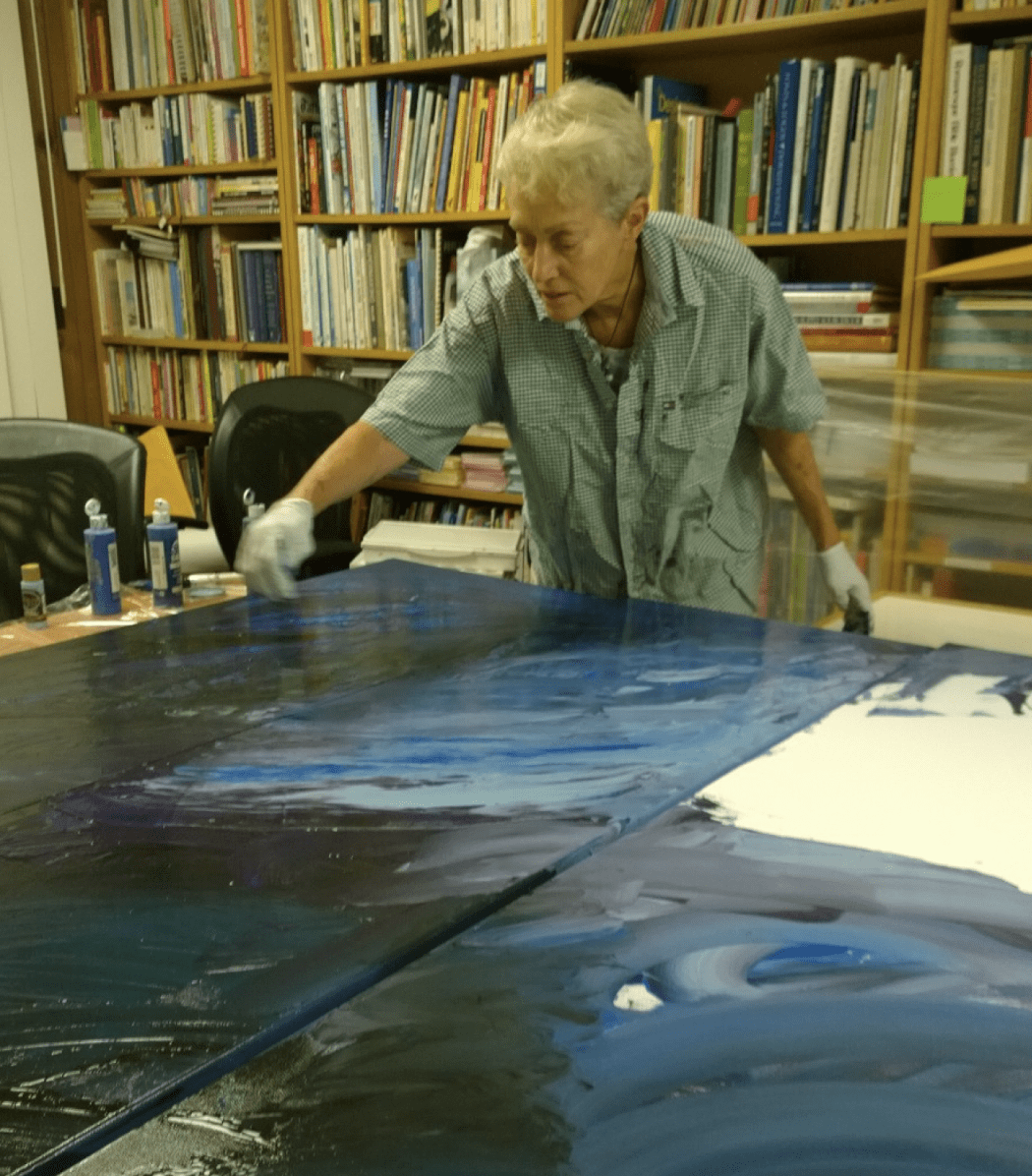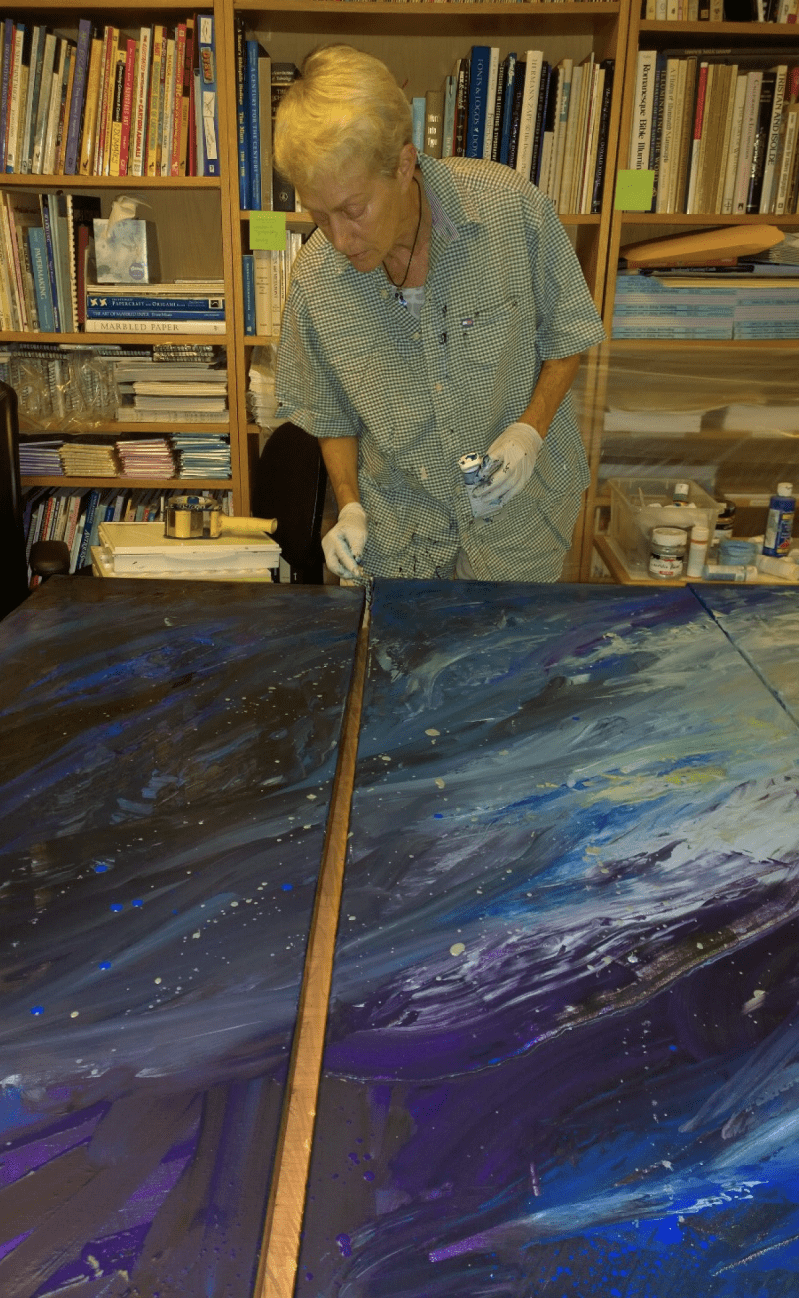 and she took some of me: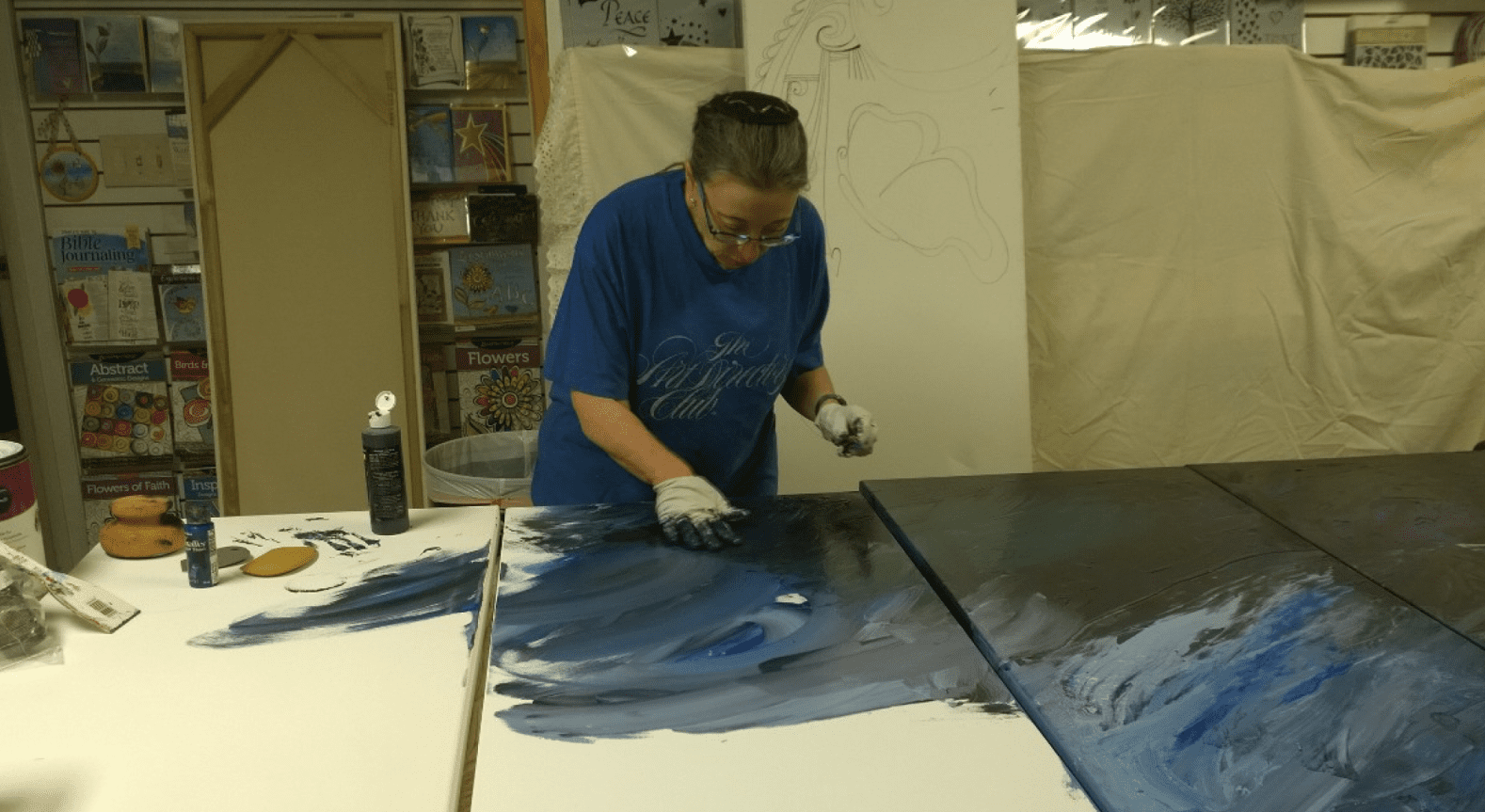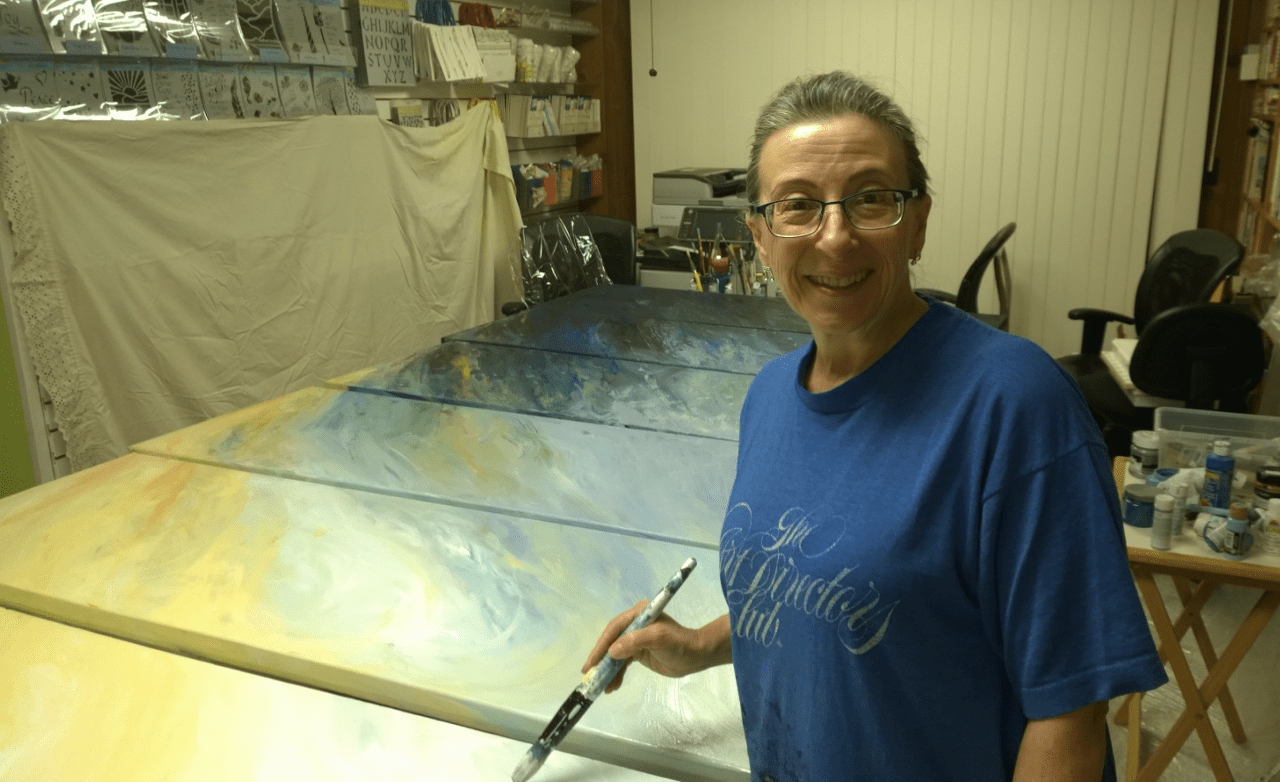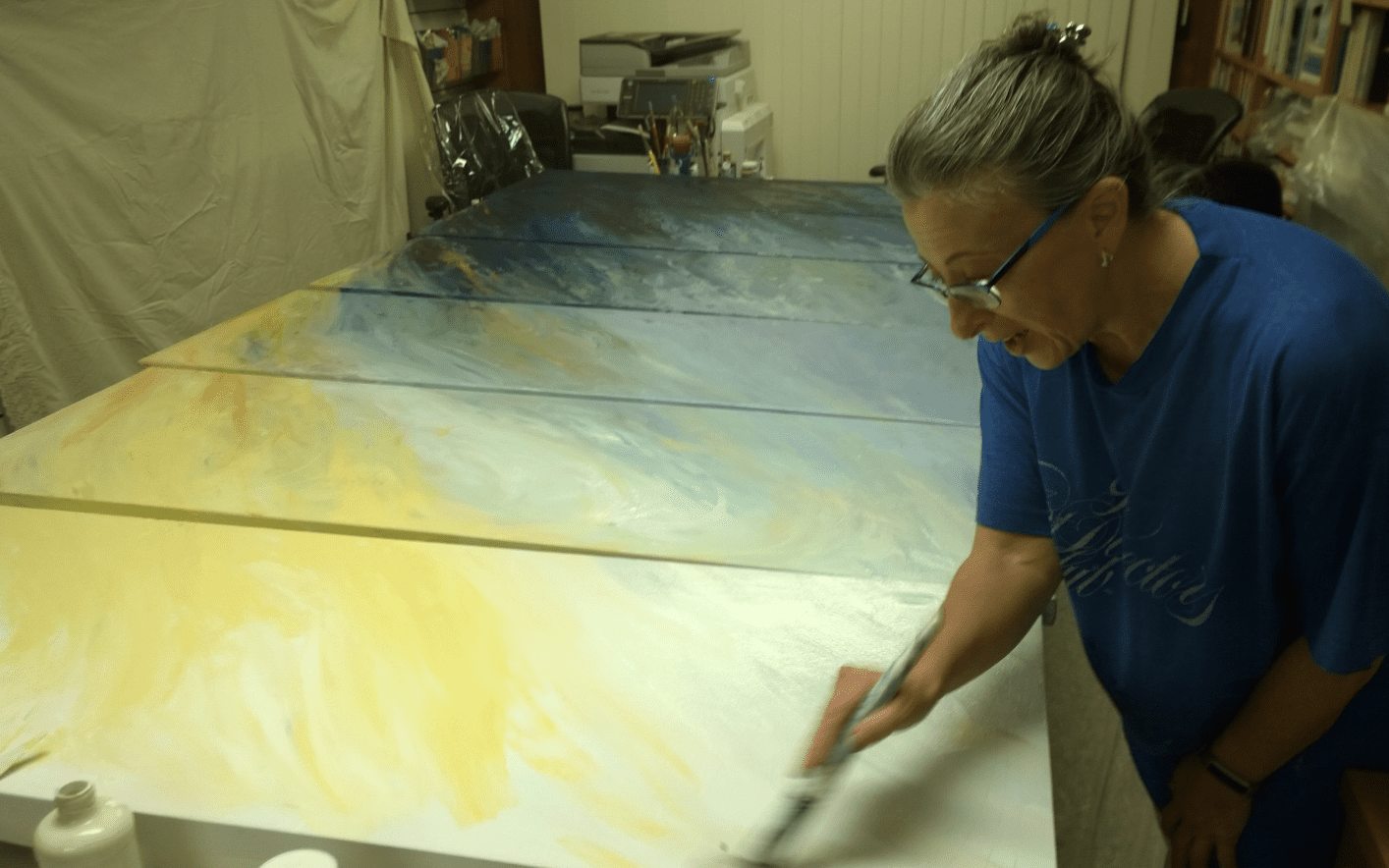 Here are close-ups so you can see some of the textures: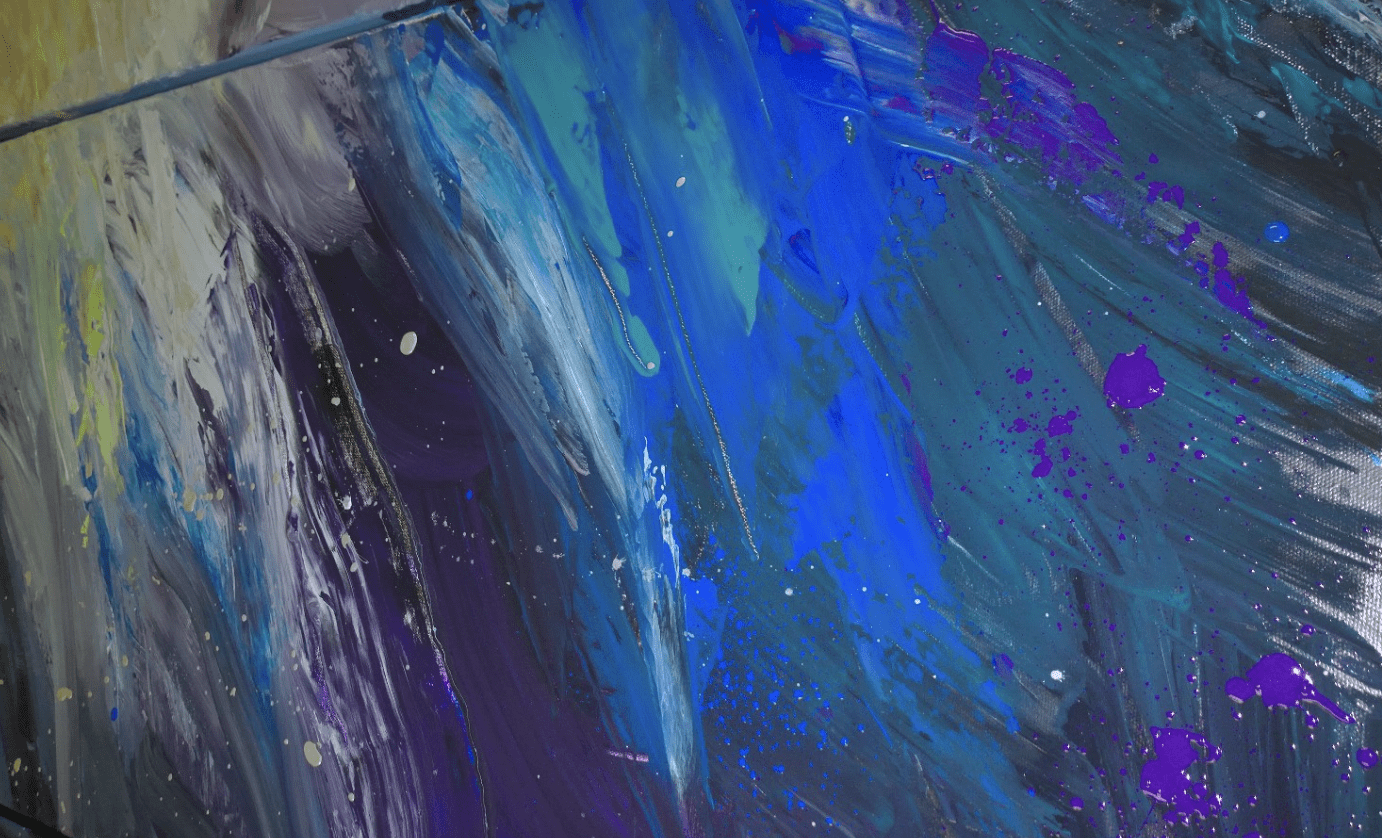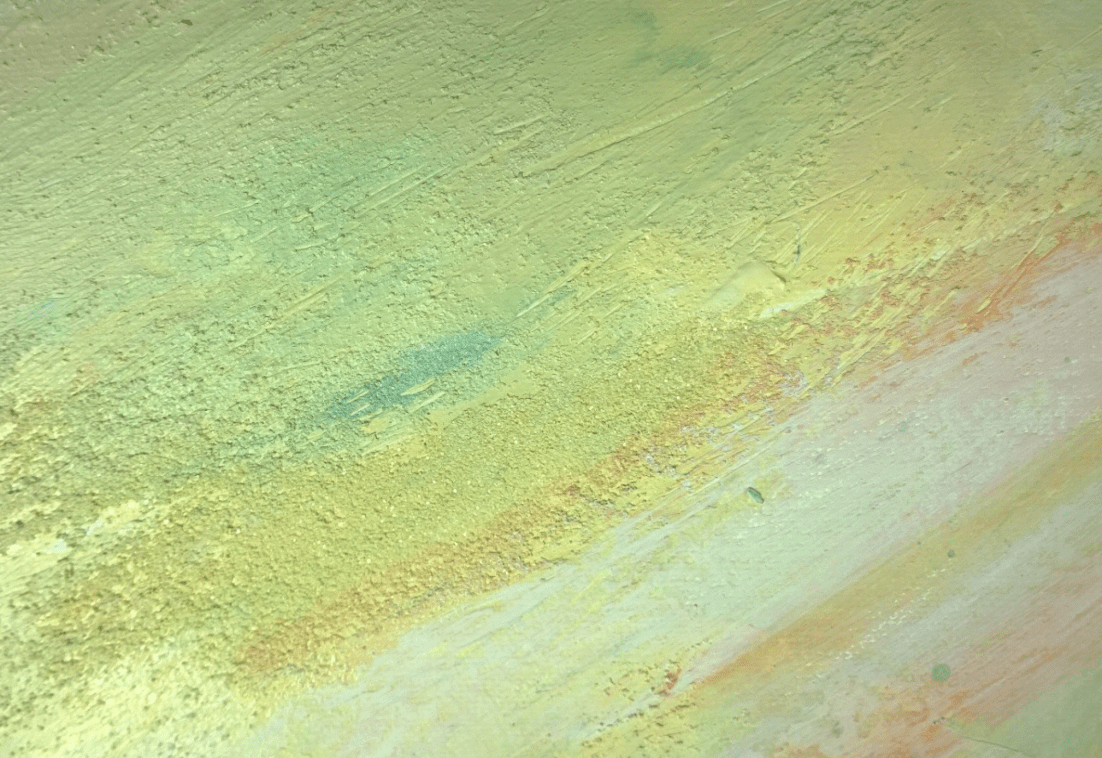 Weather, power and light permitting, tomorrow Laurie will begin to weave light throughout the paintings, while I work on the text. The paintings move from dark to light, and I'm thinking about using light metallic lettering on the darkest panel on the left and dark shimmery lettering on the pale, rightmost panel. 
Please keep everyone in Irma's path in your prayers…
Stay Zenspired,
Joanne