Freedom, Fireworks, Cards & Connections
Tuesday, July 5, 2016
Hi Everyone,
I've been on the road for the past two weeks, and got home just in time to celebrate the 4th of July. Since fireworks are such a big part of America's Independence Day, I thought I'd share this Zenspirations® Dangle firework design.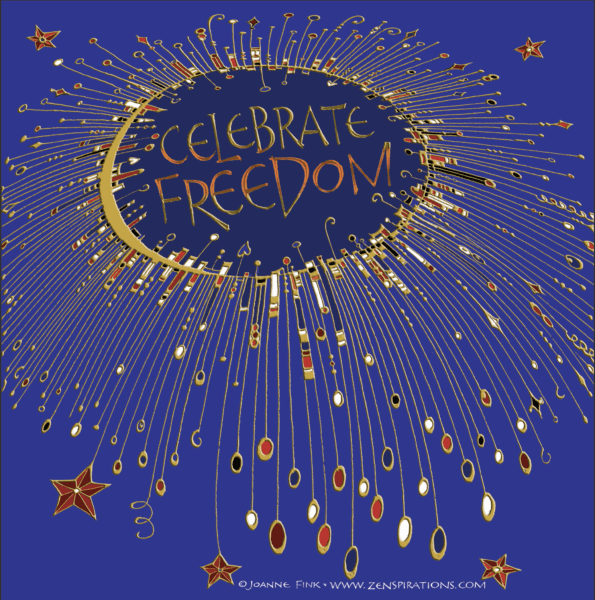 The 4th of July isn't just about food & fireworks– it's about freedom. We are blessed to live in a country where we are free to celebrate holidays in whatever way we want; free to decide where to live and work; free to choose who we want to spend time with; free to decide where to worship and what to wear. Freedom is truly something to cherish… and in honor of July 4th I wanted to share a one minute video of my lettering the word Freedom.
For those of you who have signed up for the Lettering Club, notice how I move my arm; when you are lettering this size, it's not a finger motion– it's an arm motion. Speaking of the Lettering Club, I wasn't able to finalize all the details while I was on the road, but look for the first lesson later this week. If you are interested but haven't filled out the form yet, here it is:
One of the things I most enjoy lettering are greeting cards. Sometimes I use one or two styles, other times I incorporate a lot of 'hands'  or lettering styles into one design.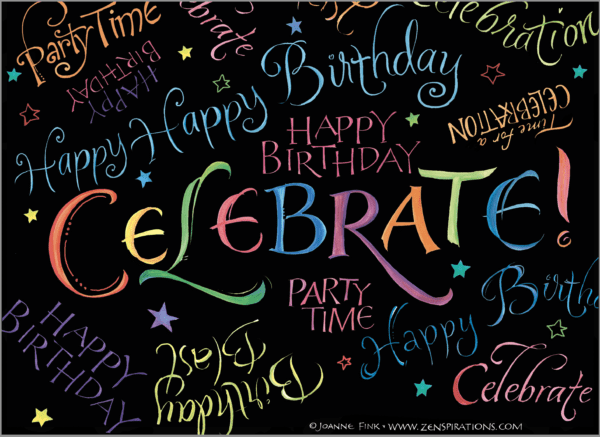 Personalizing a greeting card is a great way to show you care; there is something almost magical about people's reaction to a hand-lettered card. This week I've had several occasions– both happy and sad– to create personalized cards. The design below is a belated birthday card for my friend Toni Popkin… since Toni's birthday was last month, I decided to just go with an inspiring saying, rather than lettering 'happy birthday'.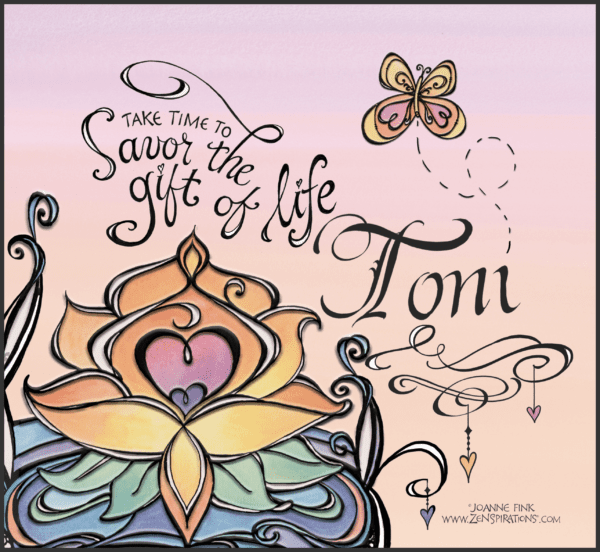 This next card is for my friend June Maffin, whose husband died somewhat unexpectedly last week: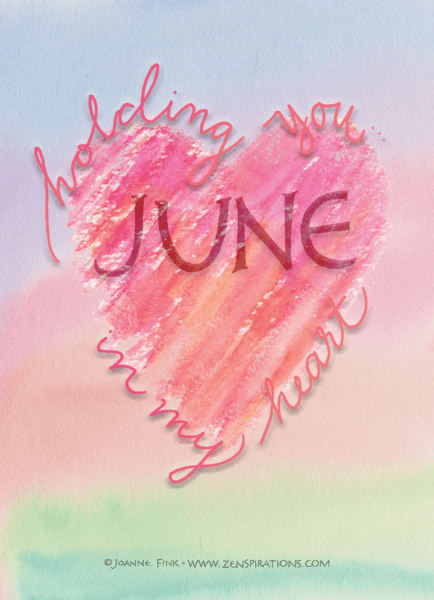 The next card is for my friend Gail Beck, who was one of the very first Zenspirations® Color & Creativity Enthusiasts. Gail is a florist, and does a lot of weddings in the summer, and unfortunately broke her foot this weekend.  I thought a personalized card would cheer her up, and decided to create a design which incorporated flowers along with Gail's name. I'm planning to write "hope you'll be Blooming again soon" on the inside. I came up with two different options, and can't decide which to send: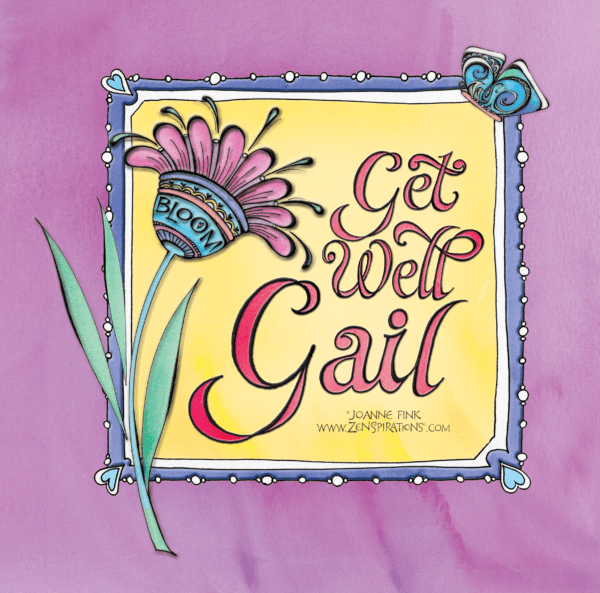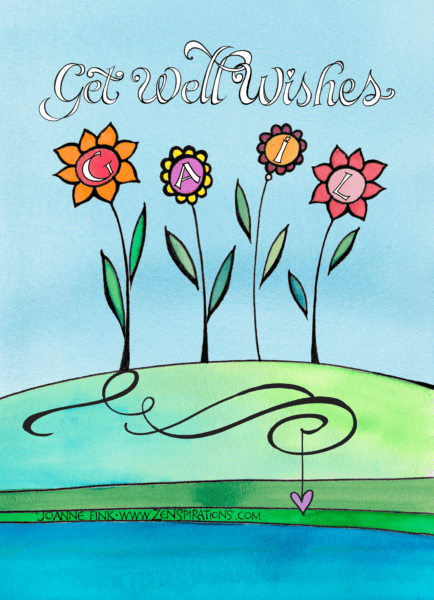 Please leave me a comment to let me know which is your favorite design.
And then I tackled another belated card– this one for a Quincinera. I opted for full color Dangle monograms, and left the 'Happy Birthday' off of the design since I missed Mariel's actual birthday.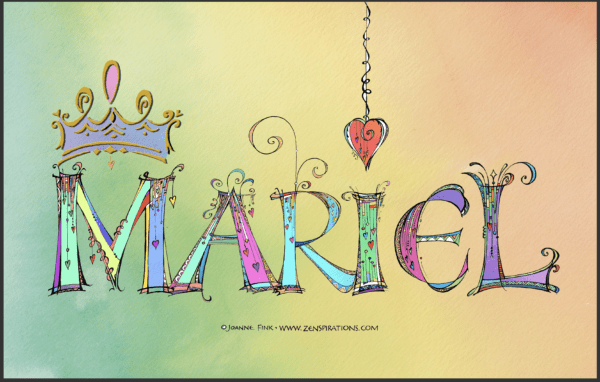 Crowns are not only a motif for Quincinera celebrations, but they are also a symbol for the Modern Widows Club (MWC), a mentoring organization which helps widows develop resilience as they 'lean back into life'. MWC founder Carolyn Moor talks about the importance of wearing our 'invisible crowns'; and I must say that there is something special about wearing a crown…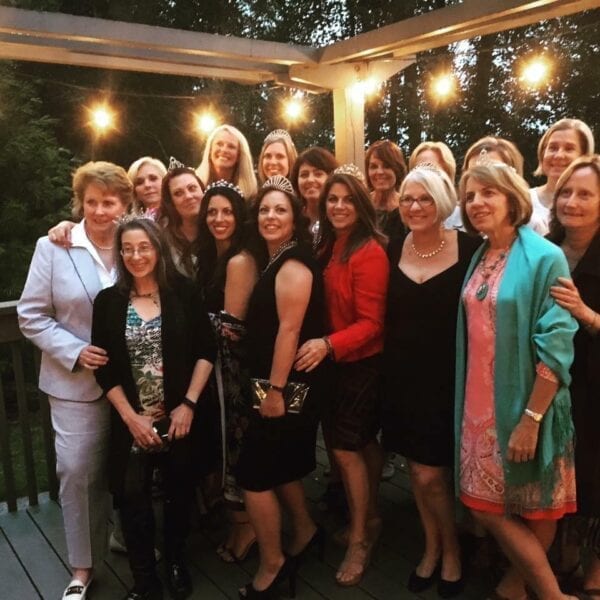 The photo above was taken during the MWC Leadership Retreat, which was a jam-packed four day event in Seattle. I was honored to meet so many incredible, compassionate women, each of whom is doing her part to make a difference in the world. Many of us, myself included, have been personally empowered by connecting with other widows. If you know a widow, please let them know about MWC, and encourage them to seek out a chapter near them and/or to join the online community for support.  Monthly meetings are free, but you can join the organization for $25/year. It's a great gift to give someone you care about… I know first-hand that MWC makes a HUGE difference in people's lives.
During the retreat we learned about International Widows Day; the United Nations set the observance for June 23rd. This is a sketch I drew at the retreat:
I want to give a 'shout-out' to my fellow MWC chapter leaders… you guys rock!
The Leadership retreat– and the rest of my trip was great… and I'm having fun finding treasures as I open all the mail which accumulated while I was away. So far the best discovery was the inaugural issue of Present Magazine. This delightful magazine is free to consumers, and is available at gift retailers across the country. Best of all, the first issue has an article about coloring, plus a coloring page that I designed!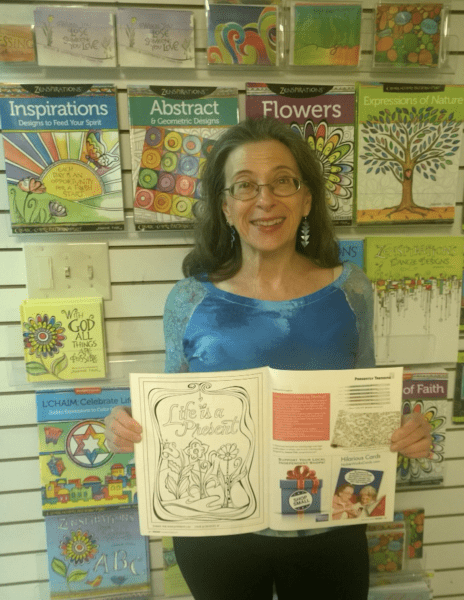 Visit their website to find out where you can get your free copy… and as always, please post what you do in the Zenspirations Create, Color, Pattern, Play FB group. And be sure to read next week's blog for some exciting news about the group!
Stay Zenspired,
Joanne