Help Make a Difference Today!
Tuesday, November 28, 2017
Hi Everyone,
Last week I wrote about Giving Tuesday, which is TODAY, Tuesday, November 28, 2017, and asked members of the Zenspirations® community what charities they support.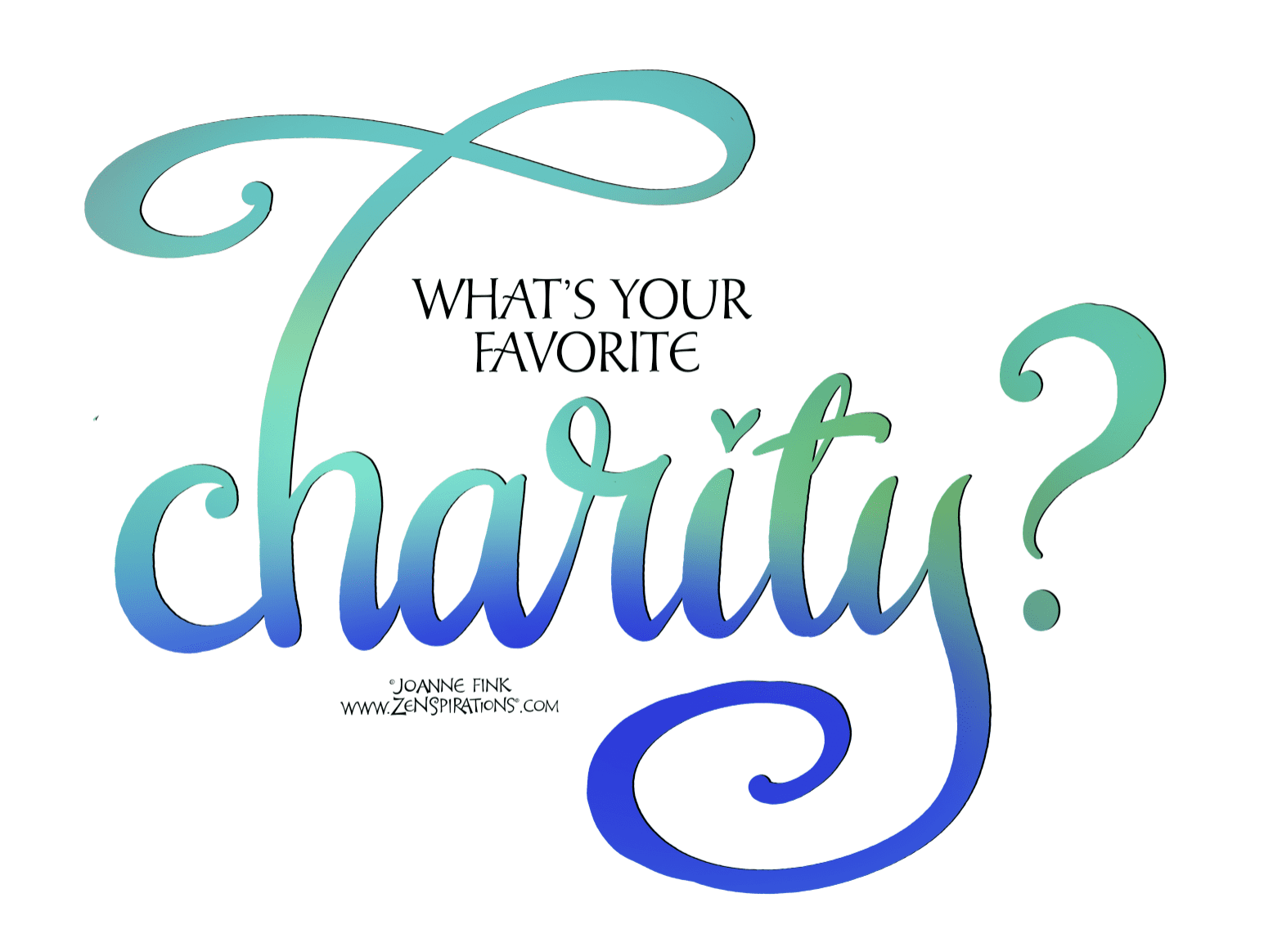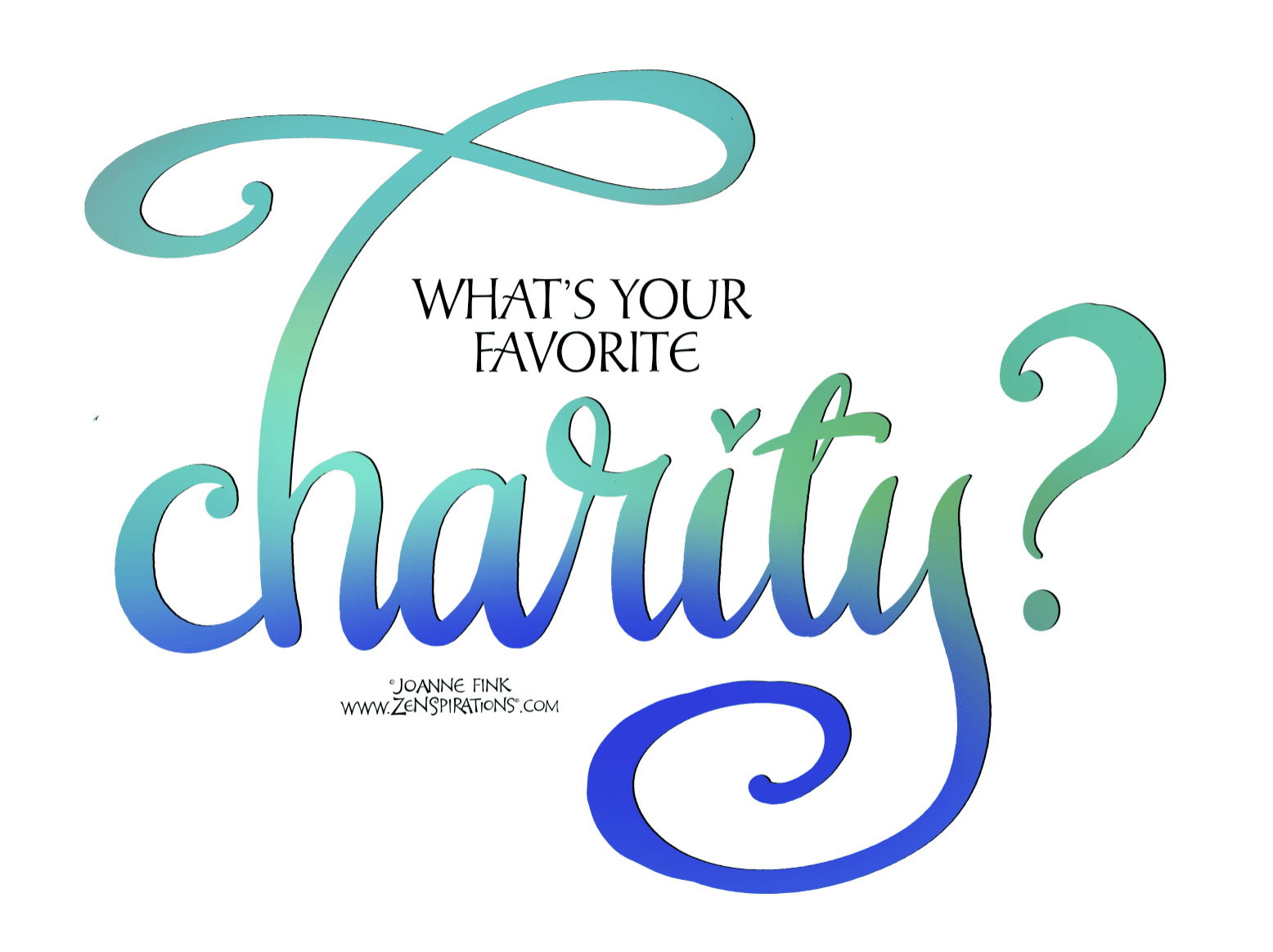 20+ people left comments on the blog, and many others commented on Facebook. My friend Jennifer Kupper was kind enough to help me vet the organizations which were recommended. We left a few off because they weren't non-profits, and I'm sure we missed some that weren't submitted as a comment on the blog– but here is a PDF of the 75+ charities our community supports. The list is divided into categories– everything from humanitarian and faith-based charities to international and disaster relief efforts, to military, animals, education, grief support, domestic violence,  and more.
Zenspirations®_2017_Giving_Tuesday_Recommended_Charities Final
One of the beautiful things about #GivingTuesday is that funds donated via Facebook between 8:00 am east coast time and midnight will be matched (up to $2,000,000) by the Bill & Melinda Gates Foundation, as well as by Facebook. Giving Tuesday is a worldwide movement to make a difference for those in need. When you give on #GivingTuesday, you'll be practicing philanthropy in its finest form. I encourage everyone to not only give to the organizations you usually support, but to investigate the ones other people in our community believe in. Please check them out, and feel free to share the list as a way of shining a light on these worthwhile organizations, and inspiring more people to make a difference in the world.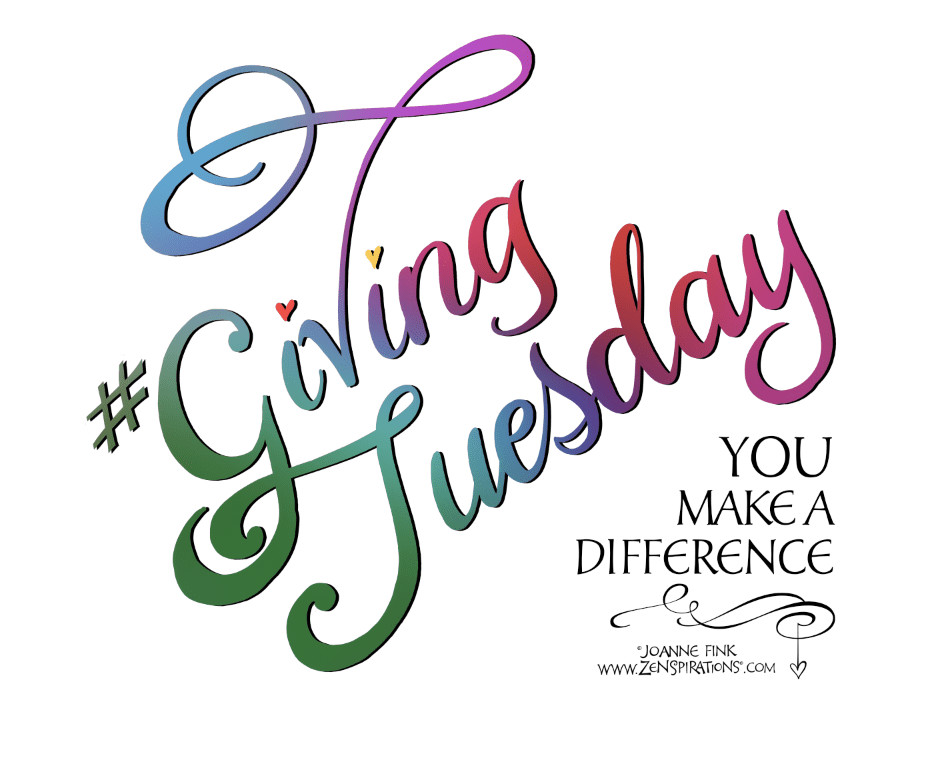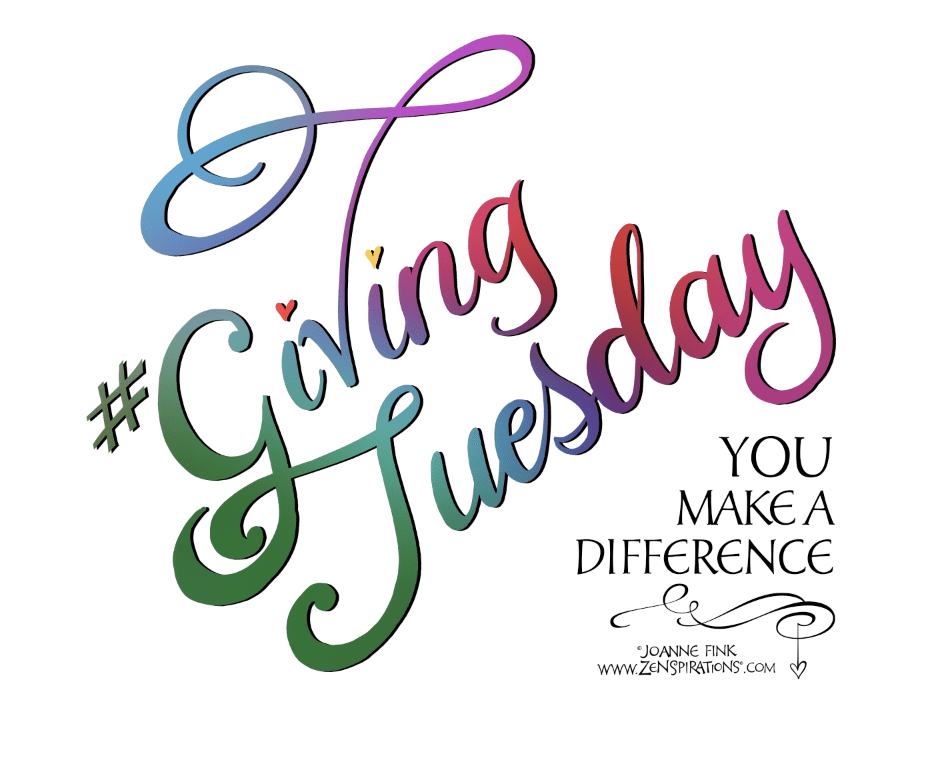 As individuals we tend to give to organizations which have touched our lives on a personal level. For example, knowing how challenging it is to move on with your life when you lose someone you love, I am motivated to try to change the culture of grief support and contribute my time, artwork and money to organizations in the bereavement world. My sister-in-law, Sheila Greenlaw Fink, is passionate about creating affordable housing for working class and low-income families, wrote, "Thx for reminding folks to think about "giving back" during the holidays–to share, in many cases, their kindness with strangers. It is all too easy to focus on our inner circle of family and friends, our own needs and passions, when so many in our communities (around the world) are struggling just to survive. My own favorite groups revolve around stable housing–the base for everything else in life–and I would encourage your followers to reach out in their own community to see who is sheltering those without homes, and who is helping to ensure that homes are available to those who need them. There are Habitat for Humanity chapters in most communities, homeless shelters, and nonprofit community development corporations. I'll be giving to some of my favorites: Community Partners for Affordable Housing, Inc. (CPAH) and Community Action (caowash.org) and encourage others in the Portland, Oregon area to do the same! To promote this work nationally, consider the National Low Income Housing Coalition (NLIHC.org). Everyone deserves a safe place to call home!"
I have looked at all of the organizations, read all the comments, and wanted to share a few which I found especially moving:
Toni Popkin says:
http://k94life.org/2017-calendar-contest-full-service/
For #GivingTuesday I'm supporting Canine Partners for Life, the organization that raised, trained and partnered Bud my Service Dog with me. Since we have been together in June of 2013, my quality of life has improved so much. Bud is actually a finalist in the CPL 2018 calendar contest. Voting will be on #GivingTuesday by making a donation of $10 or more and saying it's for him. To me paying it forward by educating people, advocating for those unable to, and help to fundraise for a non-profit that charges a very nominal part of the $30,000+ each Service Dog costs to raise, fully train, place and follow up has been my purpose since sustaining my multiple Traumatic Brain Injuries. There's a quote by Helen Keller that I love, "Alone we can do so little, together we can do so much." That to me is what giving back and #ZenspiredGiving is about."