Praying for L.I.G.H.T.
Tuesday, January 31, 2017
Hi Everyone,
I have always believed that when you have the ability to make a difference, you also have the responsibility to make a difference, and I strive to make a difference through my art and writing. During troubling times like these, I think it is incumbent upon those of us who have been blessed with creative talents to use our abilities to build bridges of peace and understanding; inspire calmness; become the voice of reason and take a stand for justice.
In November, right after the presidential election, I wrote a blog post called "Be a L.I.G.H.T. in the World!" You may recall the L.I.G.H.T. is my acronym for Love, Inspired, Give, Heal, Transform. I think this is one of the most meaningful blogs I've written; if you didn't get a chance to read it (or would like to reread it), here is the link:  https://zenspirations.com/blog/l-g-h-t-world/.
Given everything that has transpired this past week, I am praying that you will join me in setting the intention of being a L.I.G.H.T. in the world.
AS A L.I.G.H.T., IT IS MY GOAL TO:
                       Reach out in Love
                Inspire by example
          Give from my heart
      Heal the pain I see
and help Transform 
     hostility into KINDNESS
          apprehension into COOPERATION
              confusion into UNDERSTANDING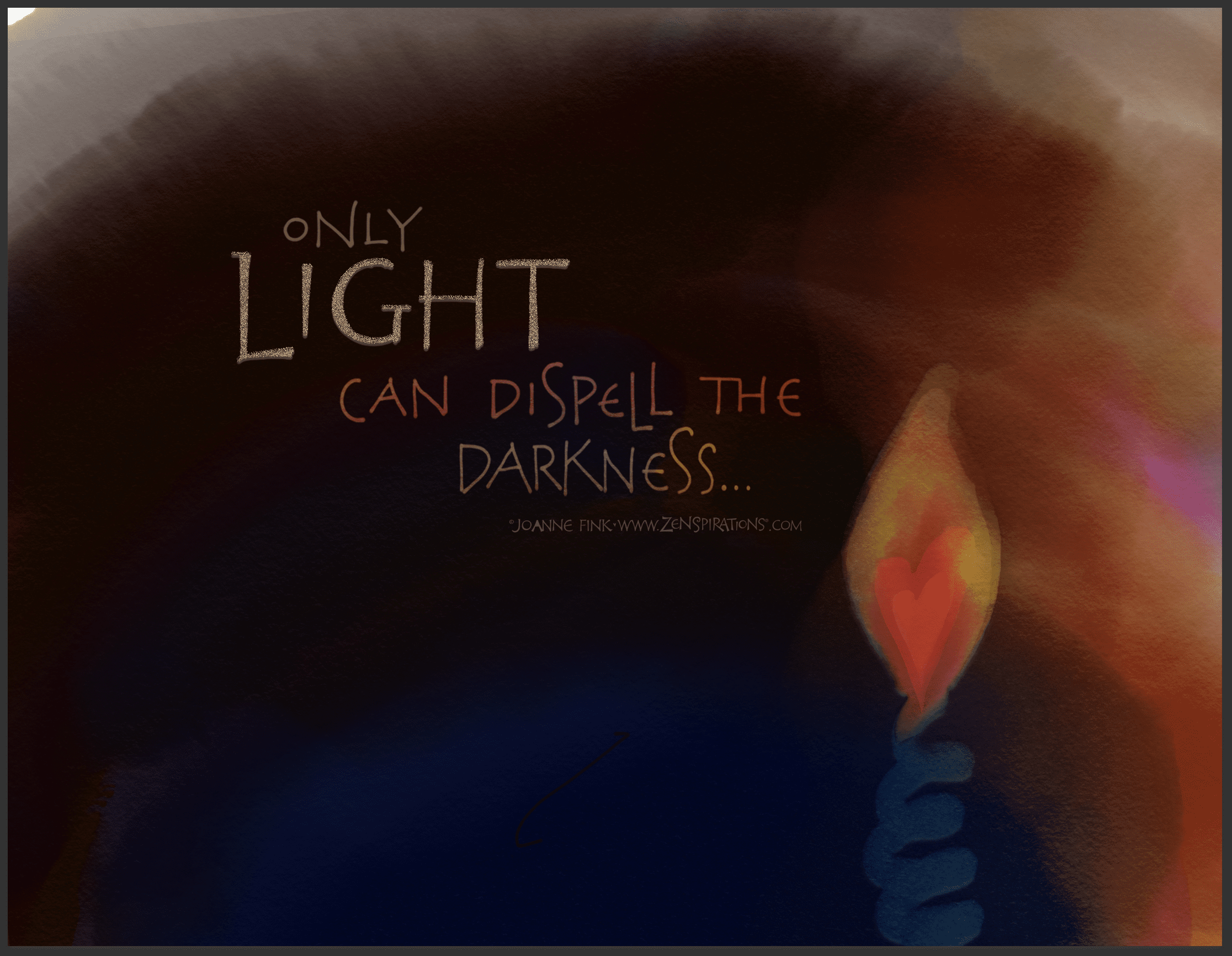 Although I just shared this piece recently in honor of Martin Luthor King, it feels appropriate to share it again tonight:
When the world becomes a dark, scary place…
          We must let our commitment to justice
                       and the light of our souls
                                illuminate the darkness.

As a cohesive community of  compassionate, caring people, I believe that we have the power to shine so brightly that we can light the way for others. One way to do this is through the gift of art, and towards that end I wanted to share this FREE DOWNLOADABLE 'Let the Light of Your Soul Shine!' COLORING PAGE: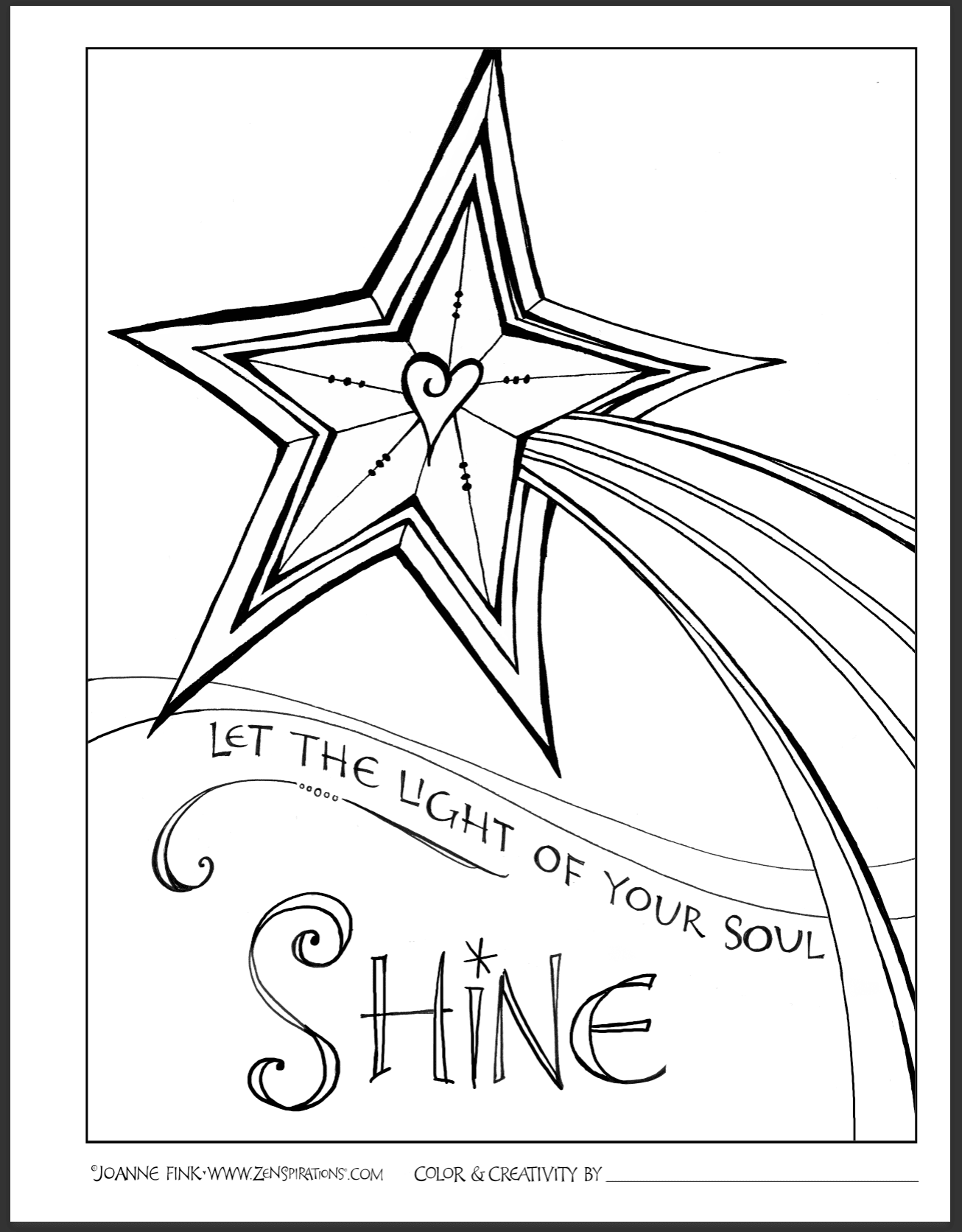 Please share it with anyone you know who finds coloring to be a calming activity.
Please also share the concept of being a L.I.G.H.T. in the world… the more people who are committed to being kind and respectful, to reaching out in love, to staying grounded in gratitude and keeping hope in their hearts, the better!
And now, here are the photos from the Association for Creative Industries (formerly known as CHA) Creativation Show, that I tried to share last week. I had a great time at the show!
PHOTOS TAKEN AT FOX CHAPEL/DESIGN ORIGINALS' BOOTH:
I spent most of my time in the booth signing my new book, Complete Guide to Bible Journaling: Creative Techniques to Express Your Faith. I hand-lettered each person's name with their favorite color of Sakura's Koi® Coloring Brush, and then add a quick note and my signature with a Pigma® Micron® 01. I guess people like having their name lettered, because I signed a LOT of books! If you'd like a signed copy you can order one from the shop section of my website, but I also wanted to let you know that Amazon has the book on sale for $13.37, which is 33% off the regular price of $19.99. It's a great deal, especially if you are an Amazon Prime member.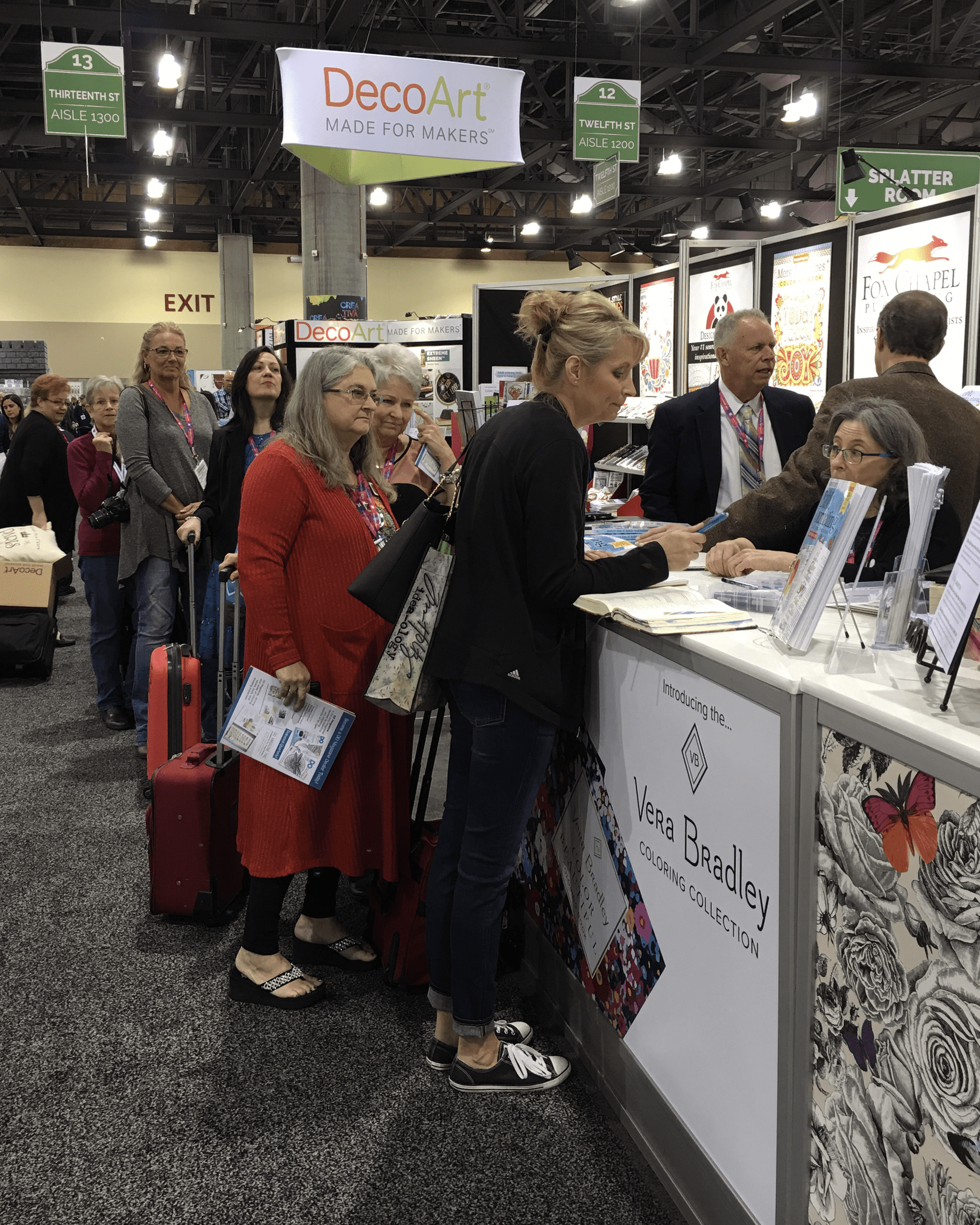 I was thrilled to finally meet Rebekah R Jones, one of the eleven artists we profiled in the book:
AT THE SPELLBINDERS BOOTH, DEMONSTRATING MY NEW STAMPS:
My new line of Spellbinders stamps and dies will be out in April, and I was thrilled to be able to do some 'make-it, take-its' to show some of the cool things you can do with them: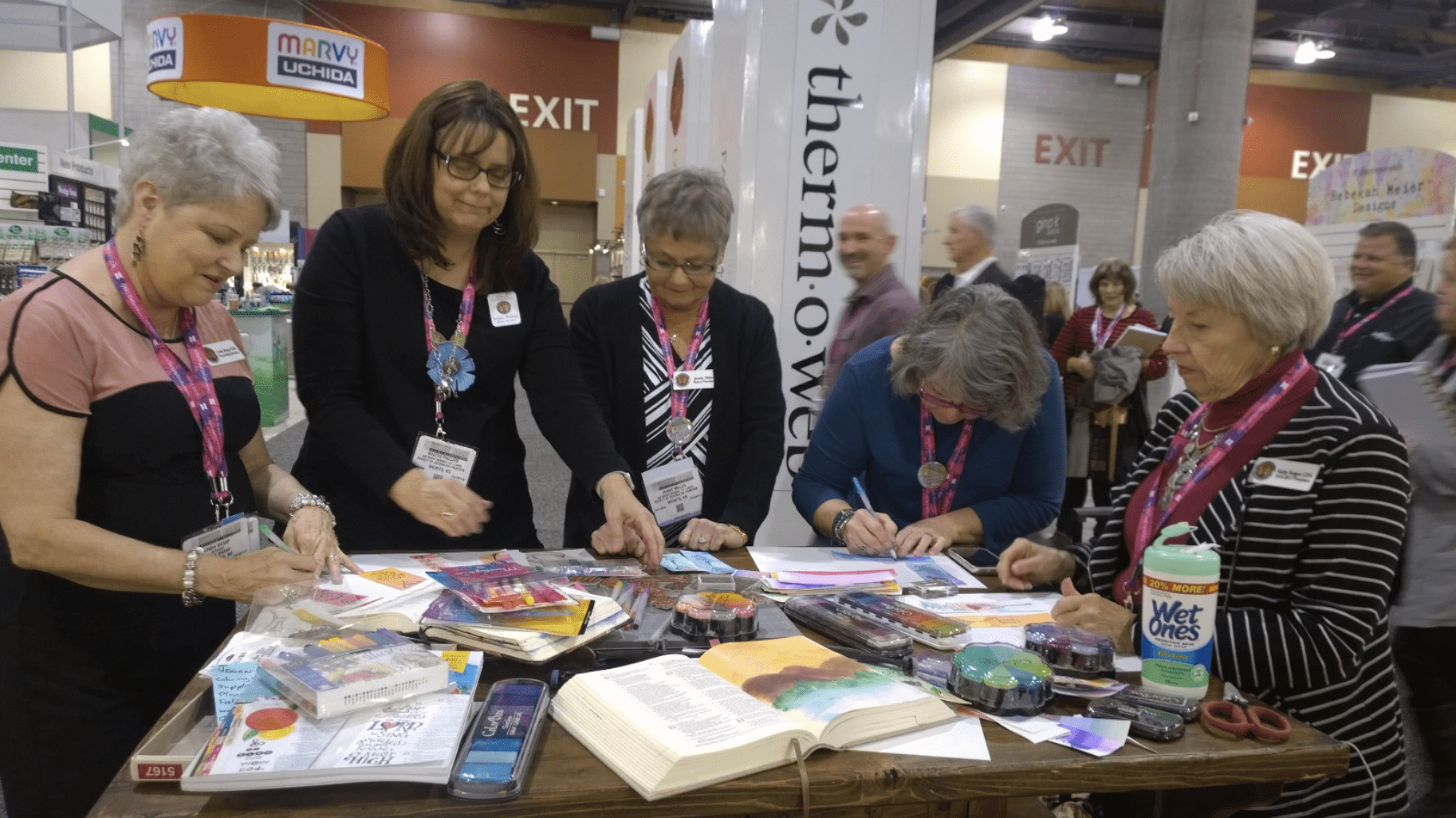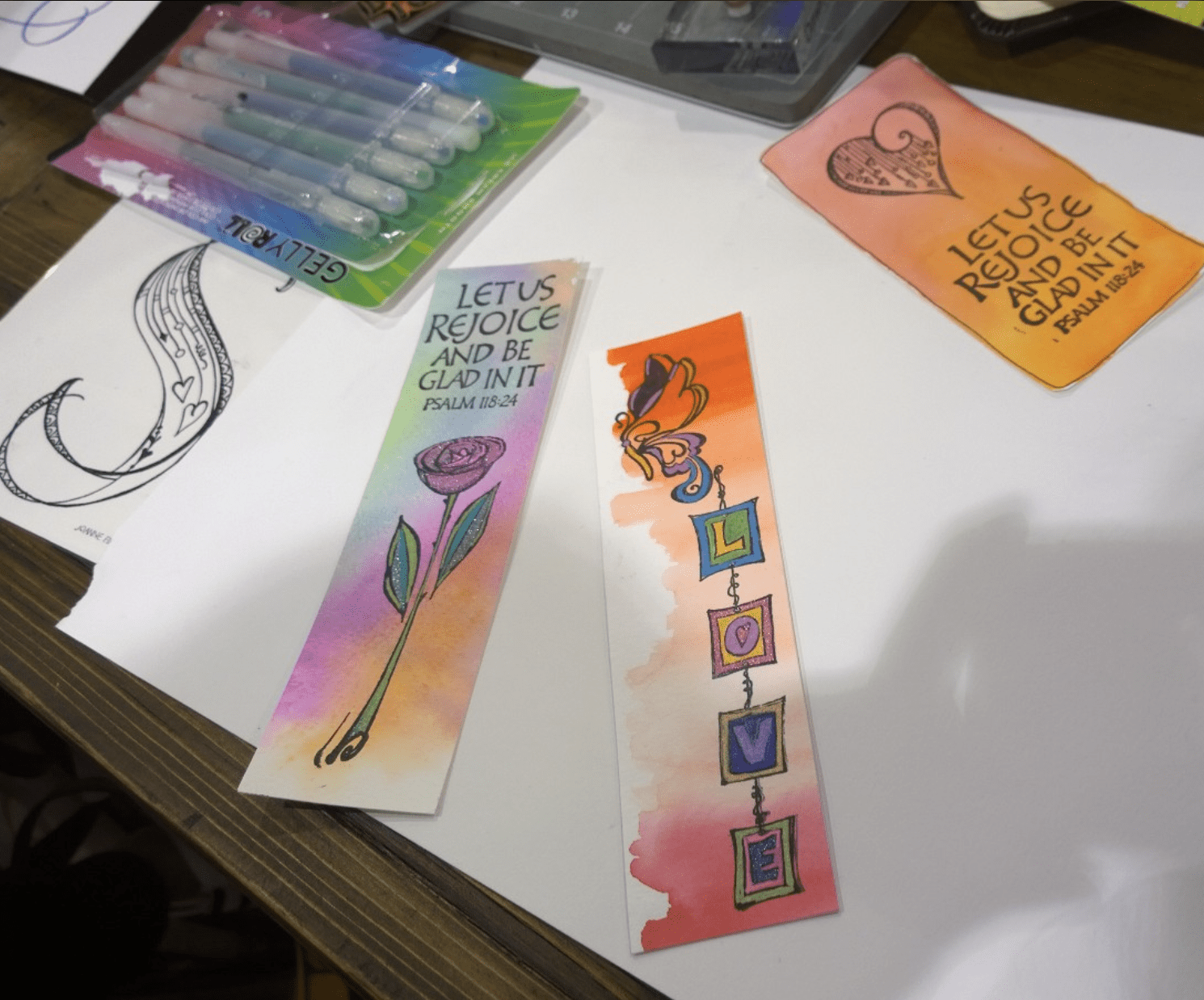 If you'd like a better look at the stamps, feel free to check out this Facebook Live post that I filmed the first day of the show. You can also get a close up view of the new Bible Journaling book in this video.
AT THE MICHAELS BOOKSTORE BOOTH:  
In addition to daily appearances at Spellbinders and Fox Chapel, I spent an hour each day promoting the new book by doing mini workshops on different Bible Journaling techniques. I was delighted to meet Tracie Rollins from Bible Journaling Ministries. She let me look through her awesome journaling Bible… chock full of inspiration!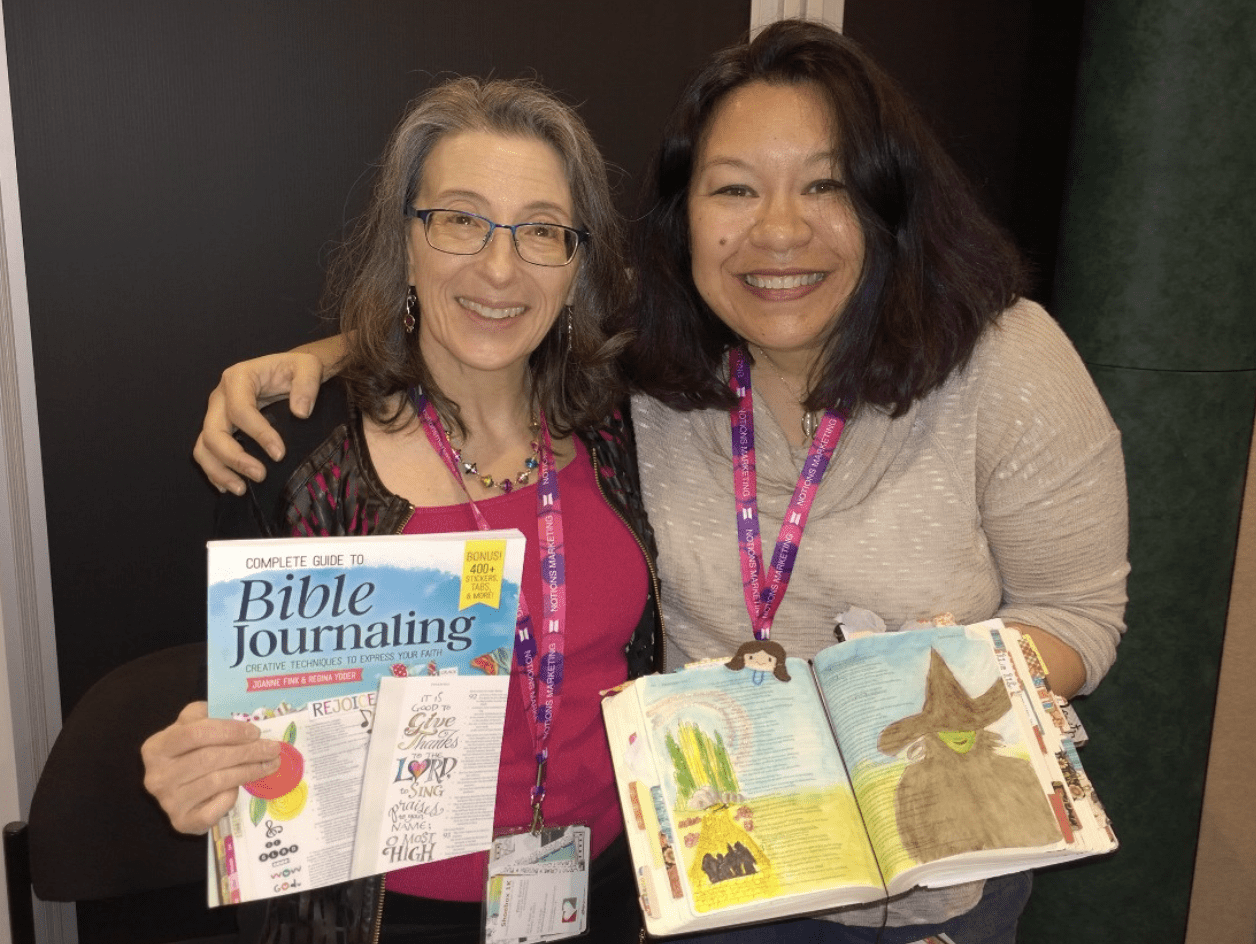 One of the highlights of the show was meeting and spending time with Mary Anne Fellows. She was a huge help in the Michaels booth.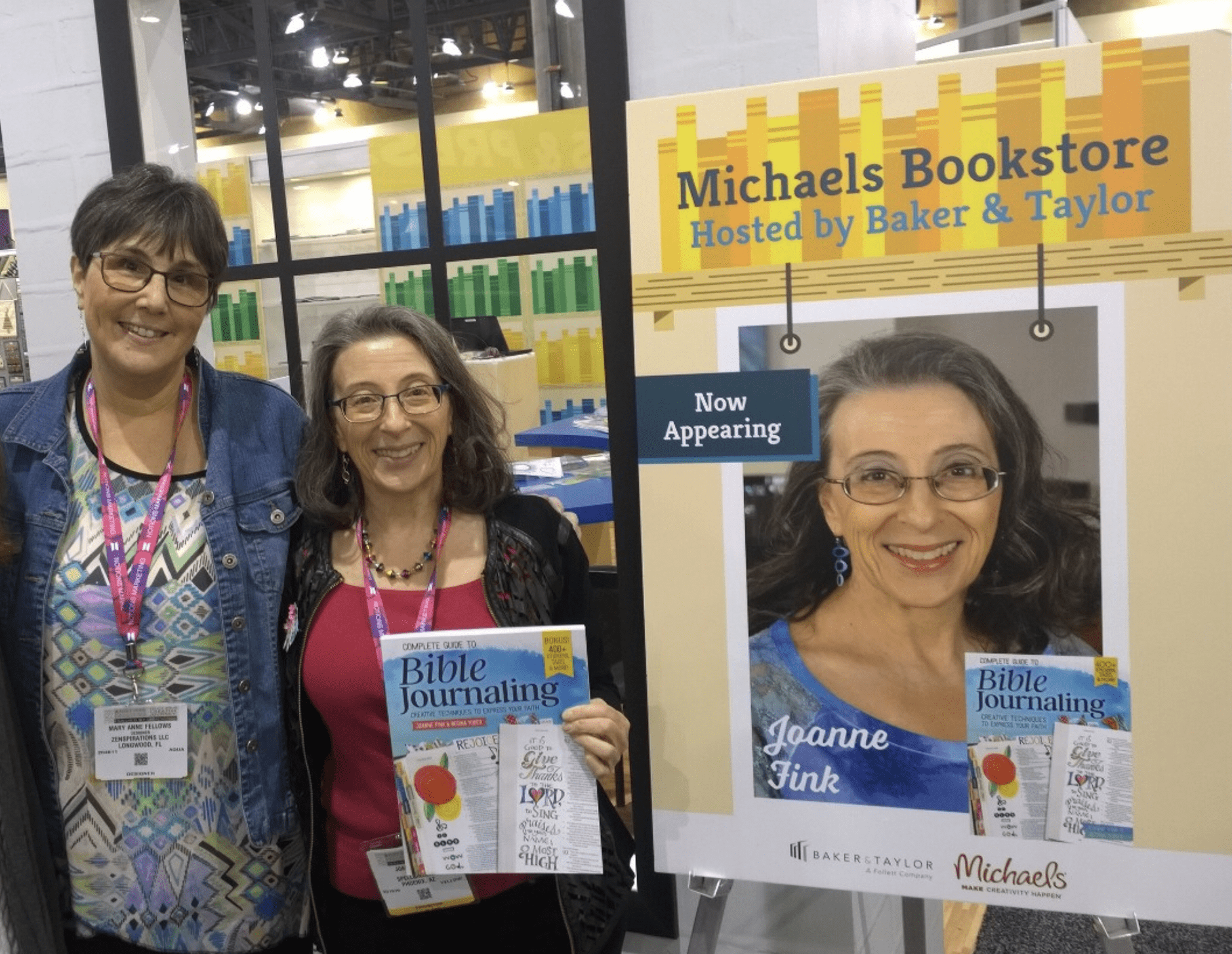 And I have to share a photo of what Mary Anne stenciled on the back of her jacket: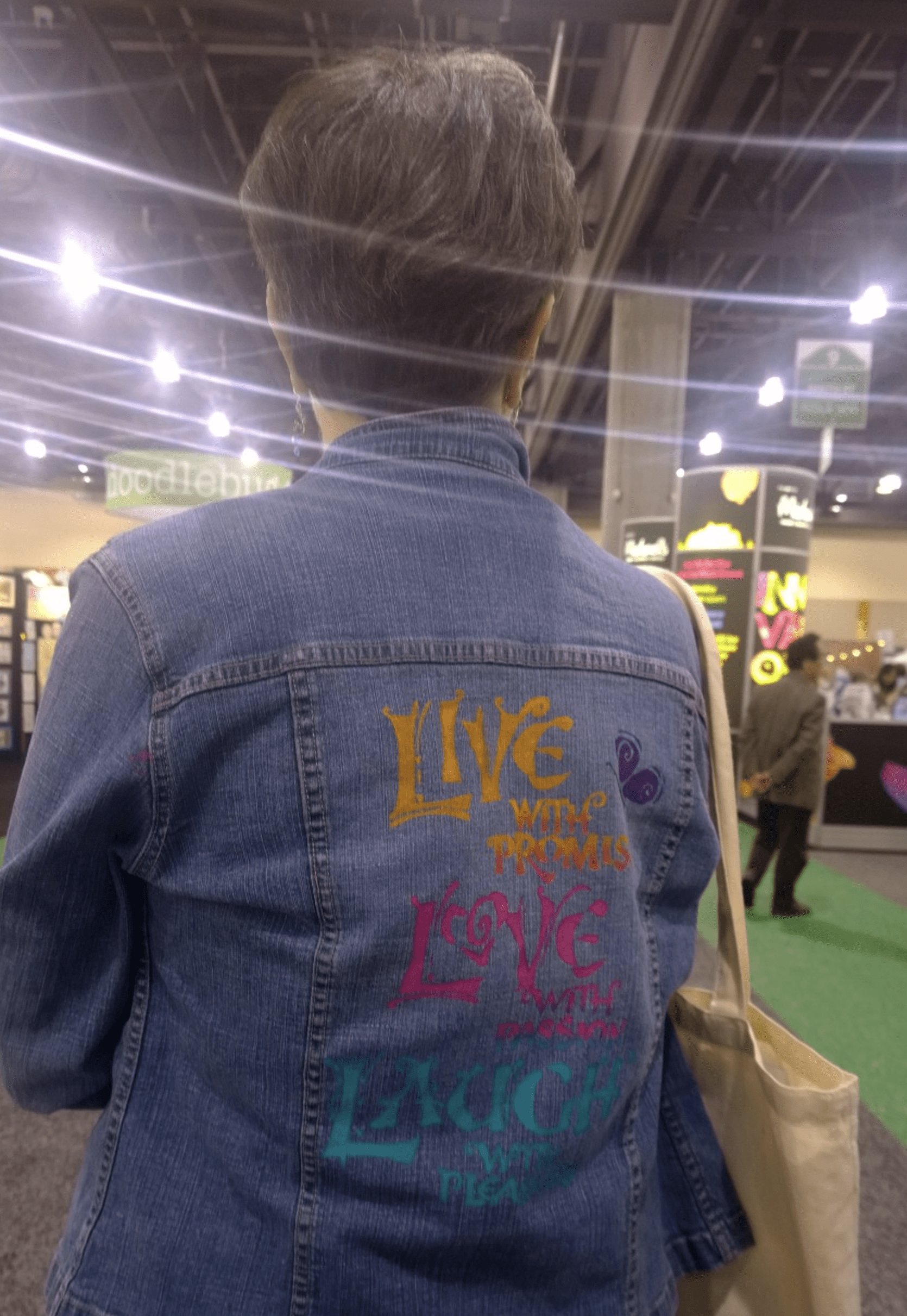 I love this! I've been stenciling in my journals, and can't wait to try stenciling on fabric.
Before closing this week, I wanted to wish Color & Creativity Enthusiast Genna Wangsness a very happy 75th birthday. I know Genna loves Dangles, so I made her a Dangle Design card for her birthday.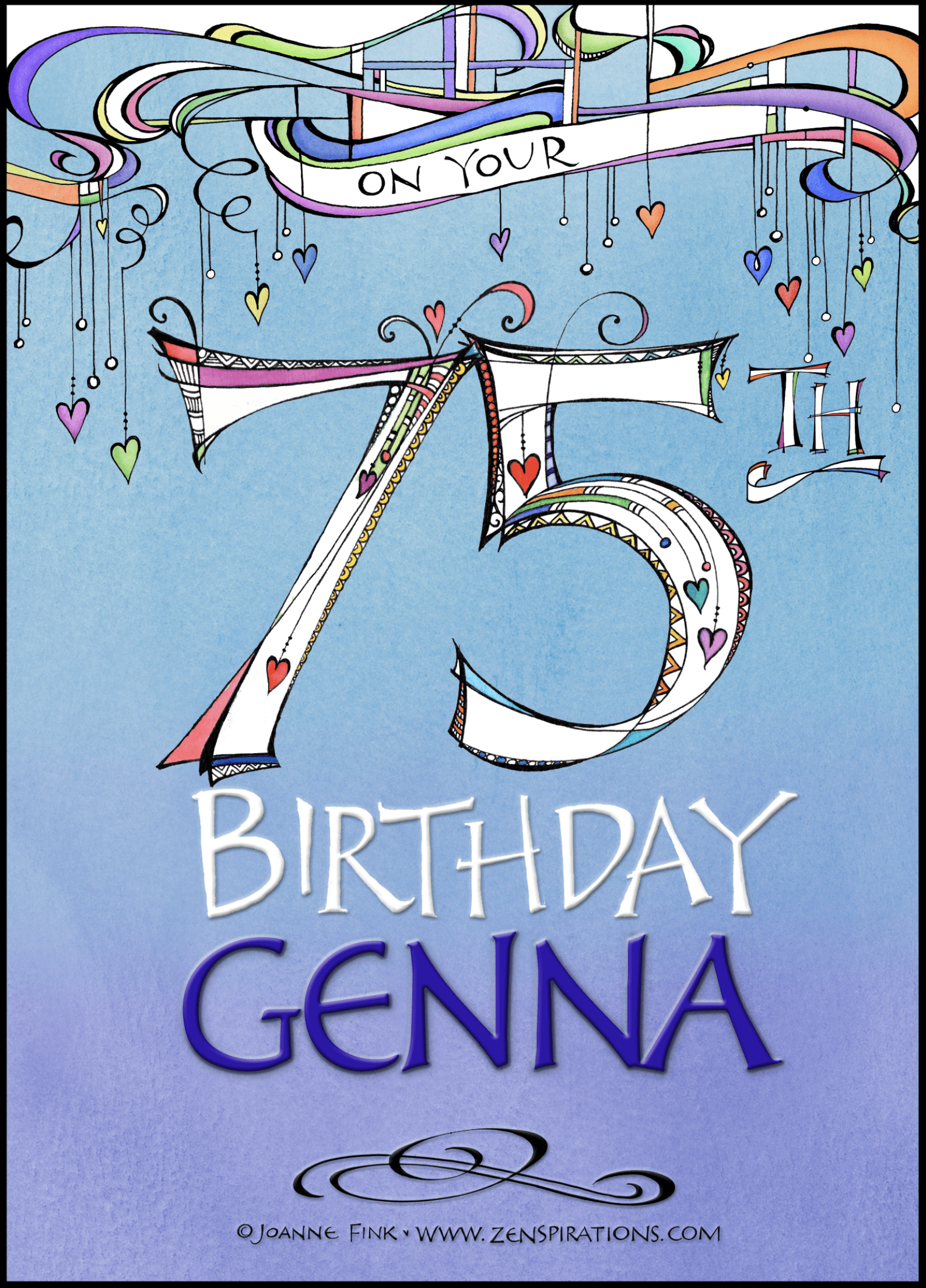 And lastly, I want to wish all my friends who celebrate Chinese New Year, 'Kung Hei Fat Choi!'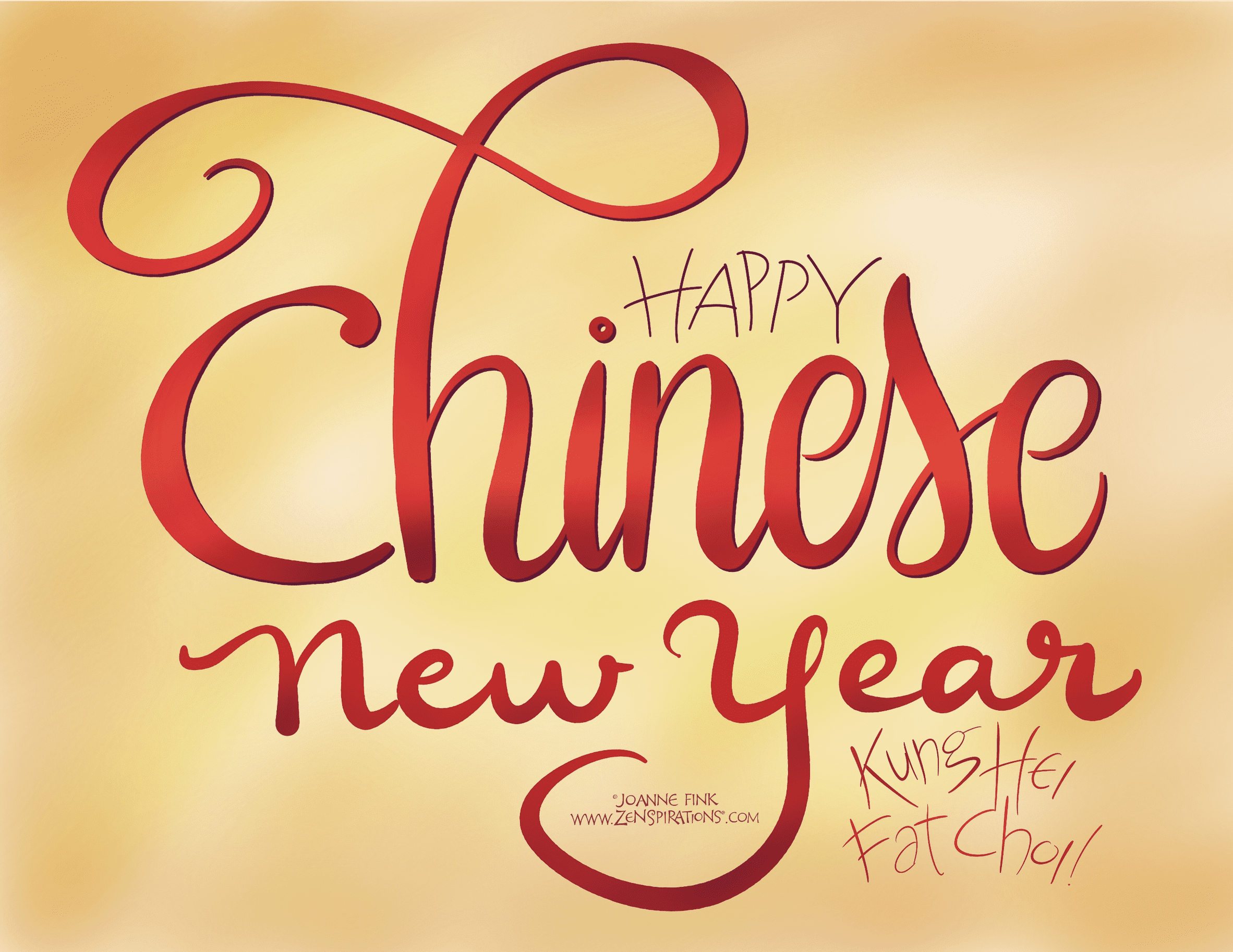 Stay Zenspired,
Joanne