Total WOW!
Tuesday, July 3, 2018
Hi Everyone,
Three years ago this month I started the Zenspirations Create, Color, Pattern, Play Facebook group and invited 'Color & Creativity Enthusiasts' who submitted inspiration samples for my coloring books to join. The following week, in the Live in Color blog, I wrote:
"And what a great first week it's been! We already have 121 members, and I have been both awed and inspired by the fabulous artwork that has been posted…
Part of what makes Zenspirations® pages different from those found in other coloring books, is that they are designed as a springboard for your creativity… I've been fascinated by how different everyone's designs are. Each one is impressive on it's own… but collectively they are even more of a 'WOW!".
Today, our Facebook group has almost 5,000 members, from an astonishing 94 countries!!! I have been continually 'wowed' by the sharing of art and hearts. This 15 second WOW is an animated Care-Moji from the Congrats! Stickers collection, which visually expresses how I feel.
It a privilege to be part of this group of kind, caring people who share my commitment to using our creative talents to make a difference in the world.
On our 3rd Anniversary, Saturday, July 21st, at 4:00 eastern time, I am planning to start the celebration with our first-ever Facebook Live! Tune in for a behind the scenes a studio tour, and a sneak peek at some of the projects I'm working on. I will be taking requests from those who are able to attend 'live', and would be happy to write your name, draw a picture, or demonstrate a technique. You'll get to pick!
Last year we did our first drawing challenge (dwellings), and this year, I'm taking the drawing challenge to another level– I have been having such a good time creating the Care-Moji collections, that I am inviting everyone in the Zenspirations community to submit a design for a curated Zenspired Care-Moji Group Collection! I will post the rules in next week's blog, but you can either color and pattern one of my designs, or draw your own Zenspirations style design or Dangle. But first we have to vote on a theme. It's hard to decide, because it has to be something you'd want to text or e-mail to someone, that you would also enjoy designing and coloring. I looked through some of our albums for ideas, and wanted to share three themes I think could work.
These dragonflies would be beautiful Care-Moji stickers.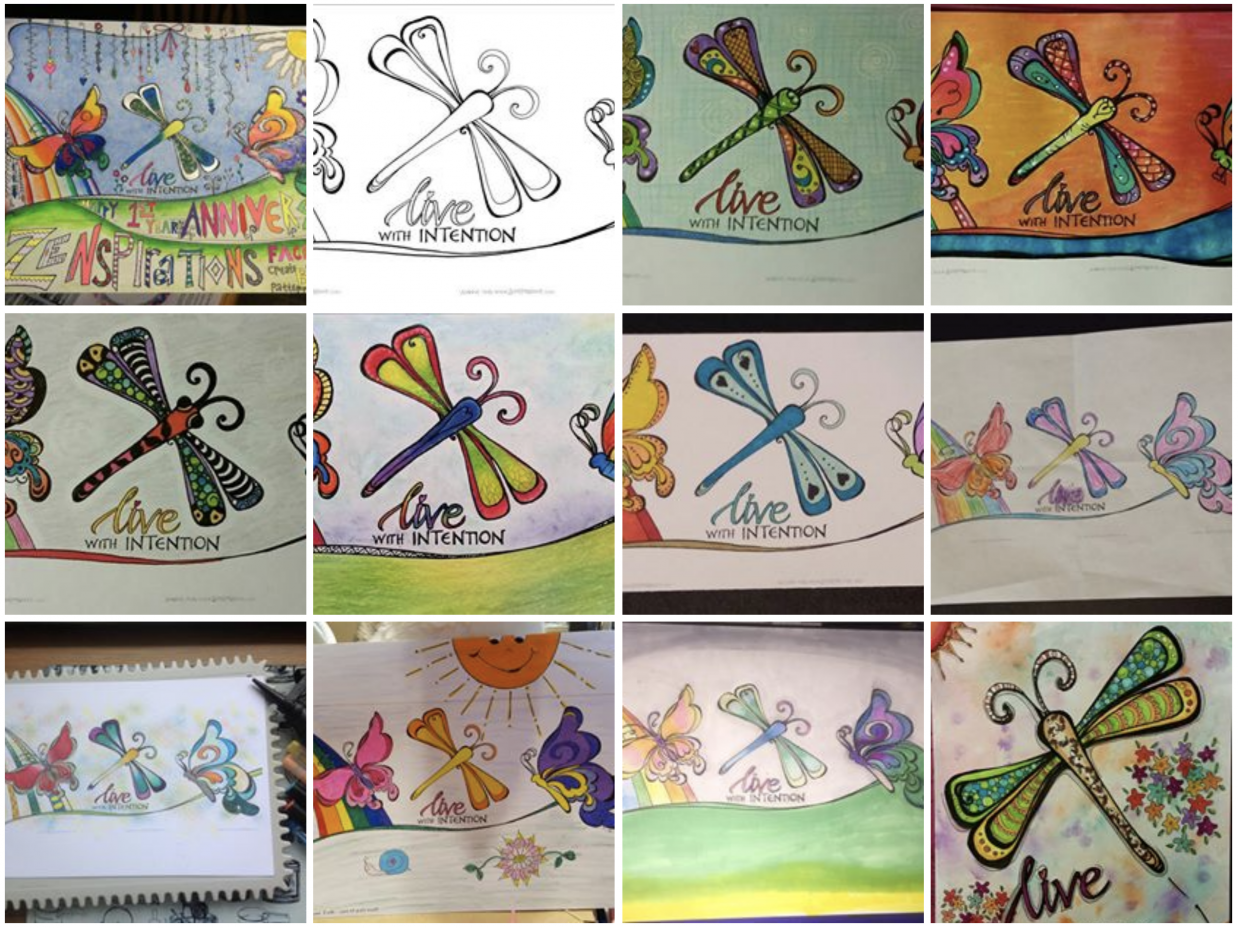 Or we could do a holiday collection.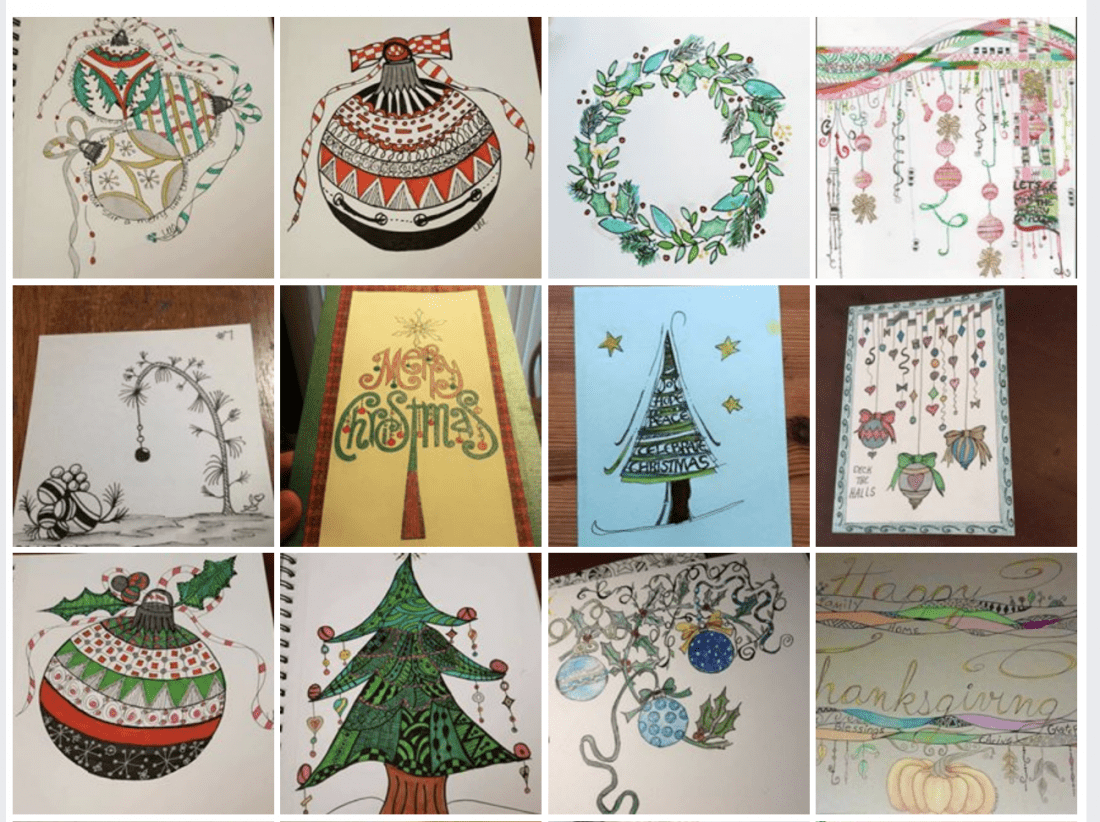 And some of these hearts would make wonderful Care-Mojis: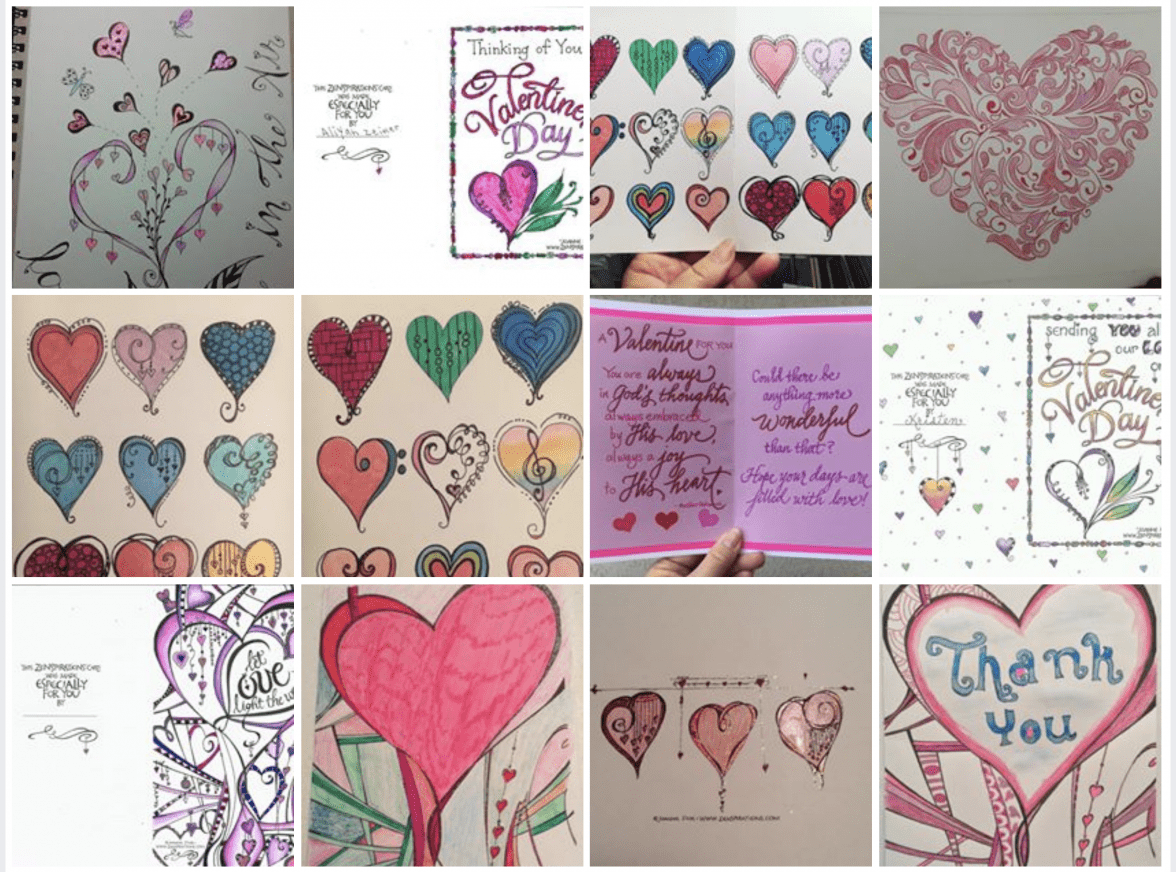 I will provide some images to color in whatever theme gets the most votes.
As an example, here's a heart design I've been working on: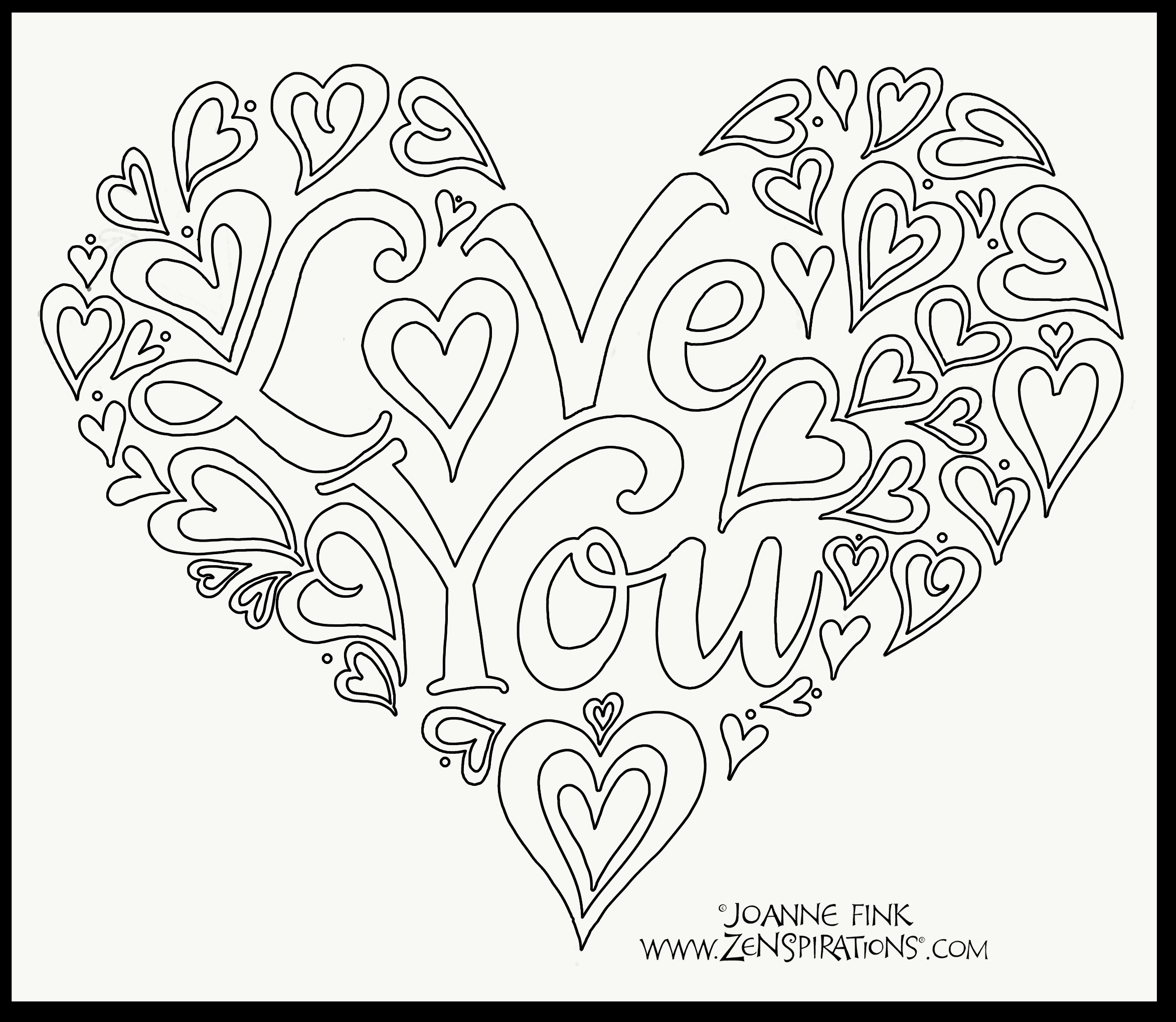 I've been experimenting with different color variations on this design: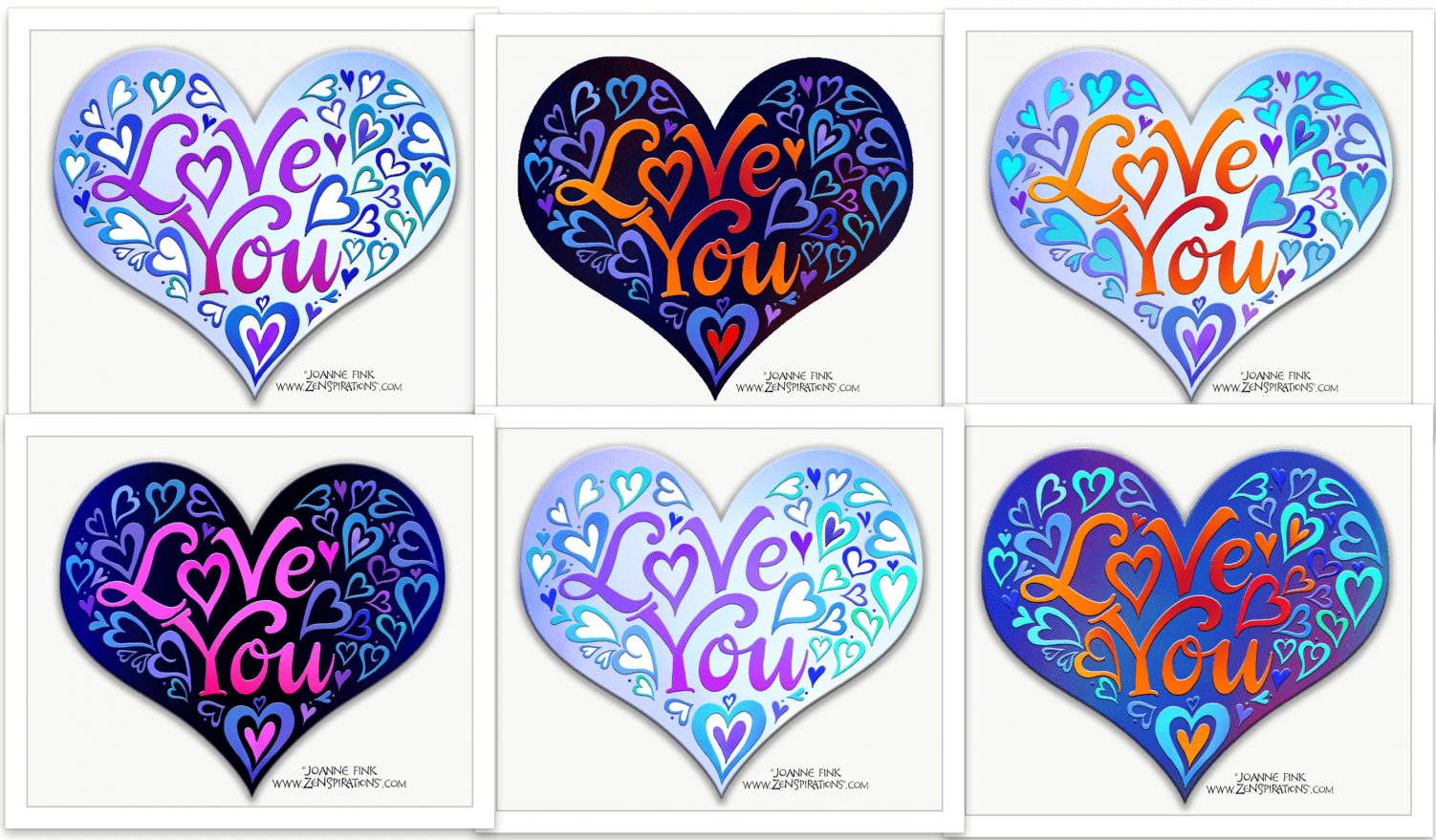 If you'd like to try some of your own color variations, click the link below for your FREE download.
Zenspirations®_by_Joanne_Fink_Love_You_Heart_Coloring_Page
Here are the two things I'd like to know:
Which of these themes would you like to use to create our group Care-Moji Collection? (Please pick your top three).
Birthday
Holidays
Hearts/Love
Birds/Butterflies/Dragonflies
Coffee/Tea
Flowers
Pink ribbon
Art/Music/Dance/Drama
Inspirational Sayings
Other______________
What type of prize(s) would you like to see offered this year?
Art supplies from some of my favorite manufacturers
Private art lesson (in person at my studio, or via screen share)
Special coloring downloads
Some of my books, personally signed for you
An assortment of Zenspirations crafting products (including the coloring bags and cards which were at Michaels last year)
An assortment of Zenspirations gift products
Something else __________
I will pick a name at random from those who leave comments on this week's blog letting me know what kind of prize(s) and Care-Moji themes you'd prefer, and that person will receive one of the prizes.
Feel free to also share your ideas on making our celebration magical:
Stay Zenspired,
Joanne