Transformative Journey
Tuesday, December 26, 2017
Hi Everyone,
I've spent time this week reviewing and reflecting on the meaningful words which were shared as either personal or group 'word-of-the-year' options, and even included some in my morning journal.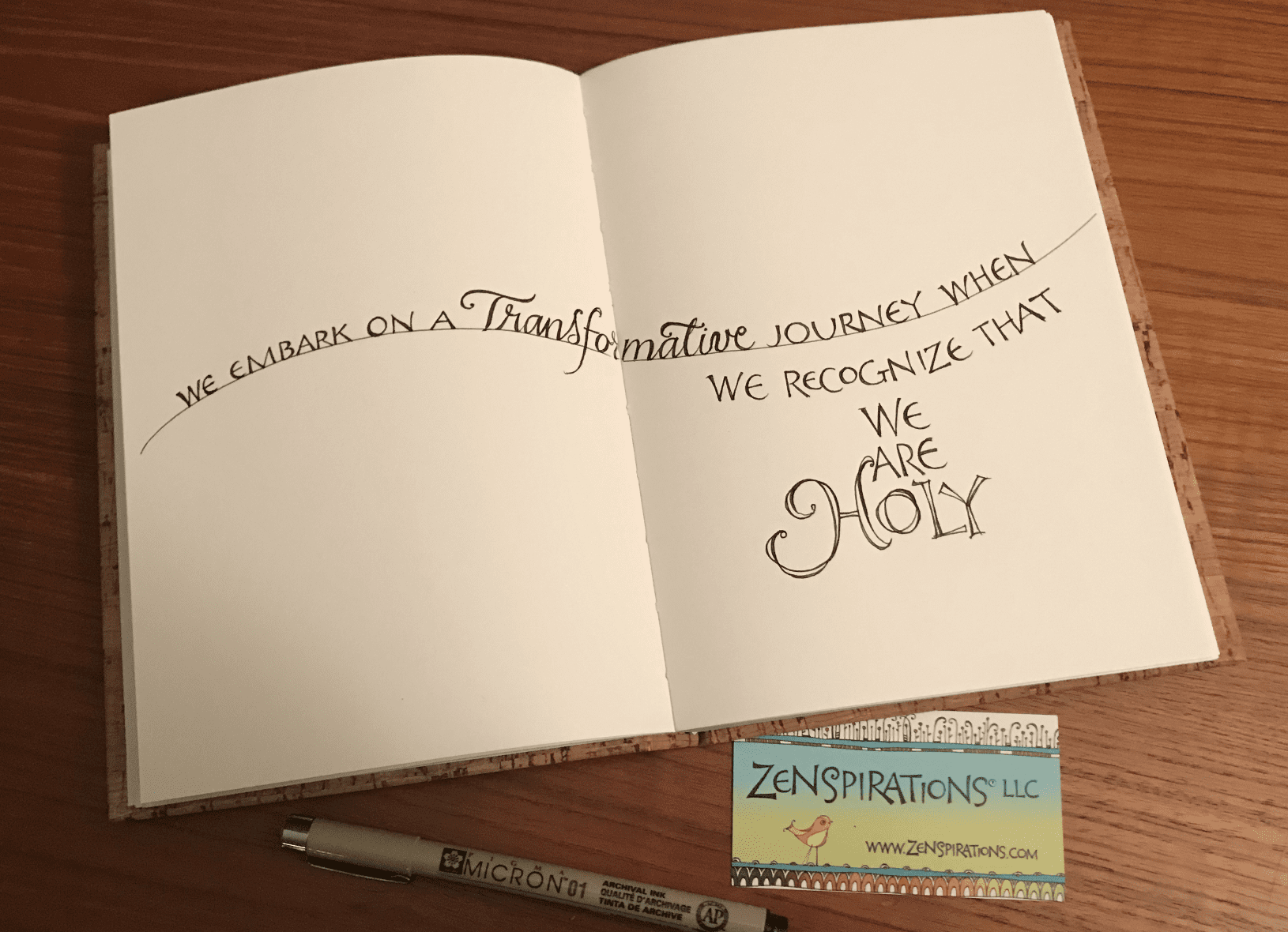 Ultimately I decided to create a piece featuring all the suggestions… I call it Transformative Journey.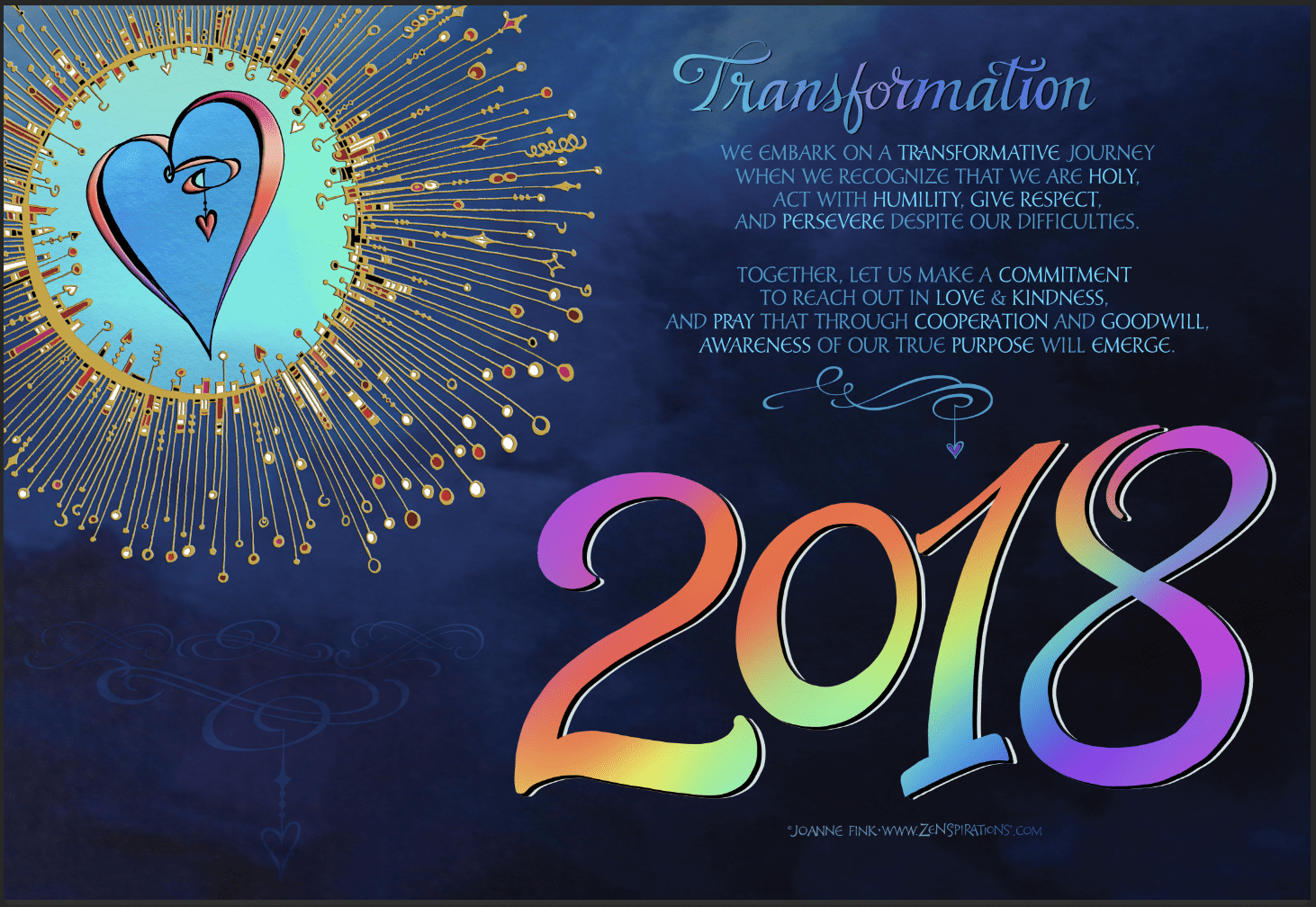 I used a brighter blue for the suggested words and the title, so they would stand out. In case you are reading this on a digital devise, and can't read the text, it says: We embark on a transformative journey when we recognize that we are Holy, act with humility, give respect, and persevere despite our difficulties. Together, let us make a commitment to reach out in love & kindness, and pray that through cooperation and goodwill, awareness of our true purpose will emerge.
Special thanks to everyone who contributed to the discussion about our 2018 Zenspirations® Word of the Year: Connie Ivey, Dawn, Deb Treat, Debbie, Dee Fink, Elizabeth Motyka, Gail Beck, Gerard Doherty, Holly Williams, Jeannie, Judy Shears, Liliana,  Pam Lewis, Rhonda Miller, Suzanne O'Mullan and Toni Popkin. You shine by example, and this is for you: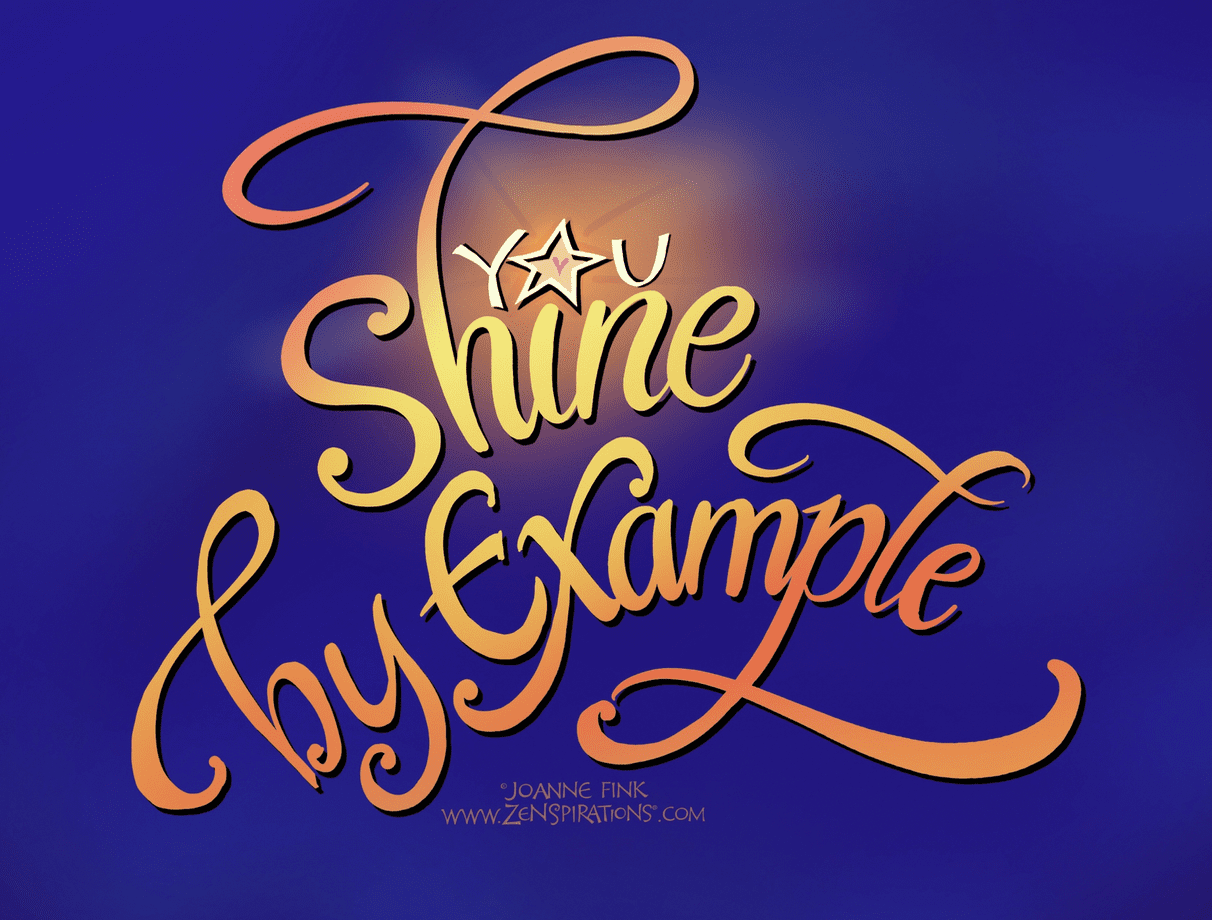 In case you are new to the Zenspirations blog, and aren't familiar with this concept, here is a link to last year's post about our community word for 2017:
I'm excited about starting a word-of-the-month project for 2018… and want to make sure that whatever form it takes is something that the Zenspirations community as a whole will embrace. I would therefore appreciate your input. As an incentive, I will pick a name at random from everyone who answers the questions, and will letter a word of your choice in your favorite colors and style (i.e. Dangle Monograms, italic, brush, or even the style I use in my Zenspirations journals). Here are the five questions:
Of the words which have been suggested this year–

awareness, commitment, cooperation, emerge, goodwill, Holy, humility, kindness, love, pray, purpose, transformative, transformation– which one gets your vote for the Zenspirations 2018 Word of the Year?

Are there specific words you would like to see included in our 12 words of the month?
Are you interested in combining the word-of-the-month with a gratitude list? If so, would you like the word-of-the-month to be the primary design element of a monthly gratitude page?
Do you want to 'Create, Color, Pattern & Play' (i.e. use whatever I come up with as the starting point for a piece that you will color and finish) with the words, or would you prefer to reflect on a finished, already colored design featuring the word?
Do you want me to share prompts and/or make suggestions on ways to incorporate the word-of-the-month into your personal creative/spiritual practice?
Thank you in advance for sharing your thoughts… it is really helpful to know what you would like.
Since so many of you have expressed interest in prayer journaling, I wanted to let you know that My Prayer Journal is now available for pre-order on Amazon! It costs $7.99, and is scheduled to ship March 19th, 2018. As a reminder, I am an Amazon Affiliate, which means that I get a small percentage of ANYTHING you buy on Amazon IF you use Zenspirations as a portal. It doesn't cost you anything except a little bit of time, and really helps me cover the costs of art supplies and books. You can find the SHOP AMAZON button on the home page of my website: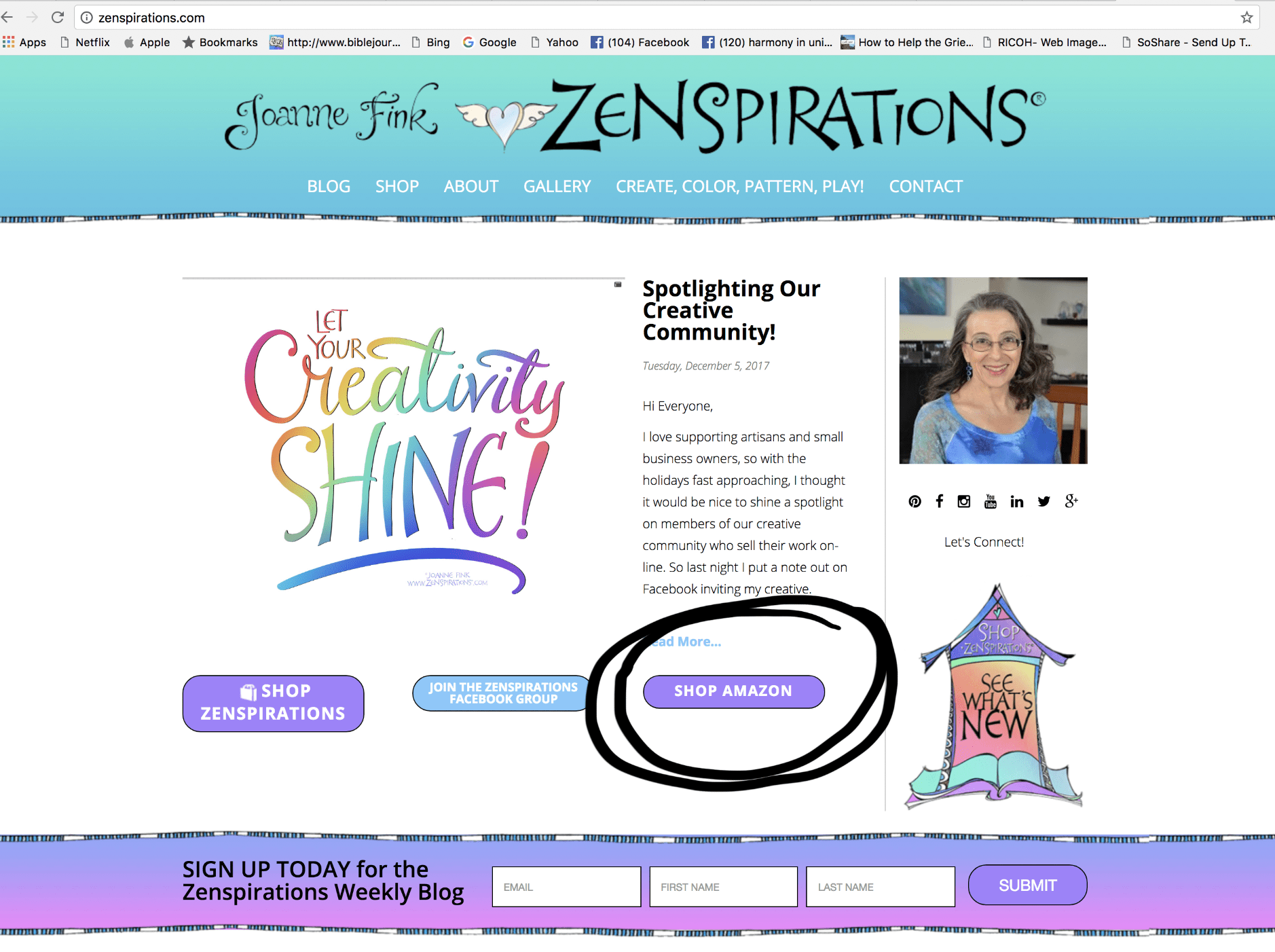 If you know of anyone who does a lot of shopping on Amazon, I'd be grateful if you would let them know that this really makes a difference.
Before closing tonight, I wanted to share the Christmas card I designed for this year: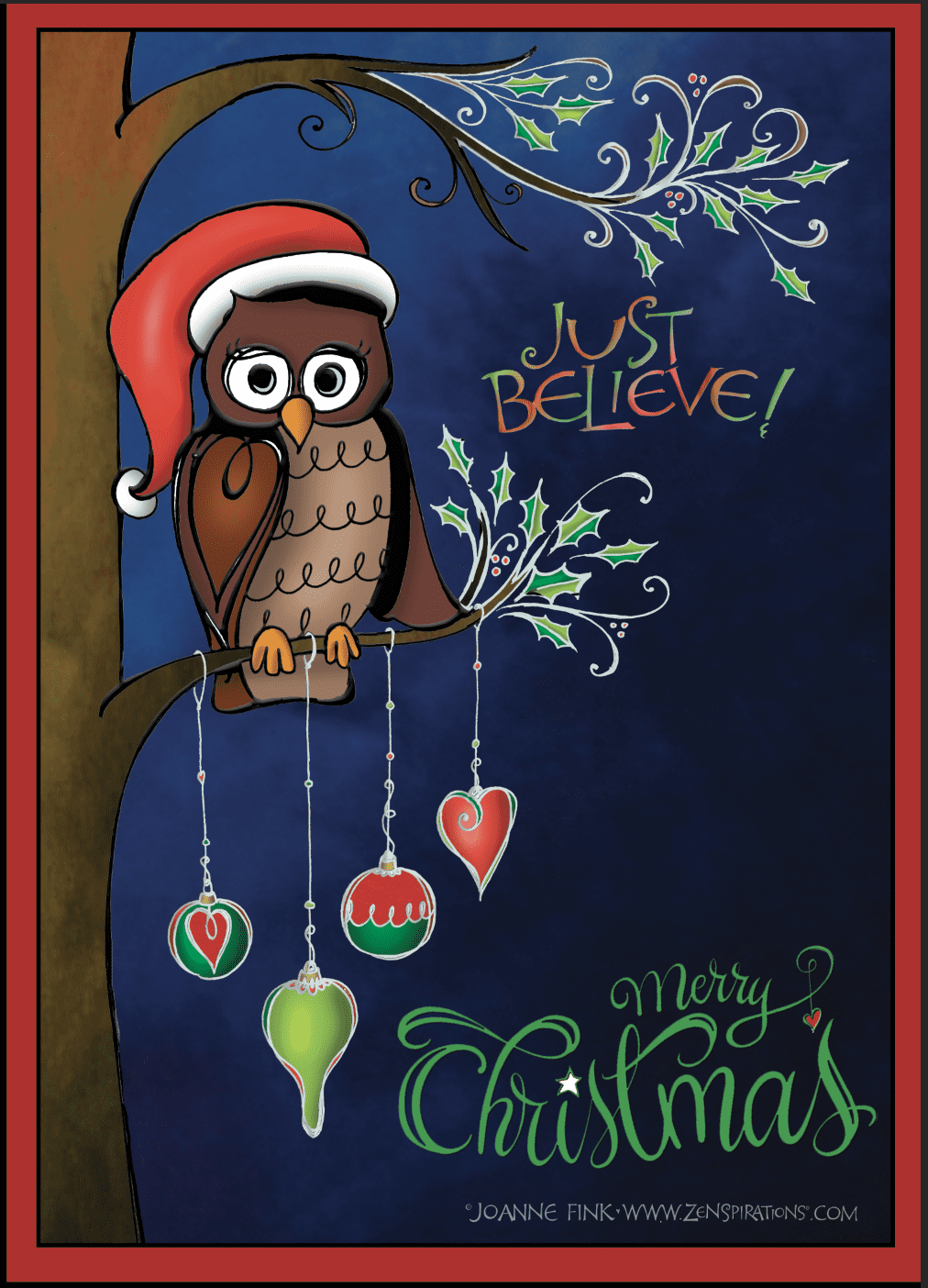 Stay Zenspired,
Joanne