Watercolor Washes that WOW!
Tuesday, April 4, 2017
Hi Everyone,
I love being part of different creative communities, and as a lettering artist, one of my favorite communities is my local calligraphy guild, the Scribes of Central Florida. Some Florida scribes who live more than an hour from where our guild meets recently founded the Ocala Calligraphy Guild, and I was honored to be asked to come give a workshop for the new society. What a delightful group of people!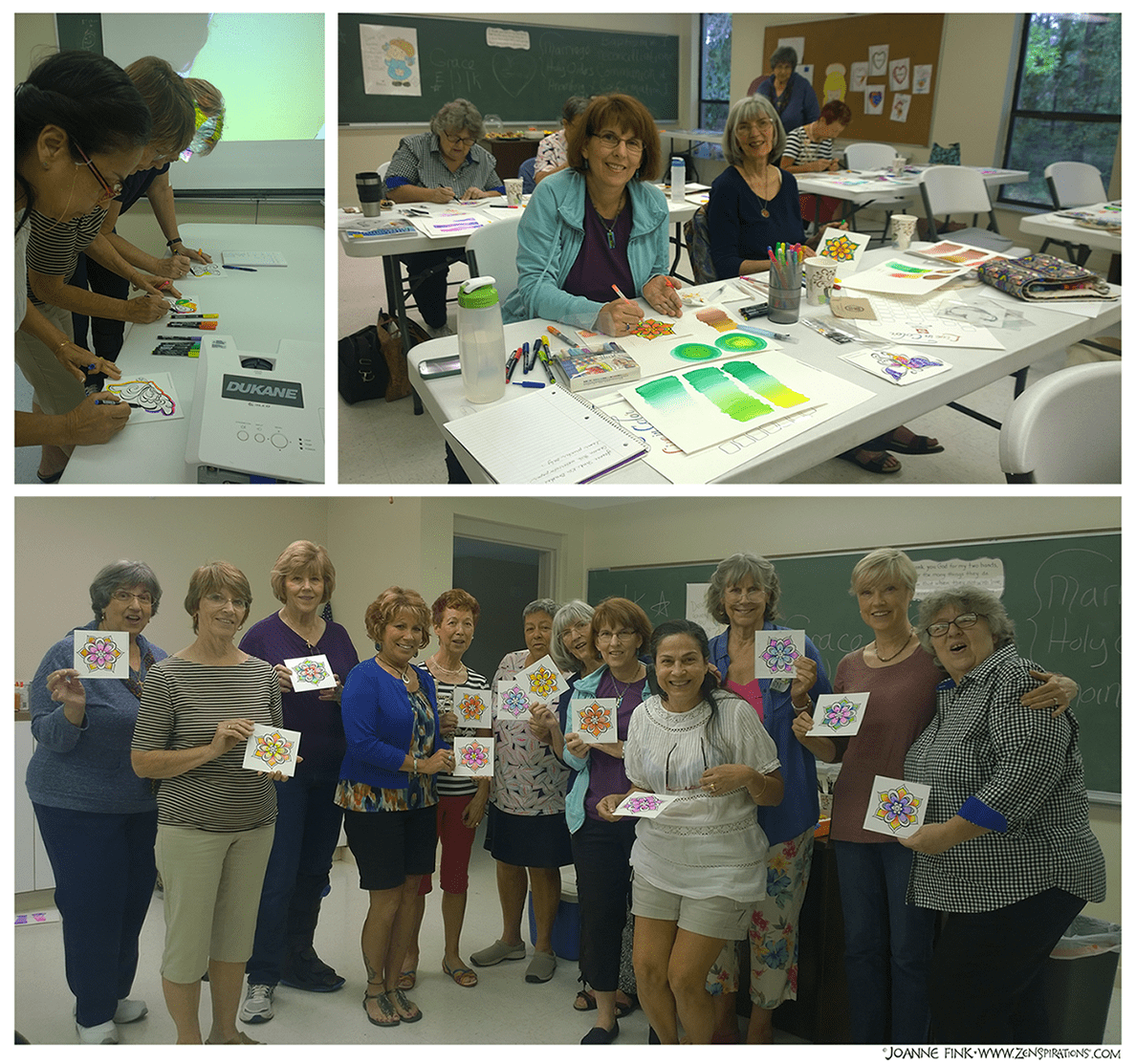 The best part was getting to visit with members of the Zenspirations Color, Create, Pattern, Play FB Group. In the photo below, from left to right are: Genna Wangsness, Gail Beck, me, and my friend of 20+ years, guild president Alison Clement.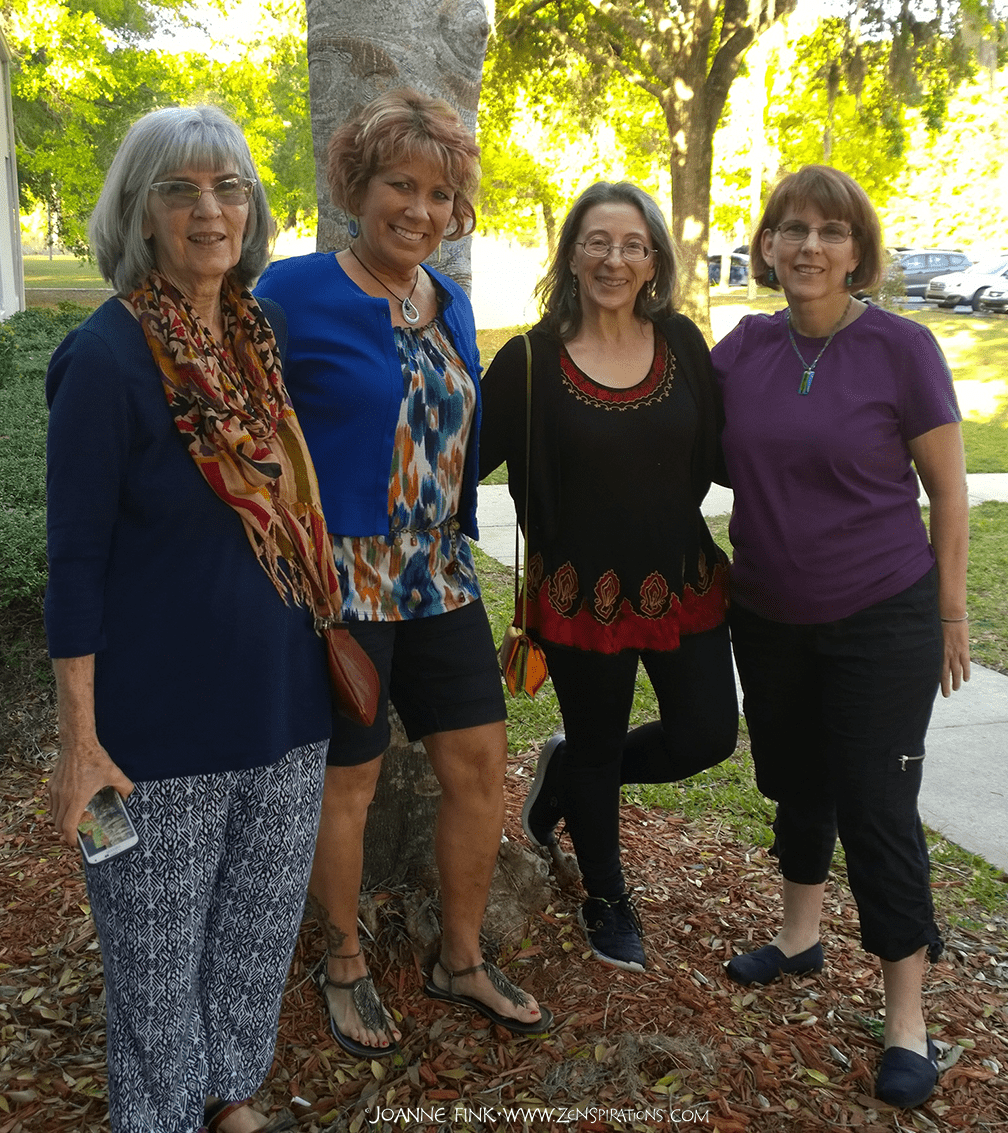 For those who would like a 'behind the scenes' glimpse at what we did in the workshop, here are some photos. I started by showing participants how to create an ombre wash, and then how to seamlessly blend two colors together to make a gradient wash.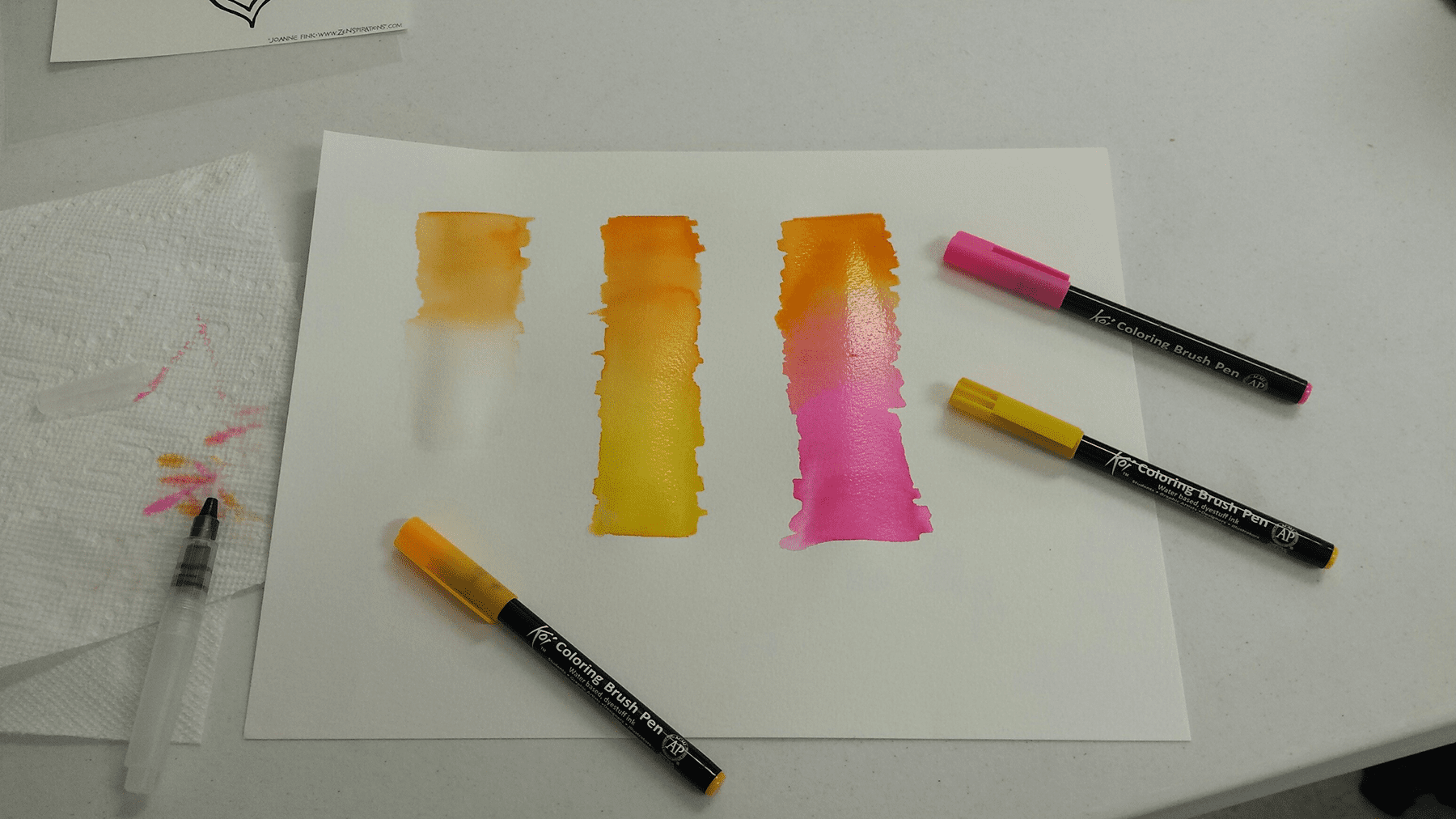 We practiced these techniques in straight lines as well as in circles.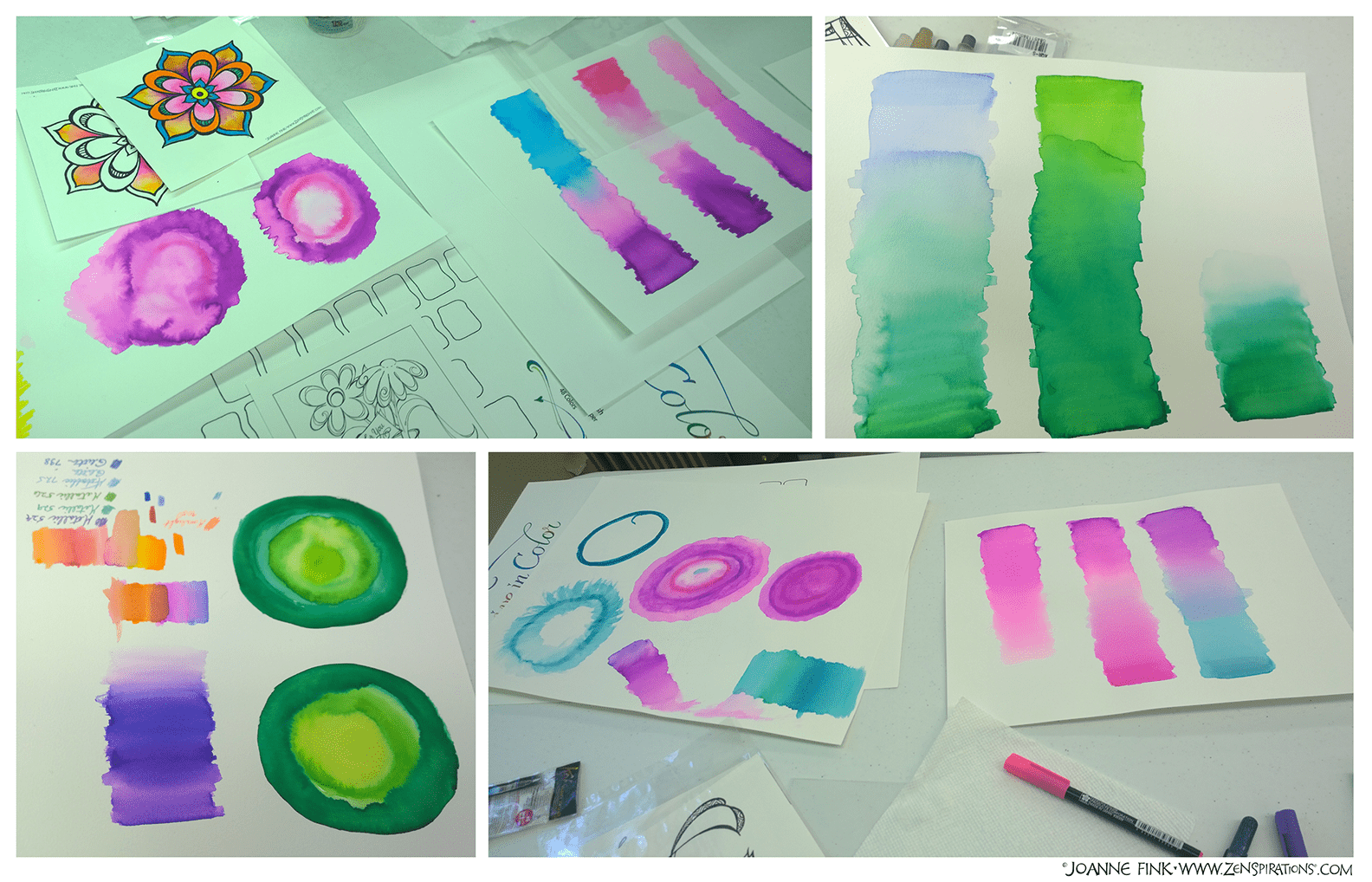 Next, I gave everyone a 'Live in Color' chart, printed on watercolor paper, and let them make their own color reference guides with the complete set of 48 colors of the Koi Coloring brushes. It's a great way to practice creating small areas of ombre washes, and having a color chart helps you select the brush color you want.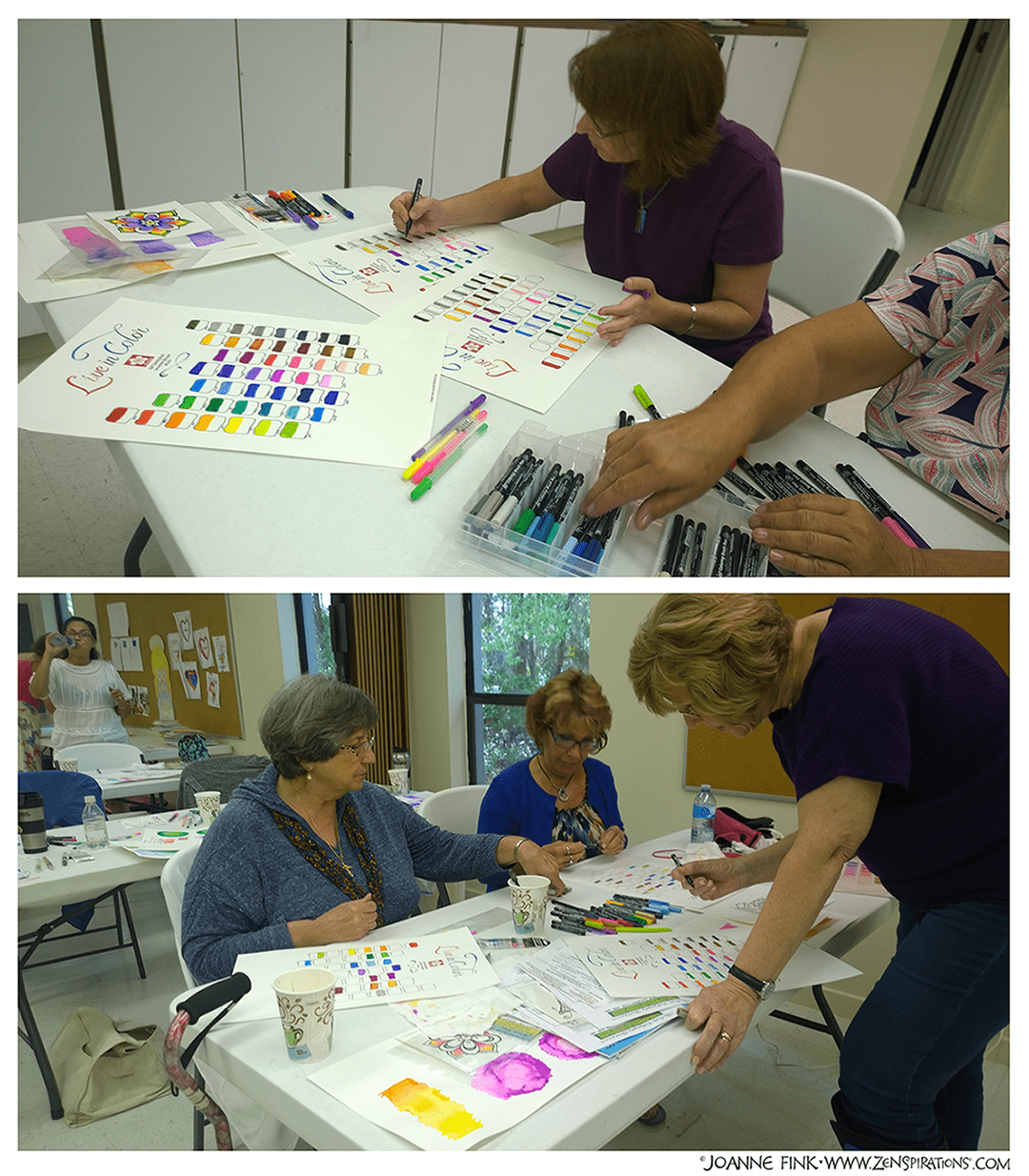 Here's a close up of what the squares look like when painted: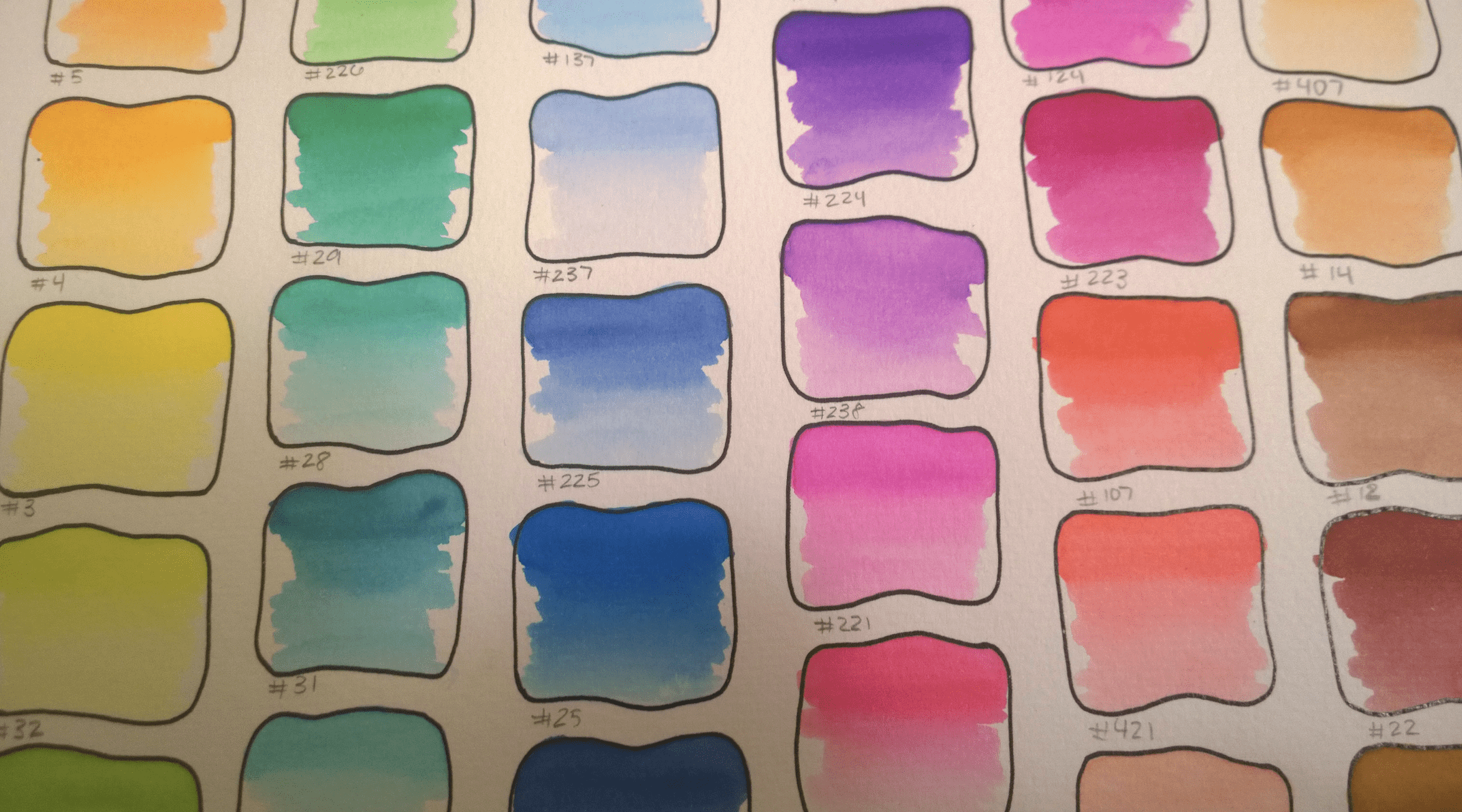 After practicing washes for a while, we moved on to painting flowers. Although I gave everyone the same flower, they all created their own uniquely colored bloom.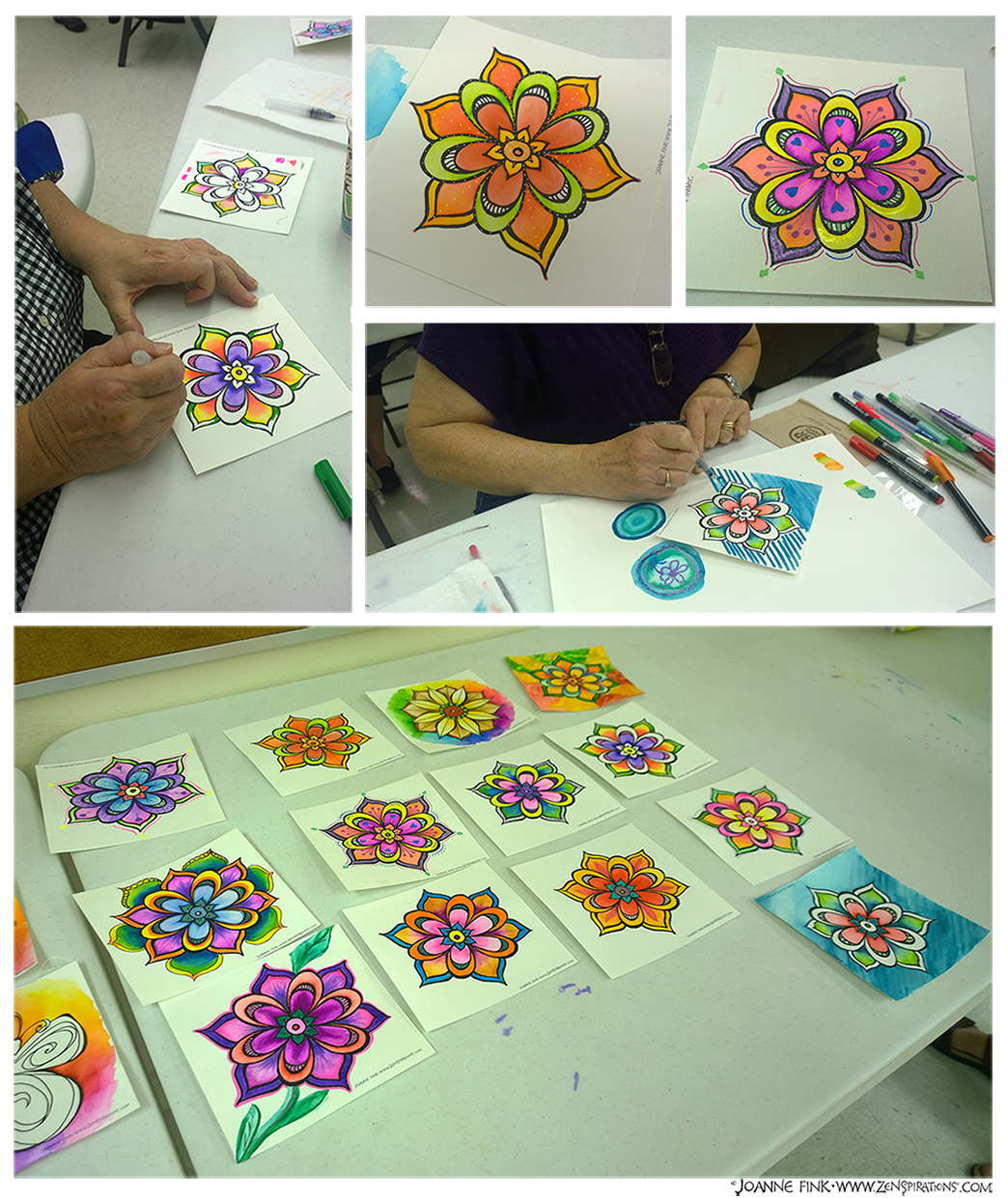 Here are a couple of closeups. I like the patterns added to this one: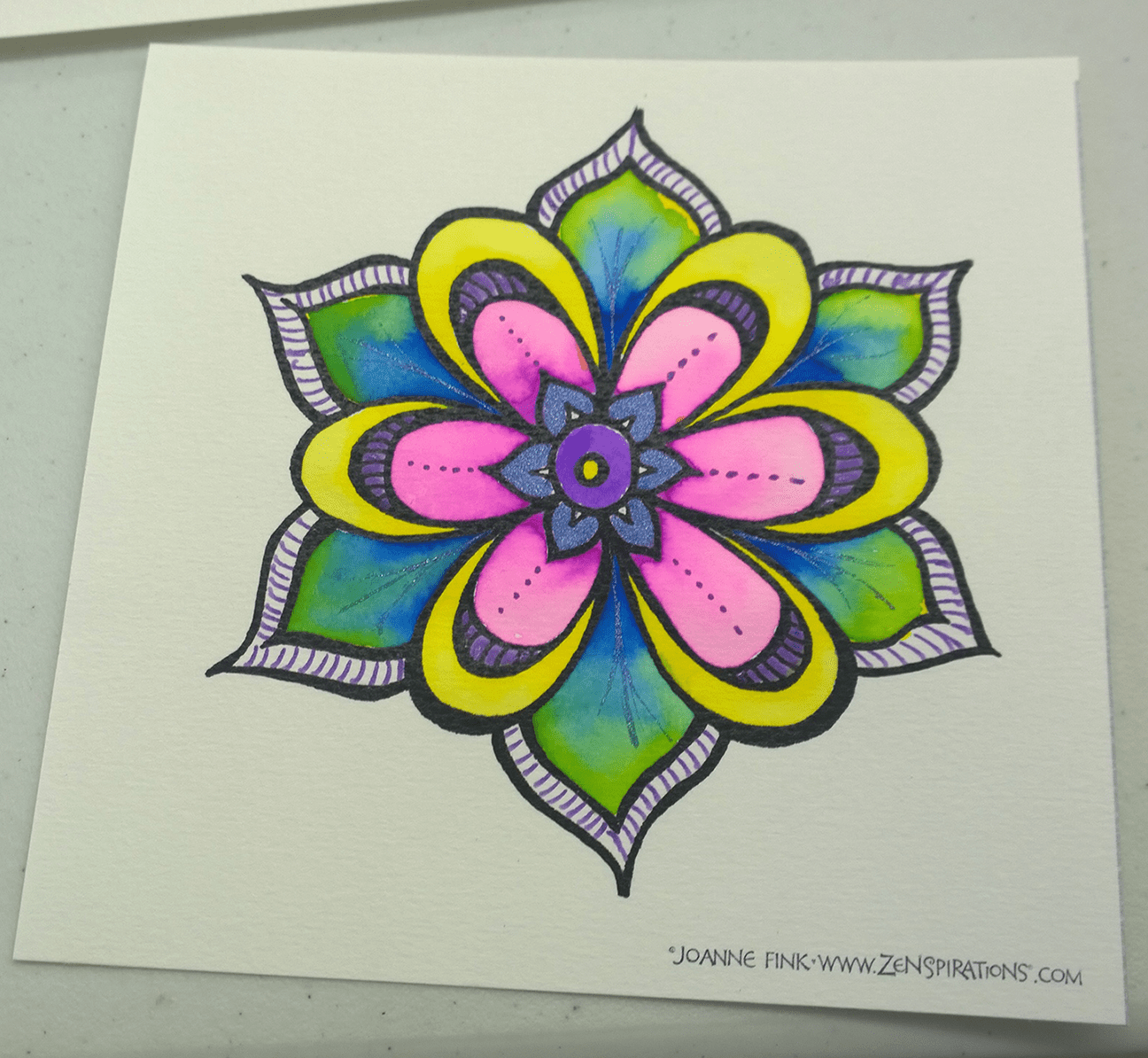 And the extra petals this artist added are awesome!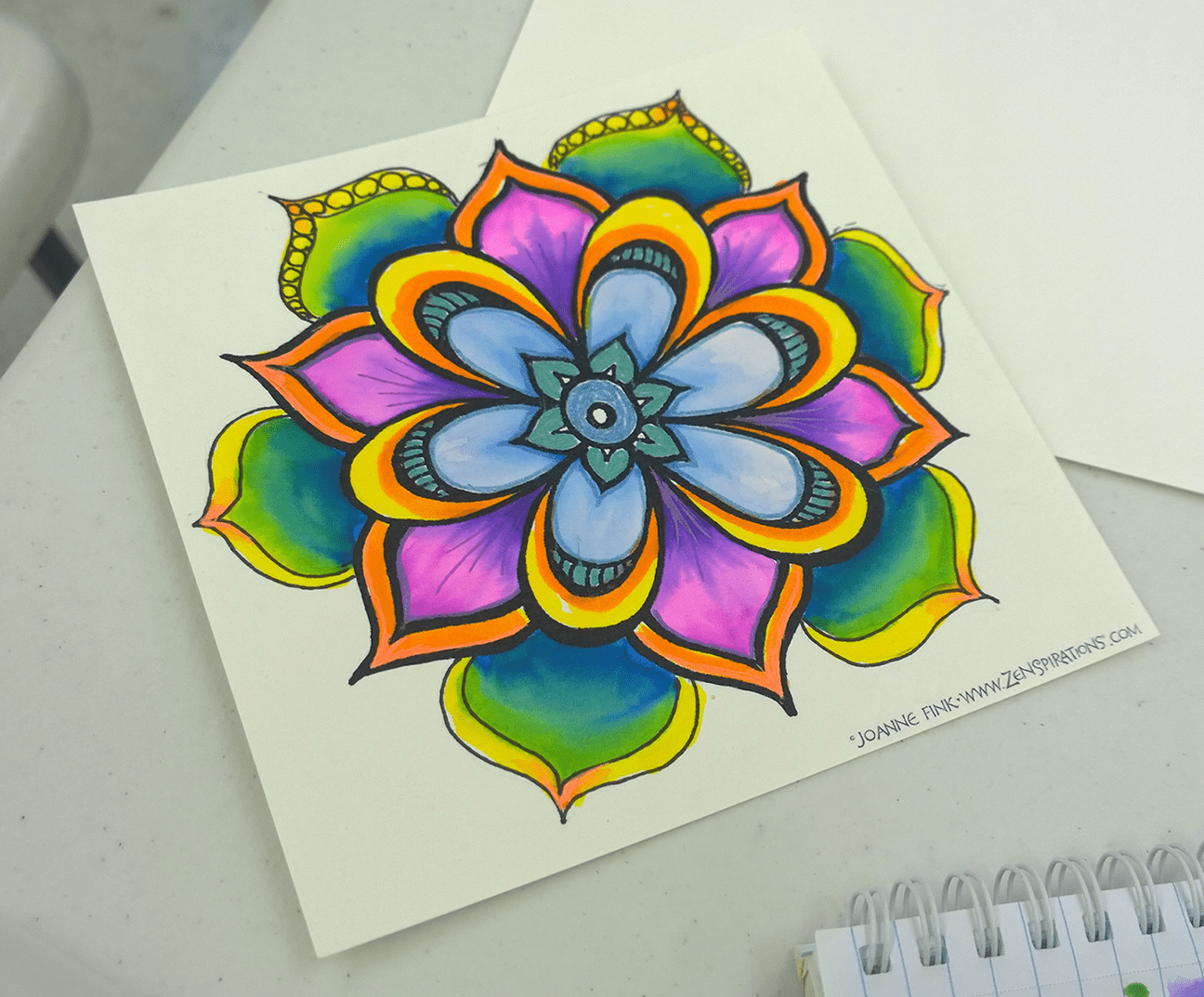 After flowers came a lunch break, and then I showed everyone how to create a rainbow halo around their favorite butterfly. After the demo everyone got to work: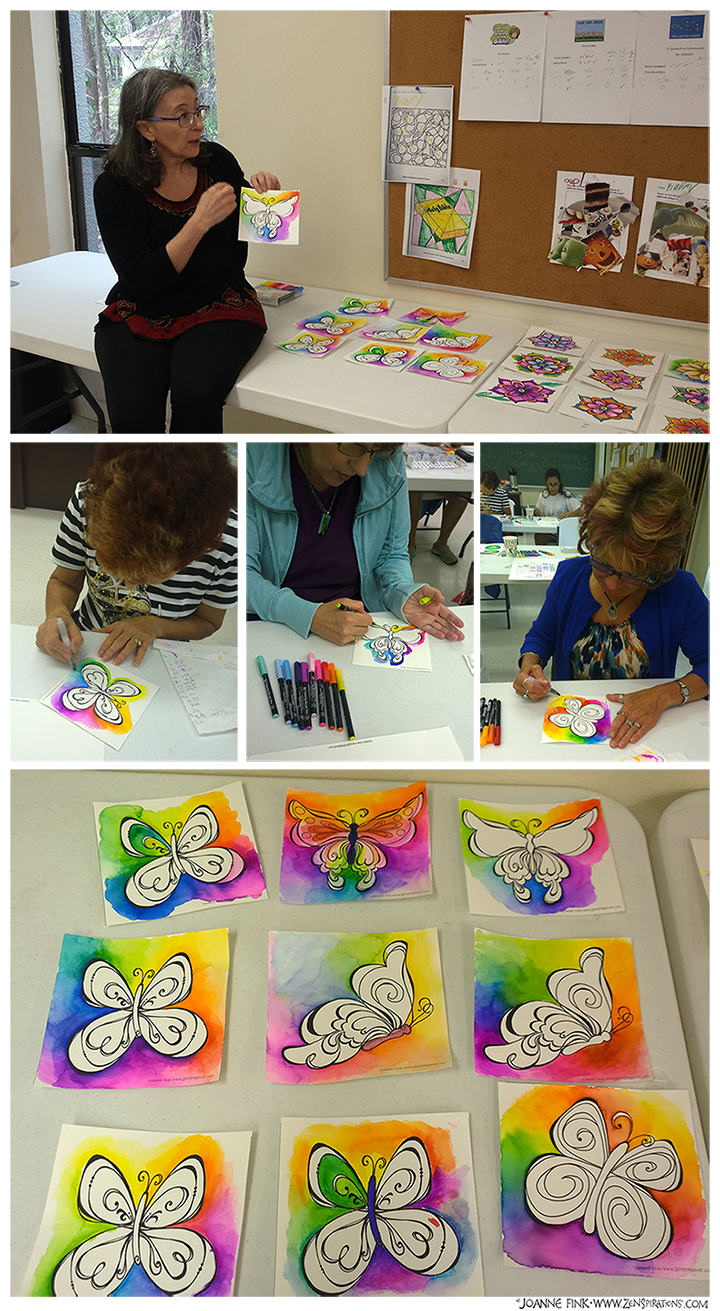 Here is a close up of Alison painting the rainbow halo around her butterfly.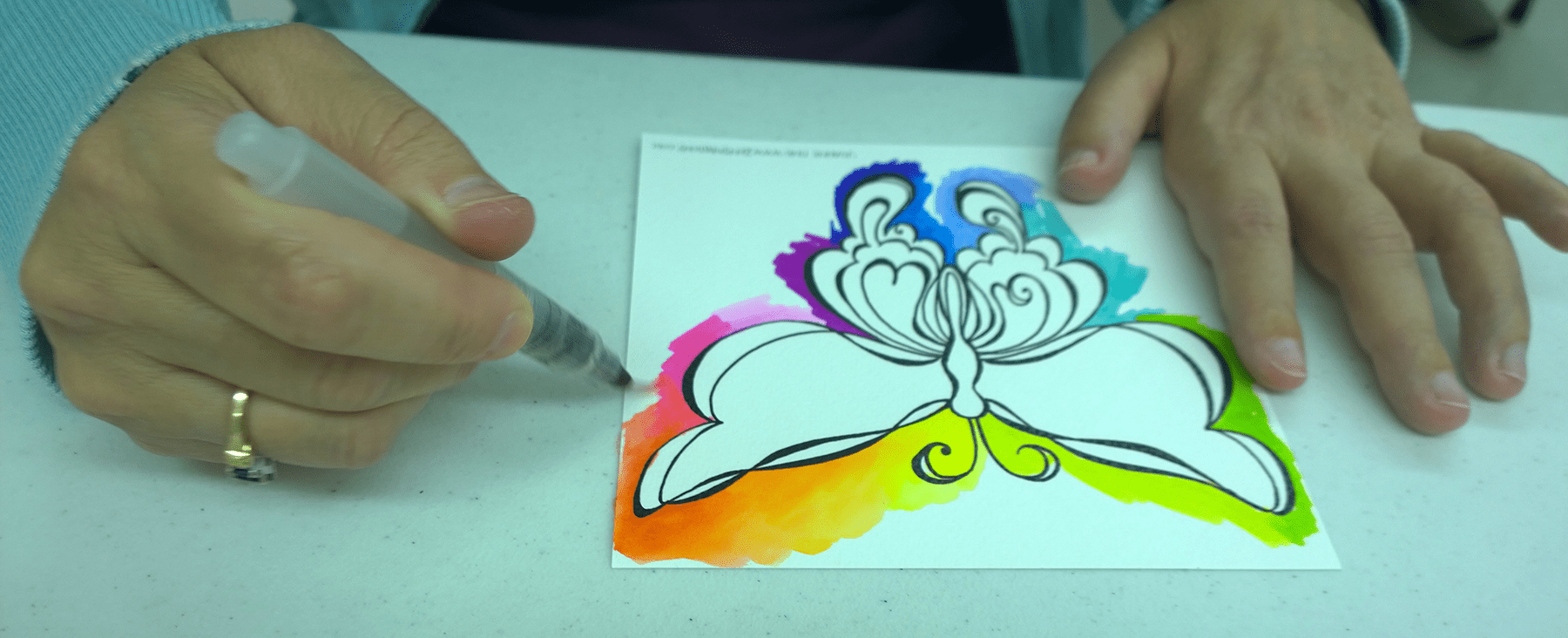 Here is a close up of Gail Beck's finished butterfly.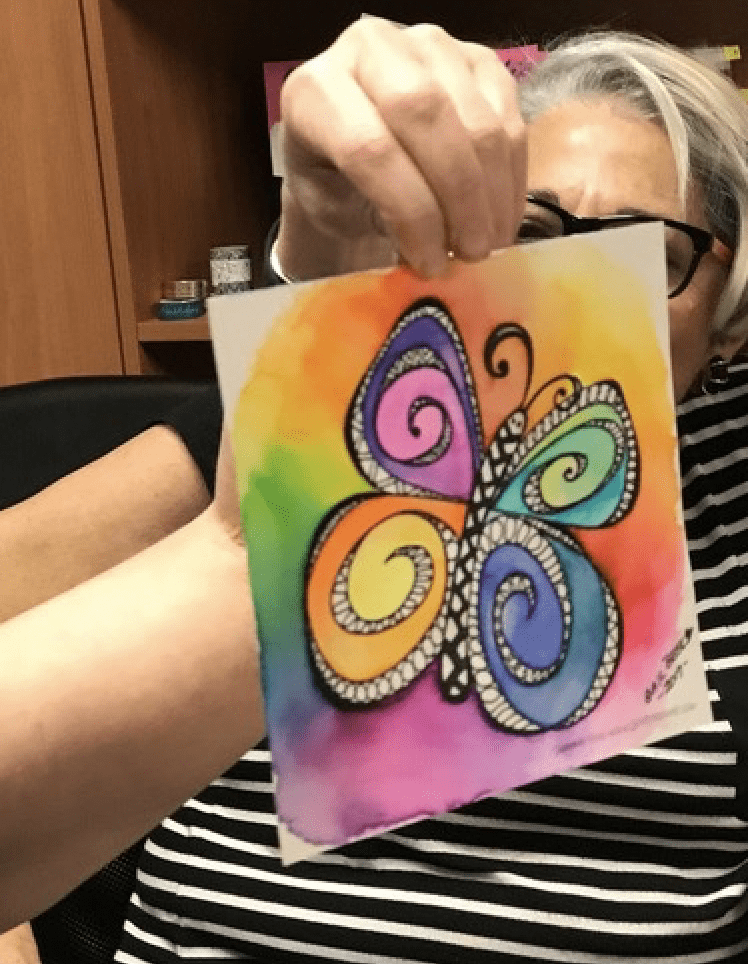 I also showed everyone how to letter with the Koi Coloring Brushes… but there wasn't time for people to really practice. Click here to see a short video of my writing a rainbow word using the Koi Coloring Brushes.
Before closing tonight, I wanted to share the birthday cards I made to help members of the Zenspirations® community celebrate their special days. This one is for my friend Nadine Schwartz, who celebrated her birthday April 3rd. Nadine likes Dangles, so I made her a Dangle birthday card: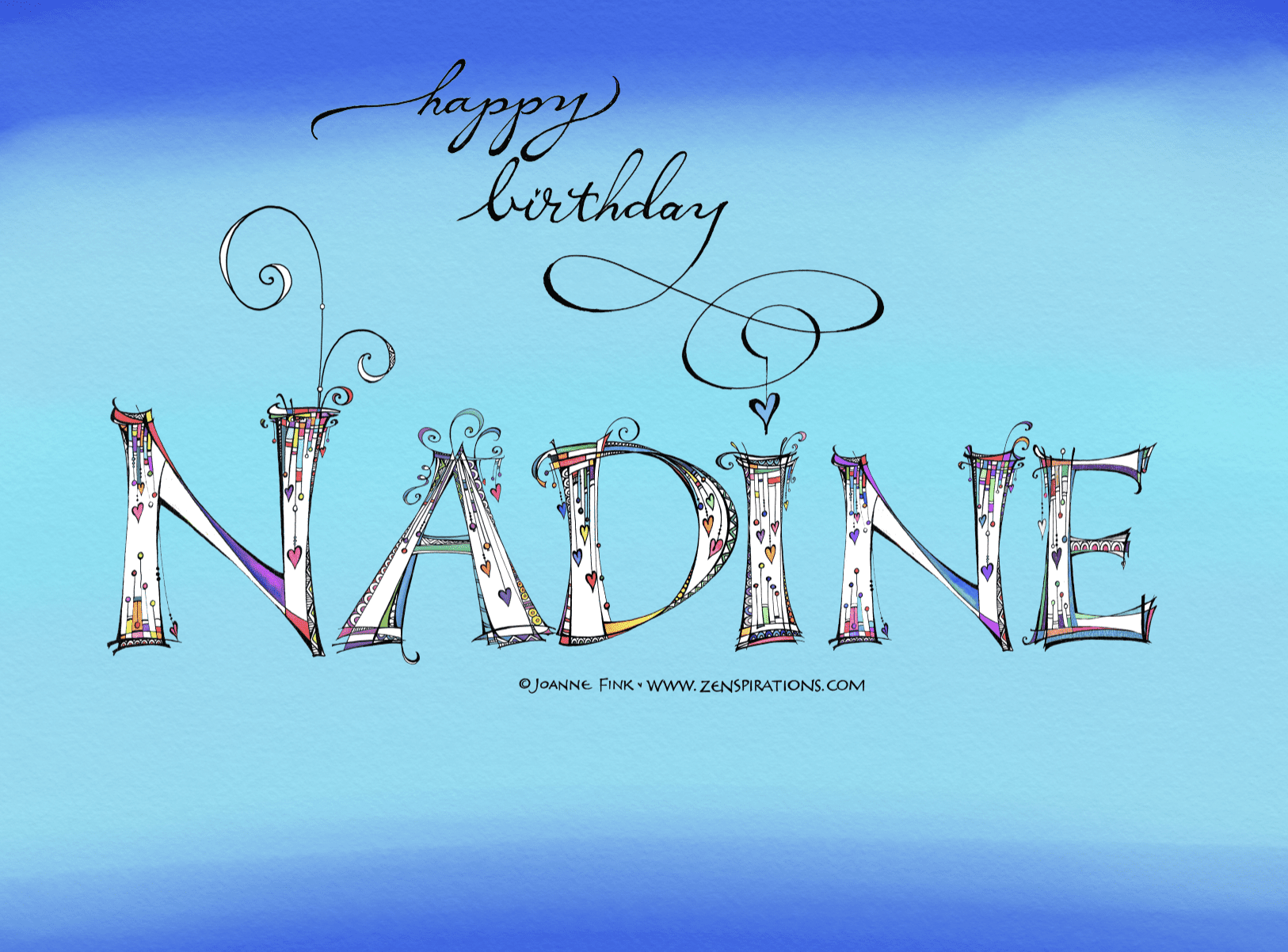 Carol Friese, who's birthday is Tuesday, April 4th, loves to color, so I made her a colorful card: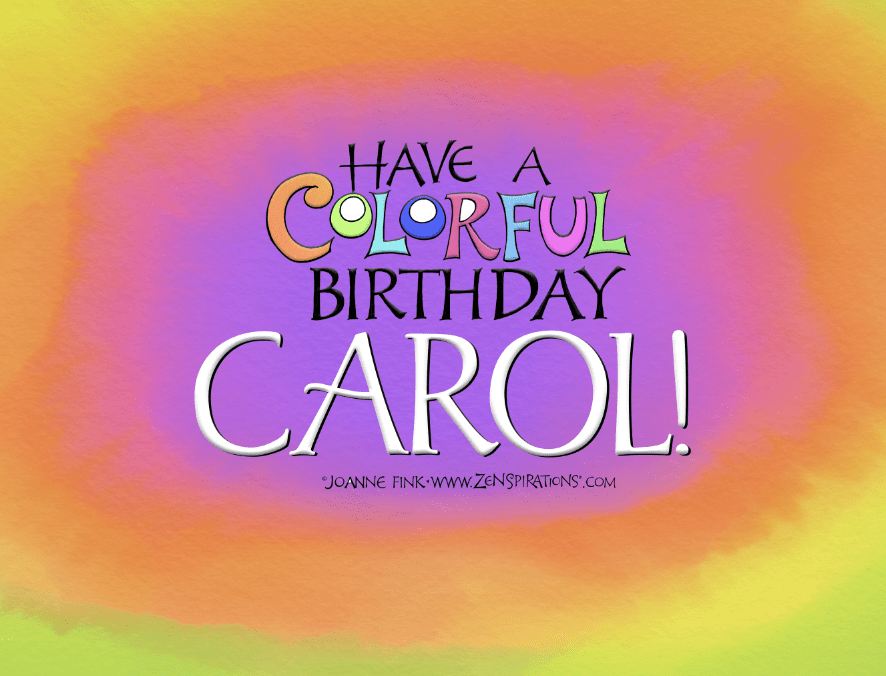 And Cassie Yde, who will celebrate her birthday on Saturday, is a television producer, so I tried to make her card look like an old-fashioned TV.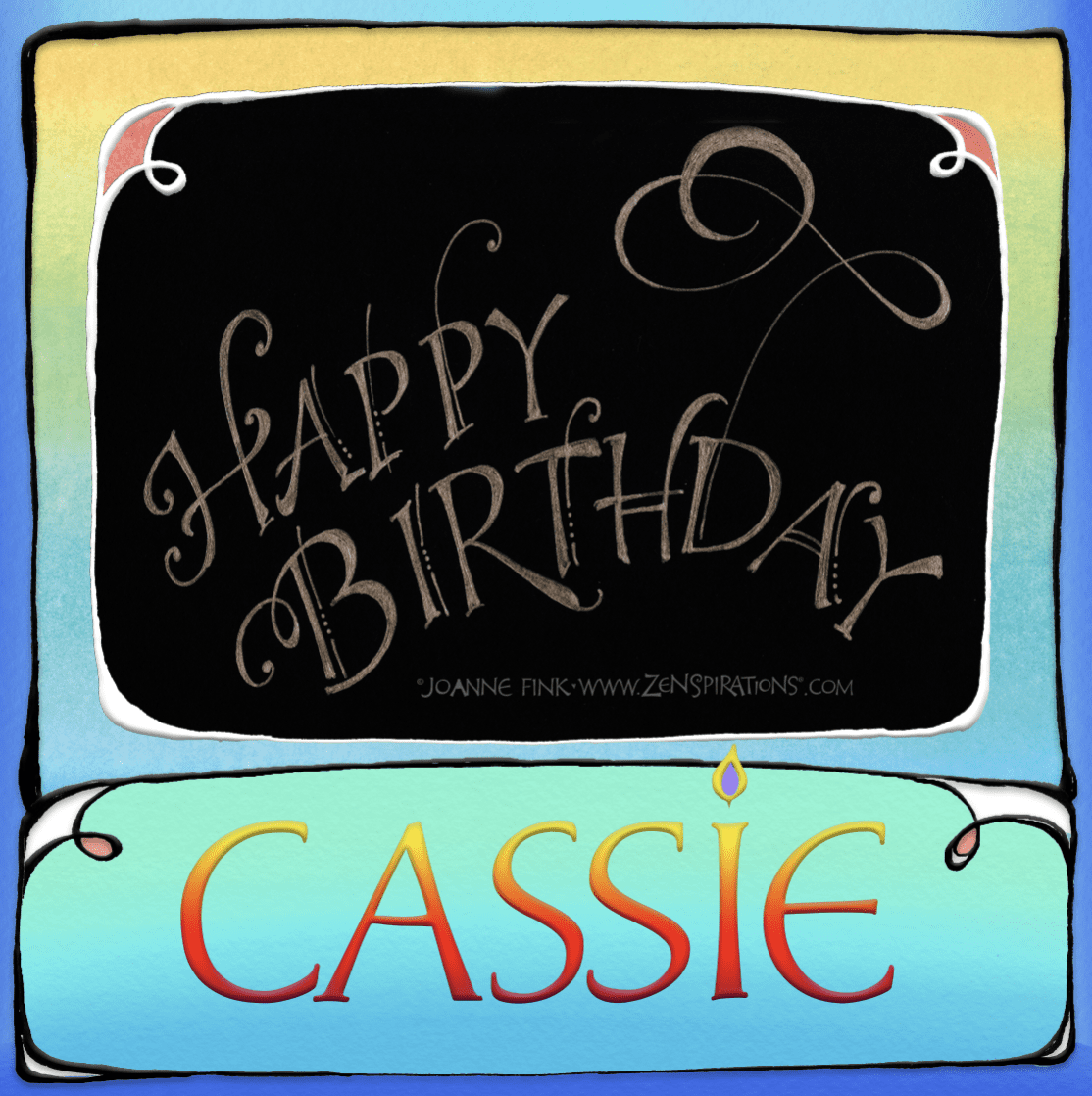 Hope you all have wonderful birthdays!
Last week I made get well cards for Valencia Pernell and Terri Brown, two core members of our group. Valencia had spinal surgery last week, and Terri needs surgery to put a pin in her broken foot. I'm sure they would be grateful for your prayers– and that a colorful get well message would help cheer them up and speed their recovery.  I'm going to create a folder in our FB group where you can post your Get Well Wishes. Feel free to include supportive and encouraging cards you are working on. We all benefit from sharing ideas.
I'm still tabulating the votes on how we should celebrate the 3 year 'Blog-versary'. If you didn't get a chance to share your thoughts yet, you can leave a comment on last week's blog.
Stay Zenspired,
Joanne