Zenspirations® Connections
Tuesday, August 1, 2017
Hi Everyone,
Discovering new places where members of our Zenspirations® community reside is a true delight. This year my "where do you live" query resulted in posts from members in 32 countries:
*Australia* Belgium* Budapest* Canada* Costa Rica *Cyprus *Denmark *Ecuador *England *France *Germany *Hungary *India *Ireland *Israel *Italy *Malta *Mexico *Myanmar *Netherlands *New Zealand *Norway *Philippines *Scotland *Slovenia *South Africa *Sweden *Switzerland *Wales *UK *Uruguay *USA 
Although this is the same number of countries which reported in last year, there are differences. New to the list are Budapest, Cyprus, Hungary, Israel, Malta, Slovenia, Uruguay and Wales (welcome, everyone!). Sadly, there were no members from Africa, Cheshire, China, Czech Republic, Iceland, Luxembourg, Romania or Suriname who participated this year.
In terms of states, we had members in 48 of the 50 states participate; and– even though the contest is over– it would be wonderful to hear from one of our Montana and West Virginia members. The two winners of the "Where Do You Live?" contest are Julie Wasmus (who's name was selected from the comments on the blog) and Michele Kumar (who's name was selected from the comments to one of the posts in the Zenspirations Create, Color, Pattern, Play Facebook Group). Congratulations ladies! I'll be sending each of you a box (which might be a tube) of 'treasures' which I pulled from my flat file. Please e-mail me at [email protected] to let me know where you would like your package sent.
It's easy to pick names randomly– and a LOT harder to try to decide the winners of the dwelling contest. There were so many awesome designs! If you haven't had a chance to see all the entries, be sure to check out the DWELLINGS ALBUM in our FB Group. My heartfelt thanks to Deena Disraelly, Penny Lisk, Toni Popkin and Samantha Trattner for their helping me brainstorm the categories and voting criteria.
The entries have been grouped into three main categories: Coloring Book Pages, Pen & Ink Drawings, and Full Color Drawings; several leading contenders– and a few of the winners– were shared in last week's blog, Where Your Heart Calls Home.  Below are some of my favorite entries from those posted this week. I wanted to start with these wonderful windmills by Jill Suzanne Hatcher, which unfortunately could not be included in the contest because they were posted after midnight Eastern time on Saturday.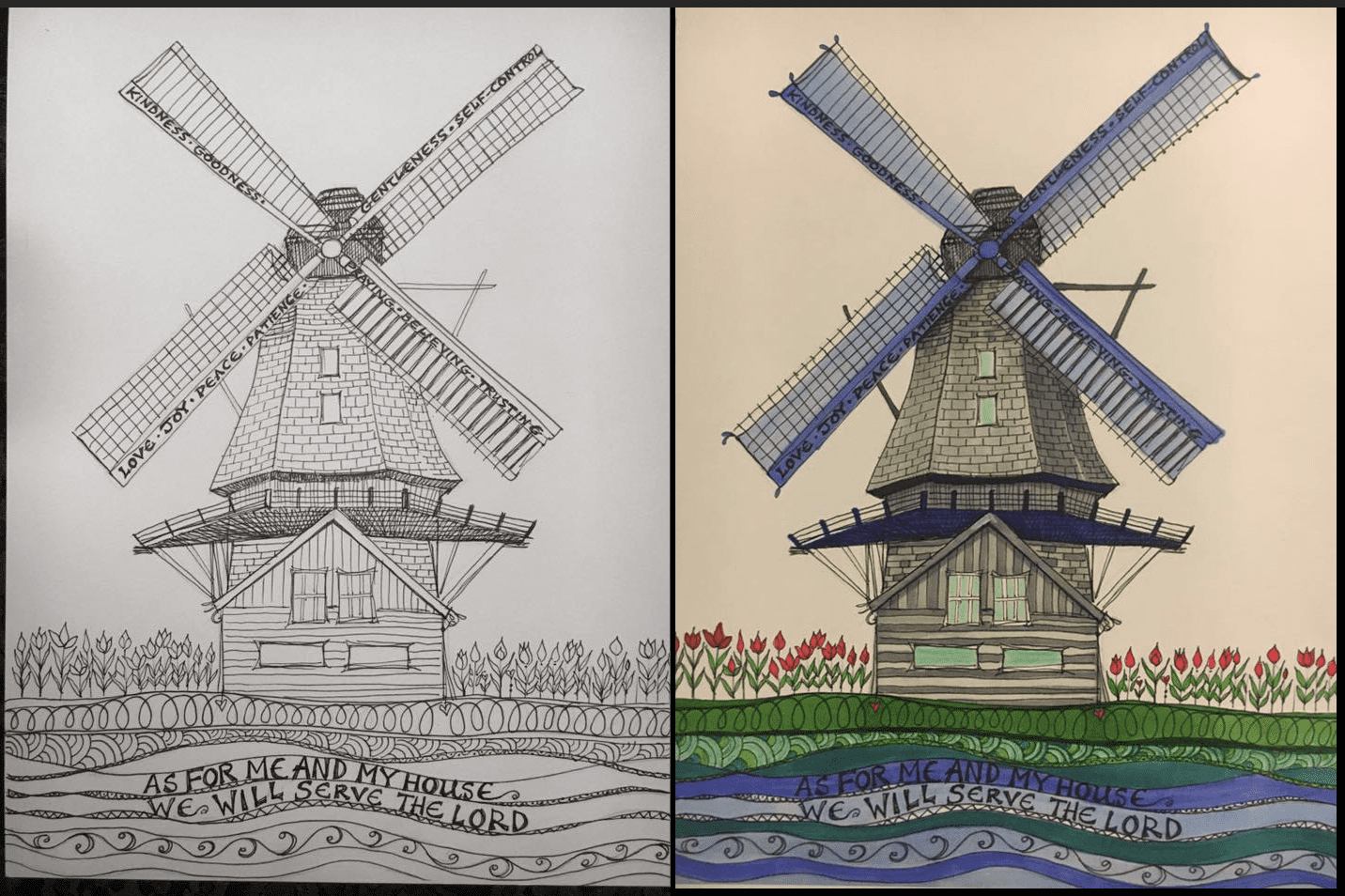 Jill wrote: "I'm not Dutch, but I love Windmills and the Netherlands. The windmills represent a home that is active, resourceful, producing good things, and a blessing to others. This is my hope and prayer for our home!!" 
There were a number of black and white drawings I really like, including the ones below by
Annette Ross Clay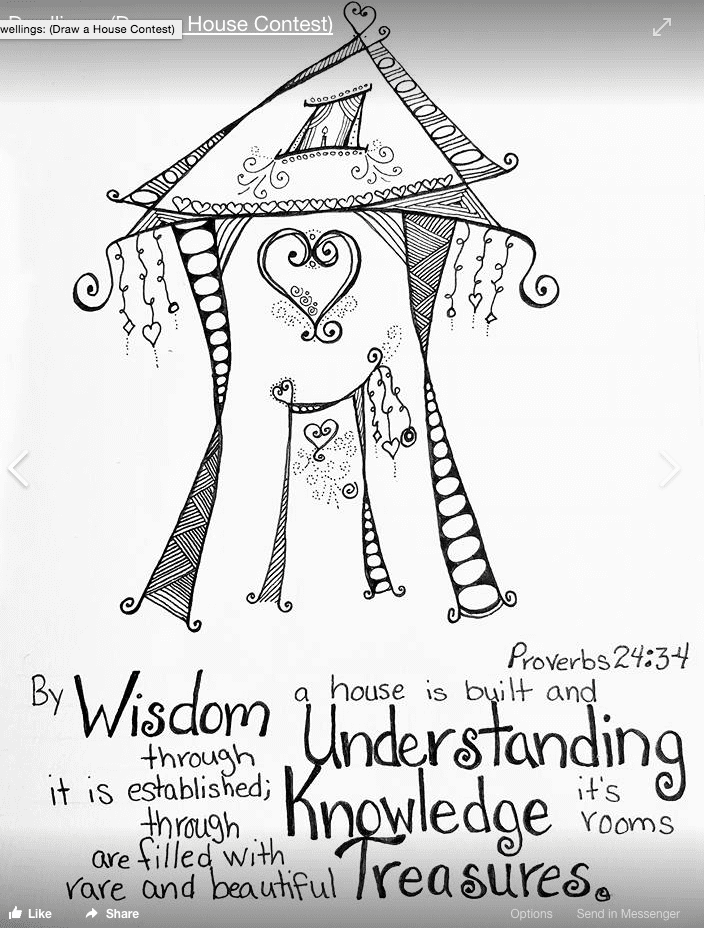 Cathy Cusson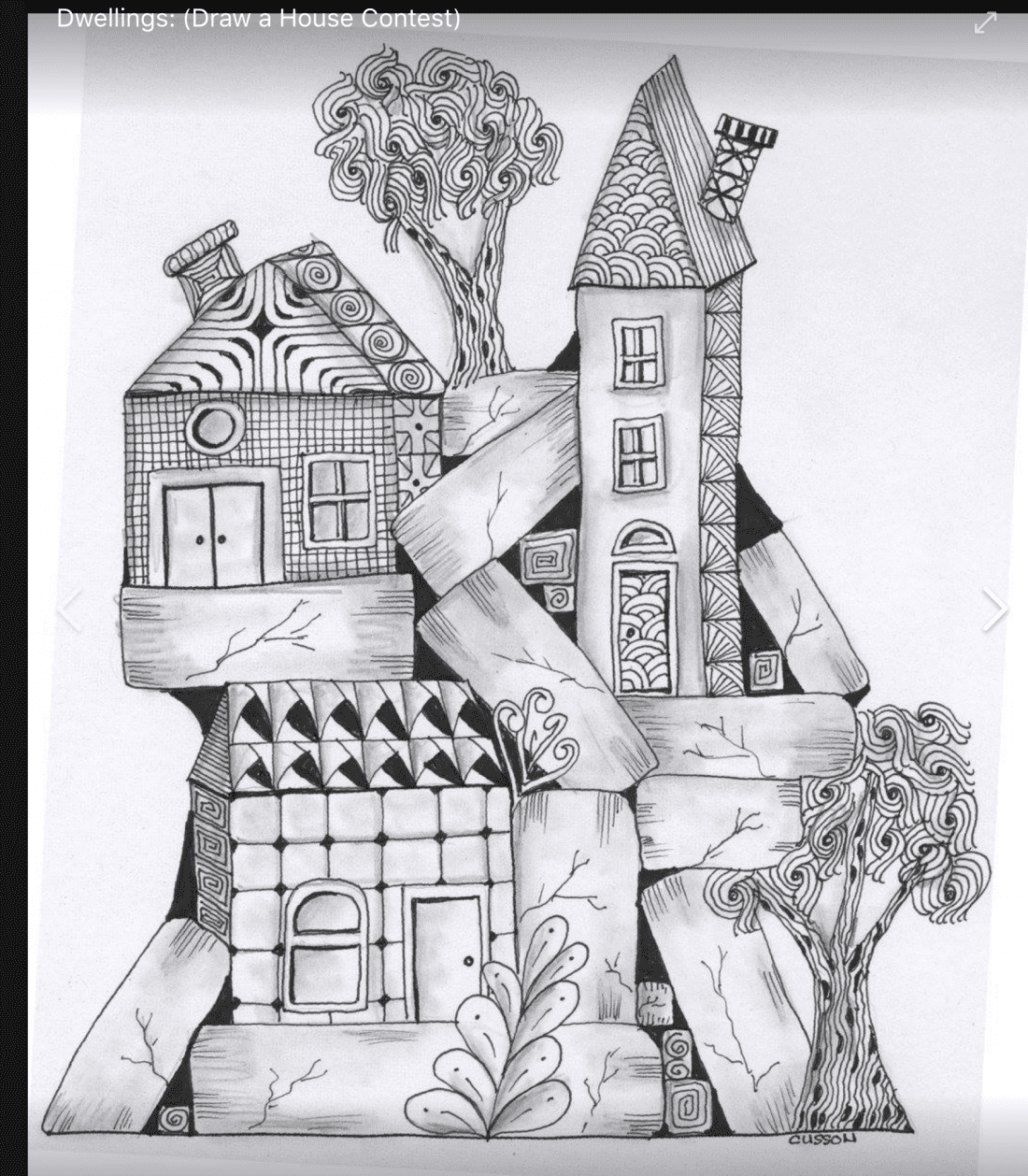 Rhonda Miller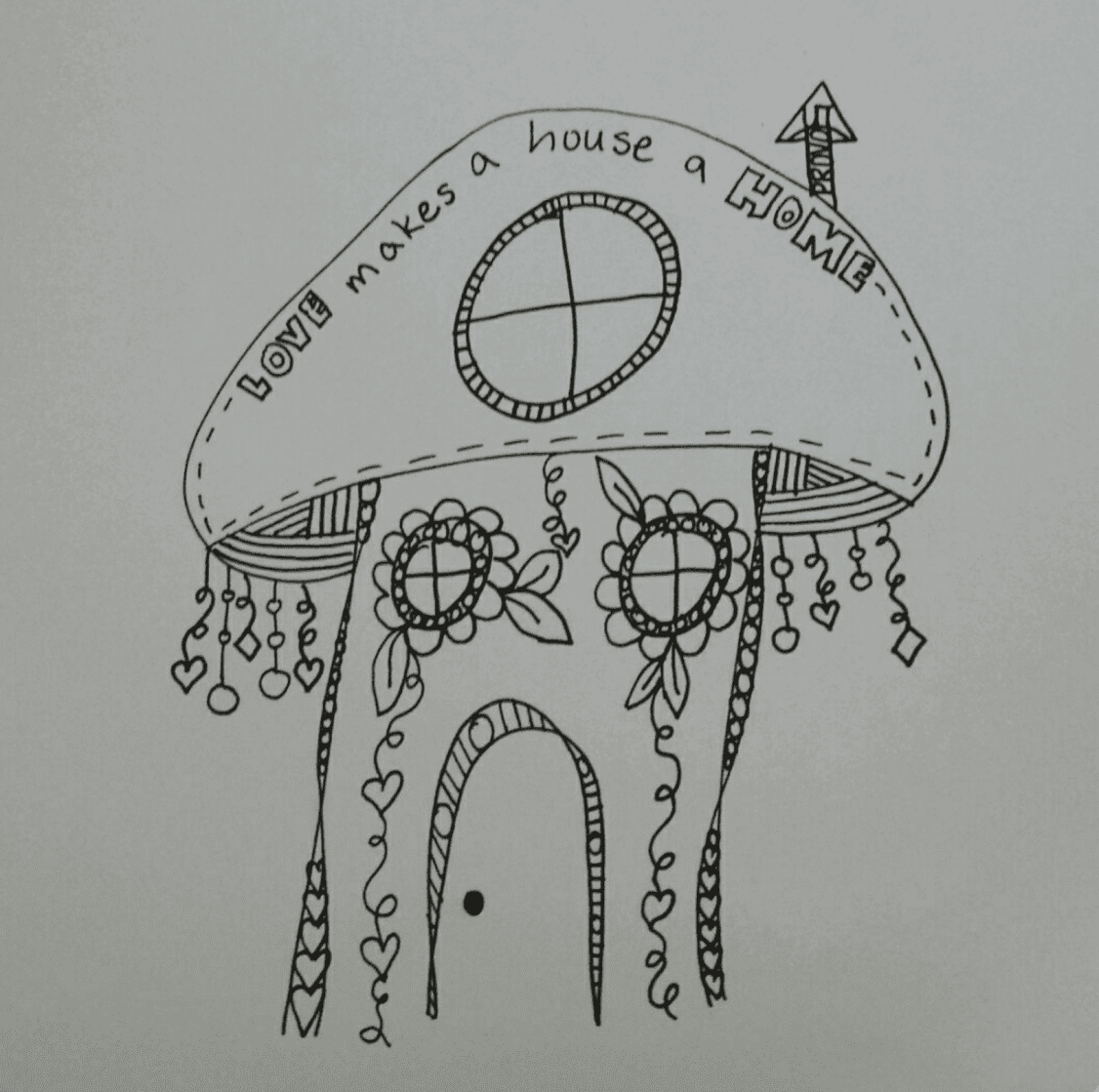 and Kristen Frick Zeitler.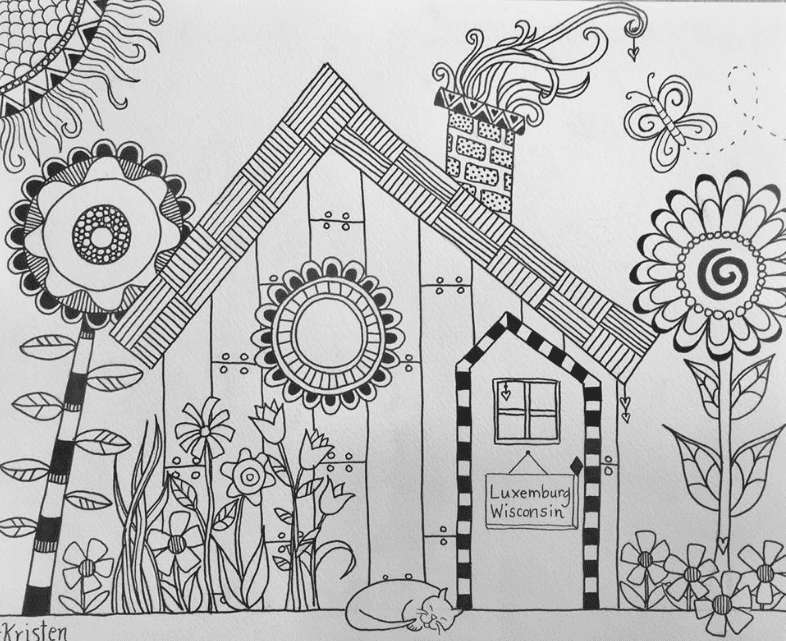 The creativity and imagination expressed in the FULL COLOR DRAWINGS is truly inspiring! I love Julie Wasmus's concept that her home is the world: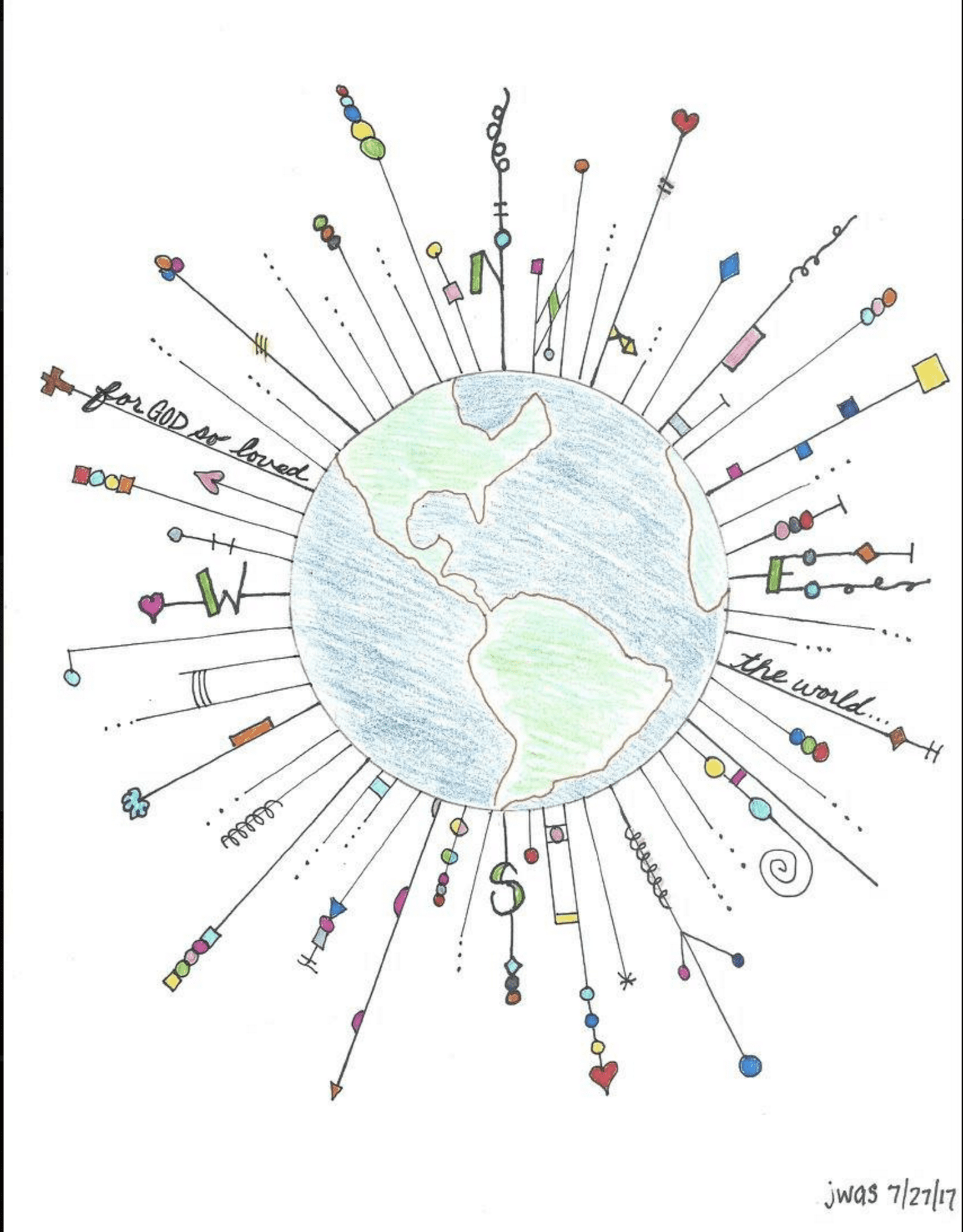 Terri Byrket Brown worked a lot of detail into her mailbox home: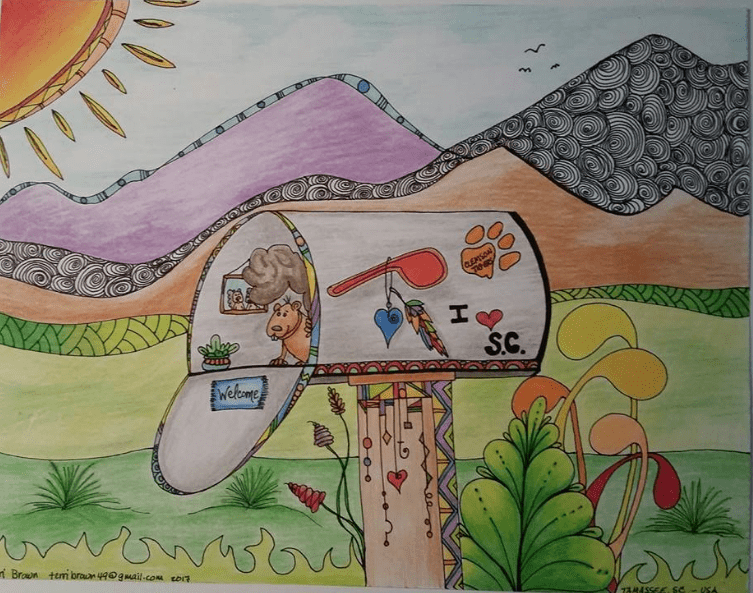 Sue Jacobs' doll house was unique and imaginative: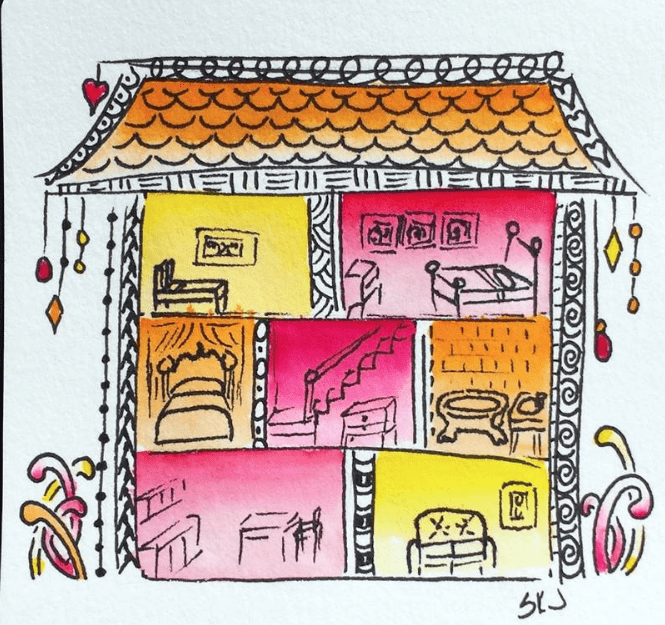 Carol Keen's lovely image was enhanced by her delightful patterned line-work: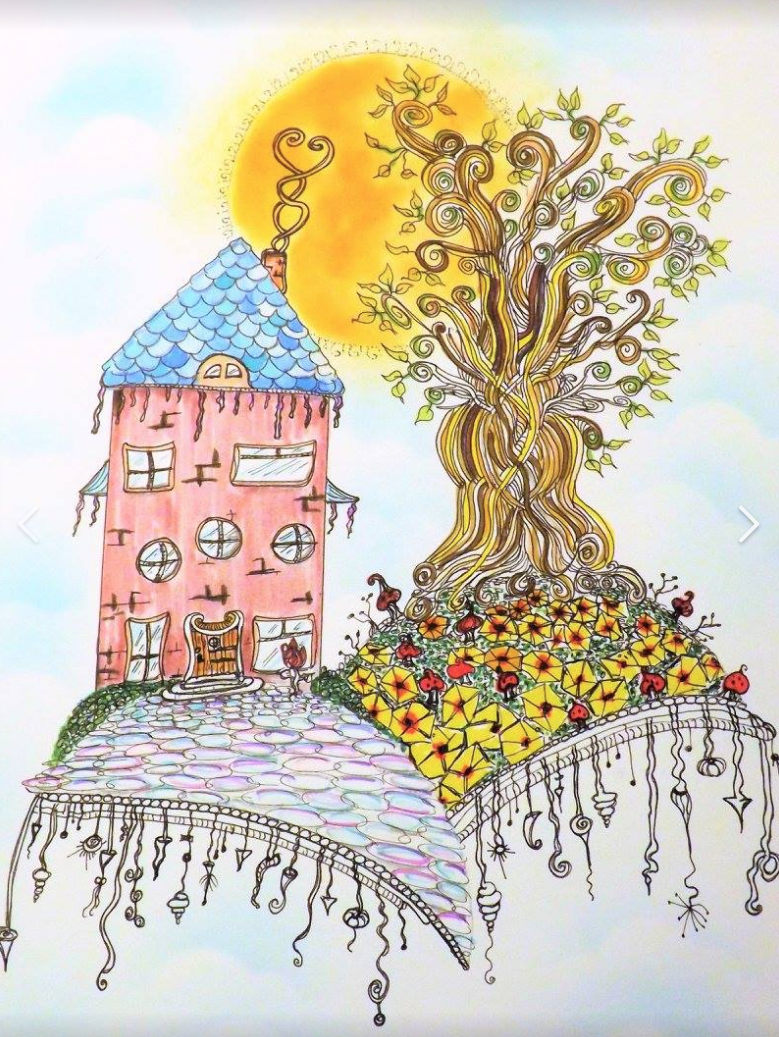 And now, without further ado, here are the winners:
COLORING BOOK PAGE WINNER: Patti Bruneau will also be getting a package of goodies from my flat-files.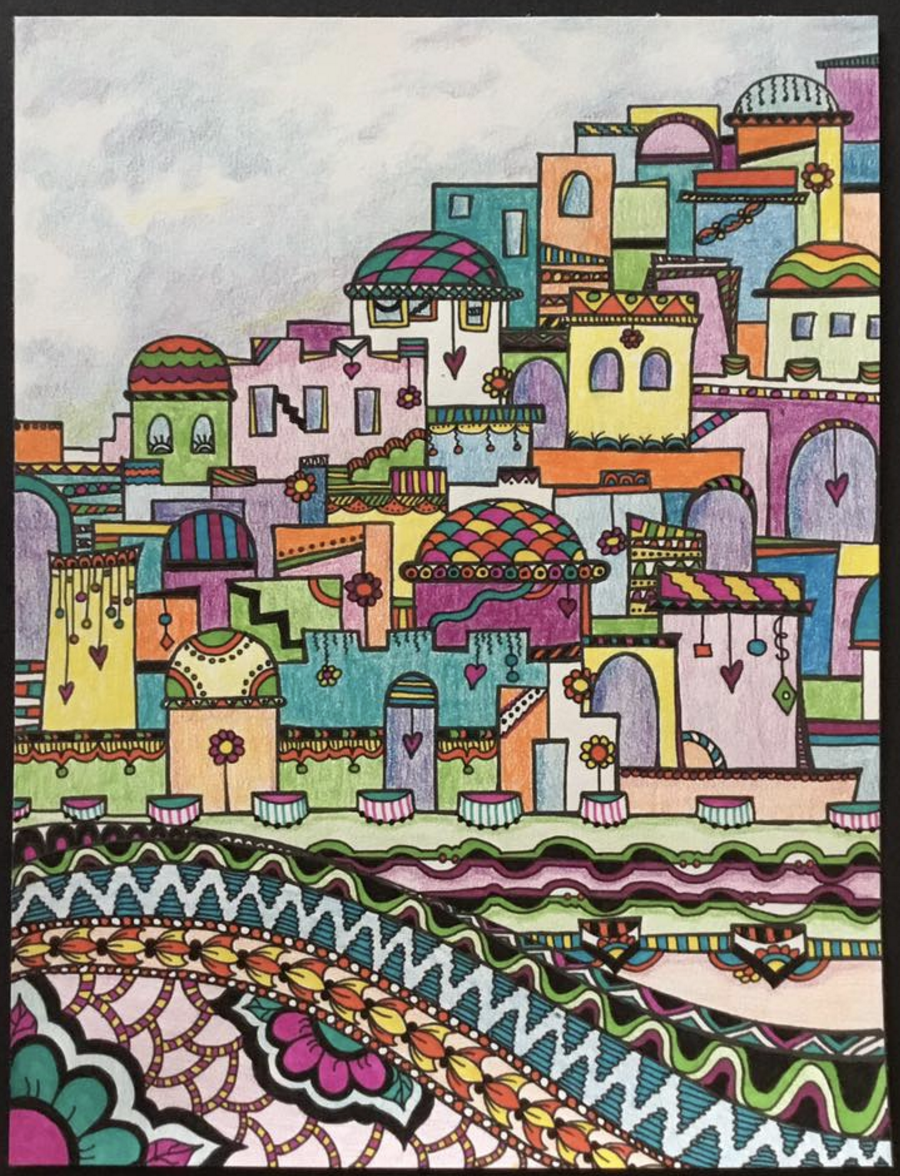 BLACK & WHITE DRAWING WINNERS: 
FIRST PLACE: Annette Ross Clay – for her House of Understanding. PRIZE: A selection of my favorite tools and licensed products.
SECOND PLACE: Cathy Cusson – for her Hilltop Village. PRIZE: A one-on-one, one hour tutorial with me.
THIRD PLACE: Kristen Frick Zeitler – for her house with the funky flowers. PRIZE: A selection of goodies from my flat file.
FULL COLOR DRAWING WINNERS:
FIRST PLACE: Alison Wangsness Clement – for her Treehouse design, which I shared last week. PRIZE: A selection of my favorite tools and licensed products.
SECOND PLACE: Tannie Curtis Harvey – for her Arkansas Dangle House, which I also shared in last week's blog. PRIZE: A one-on-one, one hour tutorial with me.
THIRD PLACE: Terri Byrket Brown – for her Mailbox design. PRIZE: A selection of goodies from my flat file.
And, last but not least, I'm giving a SPECIAL INSPIRATIONAL COLORING AWARD: And the winner is: 14 year old Aliyah Zeitler!
Here is a photo of Aliyah in front of a wall of images that she has colored.

Aliya's prize is that she gets to pick her own prize– any of the other prizes mentioned tonight are in the running… Aliyah, please let me know what you'd like me to send you.
Before closing tonight I wanted to share something special that I'll be attending this week– the Modern Widows Club (MWC) Leadership Retreat and first-ever Widow Empowerment Weekend! I volunteered to help with the graphics, which included lettering 100+ names in rainbow color. Here are a few examples: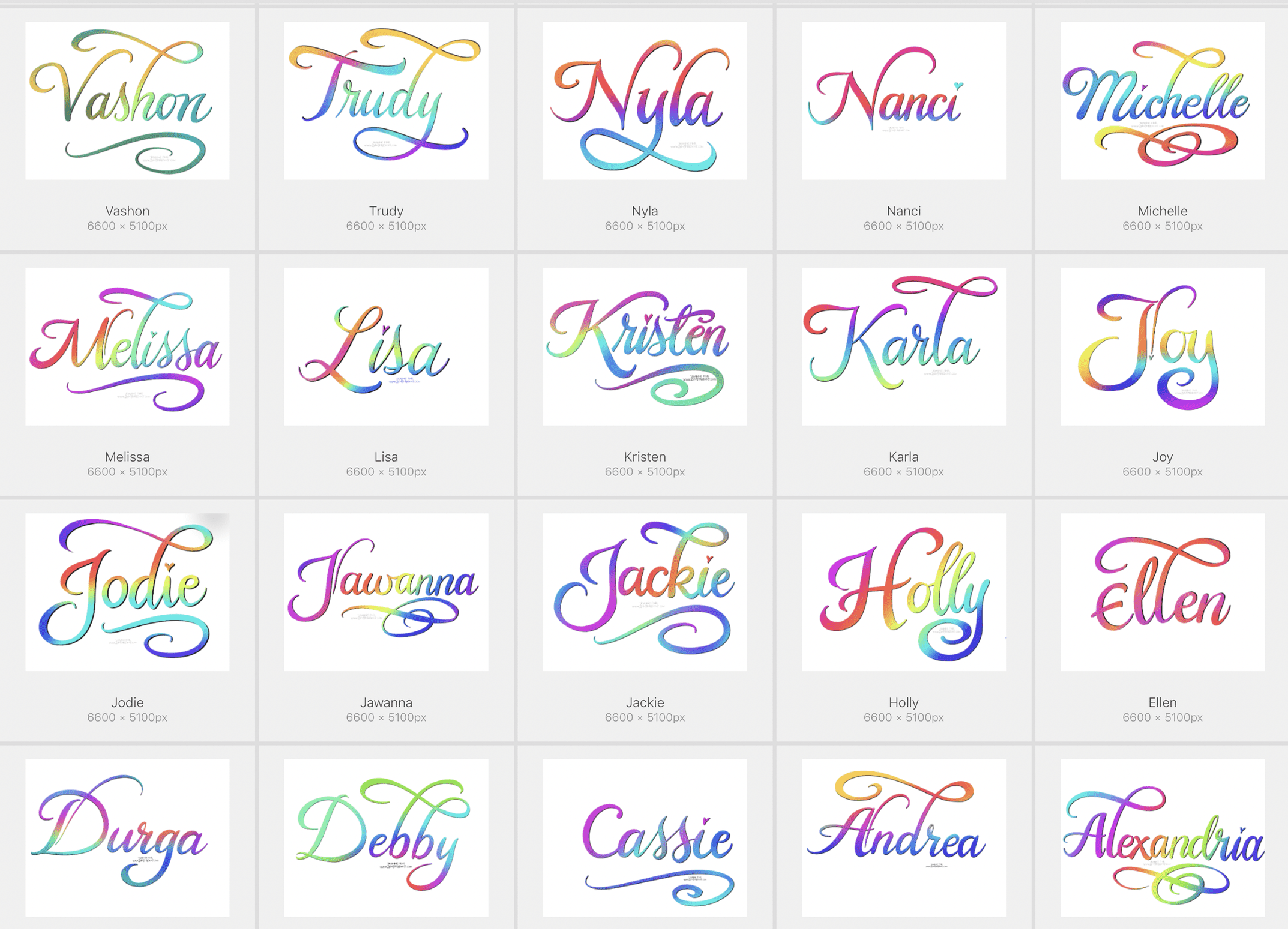 I'm excited to welcome a lot of my 'wisters' (widowed sisters) to Orlando for this meaningful event. I'll be giving a talk on grief, growth and gratitude, and may even share some Zenspirations® meditative patterning techniques.
Does anyone know a professional photographer in the Orlando area who may be willing to volunteer their time to photograph the MWC Event this weekend? I just learned that the volunteer professional photographer who had agreed to be there is unable to attend. Thanks, in advance, for any help you can provide…
Stay Zenspired,
Joanne