Sing a New Song
Tuesday, April 24, 2018
Hi Everyone,
I come from a musical family, and Psalm 96:1 is one of my favorite scriptures. Given the growing interest in Bible Journaling, I decided to feature a scripture in my 2018 Earth Day design: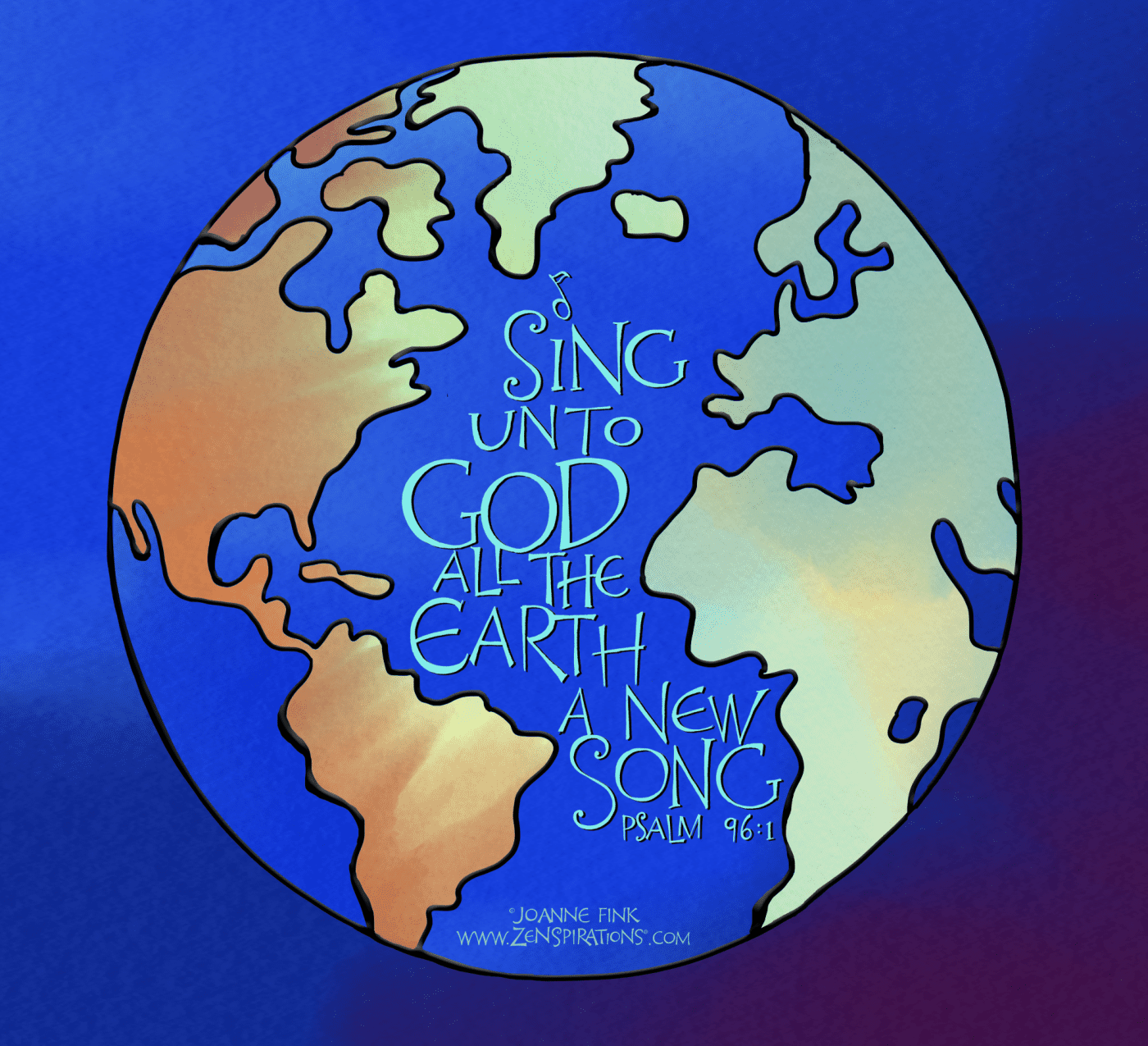 I started blogging sporadically in 2012, but it wasn't until April 22, 2014 that I made a commitment to share my spiritual and creative journey on a weekly basis. In the first of the weekly Zenspirations® blog posts, I also wrote about Earth Day. Zenspirations is the song of my heart… and each blog post I write is my way of  singing a new song. Over the past four years I've shared my 'song' and evolving interests– from lettering, patterning and Dangling to Coloring, Bible & Prayer Journaling– with the Zenspirations community.
The image above is a color version of the one of the designs in the layout section of the Complete Guide to Bible Journaling (page 50), where I showed several different ways to visually interpret the same text. Some of you might not be aware that I started a Bible Journaling Jumpstart Facebook Group, to help people who enjoy Bible Journaling connect. Just like the Zenspirations® Create, Color, Pattern, Play Facebook group, it's become a worldwide forum where people share their work and their hearts and support and encourage each other both artistically and personally.
One of the biggest blessings of being part of the Zenspirations® community are the many friends and Cyber-friends I've made. One of my cyber-friends, Gerard Doherty, an Irishman who touched the hearts of many members of the Zenspirations community would have been turning 62 today. Regular blog followers know that Gerard died unexpectedly last month. Last year on his birthday, I made him a time-lapse video card:
Since this is the last week of the month, which is when I post the Zenspirations Word of the Month page for the following month, I decided to design the May page in Gerard's honor, and set off to find his response to the questions I asked in Transformative Journey, the last blog post of 2017.
Of the words which have been suggested this year–

awareness, commitment, cooperation, emerge, goodwill, Holy, humility, kindness, love, pray, purpose, transformative, transformation– which one gets your vote for the Zenspirations 2018 Word of the Year?

Are there specific words you would like to see included in our 12 words of the month?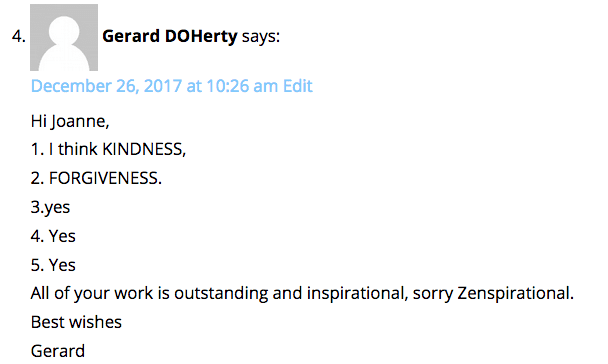 Here's the design that Gerard's choice inspired: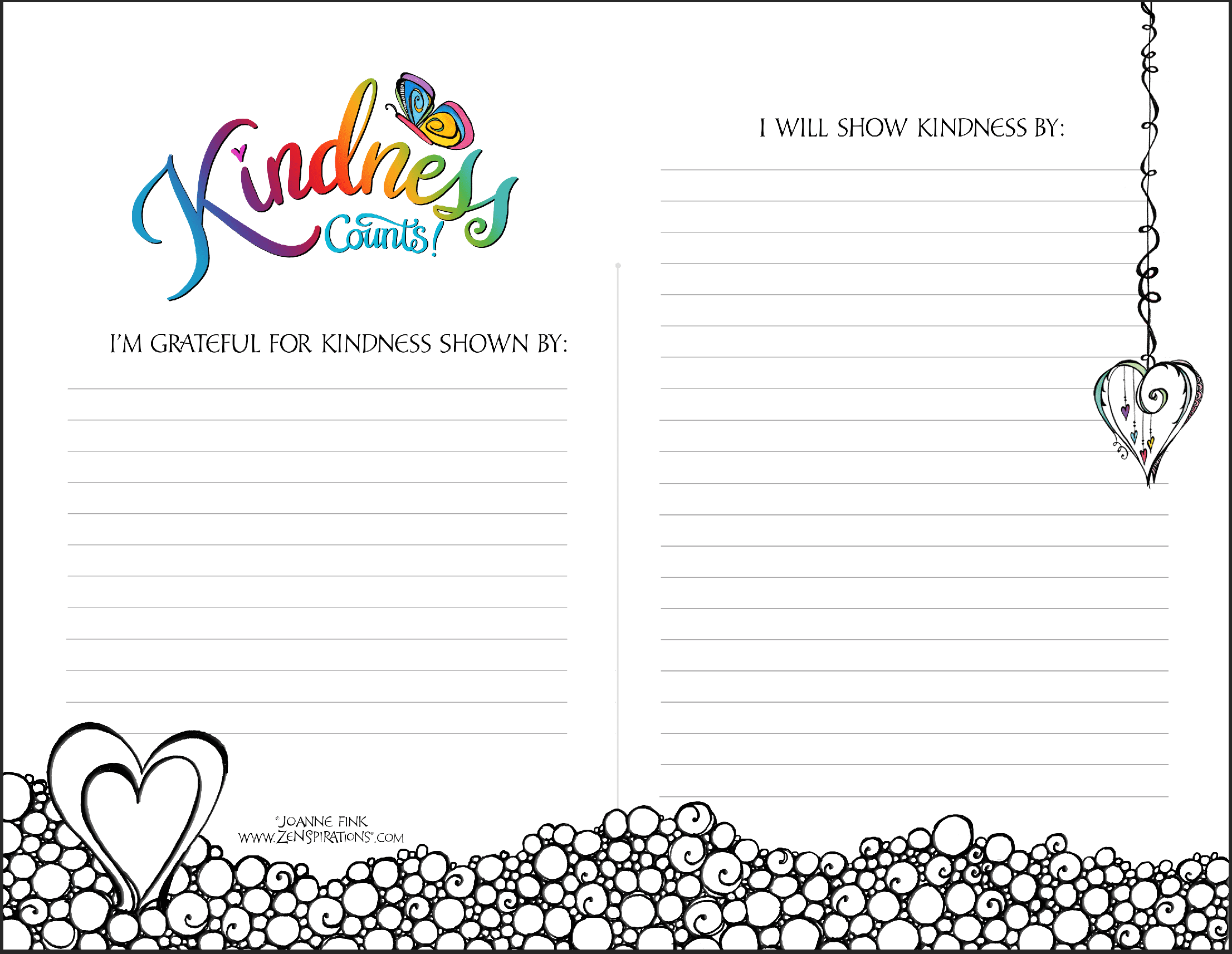 Click the link below to download your FREE copy of the
 Zenspirations®_by_Joanne_Fink_BlogMay_Word_of_the_Month_Kindness  
I was moved that Gerard also requested that we include the word Forgiveness, and so I created a piece I think he would have liked: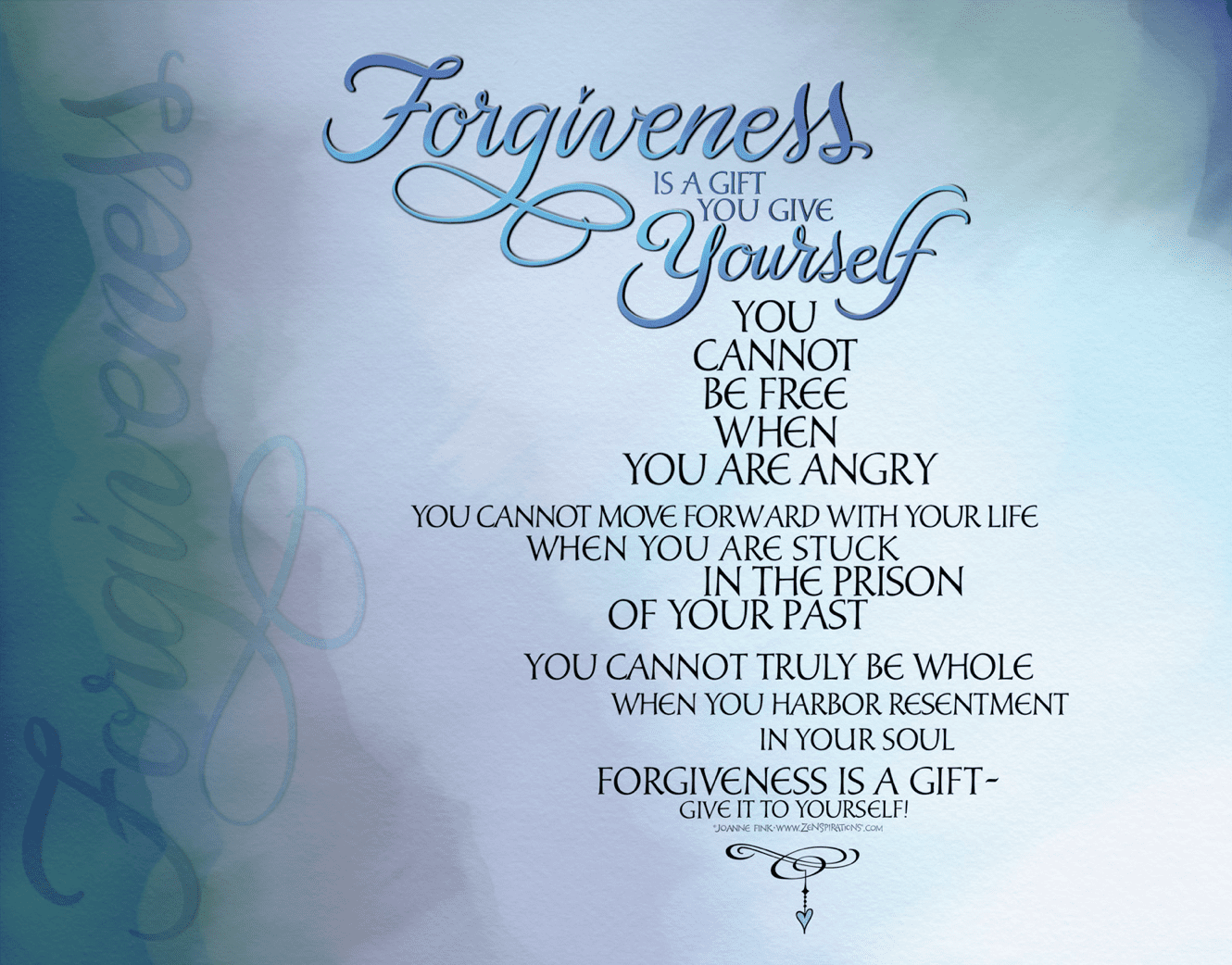 There are many people struggling to forgive someone who has hurt them; feel free to share this piece with anyone you think it could help.
I had been planning to share details about the 4th 'Blog-versary' Celebration Webstore Sale tonight, but have decided to postpone the sale until next month because I have not gotten the new Spellbinders dies yet, and know that lots of you are going to want to order them during the sale. Right now I'm thinking of holding the sale May 13th, 14th, 15th and 16th, and will confirm that next week.
Stay Zenspired,
Joanne